Found November 16, 2011 on Fox Sports Kansas City:
Perhaps this seems like a silly question. But why have Chiefs fans gone into raving panic simply because Tyler Palko will be playing quarterback this week against New England? And maybe for the rest of the season, too, if Matt Cassel's hand injury turns out to be as serious as it appears? Good grief! First of all, it's not like the Chiefs were tearing the league apart with Cassel running the show. This isn't exactly Aaron Rodgers going down for the playoff run. Frankly, from what we've seen of Palko -- in the preseason and then on that one last drive when he hit five of six passes in the loss to Denver -- the guy hasn't done too much wrong. Not only that, but given the current state of the Chiefs offense, Palko might be a more logical choice to right the ship -- or at least produce an occasional touchdown -- than the struggling Cassel. Seriously. After back-to-back disasters against Miami and Denver, it wouldn't have been totally implausible for coach Todd Haley to think about giving Palko a shot -- even if Cassel were fit as a fiddle. Why? OK, start with the offensive line. It's been a sieve -- nine sacks allowed in the past two games -- and Cassel is one of the least mobile quarterbacks in the NFL. To be successful, Cassel needs solid protection from the big guys up front, and a relentless running game that allows him to stand unbothered in the pocket when the Chiefs choose to throw. That was the formula last year, when Jamaal Charles was tearing through the league, defenses had to load up against the run -- and thus Cassel had plenty of time to set his feet and step cleanly into his throws. Sure, Cassel's numbers looked spectacular -- 27 touchdown passes and only seven interceptions -- but the man was a product of Kansas City's powerhouse offense. In part, anyway, he was a creation of the system and the talent around him. It's been a different story this season, because with Charles gone and the line in disarray, Cassel is a sitting duck when the pocket collapses around him. Cassel never has been able to buy time for himself, and he's never been good at throwing on the move. When you're struggling to get any kind of rushing game established and the line looks totally overmatched, Cassel is NOT the guy who's going to bail you out. Period. Ironically, Palko might be just the man for this crisis. No, we're not talking about the Chiefs running the table to knock the league over from their current 4-5 hole -- more like managing to be competitive and looking as though they actually might score from time to time. For one thing, Palko is exceptionally nimble and good at finding space to throw, and he's shown consistently that he's comfortable finding receivers while escaping the pocket. Not only that, but the lefty is pretty darn accurate -- even when unloading under duress. And hey, just who decided that Palko was little better than some stiff off the street, anyhow? He's been released by a couple of teams, but always without getting any kind of shot at showing whether he can run a productive offense. Palko has been one of those guys -- remember Kurt Warner? -- who keeps turning up in the wrong place at the wrong time. When that happens, you get the rap of having no game -- when in fact, nobody really knows. There is a decent chance that he's not a bad quarterback at all -- simply one of those guys overlooked by scouts through a combination of circumstances. He's only 6-foot-1, so of course a lot of football people would write him off immediately. That's the mentality of the sport. Palko also got caught in a bad situation during his senior year at Pitt, when the school changed coaches -- and the previous offense featuring Palko's skills was scrapped. You might be surprised to know, however, that prior to that final year, Palko was having a hell of a college career. He's second only to Dan Marino -- you know him, right? -- in career TD passes at Pittsburgh. Palko was good enough that when hotshot recruit Joe Flacco joined the program, Flacco couldn't win the job and transferred to Delaware. You probably know Flacco, as well, since he was a first-round draft choice and runs a pretty efficient offense for the Baltimore Ravens. It's worth considering that maybe Palko has some talent -- or Flacco wouldn't have fled for playing time. Another intriguing thing about the Chiefs' new starter is that everyone around the program agrees he has a brilliant football mind -- that he's the type of player who sees things others don't, and might make a great play out of nothing because of it. "Tyler has a high, high football IQ," Haley said. "He grew up in football." Indeed, Palko's dad is a successful high school coach in western Pennsylvania, the cradle of quarterbacks. Father and son won a state championship together. Skeptics are quick to point out that these games the Chiefs face over the next few weeks won't be episodes of "Jeopardy." Palko will have to prove he can move the football in addition to understanding all the Xs and Os. Given the woes of the offensive line and an inconsistent running game, however, it's a huge plus that Palko is the direct opposite of slow-footed Cassel. In truth, Palko may help the line -- and allow the Chiefs to add some schemes that involve more rollouts to take advantage of Palko putting pressure on linebackers and defensive backs with his running threat. "He's athletic and has the ability to use his feet to make plays," Haley said. "It can increase your margin of error at times when you have an extremely mobile quarterback." This is hardly a gold-plated guarantee that Tyler Palko will wow the NFL the rest of this year, and go on to be a Pro Bowl QB down the road. But face it: The Chiefs were going nowhere this year with Cassel standing back there getting clobbered, and his limitations were spotlighted because of other problems with the offense. Palko excels in areas where Cassel does not. There's a possibility that he could light a little fire under a team that looked dead and buried against Miami and Denver. It's a shame that Cassel got hurt, but heckit might have been time for Palko in any case. Things can't get worse, and this change of pace could be coming at a perfect time. Give the man a chance. He might surprise everyone.
Original Story:
http://www.foxsportskansascity.com/11...
THE BACKYARD
BEST OF MAXIM
RELATED ARTICLES
Kansas City Chiefs head coach Todd Haley announced today that starting quarterback Matt Cassel suffered a "significant hand injury" on Sunday in the loss to the Broncos and that he might be out for the season. Cassel was under duress most of the day against the Broncos as he was sacked 4 times and hit 12 other times in the game. He did not return to the game after that...
Matt Cassel was traded to the Kansas City Chiefs in 2009 and was given a $63 Million contract. Cassel became available due to him making the most of his chances when Tom Brady was injured and knocked out in Week 1 of the 2008 Season, ironically against the Kansas City Chiefs. He has done well for himself in KC, including leading them to the Division Championship last season. For...
Matt Cassel was supposed to make his return to New England this week When the season schedule was released, two thoughts went through my mind 1. I hope we have an NFL season (remember, it was still the lockout) 2. What games are most intriguing? There is a difference between "good" and "intriguing". Good games are games such as the Jets games or the Eagles game, games that...
What's ahead for the Kansas City Chiefs now that Matt Cassel might be done for the year? And what about his head coach?
CHIEF CONCERNS
The hope that KC could turn around their season has taken a major hit, after it was announced that their QB has a hand injury that could keep him sidelined for the rest of the year.
KANSAS CITY, Mo. - Chiefs quarterback Matt Cassel could miss the remainder of the season after sustaining...
Chiefs quarterback Matt Cassel underwent surgery to his right hand late Monday, and coach Todd Haley said Wednesday that the procedure went "really well" and held out hope that Cassel might return this season. Cassel suffered an injury to his throwing hand late in Sunday's 17-10 loss to the Denver Broncos.
Unbelievable the sense of gloom around KC regarding the Chiefs, who are just a game out of first place in the AFC West. But it's not misplaced, not with the Chiefs playing the way they are and Matt Cassel apparently being finished for the season (one player told me yesterday he and his teammates were told by the coaches that Cassel won't return this season).
Chiefs quarterback Matt Cassel might miss the rest of the season after undergoing surgery on his right hand on Monday night, but coach Todd Haley isn't ready to count him out just yet. Haley spoke to reporters Wednesday and, to the surprise of no one who has ever heard a report about an athlete's surgery,…
NFL News

Delivered to your inbox

You'll also receive Yardbarker's daily Top 10, featuring the best sports stories from around the web. Customize your newsletter to get articles on your favorite sports and teams. And the best part? It's free!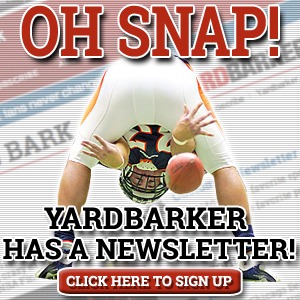 Latest Rumors
The Backyard

Today's Best Stuff

For Bloggers

Join the Yardbarker Network for more promotion, traffic, and money.

Company Info

Help

What is Yardbarker?

Yardbarker is the largest network of sports blogs and pro athlete blogs on the web. This site is the hub of the Yardbarker Network, where our editors and algorithms curate the best sports content from our network and beyond.