Found November 13, 2012 on Fox Sports Southwest:
PLAYERS:
Jason Garrett
,
Ben Roethlisberger
,
Byron Leftwich
,
Mike Holmgren
,
Sean Payton
,
Andy Reid
,
Rob Ryan
,
Robert Griffin III
TEAMS:
Dallas Cowboys
,
Pittsburgh Steelers
,
Cleveland Browns
,
New Orleans Saints
,
Philadelphia Eagles
,
New York Giants
,
Kansas City Chiefs
,
Washington Redskins
The Dallas Cowboys are back in the playoff race even though they've had little to do with it. They were able to scratch out two wins during a five-game stretch that saw them play four of five games on the road. It's not like they deserve to be in the thick of things with a 4-5 record, but that's exactly where they are thanks to the New York Giants losing two consecutive games. Some would look at Sunday's 38-23 win over the Eagles and think that head coach Jason Garrett received some type of reprieve. But if you look closer, he's under more heat than ever. Based on their opponents' winning percentage (.387), the Cowboys have an incredibly favorable schedule the rest of the way. There's an opportunity they could be favored to win at least six of their final seven games. And the only opponent with a winning record, the Pittsburgh Steelers, lost quarterback Ben Roethlisberger to injury in an overtime win against the Kansas City Chiefs on Monday. In case you haven't watched Steelers backup quarterback Byron Leftwich play in a couple years, he still has the most elongated windup in the NFL. You could look at this upcoming schedule and think that Garrett has a great opportunity silence all the doubters. Or you could be like me and wonder if playing a bunch of teams you are supposed to beat offers the best chance for Garrett to get canned. If the Cowboys lost a few games to good teams, owner Jerry Jones would be able to defend Garrett. But if he drops a game to Cleveland or Washington at Cowboys Stadium, Jones won't have any ammunition for supporting him. Jones felt compelled Tuesday to give his head coach another public endorsement. It came in the wake of a CBS report claiming that former Packers and Seahawks coach Mike Holmgren had strong interest in coaching the Cowboys. And as usual, Jerry's answer was heavy on confusion. "I won't and can't get into that kind of conversation because of how fired up I am about the future of Jason," Jones said on his 105.3 The Fan radio show. "The future is now, but also I am fired up about him and what he can be coaching the Dallas Cowboys. Mike Holmgren ... I can't tell you on an individual basis how much I respect him. He's everything you would want as far as a coach is concerned and I appreciate, it was a compliment, when he was talking about how he was impressed with our talent and the fact that we could work together. And that's just the case. But make no mistake about it. And Mike doesn't need me to say what a great guy he is. Our fans probably need to hear he's a great guy. Bottom line, it's all about Jason with me." Jones wants to voice his support to Garrett while making it clear how much he admires Holmgren. Why exactly do Cowboys fans need to hear how great a guy Holmgren is? All Jerry's doing is keeping his options available, including the attractive Sean Payton alternative. So it's clear that Garrett's far from being out of the woods. His job is much more secure than, say, Andy Reid's, but that's not saying much at this point. The Cowboys simply preserved an opportunity to extend their season with a win in Philadelphia. If they come home and lose to the Browns, that opportunity will be wasted. And really, a lot of the things that undermined the Cowboys in their 3-5 start were on display against the Eagles. Despite the odd statistic that has the Cowboys 3-1 when they have at least 13 penalties, it's still a losing proposition. And I found it comical that Garrett was quick to point out that most of the penalties were against the defense. He may not have meant it this way Monday, but it sounded like he was saying, "Don't put those on me." But I guess someone in the Valley Ranch press corps forgot about the Cowboys' six offside penalties because there was a question regarding defensive coordinator Rob Ryan's prospects as a future head coach in the league. Only in Dallas could the head coach of a 4-5 team be asked to comment on one of his assistants becoming a head coach. For now, Garrett's own future hinges on his ability to take advantage of an extremely soft schedule. The Cowboys will face three consecutive rookie quarterbacks, and only one of them Robert Griffin III would be described as dangerous. Then it's on to Cincinnati, where former TCU quarterback Andy Dalton has been one of the most mistake-prone quarterbacks in the league. Never mind that five of the last seven games will be played at Cowboys Stadium. In that loss to the Giants last month, it actually seemed loud at Cowboys Stadium. If the Cowboys could start stacking wins at home, perhaps the facility would finally give them something close to a home-field advantage. The New York Giants and the NFL schedule makers have given the Cowboys an early Christmas gift. Now, we'll see if they can take advantage.
Original Story:
http://www.foxsportssouthwest.com/11/...
THE BACKYARD
BEST OF MAXIM
RELATED ARTICLES
Dallas Cowboys head coach Jason Garrett accepts QB Tony Romo for what he is, a good player at times, a bad player at times. What would Garrett change about his QB? Nothing. He's fine just the way he is, Garrett said in so many words to the Dallas Morning News. "The amazing thing with him is he feels so much and then he can see so much while all of this stuff is going on...
Dallas Cowboys quarterback Tony Romo claims that wide receiver Dez Bryant is maturing and has gotten much better since he was a rookie a few years ago. "Dez has come full circle from where he was a couple of years ago," Romo said, per the Dallas Morning News. "We go by catches whether or not someone has a good game as fans or as media, sometimes. But when we watch the tape...
Dallas Cowboys defensive end Kenyon Coleman is out for the season with a torn triceps muscle in his left arm. Cowboys coach Jason Garrett said Monday that Coleman will be placed on injured reserve and have surgery. The 11th-year pro sustained the injury during the third quarter of Sunday's 38-23 victory at Philadelphia. Coleman started seven games this season, missing two...
Dallas Cowboys receiver Dez Bryant has agreed to a year of anger management counseling as part of a deal that could lead to dismissal of a family violence charge over a dispute with his mother. Attorney Royce West said Wednesday that Bryant was already attending anger management sessions, and he said the Dallas County district attorney's office would dismiss the charge if Bryant...
Dallas Cowboys owner Jerry Jones doesn't appear to be too optimistic about RB DeMarco Murray returning this week. "You want to be very comfortable for him to make his cut," Jones said, via the Fort Worth Star-Telegram. "All of that has to be right before he goes out there because we got to look down the road here. We hope we are in this thing and needing him on every play...
What a difference a few big plays make. If only, like the team in Chicago, a game like this happened all of the time, we might think of the Cowboys as a truly elite defense. Difficult to run against, physical, and opportunistic with a few big plays that they might put into your end zone. Of course, "a game like this" is absurdly unrealistic. How much so? Well, we have...
 Clean-cut "Captain America," Hall of Fame Dallas Cowboys quarterback and former U.S. Navy officer Roger Staubach famously said in the 1970s that he enjoys sex just as much as Joe Namath – he just enjoys it with one woman.The David Petraeus sex scandal, the one currently consuming the CIA, the U.S. military and Washington D.C. paints the picture of a culture in which Staubach...
With Mike Holmgren on his way out as Cleveland Browns president, speculation has shifted to where the former Super Bowl champion coach will land next. One of those spots could be the Dallas Cowboys, should coach Jason Garrett be fired after the season. Holmgren has known owner Jerry Jones for many years. Holmgren attempted to quiet that talk Monday, telling the Cleveland media...
"I hear the weather's nice in Dallas." The Cowboys got a crucial win over the Eagles yesterday by riding defensive and special teams touchdowns to victory…and by knocking Michael Vick out of commission and then harassing rookie QB Nick Foles just enough. Oh, and by Tony Romo not throwing a single INT. So, let's celebrate the big win by throwing fuel on the newest rumor...
Dallas Cowboys coach Rob Ryan sported a very cool "Pat's Kings Of Steaks" ad on his play calling sheet yesterday against the Philadelphia Eagles. Darren Rovell tweeted that Rob does it for fun and... Full story at Bob's Blitz ~ http://www.bobsblitz.com
Really really bad news for Jason Garrett you'd think, but Jason LaCanfora is reporting that Holmgren could be a fit in Dallas. Holmgren, who is finishing up a disappointing three-year run as the Browns' team president, has said he would consider a return to coaching, where he already has a case for potential Hall of Fame induction. Some sources who know Holmgren well believe Dallas is...
NFL News

Delivered to your inbox

You'll also receive Yardbarker's daily Top 10, featuring the best sports stories from around the web. Customize your newsletter to get articles on your favorite sports and teams. And the best part? It's free!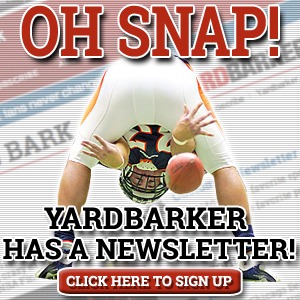 Latest Rumors
The Backyard

Today's Best Stuff

For Bloggers

Join the Yardbarker Network for more promotion, traffic, and money.

Company Info

Help

What is Yardbarker?

Yardbarker is the largest network of sports blogs and pro athlete blogs on the web. This site is the hub of the Yardbarker Network, where our editors and algorithms curate the best sports content from our network and beyond.