Found March 04, 2012 on Fox Sports Southwest:
PLAYERS:
Jason Hatcher
,
Jason Witten
,
Tony Romo
,
Ray Lewis
,
Jason Garrett
,
Hines Ward
,
Laurent Robinson
,
Keith Brooking
,
Miles Austin
,
Kevin Ogletree
,
Jesse Holley
,
Dez Bryant
,
Ben Roethlisberger
,
Jerome Bettis
TEAMS:
Dallas Cowboys
,
Baltimore Ravens
,
Arizona Cardinals
,
Pittsburgh Steelers
Dallas Cowboys defensive end Jason Hatcher delivered some unintentional controversy a few weeks ago when he was asked to name at least one leader on the roster. "Dude. . ." answered Hatcher before admitting that no one came to mind. That radio interview on Dallas' "Ben & Skin Show" has served as the basis for a larger discussion regarding who's running the show at Valley Ranch. I believe players such as Jason Witten, Tony Romo and Jay Ratliff exhibit leadership qualities, but it seems Hatcher is looking for something more. The name he kept dropping, Ray Lewis, has been the heart and soul of the Baltimore Ravens' defense for years. And other organizations such as the Giants and Patriots count on their head coaches to set the tone when it comes to leadership. Cowboys head coach Jason Garrett came up short in that area this past season, as evidenced by his lack of accountability for what took place in a loss to the Arizona Cardinals. He certainly doesn't have the presence of those coaches I mentioned, and a lot of that has to do with not having a lot of skins on the wall. But the Cowboys have an opportunity to land someone cut from the same cloth as Lewis. He's one of the most feared wide receivers in the game, even if some of that's based on his reputation for taking cheap shots. The Cowboys would be wise to find room on their roster for former Steelers receiver Hines Ward, who doesn't seem interested in retirement after being released last week at age 35. Cowboys owner Jerry Jones has already indicated he won't commit big money to re-signing Laurent Robinson despite the wide receiver's breakout season. And Jones' praise for practice-squad phenom Andre Holmes seems a little forced. A league source revealed to FoxSportsSouthwest.com that Ward is being discussed as a potential target in free agency. The Cowboys would love to add a veteran leader much like they did with linebacker Keith Brooking prior to the 09 season. And Jones is drawn to players in free agency who have a chip on their shoulder. The source said the Cowboys were concerned Ward might be a "progress stopper," meaning his presence might block the path of a younger wide receiver, such as Holmes. But forgive me for not thinking Holmes is the next Miles Austin. The Cowboys have had so much success with undrafted players (Tony Romo, Austin) that it has probably clouded their approach. The Cowboys need to be proactive in trying to identify a third receiver based on the interest Robinson's likely to draw in free agency. They've finally given up on Kevin Ogletree, and former reality-show star Jesse Holley is nothing more than a stopgap. If you think Ward can still catch 40-50 passes (46 in 2011), why not bring in a former Super Bowl MVP? Austin is coming off a disappointing season that was hampered by a hamstring injury and Dez Bryant has yet to become a consistent threat. It's pretty clear that Bryant is freakishly gifted as an athlete. But he needs to run better routes and learn how to gain separation from defensive backs throughout games instead of just showing flashes. By all accounts, Ward has been a tremendous teammate over the years. And his well-documented nasty streak would be a welcome addition to an offense that seems to specialize in finesse. "He was Hines Ward, one of the best receivers in the game," Ben Roethlisberger told the Pittsburgh Post-Gazette. "I got a chance to be in the huddle with him and Jerome Bettis. He made me better. It didn't matter if I threw a good ball or a bad ball, 99 percent of the time he'd catch it, whether it was with one hand, off a helmet or off a defender. He made me a much better quarterback and player. That's why I wanted to call him and thank him." It's hard for players to become better leaders if it's not being modeled for them on a regular basis. How do you think Ward would react to one of his teammates telling reporters about a "sense of entitlement" that permeates Valley Ranch? Ward would laugh in the face of any teammate who acted as if playing for the Cowboys made them special. He's been in an organization that is built on toughness and continuity. The NFL might be a young man's game, but there's still a place for guys like Ward who have excelled in this league for more than a decade despite not having the so-called measurables that we hear about so much this time of year. He's one of only eight players in NFL history to have 1,000 career receptions, and he averaged 85.6 catches per season from 2001-2009. With Ward in the locker room, maybe Hatcher wouldn't have such a hard time answering a simple question. The Cowboys owe it to themselves to take a long look at the veteran wide receiver. He'd be anything but a progress stopper.
Original Story:
http://www.foxsportssouthwest.com/03/...
THE BACKYARD
BEST OF MAXIM
RELATED ARTICLES
The Dallas Cowboys are looking for a veteran quarterback. Not one to replace starter, Tony Romo, but one to back him up. According to the Dallas Morning News, the franchise will not be drafting a new signal caller in next month's draft, but rather, they will pursue acquiring a veteran in order to back up Tony Romo. The Cowboys currently have Stephen McGee on their...
DALLAS, March 5 – The Dallas Cowboys always make each off-season feel like a rebuilding year and I am sure their faithful expected a whole lot more out of this generation of players. Now comes word that as the team struggles to create cap space, the team has handed the franchise tag to LB Anthony Spencer. His 2012 salary will account for $8.8 million of said cap space. Please...
Keith Brooking has been viewed as one of the vocal leaders in the Cowboys locker room since signing a three-year deal with the team in 2006. So to no surprise, Brooking didn't agree with Jason Hatcher's comments about the Cowboys not having any leaders. "It's easy when you're 8-8 and things don't go your way to say we don't have leaders," Brooking...
The Dallas Cowboys have placed their franchise tag on Anthony Spencer to keep the outside linebacker from becoming an unrestricted free agent. With the decision before Monday's deadline for such a move, Spencer will be guaranteed a base salary of about $8.8 million next season. Spencer has started 53 of 76 games in his five seasons with the Cowboys, starting all but one game...
The Dallas Cowboys are expected to put the franchise tag on outside linebacker Anthony Spencer.Both sides are in talks but a long-term extension is not expected to be in place within the next two days. Spencer would make $8.8 million this season if Dallas places the franchise tag on him.Spencer recorded 51 tackles and six sacks last season.
IRVING, Texas (AP) -- The Dallas Cowboys have placed their franchise tag on Anthony Spencer to keep the outside linebacker from becoming an unrestricted free agent. With the decision before Monday's deadline for such a move, Spencer will be guaranteed a base salary of about 8.8 million next season. Spencer has started 53 of 76 games in his five seasons with the Cowboys, starting...
When Hines Ward was released by the Pittsburgh Steelers this week everyone mentioned his strengths, first on the list is his ability to block downfield.  I think that his ability to block downfield along with his sure hands makes him a perfect fit to play with Tim Tebow in Denver. Tim Tebow has his weaknesses
Pittsburgh Steelers Hall of Fame wide receiver Lynn Swann took to Facebook to give Steeler Nation his thoughts on the release of wide receiver Hines Ward after 14 years with the team. The 2 minute and 45 second clip comes off as a State of the Union address and Swann has never been shy about letting his opinions know about Steelers players. Most recently Swann chimed in with his...
According to Jason LaCanfora of the NFL Network, the Dallas Cowboys have placed their franchise tag on linebacker Anthony Spencer. Spencer has been a bit of a disappointment for the Cowboys since he was drafted in the first round of the 2007 draft. But right now he's the best option they have at outside linebacker and the Cowboys will look to get him signed to a multi-year deal...
It is that time of year, folks. Spring is upon us, the football season is behind us. And a fresh, new season of hope is before us. It is an annual ritual. One team's fans celebrate their team's ascent to the glory of a world championship, while fans of the other 31 teams try to figure out which player should be taken in the first round of the NFL Draft in order...
Hot News for OLB Anthony Spencer
Yes, ESPN, we are now aware that you are putting up controversial headlines in order to make a few extra $100 from the extra hits from people discussing your controversy. I was on your side with the "***** in the Armor" Jeremy Lin headline. That was clever and eccentric. The Hines Ward retirement headline "Happy Endings", that was a brain-thinker and well...
NFL News

Delivered to your inbox

You'll also receive Yardbarker's daily Top 10, featuring the best sports stories from around the web. Customize your newsletter to get articles on your favorite sports and teams. And the best part? It's free!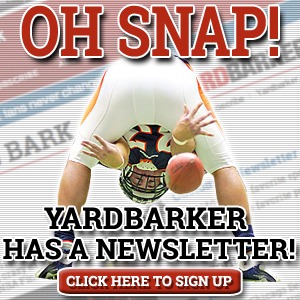 Latest Rumors
The Backyard

Today's Best Stuff

For Bloggers

Join the Yardbarker Network for more promotion, traffic, and money.

Company Info

Help

What is Yardbarker?

Yardbarker is the largest network of sports blogs and pro athlete blogs on the web. This site is the hub of the Yardbarker Network, where our editors and algorithms curate the best sports content from our network and beyond.