Found November 14, 2012 on Fox Sports Southwest:
PLAYERS:
Tony Romo
,
Brandon Carr
,
Jason Hatcher
,
Terence Newman
,
Demarcus Ware
,
Jason Garrett
,
Dennis Thurman
,
Greg Ellis
,
Kerry Collins
,
Dexter Coakley
,
Sean Lee
,
Peyton Manning
,
Bruce Carter
,
Anthony Spencer
,
Orlando Scandrick
,
Charlie Peprah
,
Rob Ryan
TEAMS:
Chicago Bears
,
Dallas Cowboys
,
Cincinnati Bengals
What a difference a few big plays make. If only, like the team in Chicago, a game like this happened all of the time, we might think of the Cowboys as a truly elite defense. Difficult to run against, physical, and opportunistic with a few big plays that they might put into your end zone. Of course, "a game like this" is absurdly unrealistic. How much so? Well, we have already shared the idea that a punt return TD, Fumble return TD, and an interception return TD had not happened in the same quarter of a league game since 1966 when the San Francisco 49ers accomplished that feat. But, let's eliminate the special teams' TD and just focus on the idea of 2 defensive touchdowns and the rarity of that. It is true that the Chicago Bears have an absurd 11 defensive touchdowns in the last 17 games (2 of them, thanks to the work of Tony Romo and the Cowboys a month back). The Cowboys had 1 during that same stretch until Sunday when Brandon Carr and Jason Hatcher both put the ball in the opposing end zone. To find 11 defensive touchdowns in Dallas, you would have to span 91 games all the way back to December of 2006. The idea of 2 defensive touchdowns is generally a great production number for a full season in Dallas. In fact, in 2011, Terence Newman returned an interception against Buffalo for the only defensive score of the year. They also had just 1 Touchdown from the defense in a season in 2008 and 2009. In 2010, the Cowboys exploded for 4. DeMarcus Ware returned a fumble for a touchdown in Philadelphia and Bryan McCann had a Pick-6 in Jason Garrett's first game in New York City against the Giants. But, that season would also contain the extremely rare 2 TD game for the defense. Here are the 7 occasions in their 795 games in their history that had 2 Cowboys' defensive scores before Sunday: 1) 11765 - George Andrie returned a fumble and Bob Lilly returned an interception in the 2nd Quarter of a game against San Francisco. 2) 91883 - Dexter Clinkscale returned an interception and Michael Downs a fumble in the 4th Quarter of a win against the Giants at Texas Stadium. 3) 9985 - In the famous "Joe Theismann birthday game", Victor Scott and Dennis Thurman both picked off Joe's passes as part of a historic rout of the hated Redskins at Texas Stadium. 4) 121094 - Dallas overcomes a mediocre offensive performance at the Superdome to get a win against the Saints, thanks to defensive scores from Tony Tolbert and Darrin Smith. 5) 10399 - The Cowboys easily pounded the Cardinals (who easily pounded the Cowboys in the 1998 playoffs) with defensive touchdowns from George Teague and Greg Ellis. 6) 11401 - Here is an oddity, where the Cowboys scored 2 defensive touchdowns in a game in New York and yet still lost. Clint Stoerner versus Kerry Collins, where Dexter Coakley and Mario Edwards returned picks to the end-zone. 7) 12510 - In what would be Sean Lee's first big game as a pro, Lee and Scandrick picked off Peyton Manning passes and returned them for touchdowns. The Cowboys won, barely, in overtime in Indianapolis. So, now you can add 111112 to the list, and a win that shows how a takeaway can make all of the difference in the world for a defense. Of course, wanting takeaways is one thing. Getting them is quite another. SPLASH PLAYS Let's take a look at the "Splash Plays" from Week 9 at Philadelphia: Splash Plays are key impact plays from the defense. Usually, they are obvious, but there are some that blur the line. I have listed time and play of each one for those who want to double check my work. For more, read a detailed explanation of this study here: What is a Splash Play? WEEK 9 At Philadelphia Bruce Carter continues his excellent play and Anthony Spencer puts up another gem. Both linebackers are complimenting DeMarcus Ware wonderfully this season. We also had the best game from Orlando Scandrick of the year and the first splash from new Cowboy, Charlie Peprah. Q-TimeDDYdPlayerPlay1-12:22110D38CrawfordRun Stuff1-1:3624O26PeprahBig Hit Breakup1-1:2834O26Spencer3rd Down Run Stop2-14:48110O18CarterTackle For Loss2-13:0227O33CarterTackle For Loss2-7:41110O22WareTackle For Loss2-3:0424O28WareDrew Holding Penalty2-2:42213O18ScandrickPass Defended3-10:0822O36SpencerTackle For Loss4-12:3827O37Carr (2)Interception for TD4-10:02120O37ScandrickPass Defended4-9:58220O37ScandrickTackle For Loss4-3:1434D28ButlerSack4-0:55115O6Spencer (2)Sack and Strip4-0:55115O6HatcherRecovery Up to date season standings - thru 9 games PlayerSplashesWare23Spencer16.5Carter14Lee10Claiborne9Hatcher9Brent8Carr7Ratliff5VButler5Scandrick5Spears3Crawford4McCray3Jenkins2Sensabaugh2Coleman2Lissemore1Lewis1Church1Albright1Peprah1Conner0.5Team Total132 =========== BLITZING REPORT It does seem tracking the blitz has been a bit of a non-event since the Bears game, as the Cowboys have pretty much turned off the faucet of bringing pressure. This means that very few of the big plays - for or against - are a result of bringing linebackers or defensive backs to get pressure. Q-TimeDDYdPlayRushers3-13:00120D44Foles to Maclin, 44 TD44-2:4149D33Foles to Johnson, 3241-11:47210D38Vick to Jackson, 3133-13:56110O43McCoy left, 23-4-0:43110O32Foles to Cooper, 224 And, here are their two late game sacks, neither of which were generated off of the blitz. Q-TimeDDYdPlayRushers4-3:1434D28Butler Sack44-0:53115O6Spencer Sack and Strip4 Pass Rushers Against Philadelphia- 43 pass rushblitz situations: Pass Rushers1st D2nd D3rd D4th DTotal3 Rush030034 Rush121371335 Rush420066 Rush001017 Rush00000 The game by game pressure numbers: Wk 1 - NYG: 1137 - 30 Wk 2 - SEA: 1026 - 38 Wk 3 - TB: 1232 - 37 Wk 4 - CHI: 1227 - 44 Wk 5 - BAL: 1027 - 37 Wk 6 - CAR: 939 - 23 Wk 7 - NYG: 231 - 6 Wk 8 - ATL: 537 - 14 Wk 9 - PHI: 743 - 16 Totals: 78309 - 25 Now, with a stretch of rookie QBs continuing against Cleveland, it will be interesting to see if Rob Ryan turns up the heat against his old team. Or, will the Cowboys continue to play conservatively and protect their young safeties, while trying to force slow marches down the field without risking big plays.
Original Story:
http://www.foxsportssouthwest.com/11/...
THE BACKYARD
BEST OF MAXIM
RELATED ARTICLES
CLASS IN SESSION
Cowboys wide receiver Dez Bryant has agreed to undergo anger management counseling for a year as part of deal involving a court case.
Dallas Cowboys quarterback Tony Romo claims that wide receiver Dez Bryant is maturing and has gotten much better since he was a rookie a few years ago. "Dez has come full circle from where he was a couple of years ago," Romo said, per the Dallas Morning News. "We go by catches whether or not someone has a good game as fans or as media, sometimes. But when we watch the tape...
Categories: BREAKING NEWS Eagles General News NewsTags: LeSean McCoyOrlando ScandrickPhiladelphia EaglesOn a good football team with tough players who were committed to each other, somebody would have taken out Dallas Cowboys safety Orlando Scandrick before the game was over on Sunday afternoon.   The offensive linemen are supposed to protect their running backs and quarterback...
Dallas Cowboys receiver Dez Bryant could have a family violence charge against him dropped if he complies with an agreement reached with the Dallas County district attorney's Office. The deal includes Bryant undergoing anger management counseling for a year. His attorney, Royce West, said Bryant has already been seeing a counselor for anger management. The charge stems from...
IRVING, Texas Jason Garrett spent a few minutes discussing one of Tony Romo's best plays of the season after Sunday's 38-23 victory in Philadelphia. Following his Monday press conference, the Cowboys coach went into greater detail for about 10 minutes, talking about Romo's ability to extend plays. With the Cowboys down 17-10 in the third quarter, Romo bounced around...
Dallas Cowboys receiver Dez Bryant has agreed to a year of anger management counseling as part of a deal that could lead to dismissal of a family violence charge over a dispute with his mother. Attorney Royce West said Wednesday that Bryant was already attending anger management sessions, and he said the Dallas County district attorney's office would dismiss the charge if Bryant...
It appears that Dez Bryant will get the alleged assault of his mother dismissed. The Dallas Cowboys receiver could still face punishment from the NFL. In July, Bryant was arrested after hitting his mother in the face with a ball cap. A police affidavit says he also grabbed her shirt. Bryant has been taking anger management classes since the alleged altercation and his mother has...
The Dallas Cowboys are back in the playoff race even though they've had little to do with it. They were able to scratch out two wins during a five-game stretch that saw them play four of five games on the road. It's not like they deserve to be in the thick of things with a 4-5 record, but that's exactly where they are thanks to the New York Giants losing two consecutive...
The Cowboys accomplished plenty of rare things on Sunday. One that jumps off the page is the fact that they scored a special teams TD, an interception TD, and a fumble TD all in the same quarter. According to Elias, that is the first time since San Francisco did it in 1966, so any stat that gives you over 40 years to consider you can understand how rare a feat it was. Of course...
Last week: 17 (-5) Record: 4-5 I said anything could happen in the Dallas/Philadelphia game. Apparently me believing in the Cowboys again qualifies. They play 5 of their last 7 at home. After having the league's toughest schedule through 8 games, they have the league's 2nd easiest over their final 7 and that includes Pittsburgh, who just lost their starting quarterback and might...
What appeared to be a season on the road to nowhere for the Dallas Cowboys took a drastic turn Sunday when they went to Philadelphia and dispatched of the Eagles. Suddenly, the once-reeling Cowboys find themselves just 1 1/2-games behind the sliding New York Giants in the NFC East with the hapless Cleveland Browns coming to town in Week 11. The NFL odds have the Cowboys (4-5) listed...
(Eds: Updates.) By SCHUYLER DIXON AP Sports Writer Somewhere in the middle of six defensive penalties that gave Philadelphia first downs, Dallas Cowboys coach Jason Garrett turned to backup quarterback Kyle Orton to talk a little game simulation. ''I want to hear 800 hard counts in practice this week,'' Garrett recalled himself saying while watching jumpy Dallas...
NFL News

Delivered to your inbox

You'll also receive Yardbarker's daily Top 10, featuring the best sports stories from around the web. Customize your newsletter to get articles on your favorite sports and teams. And the best part? It's free!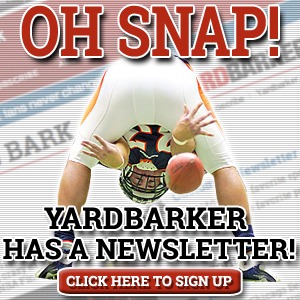 Latest Rumors
The Backyard

Today's Best Stuff

For Bloggers

Join the Yardbarker Network for more promotion, traffic, and money.

Company Info

Help

What is Yardbarker?

Yardbarker is the largest network of sports blogs and pro athlete blogs on the web. This site is the hub of the Yardbarker Network, where our editors and algorithms curate the best sports content from our network and beyond.