Found February 06, 2012 on Busted Coverage:

Poor, poor Boston sports fan, especially Patriots fan. Life must be hard not having a world champion to celebrate every six months. Take this ridiculous Patriots girl and her wails as Eli Manning was balling on Hoodie's dream team. She's lived her life cheering for winners – since birth. We figure she's 16, maybe 17. So she would have been 5 or 6 in 2002? Fuzzy math. Didn't get much sleep.
Anyway, suck it up, darling. Tommy can't win 'em all.
Posted: Last night
Premise of Videos: Patriots girl can't stand how Eli is driving the Giants to a game-winning field goal, oops, game-winning TD. Tommy is supposed to win these games.
Climax of Video: The greyhound yawning over the girl's ridiculous outburst.
Conclusion: Wait until she finds out later in life that marrying a dreamy guy like Tommy Brady isn't in the cards. Instead, Ms. Patriots Fan will have to settle with some loser, greaseball who doesn't wear Uggs and ponytails during Carnival.


Filed under:
Video
Original Story:
http://bustedcoverage.com/2012/02/06/...
THE BACKYARD
BEST OF MAXIM
RELATED ARTICLES
BETTOR MAN THAN ME
The lucky fan who won $50,000 because of the Giants' safety in Super Bowl XLVI has told TMZ that he plans to give all his winnings to charity.
Now that the Giants have won the Super Bowl and Eli Manning was named the game's MVP, it's fun to look back at some of the things said before the season began. If you follow fantasy football closely, you may recall that Eli's draft stock fell after he failed to throw a touchdown in the preseason. The New York media strongly emphasized his preseason struggles, telling Giants...
INDIANAPOLIS (AP) - Back in August, back before the season began, Eli Manning was asked whether he considered himself an "elite" quarterback a la Tom Brady.Manning replied simply that he belonged "in that class." He was questioned and criticized for that, and _ shocking, right? _ it all became quite ...
Nobody knows if or when a Manning will play quarterback again inside Lucas Oil Stadium. Even so, the New England Patriots and Tom Brady shouldn't want to face Eli Manning and his New York Giants again -- wherever the site may be. Just like in Super Bowl XLII. Just like in Week 9 of the 2011 regular season. Manning's mastery over the Patriots continued Sunday with New York...
INDIANAPOLIS (AP) -- Eli Manning and the Giants one-upped Tom Brady and the Patriots again, coming back with a last-minute touchdown to beat New England 21-17 Sunday night for New York's fourth Super Bowl title. It was a rematch of the 2008 NFL championship, when Manning led New York past New England to ruin the Patriots' bid for a perfect season. This was the first Super...
Not no way. Not no how. Win or lose tonight, Eli Manning is not even in the same breath as his older brother Peyton Manning. I am absolutely amazed by how many people are actually saying this. It's like they forgot how great Peyton is. Everyone is caught up in the moment, and I get that, but let's get real. Eli Manning is not elite. Eli had one elite year. One year does no make...
You would be hard-pressed to find a quarterback playing better clutch football than Eli Manning has played during the Giants' surge to the Super Bowl.
The Super Bowl is over, and after a sleepless night for winners and losers both, the cold business of football returns. Some of these players made buckets of money for themselves playing on the game's biggest stage, while others might have cost themselves dearly in their next negotiations. Thanks to Bryan McIntyre of Mac's Football Blog, we have a team-by-team list of...
There's no need for me to rehash all the ins and outs of last night's game. Sports Illustrated's website provides some great analysis and commentary if you're online, and ESPN is talking it to death if you're watching tv. All I will say is that I love my team, I love that they wanted to win, and I kinda love that it was the Patriots that they stuck it to. I will...
Congratulations to the Super Bowl XLVI Champion, New York Giants! What a spectacular performance by Eli Manning and the rest of Big Blue. I'm going to relish this one for a long time. :-) * * * * * * So I just read the news that Rick Ankiel signed with the Washington Nationals and I wanted to quickly get something off my chest before I forget about it in the morning. Does anyone...
Giants News

Delivered to your inbox

You'll also receive Yardbarker's daily Top 10, featuring the best sports stories from around the web. Customize your newsletter to get articles on your favorite sports and teams. And the best part? It's free!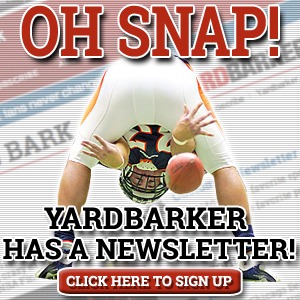 Latest Rumors
Best of Yardbarker

Today's Best Stuff

For Bloggers

Join the Yardbarker Network for more promotion, traffic, and money.

Company Info

Help

What is Yardbarker?

Yardbarker is the largest network of sports blogs and pro athlete blogs on the web. This site is the hub of the Yardbarker Network, where our editors and algorithms curate the best sports content from our network and beyond.