Posted June 11, 2013 on AP on Fox
PLAYERS:
Jay Cutler
,
Kristin Cavallari
,
Alshon Jeffery
,
Evan Rodriguez
,
Tony Fiammetta
,
Devin Aromashodu
,
Mike Martz
,
Brandon Marshall
,
Earl Bennett
,
Eric Weems
,
Marquess Wilson
,
Martellus Bennett
,
Kyle Long
,
Robbie Gould
,
Shea McClellin
,
Sedrick Ellis
TEAMS:
Chicago Bears
,
New Orleans Saints
Chicago quarterback Jay Cutler sees himself making almost as big a commitment on the football field as he recently made off it. Cutler, who recently married actress Kristin Cavallari, calls the new Bears offense one that will require time to master. A lot of time. ''Really whenever you want to get into it, it's a three-year process to learn an offense,'' Cutler said. ''It just is what it is. It takes time. It's hard to go out there Year 1 and blow the doors off. But we're going to do the best we can with the time allowed and we'll see where we're at.'' Cutler has an expiring contract and no heir apparent in Chicago. He does have a new offensive-minded head coach in Marc Trestman and a new offensive coordinator in Aaron Kromer. But Cutler is now learning his fourth Bears offense in five seasons with the team. ''His work ethic is unparalleled, as good as anybody I've ever been around,'' Trestman said of Cutler. ''His detail in the offense is as good as anybody I've been around. He's doing all the right things. He's working at his craft and it's not easy when you're starting over one more time. I applaud him.'' With about six weeks to go until training camp, the pieces to the offense are still being shuffled, too. Cutler did not have wide receiver Alshon Jeffery at practice Tuesday after he pulled a hamstring last week. The Bears have also cut fullback Evan Rodriguez following his second alcohol-related arrest. And 2011 first-round pick Gabe Carimi was traded over the weekend to Tampa Bay for a sixth-round 2014 draft pick. The Bears have brought in fullback Tony Fiammetta to replace Rodriguez, and signed former Bears and Vikings receiver Devin Aromashodu. ''I think skill position-wise, we've got some great guys, we've got some guys that can really play football offensively in that locker room,'' Cutler said. ''So guys are filling the places and we'll just keep moving.'' The Bears did not want to make their decision to cut Rodriguez look like it was entirely based on his alcohol-related arrests. ''We feel we've made very good decisions moving in the direction of a fullback who could give us more on special teams and give us a little more flexibility with some of the things that we're going to be doing,'' Trestman said. Trestman insisted the new coaching regime and general manager Phil Emery had not decided to make an example of Rodriguez for his troubles, or of Carimi, who had opted to work out on his own in the offseason and reportedly considered his move from tackle to guard a demotion. ''No decision is based on anything other than best decisions of the team,'' Trestman said. ''They're mindful. They're in good faith. We're not making decisions based on being belligerent or having animosity. That's not in the best interest of the team.'' Fiammetta started 34 games his first three seasons with Carolina and Dallas, and went on the reserve/left team list last year with the Patriots for personal reasons. Aromashodu is in his second Bears stint and developed a good rapport in 2009 with Cutler during their first year together, but was cut and signed with Minnesota for two seasons after he had trouble adapting to the offense of former coordinator Mike Martz. ''You never know where your career may lead to, if it's back somewhere you played at,'' Aromashodu said. Cutler recalled Aromashodu's first two years as productive, but Chicago already has Brandon Marshall, Jeffery, Earl Bennett, Eric Weems and rookie Marquess Wilson. ''He's kind of behind the eight-ball,'' Cutler said. ''He's behind the other guys. He's got a lot of catching up to do. Receiver-wise I think we've got some really good guys. We've got some really good skill guys on the offensive side, so he's going to have to catch up to us.'' Then there is new Bears tight end Martellus Bennett, who is living up to a reputation as a free spirit. ''He says he's abstract, so take that for what it's worth,'' Cutler said. ''We've talked about it and I said, `Some of your creativity you've got to leave that in the locker room.' He brings a different humor, a different swagger to that offensive group.'' NOTES: Kromer is not attending practice due to hip surgery. ... First-round draft pick Kyle Long is unable to attend because his college class does not graduate until the day after minicamp ends. ... Kicker Robbie Gould is back after surgery to repair a ruptured left calf tendon. ... Defensive end Shea McClellin practiced and said later that he is no longer plagued by plantar faciitis, which slowed him in OTAs. ... Defensive tackle Sedrick Ellis signed a one-year contract. Ellis started 70 games with the Saints from 2008-12 and had 12 1-2 sacks.
Original Story:
http://msn.foxsports.com/nfl/story/Cu...
THE BACKYARD
BEST OF MAXIM
RELATED ARTICLES
Generally regarded as a major bust, wide receiver David Terrell spent four disappointing years in Chicago, totaling just 1,602 receiving yards after becoming the eighth overall pick in 2001. Following years of obscurity, Terrell recently came out of the woodwork to defend himself, blaming others -- notably the Bears' quarterbacks -- for his lackluster outings. "I led...
2013 is really a make or break year for Jay Cutler and the Chicago Bears. The front office has done their best to improve that train wreck of an offensive line in front of him. They signed an all pro, another guy who's decent, jettisoned the 1st round pick bust and spent their 1st round on the position this year. He's had Brandon Marshall, a legit #1 target, back with again for...
Former Chicago Bears wide receiver David Terrell was labeled a bust by RedEye and he wasn't too pleased about it.  Terrell actually emailed RedEye and told them to call him so they could discuss why he wasn't a bust and so on.  There are a few interesting quotes from the piece and it is definitely worth a read. His argument for why he isn't a bust you ask? My opinion? I don't...
If you thought Jay Cutler would get through his weekend wedding to Kristin Cavallari without making a couple Cuts faces…
Jay Cutler says marriage has done one thing for him: the Chicago Bears quarterback feels much older. ''I feel old, I really do,'' Cutler said Tuesday in confirming that he and actress Kristin Cavallari had recently married. ''It feels good.'' He didn't offer any details of the wedding, saying only: ''It went off without a hitch, so that...
The wedding was shrouded in secrecy — and the application for their June 7 marriage license was public— but it wasn't until Saturday that Chicago Bears quarterback Jay Cutler and reality TV person Kristin Cavallari really felt like a married couple, as they exchanged vows in front of family and friends. The couple — whose wedding bands were a glittering diamond ring...
Former Chicago Bears wide receiver David Terrell would have given up pretty much anything to have had the chance to play with quarterback Jay Cutler.
AP In 2001, David Terrell was chosen by the Bears as the eighth overall pick after leaving Michigan after his junior year.  He finished his career with 128 catches for 1,602 yards and nine touchdowns.  The big problem – those numbers were accumulated over parts of four seasons.  He was cut by the Bears in 2004 and later picked up and dumped by the Patriots and Broncos.  David...
It's all over Juan… Reality star Kristin Cavallari and Chicago Bears Quartergback Jay Cutler made their way to the Woodmont Christian Church in Nashville, Tennesse with family and friends this past weekend for Cutty's big day. Glad to see Jay finally smiling…sort of. Jay Cutler: Mad Man Jay Cutler Joins Teammates at Fundraising Dinner
Jay Cutler and Kristin Cavallari had their wedding ceremony in Nashville over the weekend. The Daily Mail came through with photos, which is helpful for the all-important task of laughing at things Cutty does. Some folks have been gagging on Cutler for having a one-day growth of face scruff at his wedding, but I have a hard time mocking him for that, and it doesn't take much for...
Pat Imig's NFL Update is delivered right to your door, with the fresh taste of delicious wit. In this addition, Jay Cutler, Brett Favre and Chad Johnson take the stage.
In 2001 wide receiver David Terrell was the 8th overall selection and the #1 receiver selected in the NFL draft by the Chicago Bears. Needless to say the expectations in Chitown were high for Terrell after being the first player in Michigan history to have multiple 1000-yard seasons. Things didn't quite pan out the way the Bears or Terrell expected, and four years later after a...
NFL News

Delivered to your inbox

You'll also receive Yardbarker's daily Top 10, featuring the best sports stories from around the web. Customize your newsletter to get articles on your favorite sports and teams. And the best part? It's free!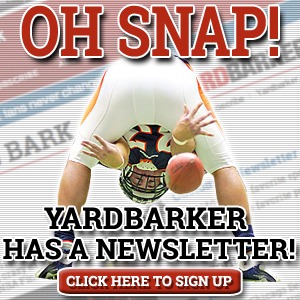 Latest Rumors
The Backyard

Today's Best Stuff

For Bloggers

Join the Yardbarker Network for more promotion, traffic, and money.

Company Info

Help

What is Yardbarker?

Yardbarker is the largest network of sports blogs and pro athlete blogs on the web. This site is the hub of the Yardbarker Network, where our editors and algorithms curate the best sports content from our network and beyond.