Found April 05, 2012 on BroncoTalk:
PLAYERS:
Peyton Manning
,
Lonie Paxton
,
Jay Cutler
,
Alex Smith
,
Kevin Kolb
,
Mike Adams
,
Demaryius Thomas
,
Stephen HIll
,
Coby Fleener
,
Jacob Tamme
,
Joel Dreessen
TEAMS:
Denver Broncos
,
Indianapolis Colts
,
Chicago Bears
,
San Francisco 49ers
,
Arizona Cardinals
,
Penn State Nittany Lions
,
Georgia Tech Yellow Jackets
,
Stanford Cardinal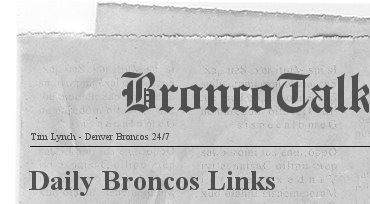 Win a custom commissioned sports athlete portrait – valued at $300!
Top Stories
Manning's fingerprints will be all over Broncos' playbook | Denver Post
The Broncos will create a playbook that Manning is comfortable running. Manning says, "I'm not going to be the offensive coordinator," but his fingerprints on the playbook will be unmistakable.
When Can You Start? by Tony Villiotti | Draft Metrics
In past articles, DRAFTMETRICS has presented information regarding the robability of draftees becoming starters. Remember, in DRAFTMETRICS-speak a player gets credit for being a starter if he starts at least eight games in a single season. A five-year starter, then, is a player who started at least eight games in a season at least five times.

DENVER BRONCOS 2012 NFL MOCK DRAFT | 4 ROUNDS | NFL Soup
Not many people are likely to argue the Denver Broncos made a good move in their recent deal with former Indianapolis Colts quarterback Peyton Manning; after all, the four-time MVP and Super Bowl champion already ranks highly among the greatest players of his generation.
Denver Broncos News
Denver Broncos' preseason schedule highlighted by home game against San Francisco 49ers | Denver Post
The NFL released its teams' preseason opponents Wednesday, and a national TV matchup Sunday, Aug. 26, against the San Francisco 49ers at Sports Authority Field at Mile High highlights the Broncos' schedule.
Penn State defensive tackle worth a predraft look from Broncos | Denver Post
Still, a consensus All-American and the Big Ten Conference defensive player of the year last season with the Nittany Lions, will carry a first-round grade into the NFL's April 26-28 draft. He could be available when the Broncos get to use their first-round pick. They're in the No. 25 slot.
Broncos, all other NFL teams get new uniforms for 2012 | Denver Post
With a buzz fit for a Broadway opening, the NFL overwhelmed yet another day on the sports calendar Tuesday when Nike unveiled the league's new line of game uniforms.
Bears to host Peyton's Broncos debut | ESPN
The NFL announced Wednesday that the Chicago Bears will open the preseason by hosting the Denver Broncos the weekend of Aug. 9-12, meaning that fans at Soldier Field could see future Hall of Fame quarterback Peyton Manning in a Denver uniform for the first time.
New Nike NFL jerseys mean Denver Broncos back to Orange Crush | Examiner
On Tuesday, Nike took back over as the NFL's official equipment provider and with the company change came some notable changes to what all teams will be wearing and a transformation for the Denver Broncos.
Denver Broncos Blogs
Watch the NFL draft at Lonie Paxton's charity bowling tournament | First and Orange
Broncos long snapper Lonie Paxton's draft-night party is back, giving Broncos fans the chance to compete alongside Broncos players, watch the first round of the NFL draft and raise money for the Active Force Foundation, which supports wounded veterans and athletes.
Broncos to face San Francisco 49ers on national TV in preseason | First and Orange
The NFL on Wednesday set in soft stone the Broncos preseason schedule. Denver's opponents had previously been named, but the NFL now has at least given a range of dates when those games will be played.
Broncos preseason: Peyton Manning vs. Jay Cutler, Matt Flynn, Alex Smith, Kevin Kolb | First and Orange
That matchup will kick off at 2 p.m. Aug. 26 at Sports Authority Field at Mile High. The game will be nationally televised on Fox. No doubt, Fox believes there will be early interest in Peyton Manning, a 14-year quarterback with the Indianapolis Colts who signed with the Broncos as a free agent two weeks ago.
Mel Kiper Projects Broncos To Select LSU DT Michael Brockers | SB Nation
ESPN's Mel Kiper projects the Denver Broncos to select LSU defensive tackle Michael Brockers with the No. 25 overall pick in his latest mock draft. With the acquisition of Peyton Manning giving Denver new life on offense, it seems likely that defense will be the team's focus early in the 2012 NFL Draft.
Ta Ta for now Timmy "Tinseltown" | Mile High Report
See, I knew that moniker would make you laugh Tim. Seems that you have a much better sense of humor then most of your hypersensitive fans. Honestly I didn't know much about you, other than the obvious, before you came to the Broncos a little too early in the spring of 2010 but I have grown to like and respect you.
Broncography: Mike Adams | IAOFM
On Thursday, March 15 of 2012, Denver jumped into the free agent pool and came out clutching veteran free safety Mike Adams in its hooves. Was it the money or the atmosphere that brought him into the Broncos fold? According to Gray Caldwell, Michael 'Pops' Adams began by saying, "Nice to be here: the weather's nice."
2012 NFL Draft
2012 NFL Mock Draft | Walter Football
You think Peyton Manning will have a hand in the decision-making when it comes to the 2012 NFL Draft? Demaryius Thomas is a fantastic talent, but Manning needs someone else to throw to. Why not another Georgia Tech receiver? Stephen Hill will stretch the field and open things up for the running game.
Mock Draft 6.0 | National Football Post
After signing QB Peyton Manning, adding a big play threat to open up the field vertically and complement the pieces the Broncos already have in place makes a lot of sense for Denver.
2012 NFL Mock Draft 4.0 | SI.com
Brockers has slipped some as the draft scouting process has unfolded, but he'd be a great value for a Denver team that needs some heft and athleticism in the middle of its defensive line. I gave the Broncos Stanford tight end Coby Fleener in my 3.0 mock, but then Denver went out and signed veteran tight ends Jacob Tamme and Joel Dreessen.
Original Story:
http://broncotalk.net/2012/04/33467/d...
THE BACKYARD
BEST OF MAXIM
RELATED ARTICLES
(John Leyba/The Denver Post) (Editor's note: The following is a tryout piece for the BT Staff by Chris Schmaedeke.) Peyton Manning signed a 5-year deal with the Broncos, but the team knows he can't play forever. The Broncos signed former CSU standout Caleb Hanie to back up Manning next season, but after his showing in Chicago is probably not the long term answer after Manning...
As an Ole Miss grad, the subject of his alma mater might have proved a tempting one for Ruston Webster to bring up during his organization's recruitment of Peyton Manning seeing as Manning's brother Eli and father Archie played there but the Tennessee Titans new general manager kept the discussions to business. "All Titans," said Webster, who was elevated to...
The Colts seemingly are incredibly interested in Robert Griffin III in the upcoming draft or are at least doing their best to convince us they're interested. Nate Dunlevy tackles this possibility with his usual deft touch: Sorry, not buying it. If they were making a late-in-the-game push to go after Luck then that means they didn't have enough information back in March...
Cardianls quarterback Kevin Kolb is declining to answer questions about the team's pursuit of Peyton Manning and more updates inside.
Peyton Manning's arrival in the AFC West apparently has put the Denver Broncos' rivals on notice, as the need to acquire quality defensive help is now at a premium. In line with that thinking, the San Diego Chargers have re-signed defensive end Luis Castillo to a one-year contract. Castillo has been a valuable contributor to the Chargers front seven over the years, helping...
Chicago Bears fans could see both Peyton Manning and Robert Griffin III in their initial starts for their new teams. The club released its 2012 exhibition schedule Wednesday, and the first two games are home dates with Manning's Broncos and the Washington Redskins, who are fully expected to tab RGIII later this month in the NFL draft. The preliminary timeframe, [...]
With the addition of Peyton Manning, the Broncos are now considered to be the front runners in the AFC West, and likely to repeat as division champions for the 2012 season.  Acquiring safety Mike Adams and cornerback Tracy Porter add starting potential in the secondary, while the signings of wide receiver Andre Caldwell, tight ends Joel Dressen and former Manning target Jacob Tamme...
Win a custom commissioned sports athlete portrait – valued at $300! Top Stories 'What if' game relevant in AFC West | ESPN The AFC West was the tightest division in the NFL in 2011.The Broncos, Raiders and Chargers finished 8-8 with Denver prevailing as the division winner via a tiebreaker. Kansas City was a game behind at 7-9. The Chiefs were a blocked field goal attempt...
Is this just a supersticious thing?  Self-proclaim you're the best or elite in hopes you can become the next Super Bowl champion.  Everybody thought Eli Manning was out of his mind when he self-proclaimed himself to be elite.  Manning wasn't elite, but the NY Giants were the best last year.  The defense stepped up and became the reason they won the Super Bowl, Justin Tuck...
Win a custom commissioned sports athlete portrait – valued at $300! Top Stories Broncos want another RB regardless of Knowshon's condition | Denver Post In early February, he was arrested and charged with DUI, failing to have insurance and careless driving. Police clocked him driving a Bentley 70 mph through a construction zone on Interstate 25 with a posted speed limit of...
NFL News

Delivered to your inbox

You'll also receive Yardbarker's daily Top 10, featuring the best sports stories from around the web. Customize your newsletter to get articles on your favorite sports and teams. And the best part? It's free!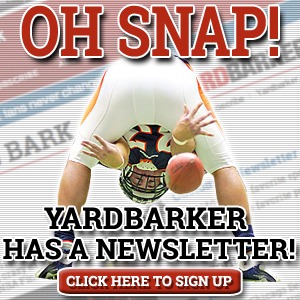 Latest Rumors
The Backyard

Today's Best Stuff

For Bloggers

Join the Yardbarker Network for more promotion, traffic, and money.

Company Info

Help

What is Yardbarker?

Yardbarker is the largest network of sports blogs and pro athlete blogs on the web. This site is the hub of the Yardbarker Network, where our editors and algorithms curate the best sports content from our network and beyond.