Found June 26, 2012 on BroncoTalk: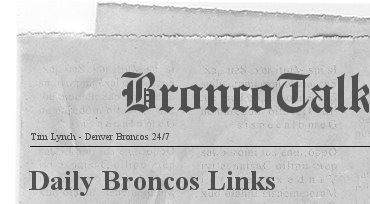 Be sure to follow me on Twitter for more Broncos updates throughout the day.
Denver Broncos News
BT Giveaway: You could win a Von Miller card! | BroncoTalk
How do you win the card, you ask? Simple. Just comment below and the comment that receives the most blue +1 votes wins the card!
Peyton Manning vs. Tim Tebow: Colorado voters weigh in | First & Orange
Tebow received a 68 percent favorable rating as a person, compared to 57 percent for Manning. Tebow had an 18 percent unfavorable rating, compared to only 10 percent for Manning.
2012 Training Camp Schedule Released | DenverBroncos.com
The Broncos announced the 2012 Training Camp schedule on Monday that features 18 practices that will be open to the public free of charge.

Peyton Manning goes to bat for Buick in new television commercial | Denver Post
Peyton Manning has been barking football signals in Greeneville, but not on a playing field. According to The Greeneville Sun, the Broncos quarterback taped a national TV commercial for Buick on Sunday.
Broncos training camp can't come soon enough | FOX31 Denver
Ah, the dog days of summer. In the sports world, it can be very quiet. Right now we have the Rockies, Rapids and Outlaws going on.
Denver Broncos' Training Camp Practices Open To Fans | ABC7 News
The Denver Broncos on Monday released the below schedule for 2012 Training Camp events that are open to the public.
Ike Taylor hasn't forgotten Tim Tebow play that burned him | CBS Sports
The 80-yard touchdown pass Tim Tebow completed to Broncos receiver Demaryius Thomas in the opening seconds of overtime in the AFC playoff game last season has sparked a fair amount of debate around the CBSSports.com water cooler.
// <![CDATA[ google_ad_client = "ca-pub-1209026070761313"; /* 468x15 link content ad */ google_ad_slot = "0894341522"; google_ad_width = 468; google_ad_height = 15; // ]]>
// <![CDATA[
// ]]>
Denver Broncos Blogs
New Horsepower Fueling Broncos | DenverBroncos.com
Luke Richesson and his staff bring a new philosophy to the Broncos' strength program.
Strength, Size Help Siliga Stand Out | DenverBroncos.com
Defensive tackle Sealver Siliga, an undrafted free agent a year ago, used this offseason's OTAs and minicamp to make a name for himself on a veteran Broncos defensive line.
First Broncos training camp practice is July 26 | First & Orange
Broncos fans can get their first glimpse of Peyton Manning on the Broncos' practice field July 26, the first day of training camp.
6th Round Success and the Broncos | Mile High Report
In the 2012 NFL Draft, the sixth round encompassed picks 171 through 207. This varies of course year by year due to the Compensatory picks handed out. According to the chart I referred to in the last post, a 6th round draft pick would have about a 2.5% success rate in starting 56 games in his first 5 seasons.
Denver Broncos At San Diego Chargers – Monday Night Matchups | Predominantly Orange
Today the Broncos announced that the 2012 Training Camp will begin on July 26, 2012. That means that next month at this time Bronco Country will be celebrating the start of another new football season.
Denver Broncos Videos
Video: Ed McCaffrey hosts Dare to Play | Denver Post
Former Denver Broncos All-Pro wide receiver Ed McCaffrey hosts his third annual Dare to Play Football and Cheer Camp for children and young adults with Down Syndrome at Valor Christian High School in Highlands Ranch.
Original Story:
http://broncotalk.net/2012/06/38477/b...
THE BACKYARD
BEST OF MAXIM
RELATED ARTICLES
Denver Broncos sales executives have been very busy since news broke that Peyton Manning was coming to town. Demand for the Broncos premium seating at Sports Authority Field at Mile High have been so high the organization is planning to renovate the stadium to create more suites, according to Forbes.com. The stadium has 130 total suites in which the team tries to lease out 115 of...
We love our readers here at BroncoTalk so we thought we would show our appreciation by doing a giveaway on the site. If you follow our Facebook page, you already know that we giveaway trading cards — sometimes autographed — on our page every Monday.  Those winners are randomly selected, today we're doing something different. Today, we're giving away an autographed 2012 Bowman...
Every team in the NFL has players on their roster that either are totally overrated or that are totally underrated. The Denver Broncos are no different, and this article examines the two most overrated and the two most underrated players on the team. Overrated Peyton Manning Peyton Manning is the most overrated player on the Denver Broncos because of the huge contract, and all...
Be sure to follow me on Twitter for more Broncos updates throughout the day. Denver Broncos News Broncos May Renovate Stadium Thanks To Manning | Forbes The news that Peyton Manning was coming to Denver had just broken over a local radio station when the Broncos' manager for suite sales felt his phone buzz with a text from one of his longtime customers. The customer, Scott Brown...
Denver Broncos We couldn't be happier this offseason. We unloaded Tim Tebow. Yeah, he's a great guy, but we're looking for a great passer. And oh by the way, we added a great passer to the roster when we were able to sign Peyton Manning. We have a solid defense, good offensive weapons, and one of the best quarterbacks to ever play the game. We think we should be able...
Eli Manning is only 31 years old, but he has already won two Super Bowls and established himself as one of the most clutch players in the game. Last season, he threw for 29 touchdowns and nearly 5,000 yards. He has eclipsed the 4,000-yard passing mark in each of his last three seasons, yet for some reason Manning is not considered by many to be an elite NFL quarterback. On the NFL...
With the kind of widespread team change that has occurred in Indianapolis following the 2011 NFL season, fans are presented with the dawning of a new era and reason to track the team's progress as it moves into the future with a clean slate. A new general manager, coaching staff, scouting staff, franchise quarterback, and major player turnover all make what Colts fans knew from...
It's the off-season and we are still a bit away from the first pre-season game. It's the perfect time to bring the guys together at the Grits Blitz roundtable so pull up a chair and listen to what we have to say and feel free to chime in with your answers as well. Last week we talked about position battles. Today, we talk about the games. The Falcons always have some key...
Rodney Harrison will be honored by the Boston Sports Museum at the 11th annual "The Tradition" on Wednesday at the TD Garden. But before receiving his award alongside fellow sports legends Pedro Martinez, Robert Parish, among others, Harrison took some time out to speak with NESN's Luke Hughes. The two chatted about Harrison's time with the Patriots, the growing...
In the seventh episode of "Football Nation Today," Alex looks at some of the biggest and most interesting stories around the NFL in this final week in June:   1st Down: Anthony King has published the most widely read article in "Football Nation" history over the past week, as he wrote a lengthy article depicting what he deemed to be the most controversial NFL personnel moves...
NFL News

Delivered to your inbox

You'll also receive Yardbarker's daily Top 10, featuring the best sports stories from around the web. Customize your newsletter to get articles on your favorite sports and teams. And the best part? It's free!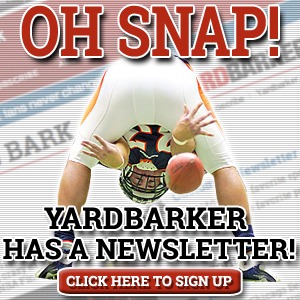 Latest Rumors
Best of Yardbarker

Today's Best Stuff

For Bloggers

Join the Yardbarker Network for more promotion, traffic, and money.

Company Info

Help

What is Yardbarker?

Yardbarker is the largest network of sports blogs and pro athlete blogs on the web. This site is the hub of the Yardbarker Network, where our editors and algorithms curate the best sports content from our network and beyond.