Found April 25, 2012 on Sportress of Blogitude:
Now that he's back in shape thanks to NutriSystem, NFL Hall of Famer Dan Marino is clearly moving on to bigger and better (and more elderly-like) things. To wit: it has been announced that the Miami Dolphins legend is the new "Men's Life Ambassador" for the American Association of Retired Persons, better known as the AARP.
Primarily through AARP's website, Marino will be the organization's go-to guy for providing tips and tricks related to a myriad of topics — such as health, fitness, sports and aging — to a population of men entering their twilight years who are more likely to remember him from his early playing days than for his cameo role in Ace Ventura: Pet Detective. Laces out.
Saying he will help "create awareness and when you turn 50 there's new challenges and things you can do. It's not the end," Marino adds (from the AARP blog, by way of The PostGame):
"At the end of the day, age is really just a number and I want to help people—no matter what life stage they're in—realize that they can be healthy, stay fit, explore their interests and passions, and enjoy the many opportunities they have in life, in the years to come," he said to AARP.
One other tip we might see Marino passing on to AARP members: the many wonderful qualities of Isotoner gloves. Take care of the hands that take care of you. Right, Dan?
Also from Sportress of Blogitude:
Kate Upton stops by 'FOX & Friends', tosses around the old pigskin (video/pics)
Flyers players join Canadian 'rockers' Nickelback on stage (video)
Intellectually pulverizing sport of Chessboxing rising in popularity (video)

Original Story:
http://www.sportressofblogitude.com/2...
THE BACKYARD
BEST OF MAXIM
RELATED ARTICLES
The Miami Dolphins went ahead and reached for quarterback Ryan Tannehill with the eighth overall pick in the 2012 NFL Draft. About the only redeeming factor for the pick is that Tannehill has an attractive wife. Lauren Tannehill was in attendance with her husband for the draft and even seemed to tip the pick via her Twitter account: FINS ARE UP!!!!! Miami here we come!!!!!...
Everyone knew it was coming as the Miami Dolphins selected Ryan Tennehill with the eighth overall pick in the 2012 NFL draft. The next question becomes now what because Tannehill isn't ready to start in the NFL. Maybe while Tannehill sits behind current starter Matt Moore he can handling the punting duties since he has
Last night, the Miami Dolphins took a step we've been waiting 29 years for.  Last night, the Dolphins selected a quarterback in the first round of the draft for the first time since 1983 when they drafted Dan Marino.  The Dolphins clearly believe that Ryan Tannehill has all of the tools to be a franchise [...]
According to Armando Salguero of he Miami Herald, Miami Dolphins defensive end Cameron Wake was a no-show for the first day of voluntary mini-camps on Tuesday. Wake is looking for a new contract, since he's only scheduled to make $615,000 in 2012. The 30 year-old Wake is the Dolphins best pass rusher and has proven he can be a force at the NFL level after beginning his pro football...
Ten down, none to go. It's been a long journey with these 10 mock drafts, and a large chunk of these first-round prospects have really begun to take shape. It's been fun to analyze the group, especially as players' stocks have fluctuated and team needs have changed throughout the course of free agency, which has yielded a number of unpredictable turns. Speaking of which...
Well, after handing out seven A's I can finally rip on a team. The Miami Dolphins are simply headed in the wrong direction and this is a desperation move. Ryan Tannehill is a nice developmental prospect, and there's a lot to like about his potential. But he has significant flaws (albeit, fixable ones) in his game than need work before he's ready to play in the NFL. In Miami...
The NFL Draft is finally upon us. Please join us for a live chat during the first round below. View shoutbox http://www.dolphinshout.com Come here for the best Miami Dolphins blog on the web. We have all of the most up to date new and opinions on the Dolphins organization for its fans.
Here's some more Potential Dolphin Funnnn-Stuffff that speaks for themselves .. Trent Richardson (Running Back) .. Coby Fleener (Tight End) .. Quinton Coples (Defensive... Come here for the best Miami Dolphins blog on the web. We have all of the most up to date new and opinions on the Dolphins organization for its fans.
Michigan State's Kirk Cousins... Positives: Whether it is his excellent quarterbacking skills or good arm strength, there's a lot to like about Cousins as a quarterback prospect. His ability to deliver the football quickly with above average arm strength is an attractive option for NFL teams. Short and intermediate routes are his strength; he displays good accuracy in...
Another one of our top 5 quarterbacks in the 2012 draft, Oklahoma State's Brandon Weeden, 6'4 218 lbs. Positives: The leader of Oklahoma State's explosive offense, he'll need to transition from a spread offense to a pro-style offense. The transition is the same Blaine Gabbert had/has to make, but with probably better results. Weeden can make all the throws; he...
The Miami Dolphins look to satisfy their angry fans, picking Texas A&M's Ryan Tannehill 8th overall... Positives: He's converted quarterback after playing wide receiver for the first half of his career, and was the team's leading receiver two seasons prior to becoming a quarterback. This shows his great athletic ability and how he can grasp an offense from two...
Dolphins News

Delivered to your inbox

You'll also receive Yardbarker's daily Top 10, featuring the best sports stories from around the web. Customize your newsletter to get articles on your favorite sports and teams. And the best part? It's free!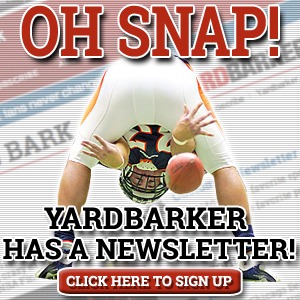 Latest Rumors
Best of Yardbarker

Today's Best Stuff

For Bloggers

Join the Yardbarker Network for more promotion, traffic, and money.

Company Info

Help

What is Yardbarker?

Yardbarker is the largest network of sports blogs and pro athlete blogs on the web. This site is the hub of the Yardbarker Network, where our editors and algorithms curate the best sports content from our network and beyond.