Found April 11, 2013 on The Bay Cave:
Bucs defensive end Da'quan Bowers was in a New York court room today on gun charges from his incident back on February 18. All went well for Bowers as his charges were reduced to fines.   Da'Quan Bowers gun charges reduced to disorderly conduct violation, per his attorney. Fined $250 with a $120 surcharge. — Roy Cummings (@RCummingsTBO) April 11, 2013   Bowers attorney says "Case over." Sealed case. Says DA's office did fair invetigation and came to justifiable conclusion — Roy Cummings (@RCummingsTBO) April 11, 2013 Da'Quan Bowers was facing a minimum of 3.5 years in prison if he was convicted. The Bucs were going to rely heavily on Bowers this season after allowing Michael Bennett to sign elsewhere this offseason. If he stays healthy, this will be a win-win for the Buccaneers and the 22-year old defensive end. But the question still remains, will the league review the case for a possible suspension? In a simple one line answer, NFL Vice President of Communications Greg Aiello said, "Yes, we will review the facts." While the league does their due diligence on the case, I don't expect Bowers to miss any games. Depending on how the personal conduct clauses are worded in his contract, if any. The post Da'Quan Bowers avoids jail, NFL will review case appeared first on The Bay Cave.
Original Story:
http://www.thebaycave.com/2013/04/11/...
THE BACKYARD
BEST OF MAXIM
RELATED ARTICLES
New York has some of the toughest gun laws in the country but when it comes to someone breaking those laws because of stupidity, the same courts can sometimes be lenient. Tampa Bay Buccaneers star Da'Quan Bowers found that out after he copped a plea in Queens Thursday to settle two felony charges stemming from his gun bust at LaGuardia Airport in February. Bowers pleaded...
The Buccaneers are entering their second season under head coach Greg Schiano, and their biggest question remains unanswered. What is the right move in regards to their starting quarterback Josh Freeman? Should they move on? Should they simply add a challenger to their roster? Over the past couple seasons, Josh Freeman's progression has stopped, and now it's moving the...
Buccaneers cornerback Eric Wright recently restructured his contract to stay in Tampa.  He also asked the Bucs' front office if they plan on trading him. While we were restructuring, I got a chance to talk to Coach Schiano and Mark Dominik, and I frankly asked if a restructure would mean me possibly getting traded. They told me that would not happen. They told me that they wanted...
The NFL Network aired this video segment Thursday night of Darrelle Revis talking about and showing the progress he's made in returning back to form from his ACL injury. He still has a ways to go, but as the video shows, he's on track to be ready for the 2013 season. What team he'll be on is another story. "I can't wait until my name gets called, when I get...
Tampa Bay Buccaneers defensive end Da'Quan Bowers has pleaded guilty to a reduced charge of disorderly conduct in connection with his New York City gun arrest. Bowers entered the plea Thursday in Queens. He was arrested at LaGuardia Airport on weapon possession charges in February. Authorities say a handgun was found during a search of his carry-on bag as he prepared to board...
Coaches in GM's in professional sports love to have players they selected at important positions.  No position in sports is more important than the quarterback position. Greg Schiano didn't draft Josh Freeman, and if you go by the reports, he would prefer a change. The Tampa Bay Times is reporting that everyone in the Buccaneers organization is sold on Freeman except head coach...
Earlier this offseason, Tampa Bay Buccaneers head coach Greg Schiano said that he hoped to bring in competition at the quarterback position. This led many to speculate that Schiano isn't sold on his current starter – Josh Freeman – but the coach has flip-flopped since his initial comments. However, people close to Freeman told Stephen F. Holder of The Tampa Bay Times that "just...
A recent report suggested that the deadline for the Bucs to trade for Darrelle Revis is the Friday before the draft. Others have suggested that a trade can come down as late as the Bucs being on the clock in round one. Whether these are smoke screens given from the Bucs or Jets to the media or the media just throwing suggestions out there, here is another scenario for you to ponder...
What would have happened if  New York Jets cornerback Darrelle Revis never tore the ACL in his left knee against the Miami Dolphins in 2012? Would the Jets have won enough games with their best player on deck to secure the future of their previous administration? That is a good question as now Revis prepares to report to the team to collect a healthy bonus so that they can presumably...
The dance between the Tampa Bay Buccaneers and the New York Jets continues. While it appears that the Bucs are the only real trade partner in the Revis Sweepstakes, even willing to give up a first-round draft pick this year, the Jets have been reluctant to pull the trigger. Now comes a report from Mike Florio of Pro Football Talk that one of the sticking points may surround another...
Almost everyone has chimed in now on the Darrelle Revis-to-Bucs speculation both locally and nationally. Opinions have varied many have voiced their thoughts on a potential deal for Revis the Bucs may offer.  ESPN's Sal Paolantonio was on-air with 620 WDAE's Steve Duemig and discussed the potential deal between both sides. If it is true, if the Bucs' general manager Mark Dominik...
Buccaneers News

Delivered to your inbox

You'll also receive Yardbarker's daily Top 10, featuring the best sports stories from around the web. Customize your newsletter to get articles on your favorite sports and teams. And the best part? It's free!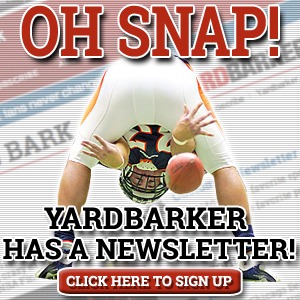 Latest Rumors
Best of Yardbarker

Today's Best Stuff

For Bloggers

Join the Yardbarker Network for more promotion, traffic, and money.

Company Info

Help

What is Yardbarker?

Yardbarker is the largest network of sports blogs and pro athlete blogs on the web. This site is the hub of the Yardbarker Network, where our editors and algorithms curate the best sports content from our network and beyond.