Found June 02, 2012 on Fox Sports Southwest:
PLAYERS:
Rob Ryan
,
Raymond Radway
,
Dwayne Harris
,
DeSean Jackson
,
Jeremy Maclin
,
Riley Cooper
,
Jason Avant
,
Hakeem Nicks
,
Victor Cruz
,
Ramses Barden
,
Jerrel Jernigan
,
Pierre Garcon
,
Santana Moss
,
Josh Morgan
,
Leonard Hankerson
,
Anthony Armstrong
,
Peyton Manning
,
Kevin Ogletree
,
Danny Coale
,
Nate Livings
,
Ronald Leary
,
David Arkin
,
Bill Nagy
TEAMS:
Dallas Cowboys
,
Philadelphia Eagles
,
New York Giants
,
Washington Redskins
,
Abilene Christian Wildcats
OK, another Saturday morning is here, so let's knock out a weekend Cowboys mailbag! Generally, when I do this during this time of year, about three guys a week will ask why we are talking Cowboys now? Nothing is going on? How can you guys possibly talk Cowboys in May and June? Here's how: We look at real issues and real items that are on our mind. Football is now 52 weeks a year, and with film study and new players to discuss, there is always time for Cowboys talk. So, if you have your favorite NFL team on your mind, let's go. Here are some links to get you started: The FOX Sports Southwest Bob Sturm Archive Page - This page will give you every thing I have written since the draft, including a profile on every player the Cowboys have added through the draft and plenty of other items, too. If you missed any, you can get up to speed right there. The Full Bob Sturm Archive Page - This will get you all the way back to everything I have written since 2005 on the Cowboys and everything else. So, if you are like me, and you want to reference something we spent time on last November - In this case, a thorough breakdown of Rob Ryan's Fire Zone Blitzing - Then, these links will be useful to you. Now, on to your emails: I really enjoy your blog. Its the best there is. Last year, when you were writing for the Dallas Morning News, you profiled the entire team. I found it particularly useful for more marginal players. This year, Im wondering what your thoughts are about the trio of young receivers, Raymond Radway, Andre Holmes and Dwayne Harris, the Cowboys have on their roster. Radway seemed gifted in the pre-season (which happens from time to time with players who really lack the elite skills necessary for the real games). Any chance you could do a column on these players and other background players whom you see (or those you respect see) as having a chance to develop? Thank you. Regards, J. David Green Thanks, Mr. Green. I appreciate you bringing this up and I think for next week I will attempt to write a column about the "5 players on the roster that you might not know much about that you should get to know fast" or something like that. On that list for sure need to be the two developmental WRs, Radway and Holmes. The Cowboys are thought to have the thinnest Wide Receiver corps in the division. In fact, yesterday on the air I was discussing the controversial idea that the Redskins may have the most receiver depth now from 1-4 or 1-5 in the Wide Receiver groups. Let's look at that now: Cowboys: Bryant, Austin, Ogletree, Coale, Harris or Radway or Holmes Eagles: DeSean Jackson, Jeremy Maclin, Riley Cooper, Jason Avant, Marvin McNutt Giants: Hakeem Nicks, Victor Cruz, Rueben Randle, Ramses Barden, Jerrel Jernigan Redskins: Pierre Garcon, Santana Moss, Josh Morgan, Leonard Hankerson, Anthony Armstrong So, you can see, if you go 2 deep, you have to look at all four teams as quite reasonable. I think I would rater Nicks and Cruz above Bryant and Austin and Jackson and Maclin, personally, but all the teams are fortified there. Garcon and Moss may not have that top side game breaking, but Garcon is better than people think, and this myth that he is a Peyton Manning creation should be discussed against the reality that he had his best season of 70 catches and 947 yards last season as Manning watched from the sideline. Now, factor in the 3rd receiver, and it would seem that much depends on the young development of Rueben Randle who might experience the biggest uptick in QB play possible in going from LSU to the NY Giants. Josh Morgan is an ideal 3rd WR in Washington after a bad 2011 in San Francisco. His 2010 had 700 yards and some pretty impressive catches. Jason Avant is a steady veteran who finds gaps in the secondary and Kevin Ogletree isn't scaring anyone. But, when you go 4 deep, and the Redskins can run out the impressive Leonard Hankerson from Miami, that is where their depth of quality 1-4 might put them near the top of the division. I know that is all on paper, but the Redskins have done a very nice job of collecting weapons for Robert Griffin. RG3 has some places to go with the ball, it would appear. But, however you measure things, 1-3 or 1-4 or 1-5, the depth of receiving corps at this point leave the Cowboys in last place in the division. Every team has a better option at 3 and 4 unless there is something cooking in the Cowboys camp that nobody else across the league is aware of. Which brings us back to Radway and Holmes. Raymond Radway is somewhat known for the way his 2011 camp went. He turned heads and appeared to have made the team as a McKinney kid who attended Abilene Christian. At 6'3, 195, he ran a 4.4 40 and can jump 38" so he has that athleticism that turned heads the moment he arrived. He was undrafted but jumped off the screen in some preseason games and looked poised to make the squad. But, with 3 seconds left in the final preseason game, he broke his leg badly in the end zone in Miami. Three seconds separated him from making the roster by most accounts. So, now he his healed and as fast as ever and ready to make an impression in camp again. So, we shall see. Andre Holmes is from Chicago and attended Hillsdale College. There he had ridiculous numbers for a college receiver with over 100 catches and 1300 yards his senior season with 11 touchdowns. He is 6'5, 210 and that type of frame makes him a very attractive candidate for the position. He also has tremendous hands and is a very smart player. His dad played professional basketball overseas after a college career at DePaul. He was originally signed by the Vikings out of college, but did not make their roster through camp and the Cowboys grabbed him for the practice squad. He impressed the Cowboys so much through the season that they then moved him to the active roster in December to make sure no other teams tried to pluck him away off the practice squad. Now, both of these players are undrafted free agents from the class of 2011. But, in both cases, the buzz about them both is such that we must take notice. The Cowboys, who are not above a judgement error, felt that Wide Receiver was not a desperate position on draft day because of these two. They think that one of them might be the answer to depth issues while everyone else in the football world is assuming Kevin Ogletree is that guy. I don't think the Cowboys have much hope for Ogletree at this point rather than as an insurance policy in case one of these guys or Danny Coale doesn't work out. I don't have much hope for Dwayne Harris, but perhaps he is the answer as the no-risk punt return guy. More on that, soon. ---- Should the Cowboys guards completely fail this year, ( to the point that it is very obvious they are not the answer) do the Cowboys have an escape plan? Are we going to be handcuffed to these 2 for years to come? Stay hard, P1 Jeff Jeff, I think the Cowboys contracts that are in place for Nate Livings and Mac Bernadeau are such that if they do not work out they are easily disposed of after 2 seasons. Neither will be a millstone around the cap's neck. However, the very real issues of what are the plans this year to fix the interior issues on the offensive line which I think are substantial would still remain. There are others who we are thinking might be solutions, including Ronald Leary form Memphis and last year's 4th Round pick who has yet to be active on a Sunday, David Arkin, and Bill Nagy. They have numbers. But, like Wide Receiver, to the non Cowboys optimist, most NFL observers are sifting through the names as if it is the Indians roster at the start of the movie, Major League ("Who are these guys?"). They will have a chance to be pretty good if the Cowboys can get what they need from the group, but they are surely trying to do it without the major draft investment (David DeCastro) or major free agency investment (Carl Nicks) that many of us would have preferred. To suggest it is a area of importance in a division that requires your OL to handle the fronts in New York and Philadelphia is a tremendous understatement. Time will tell, but we might be having these conversations about the wide receivers and offensive line next offseason, too.
Original Story:
http://www.foxsportssouthwest.com/06/...
THE BACKYARD
BEST OF MAXIM
RELATED ARTICLES
Kenyon Coleman was a starter for the Cowboys last season, but he wasn't that great and he turned 33 this offseason. He's owed 1.9 million in the final year of his deal and could now the Dallas Cowboys official website is saying that Coleman could be a cap casualty. Even though Coleman was a starter last year, the Cowboys used so much rotation on the defensive line that he only...
DeMarco Murray may already be the greatest player to wear #29 for the Dallas Cowboys. This is another update to the greatest Dallas Cowboys by their jersey numbers. This entry focuses on numbers 26 through 30. #26 Cornerback Kevin Smith was the greatest player to wear #26 according to the 2008 poll. Nobody has come along to take that title from him. Abram Elam changed from #24 to...
Getty Images Dallas Cowboys owner Jerry Jones believes that wide receiver Dez Bryant hasn't been able to reach his full potential so far in his career because of a possible lack of conditioning. "I don't know that [injuries] impacted some of the things that he needs to work on, and we need to work on as a coaching staff to get him the ball and get him into plays," Jones...
Jim Mancari BGB Assistant Editor Dallas Cowboys Pro-Bowl defensive end DeMarcus Ware appeared on Sportscenter talking about the Cowboys preparation for the upcoming season. He said the Cowboys need to be more like the Giants in being able to win games in the fourth quarter. Ware also said that it will take "11 or 12" wins for a team to be crowned NFC...
Getty Images Even though wide receiver Dez Bryant might be the most dangerous weapon on the Dallas Cowboys offense, owner/general manager Jerry Jones is willing to risk him getting injured returning punts this season. "I have no issue with us making business decisions relative to him returning punts," Jones said. "What I do want him to do is to get enough repetitions so he...
According to Cowboys outside linebacker DeMarcus Ware, Friday morning was the first time he heard team owner Jerry Jones' comments that the window was closing on the Cowboys' opportunity to win a Super Bowl with their current group. Ware's reaction? "I sort of agree with it a little bit," Ware said Friday on ESPN Radio's The Herd with Colin Cowherd. &quot...
If you want a straight answer at Valley Ranch these days, just make sure you don't talk to more than one person. New Cowboys secondary coach Jerome Henderson informed us last week he could envision a scenario in which four cornerbacks could be on the field at the same time. Whether or not he was simply being kind to the disgruntled Mike Jenkins, it seemed like a bold idea. Henderson...
Confirmed by Houston Fox Sports Mark Berman, the Houston Texans have also signed former Dallas Cowboys safety Alan Ball. Once again defensive coordinator Wade Phillips is bringing in one of his former players in Ball who spent 4 seasons under Phillips as the Cowboys head coach. Ball came to the Cowboys in the 2007 NFL draft out of Illinois when he was drafted in the 7th round (237th...
Saturday several top prospects from around the Midwest will head to the campus of Trine University (Angola, IN) for the first R.A.S. Football Camp presented by current Dallas Cowboys defensive end Anthony Spencer, Bedrock Youth Academy and Next Level program along with AWP Sports Performance. Who are some of the big names expected to show their skills? Here is a quick look.
Is the offensive tackle talent lacking in the NFL these days? One personnel chief believes it is an overrated position right now. Plus, Cowboys cornerback Mike Jenkins is not on the trading block and Jerry Jones has his rationale for sticking with Jenkins, another reason for Andrew Luck's contract holdup, Shawne Merriman has something to prove, and more.
For Big Blue, six games out of every 16-game schedule are against their NFC East Division Rivals: Dallas Cowboys, Philadelphia Eagles and Washington Redskins. The 2011 New York Football Giants swept Dallas, split with Philadelphia and went winless against Washington. How will this slightly changed 2012 Giants team fair against each? Head Coach Tom Coughlin will undoubtedly preach...
"Hot start for the Rangers, you say? I'll take care of that…" ROMO'D Tony Romo's tendency to be terrible is well-documented here at Mild Mannered. He's often the feature of our Biggest Meltdowns feature and has found ways to undermine the Dallas Cowboys in the biggest moments of a game. He's so terrible, we've turned his name into a verb, and you do not want your...
NFL News

Delivered to your inbox

You'll also receive Yardbarker's daily Top 10, featuring the best sports stories from around the web. Customize your newsletter to get articles on your favorite sports and teams. And the best part? It's free!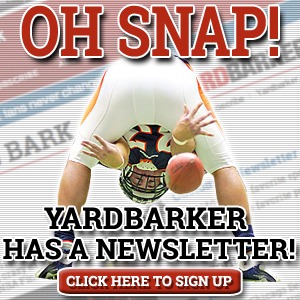 Latest Rumors
The Backyard

Today's Best Stuff

For Bloggers

Join the Yardbarker Network for more promotion, traffic, and money.

Company Info

Help

What is Yardbarker?

Yardbarker is the largest network of sports blogs and pro athlete blogs on the web. This site is the hub of the Yardbarker Network, where our editors and algorithms curate the best sports content from our network and beyond.