Found October 01, 2012 on Fox Sports Ohio:
BEREA -- The negativity and frustration about the Cleveland Browns was increasing last week when a not-so-subtle message of encouragement was delivered to the team and public by one of the few players with the experience and credibility to deliver it. Hey Cleveland, what u r seeing is not the same old Browns, read the message on Twitter. Trust me. I feel it. I can hardly wait until it explodes. The words were eye-opening, because through four games it sure feels like the same old Browns. But the messenger was Phil Dawson. And the messenger made the message more credible. Dawson is the ultimate professional. Too, he is not a frequent tweeter; he has posted just four times since Sep. 17. Given his tenure and what hes accomplished, Dawsons words are a byproduct of the E.F. Hutton Rule -- when he speaks, people listen. Or they should. Even if it comes from a kicker on a team that just dropped to 0-4. I said it to my teammates before I tweeted it, Dawson said Monday when asked about the tweet. First of all its my honest evaluation. I dont think this is the same old Browns. But also it was to encourage. And having been here from the get-to, I hope I brought a little credibility with it. By get-go, Dawson meant since 1999. He is the only player to suffer through every miserable season and every miserable loss since the Browns returned. But it never affected his performance or his professionalism. This season he was elected special teams captain, and he takes the role seriously even though he also knows that being a kicker might limit his cache. Thats the dilemma I find myself in a lot, being a captain yet being a kicker, he said. Theres some subjects I wont touch, because Im not out there bleeding and pounding. So Ill leave those type issues to Joe (Thomas) and DQwell (Jackson). But attitude, mentality, perspective I do feel like I can contribute in those areas. Dawson might be one of very few kickers who can deliver that message and be heard. Its kind of crazy to say hes just a kicker, cornerback Sheldon Brown said. Look at what hes accomplished. He has great respect here as a person, as a father, as a husband. So Dawson stood up a team meeting the day after the loss to Baltimore and gave his thoughts on being 0-4. They werent, to use the coachs phrase, doom and gloom. We have some talent on this team, and thats fun to see, Dawson said. You see guys who can make you plays. That hasnt always been the case around here. So Im saying that to basically encourage this locker room. When youre 0-4 youre going to start hearing a lot of stuff. If youre not careful youre going to start believing all of it. When can the Browns win? I dont know how soon, he said. Its a series of 16 single-game seasons. But I do have a feeling if we can get one it might come in bunches. Only time will tell. Where does he see the improvement? Just all over, Dawson said. I look around at all the different positions. OK, we got a little something in that group, in this group. In my little world, special teams, Im excited about the guys we got there. You look around in enough places and you have a couple guys in each group that you feel good about, now all of a sudden you feel that wow, we can do something. A sampling of teammates said the message got through. Hes trying to get those guys to understand that they werent here for the same old, so dont buy into it, Brown said. Phil is the longest tenured guy here, quarterback Brandon Weeden said. Hes been in Cleveland. He understands what weve gone through as a franchise and he understands how it all works. To hear it from a guy like that is actually good. But Dawson isnt pretending words can magically change anything. The best speeches in the world dont help a guy not drop a pass or miss a tackle. Hes seen the same things fans and media have seen -- missed chances, dropped passes and loss after loss after loss after loss. He also admitted the scene in Cleveland Browns Stadium at the end of the Buffalo was difficult to watch. Ultimately (the record is) what were judged by, Dawson said. Im not confusing those two issues. But just in terms of how do we move forward, whats our foundation, I wanted guys to know if we continue to do things right, just plug away, I can see some good things happening. Will it help? Well see, Dawson said. I feel that this team can win.
Original Story:
http://www.foxsportsohio.com/10/01/12...
THE BACKYARD
BEST OF MAXIM
RELATED ARTICLES
I've read countless tweets from Browns fans saying they won't watch this documentary about the 1995 Cleveland Browns. Tony Grossi wrote about it and likened it to reliving a family member's funeral. While those scenes depicting the stadium being torn apart might cause me to shed a few tears, after seeing the sneak preview, I think I'll have to watch it because there is so...
Daryl Ruiter and a host of other Browns beat reporters all reported from their talks with Pat Shurmur this morning that T.J. Ward had surgery on his right thumb. It was also reportedly the same procedure that Bubba Ventrone had previously. Ward is considered "day-to-day" for whatever that means. The Browns have the Super Bowl champion New York Giants coming up this weekend. The...
BEREA The Browns receiving corps has been maligned for dropped passes. Now, there are less receivers on the practice field trying to get better. Mohamed Massaquoi (hamstring), Josh Cribbs (concussion) and Travis Benjamin (undisclosed) were all absent on the practice field as the Browns started their preparations to play the defending Super Bowl Champion Giants. Its the nature of...
Last week: 32 Record: 0-4 The Browns are the worst team in the league, but they're not awful. They haven't lost a single one of their games by more than 10 points. They rank 23rd in the league in yards per play differential, bad but not awful. They've done this mostly with their best player being suspended. There just really isn't a truly awful team in the NFL, at least one...
CLEVELAND - No team has ever started 0-4 and advanced to the postseason, but that doesn't mean the winless Cleveland Browns aren't focused on their game against the Giants on Sunday in the Meadowlands. "Hey, let's go," Browns coach Pat Shurmur said. "No gloom and doom here. We're fighting to do what we can to go to New York and beat the Giants. ...
While We're Waiting serves as the early morning gathering of WFNY-esque information for your viewing pleasure. Have something you think we should see? Send it to our tips email at tips@waitingfornextyear.com The "A Lazy Sunday" feature has been a regular read on my Sundays and a regular component of While We're Waiting posts on Mondays for years now. This is a very sad way...
Beyond some miraculous, mythological football heaven intervention, it doesn't appear that the Browns' current losing streak will reverse itself any time soon.
Click here if you're looking for my Draft Value Board (Similar to a Big Board.) The order of this mock draft was decided by an estimate of each team's final record, not the final    1. The Cleveland Browns select: Jarvis Jones | LB | Georgia   I still don't see any elite prospects in [...]
While We're Waiting serves as the early morning gathering of WFNY-esque information for your viewing pleasure. Have something you think we should see? Send it to our tips email at tips@waitingfornextyear.com First up, Stephanie Liscio of It's Pronounced "Lajaway" analyzes the letter that Chris Antonetti sent to season ticket holders following Manny Acta's termination, "I...
Is it the foot, or is it the knee? Well, both, I guess. Nicks had a foot problem originally that the Giants were waiting to heal. In the meantime, his knee has apparently started to swell. The Browns will face another team without Joe Haden this week as they face off against the New York Giants, but as the week goes it seems more and more likely that the Browns won't have to face...
Mohamed Massaquoi (hamstring), Josh Cribbs (concussion) and Travis Benjamin (undisclosed) were all absent on the practice field.
Browns News

Delivered to your inbox

You'll also receive Yardbarker's daily Top 10, featuring the best sports stories from around the web. Customize your newsletter to get articles on your favorite sports and teams. And the best part? It's free!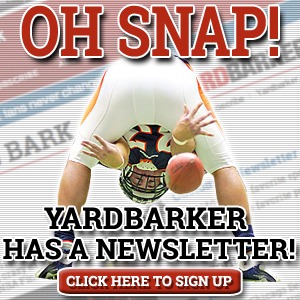 Latest Rumors
The Backyard

Today's Best Stuff

For Bloggers

Join the Yardbarker Network for more promotion, traffic, and money.

Company Info

Help

What is Yardbarker?

Yardbarker is the largest network of sports blogs and pro athlete blogs on the web. This site is the hub of the Yardbarker Network, where our editors and algorithms curate the best sports content from our network and beyond.