Found June 17, 2012 on Fox Sports Ohio:
PLAYERS:
Phil Dawson
,
Pat Shurmur
,
Ryan Pontbriand
,
Mike Holmgren
,
Tom Heckert
,
Bill Belichick
,
Josh Cribbs
,
Brandon Weeden
,
Travis Benjamin
,
Jordan Cameron
,
Scott Paxson
,
Phil Taylor
,
Kaluka Maiava
,
John Hughes
,
Billy Winn
,
Seneca Wallace
,
Usama Young
,
Eric Hagg
TEAMS:
Cleveland Browns
,
New England Patriots
,
Kent State Golden Flashes
,
Oklahoma State Cowboys
Phil Dawson, the only full-time kicker the Browns have had since their return in 1999, is excited about the season ahead.Dawson attended the mandatory minicamp last week after skipping the voluntary OTAs the previous two weeks. He had his reasons for being absent, but they were not out of protest. He can get his kicking in at home in Austin, Tex., and still be with his family. He is not attending OTAs this week, and that is fine with coach Pat Shurmur."I think the world of Phil Dawson," Shurmur said. "He's our kicker. He does a lot of great things for us."Dawson wasn't thrilled to be named the Browns franchise player last year with the lockout and everything that went with it. He was made the franchise player again in 2012 and this time is smiling."I remember telling you guys on the last day (of 2011) I had great conversations with everybody in the building," Dawson said. "We knew how each other felt, and that was a very positive deal. The Browns made the decision they felt they needed to make, so here we are."The tough part for Dawson and his wife Shannon is juggling family time during the season with one son in fifth grade, one in third and a daughter ready for kindergarten."We have a good plan and we'll make it work," Dawson said.Dawson is coming off what he believes was his best year kicking. He was 24 of 29 on field-goal tries, including seven of eight beyond 50 yards. Two misses were preceded by bad snaps from Ryan Pontbriand, who ended up losing his job because of them. Two other kicks were blocked. The miss that had no glitches was against Jacksonville. Dawson is convinced the ball was inside the right upright, but the officials under the goalpost disagreed.A winter and spring with his family has revived Dawson's enthusiasm - that and the path Mike Holmgren, Tom Heckert and Shurmur are carving as team president, general manager and head coach. Dawson believes there is finally stability in the front office and coaching staff and expects that to translate into winning - finally. The Browns have had only two winning seasons in 13 years and haven't won a playoff game since Bill Belichick was head coach in 1994.Heckert says he would like to sign Dawson to a long-term contract. He said the same thing last year. Dawson would like one, too, but so far that hasn't happened. In the meantime, Dawson is talking about being one of those rare players that begins and ends a career with one team.Technically, Dawson was with Oakland and New England in 1998, but he never made either of those rosters. He was in the Browns' 1999 expansion training camp and won a three-way battle for the kicking job."I'm not thinking about my career being over at this point, but it just doesn't make a whole lot of sense to go play somewhere else, so we'll see what happens," Dawson, 37, said. "I'm not very good at predicting the future. I'm just going to go to work like I always do and hope things get worked out."Dawson has scored 1,155 points. Lou Groza's team record is 1,349 points - a total that doesn't include 259 points Groza scored for the Browns in the All America Football Conference from 1946-49. Dawson estimated he would need 212 years to break Groza's Browns record."That was a goal I set in 1999 when Danny Kight and Chris Boniol were out here competing against me in training camp," Dawson said. "If I had admitted back then that that was one of my goals you guys would have laughed me out of town and I wouldn't have blamed you."A lot of work, a lot of years and a lot of effort have taken place since then. To even be remotely on the horizon close to that is a pretty neat thing."Dawson was 20 of 20 on extra points last season compared to the 29 field-goal tries in 2011.He would much rather attempt more PATs than field goals. That hasn't happened since 2007 when he was 26 of 30 on field goals and 42 of 43 on PATs. That was also the last year the Browns had a winning record. They were 10-6. NOTES, QUOTESCameron making significant strides in second season--Browns wide receiver and former Kent State quarterback Josh Cribbs has secured a bus and purchased 53 tickets for the Flashes' College World Series game vs. Arkansas on Saturday. The trip would cost fans 150 each. The fare includes transportation, beverages, hotel accommodations in Omaha, a Flashesteam Cribbs shirt and the ticket to the game."Greyhound, if necessary," Cribbs said after spring practice Tuesday. "I love they're giving us something to cheer for. It's good for the University."--A friendly rookie war is brewing in the Browns locker room. Quarterback Brandon Weeden is from Oklahoma State. Wide receiver Travis Benjamin is from Miami. Naturally, they have different opinions about which team will prevail in the NBA finals."Oklahoma City in six," Weeden said."Heat in six," Benjamin said without knowing his quarterback made a prediction.--Coaches talk all the time about players making a jump from their rookie year to their second season. According to coach Pat Shurmur, second-year tight end Jordan Cameron is making that jump."I'm only comparing training camp to an offseason, but he's one of the players at his position that's made the biggest jump in my mind," Shurmur said. "He's gotten his body stronger. He looks more explosive."--Scott Paxson is going to be difficult to knock off the starting defensive line until Phil Taylor returns in midseason from a torn left pectoral. Paxson deflected a pass from Weeden and linebacker Kaluka Maiava intercepted it during OTAs Tuesday. Rookies John Hughes and Billy Winn are contending for the same job.QUOTE TO NOTE: "Big kid. He's strong armed. Obviously, he's seasoned. He's learning still, but at the same time he has all of the things you want out of a quarterback." - Browns quarterback Seneca Wallace on rookie quarterback Brandon Weeden.STRATEGY AND PERSONNELThe Browns miss Mike Adams, says Usama Young, whom Adams beat out for the starting job at free safety last year. Adams signed with Denver as an unrestricted free agent. The Browns did not offer Adams a contract."He's a good player and a great guy," Young said after practice Tuesday. "In the locker room, you see a difference somewhat. Competing against him last year, I saw how good of a player he was. He's a big loss."Now second-year player Eric Hagg is playing ahead of Adams.
Original Story:
http://www.foxsportsohio.com/06/17/12...
THE BACKYARD
BEST OF MAXIM
RELATED ARTICLES
THINK BEFORE YOU TWEET
Colt McCoy's brother, Case McCoy, took to his Twitter account to rip the Browns for trading Colt. The only problem is the Browns haven't traded Colt.
As Mike Holmgren came out front to talk about the Browns last week, he was asked frequently about the Browns and how they feel about their wide receivers. Out of one side of his mouth, Holmgren proclaimed his love for Mohamed Massaquoi and stated his expectations of the receiver are high. Out of the other side of his mouth, he indicated (without using any specific names) that the...
Disney encourages folks to wish upon a star. That makes magic happen and dreams come true. They play that kind of hokey music stuff all day long at Disney parks. The Cleveland Browns arent wishing upon many stars with their 2012 team. In fact, a lot of their hopes are built on hope. A few are obvious. The new running back, the new quarterback hopes are high for them. As it should...
After drafting quarterback Brandon Weeden out of Oklahoma State in the first round of April's draft, it appears the Cleveland Browns are willing to deal previous starter Colt McCoy relatively cheap. It's not so much that the Browns aren't sensitive to the fact that McCoy has already endured a difficult situation in Cleveland, but rather that they're looking to start Weeden...
As the opening of NFL training camps draw closer, it's looking inevitable that the Cleveland Browns will be moving QB Colt McCoy either through a trade or even an outright release. Two reports surfaced Friday that the Cleveland Browns are only seeking minimal compensation in return for Colt McCoy, perhaps a sixth-round draft pick. The jury remains out as to whether or not McCoy...
Admit it, you have seen a few Tweets from @AdarnSchefter or @rnortreport and thought they were the real deal. The font on Twitter can be deceiving at times. Cleveland Browns quarterback Colt McCoy was announced to have been traded yesterday by a fake ESPN Twitter account, and it duped his younger brother, Case. This led [...]
CLEVELAND COUNTRY
Hey, at least Cleveland Browns QB Colt McCoy isn't enjoying life while his job with the team hangs in limbo. Here he is on stage, singing, with Brad Paisley. For the sake of your ears, and your fellow employees, turned down the volume. Even though Colt is having wait patiently like a girl who gave [...]
It's official, Colt McCoy sings like he plays quarterback! Brad Paisley recently performed in Ohio and pulled Cleveland Browns quarterback Colt McCoy onstage to help him sing "I'm Still a Guy". The "starting" quarterbacks performance was shaky at best and it seems like he may still be suffering from concussion side effects due to this hit delivered by James Harrison...
With Brandon Weeden impressing in offseason practices, speculation has picked up once again about the Browns possibly trading Colt McCoy. The Browns tried to move McCoy on draft day, after using a 1st round pick on Brandon Weeden, but could not find a suitor. According to ESPN Cleveland's Tony Grossi, the Browns are not only interested in moving McCoy, but won't ask much in return...
Trent Richardson is the best running back to come out of college since Adrian Peterson. Versions of this  phrase has been used on countless occasions ever since the 2012 NFL Draft but, how accurate are they? Will their rookie years be comparable? Is Trent Richardson the next Adrian Peterson?  From a fantasy prospective I would have to disagree; at least not for the 2012 year...
Josh Cribbs of the Cleveland Browns dropped 10 thousand dollars to get a flash mob of Kent State students to Omaha for the College World Series. He got an interview from the easy on the eyes ESPN reporter Jenn Brown. Cribbs is known for his kick off return skills and happens to be a Kent State alumnus. Kent State is taking on the Arkansas Razorbacks in Omaha. Notice most of the...
While We're Waiting serves as the early morning gathering of WFNY-esque information for your viewing pleasure. Have something you think we should see? Send it to our tips email at tips@waitingfornextyear.com.   I agree with a lot of this. "And you know what? This all makes me a bit aggravated. I'll definitely be writing a different post on the matter later next week, but...
NFL News

Delivered to your inbox

You'll also receive Yardbarker's daily Top 10, featuring the best sports stories from around the web. Customize your newsletter to get articles on your favorite sports and teams. And the best part? It's free!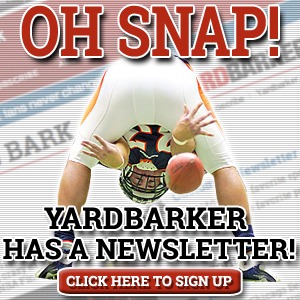 Latest Rumors
The Backyard

Today's Best Stuff

For Bloggers

Join the Yardbarker Network for more promotion, traffic, and money.

Company Info

Help

What is Yardbarker?

Yardbarker is the largest network of sports blogs and pro athlete blogs on the web. This site is the hub of the Yardbarker Network, where our editors and algorithms curate the best sports content from our network and beyond.