Found January 02, 2012 on Justice is Coming:
At this point, it's not even about whether Norv Turner gets fired.  But this "will they/won't they" soap opera is pathetic.  First it was "No playoffs, no Norv."  Then it was about whether they won their last 5 games.  Then it was "Detroit will decide his fate."  I would have rooted against winning at Oakland if I thought for one second that Norv might return.  How ******* sad is that?  I can't even get the small consolation of us bouncing the Traitors out without worrying that it would come back to haunt us.  The best thing I read today on Twitter was that the Chargers played 4 teams all year that ended up over .500.  They went 1-3 against them.  If they needed yesterday's game to get into the playoffs, they would have lost.  That's the mentality under Norv Turner.  But at this point, it's Dean Spanos I am most angry about?  Is there any accountability with this team.  Albert Brooks, as Dick Ripley in
Out of Sight
, is the photo to your left.  That's funny.  Deano is not.  When you are the head of an organization, you need to inspire confidence and be decisive.  It isn't even about the effect that Norv does or does not have on this team.  It hasn't worked and the only thing these 5 years have produced are excuses, a fired defensive coordinator and special teams coach.  Each year there is a new excuse.  **** you, Dean Spanos for making me no longer feel like a Chargers win is a good thing.
Honestly, I agree that AJ is just as responsible as Norv.  ****, he is the one that hired him and is so smitten by him.  Remember how there were reports that they were "giddy" to get a coach no one else wanted.  Now Norv is throwing AJ under the bus by suggesting that we don't have enough impact players on D.  He wore his OFFENSIVE COORDINATOR Super Bowl ring from Dallas?  This is so unbelievably sad.  I don't care if Rivers likes Norv.  Yeah, I know Rivers is very much responsible for us missing the playoffs.  I was the one who said he should sit for a game, remember?  But we don't even have a strong enough leader to pull that off.  I know it's not unusual for a coach not to know if or why a player is pulled.  Norv did it with Mathews and apparently Rex Ryan didn't know why Santonio Holmes was off the field.  He benched himself against the Chargers, by the way.  It didn't matter, because we couldn't win that game or any other one that would have gotten us into the postseason.  While teams like the Jets, Bucs, Colts, Dolphins, Jags and Rams are making or contemplating making movies, we are actually entertaining the idea of standing pat yet again.  It's not even about Norv, but about this team's acceptance of mediocrity and stubborness/stupidity in trying to peddle this **** to the fans.    I, for one, won't take it.  If you thought I was pissed this year, you have no idea the **** storm that Spanos is going to see unless he grows some brains and/or balls pretty quick.  I know I am hardly alone on this.  Talk to you soon.
RLW
Original Story:
http://www.justiceiscoming.com/charge...
THE BACKYARD
BEST OF MAXIM
RELATED ARTICLES
The San Diego Chargers are reportedly set to fire head coach Norv Turner next week, after the team finishes its most disappointing season in years.San Diego Union Tribune reported that Turner, who has a 48-31 record with the Chargers, will be let go some time in the coming week after failing to lead the team to the postseason. The move has been anticipated ever since San Diego went...
Norv Turner walked around the San Diego Chargers' locker room, all smiles, thanking players for the effort and congratulating them for finishing strong.
For the second consecutive season, the San Diego Chargers have failed to qualify for post season play, igniting a firestorm of rumors surrounding head coach Norv Turner and General Manager A.J. Smith. Will the pair survive the failings of the 2011 season and return in 2012? We will find out later this week according to the Chargers ownership. It appeared that the San...
With fans calling for his head, Chargers coach Norv Turner subtly defended himself during his news conference on Monday.
Chargers coach Norv Turner, as MDS pointed out earlier this morning, still enjoys the support of his players.  But Norv's players don't make the hiring and firing decisions, even though their collective performance is likely getting the current guy fired and a new one hired. Kevin Acee of the San Diego Union-Tribune reports that Turner…
The past 48 hours, since it was announced that the San Diego Chargers would retain head coach Norv Turner, I've heard a lot of unrest among the "Bolts" faithful.  Everything from fans saying to just move the team to Los Angeles to them saying they would no longer be renewing their season tickets as long as Turner is the coach and even (this one made me chuckle...
The San Diego Chargers announced on Tuesday that head coach Norv Turner and general manager A.J. Smith will return for the 2012 season.
With the Chargers apparently intent on firing head coach Norv Turner, his assistant have started to scatter. Per the Los Angeles Times, Chargers linebackers coach John Pagano is expected to become the defensive coordinator at UCLA.  Pagano will join Jim Mora, the new Bruins head coach. Pagano's brother, Chuck, is the defensive coordinator of the…
It didn't take long for social media to speculate on whether the retention of Chargers general manager A.J. Smith and head coach Norv Turner heralded a future relocation to Los Angeles.
(source feed provided no summary content for this entry)
There will be no change atop the San Diego Chargers. Dean Spanos announced Tuesday that general manager A.J. Smith and head coach Norv Turner will both be retained for the 2012 season despite a two-year playoff absence. "Bottom line, I believe these two men give us the best chance to get back to the playoffs," Spanos said in a team release. "A.J. Smith is the best man to ...
You probably have a friend who doesn't follow football that closely and thinks the Chargers are really great. He likes that they have Antonio Gates, who is a killer in fantasy, and Vincent Jackson. He thinks Philip Rivers deserves to be mentioned with Tom Brady and Peyton Manning as the best quarterbacks in the NFL. He believes that San Diego...
NFL News

Delivered to your inbox

You'll also receive Yardbarker's daily Top 10, featuring the best sports stories from around the web. Customize your newsletter to get articles on your favorite sports and teams. And the best part? It's free!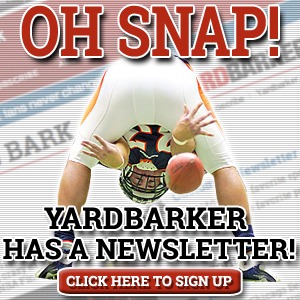 Latest Rumors
The Backyard

Today's Best Stuff

For Bloggers

Join the Yardbarker Network for more promotion, traffic, and money.

Company Info

Help

What is Yardbarker?

Yardbarker is the largest network of sports blogs and pro athlete blogs on the web. This site is the hub of the Yardbarker Network, where our editors and algorithms curate the best sports content from our network and beyond.