If Sunday's game was any indication, the New England Patriots defense is going to be much improved this season in all areas, especially pass rushing. The Pats got a decent amount of pressure on Titans quarterback Jake Locker (two sacks, two hurries) and found out just how impactful Chandler Jones can be in simple one-on-one battles. The defensive end had no problem getting in Locker's face and making plays when he was able to wrap him up, forcing a fumble and eventual touchdown when fellow rookie Dont'a Hightower motored into the end zone from six yards out. If Jones can continue to destroy opposing lineman like he did against the Titans, he'll have no problem racking up over 10 sacks and continuing to change the game on defense. Jermaine Cunningham recorded the other sack for the front seven, and if he can manage to step up into the defensive role he's always had pegged for him the Pats will have a deadly 'D' line (don't forget #75 still anchoring the middle). With Rob Ninkovich also having proven himself as a talented end, along with the possible blitzes of Brandon Spikes or his counterparts Hightower and Jerod Mayo, their front seven could prove just as lethal. And with so much youth spread throughout the unit, this could be an elite group for the near future and beyond! It's an exciting thought, but let's just stay within the moment here. Besides the pass rush, the tackling on Sunday was also quite impressive. While last season saw games plagued by missed tackles due to bad positioning, angling, and lack of wrapping up, the game against the Titans displayed a complete reversal of fortune. Tennessee would catch a pass or run the ball and get immediately met by a Pats tackler, with two or three closely following behind. They were consistent, both lineman and defensive backs alike, something I'm sure which didn't go unnoticed by Bill Belichick. It's obvious Belichick emphasized two things this week on the defensive side of the ball: contain the Titans and keep an eye on Chris Johnson. Still, the fact that the Pats completed both assignments on the defensive side of the ball is remarkable. Failed assignments used to be a gamely occurrence, but as of Sunday they were a thing of the past. Now I'm sure there will be some head-scratching moments in the future as this group continues to come together, but I feel confident that they can execute efficiently as an overall unit. They have the talent, the smarts, the skill; they just need to keep developing and combining everything they learn in practice and games. If they can manage that, they could better my predicted ranking of top-15 in the league: they could crack the top-10. -Ryan Hartley
Original Story:
http://nesportsreact.com/defense-show...
MORE FROM YARDBARKER
NFL News

Delivered to your inbox

You'll also receive Yardbarker's daily Top 10, featuring the best sports stories from around the web. Customize your newsletter to get articles on your favorite sports and teams. And the best part? It's free!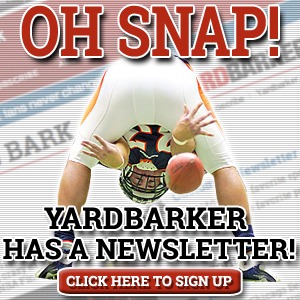 Latest Rumors
Best of Yardbarker

Today's Best Stuff

For Bloggers

Join the Yardbarker Network for more promotion, traffic, and money.

Company Info

Help

What is Yardbarker?

Yardbarker is the largest network of sports blogs and pro athlete blogs on the web. This site is the hub of the Yardbarker Network, where our editors and algorithms curate the best sports content from our network and beyond.