Found August 29, 2013 on isportsweb.com:
It is finally here. Tonight is the final preseason game for the Broncos and the greatest time of the year starts exactly one week from today. A few changes to remember this season: The NFL's new bag policy (ladies this mainly effects you). Make sure you know the policy before you decide to bring your fancy Chanel tote into the stadium. Bronco fans: Peyton Manning has made a point to ask fans to quiet down during his drives, specifically on fourth down. This may be difficult for fans considering they love to be excited and show enthusiasm however they should want the Broncos to win so that may come down to the team communicating effectively with each other. What is even more exciting is Manning has said that these fourth down attempts will be more common this season. Now an in-depth look at the Denver Broncos' season game by game. Week 1 September 5 Broncos vs Ravens – W With a bad taste left in Denver's mouth from last season it's time to seek a little revenge and show the true talent and improvements the Broncos have made. Being that this is also the first game of the NFL season it will be an exceptionally heated match. The Raven's are not the same team that they were last year with Ray Lewis plus others leaving/retiring, not to mention that Denver's most powerful pass-rusher Elvis Dumervil is now wearing purple and black. Week 2 September 15 Broncos @ Giants – W The Manning brothers facing each other will of course cause a lot of hype and additional motivation however Manning is 2-0 against his brother and being that the Giants had the worst defense in the league last season the Broncos should be able to pass through them. The Manning Brothers (Photo Credit: Antonelli/Daily News) Week 3 September 23 Broncos vs Raiders – W Short and sweet: Broncos country, arch-nemesis, the Raiders best player is left tackle Jared Valdheer who might miss the whole season due to surgery. Week 4 September 29 Broncos vs Eagles – L A lot of hype is surrounding the Eagles success this season being that Chip Kelly is the new head coach and their offensive line is solid. Their defense isn't as solid but if Denver is having an off day then this one could go to the Eagles. Week 5 October 6 Broncos at Cowboys – W All the sources are showing that the Cowboys are hit or miss, either they will be first or last place in the NFC East. With too many injuries and changes it would seem the Broncos have a good chance at coming out on top. Week 6 October 20 Broncos vs Jaguars – W Not enough skilled players and a sore looking preseason makes this game a (hopeful) no brainer win for the Broncos. Week 7 October 20 Broncos @ Colts – L Manning being back in the town he played for, for 14 years and a quarterback in the likes of Andrew Luck will make this a superb matchup this season. The fact that it is in Indianapolis gives the Colts the advantage for this week. Week 8 October 27 Broncos vs Redskins – L If RGIII can perform as well as he did last season after ACL surgery then he will get comeback player of the year. By week 8 he should be feeling like his old self and if there are any sore spots on the Broncos team they may have their work cut out for them this game. Week 10 November 11 Broncos @ Chargers – W Even though the Chargers have improved according to reports the Broncos should still have this AFC West matchup especially after a bye week and being tested by two very tough matchups. Week 11 November 17 Broncos vs Chiefs – W The Chiefs, like the Chargers, have made some changes that have proved to be effective this season however it is still an AFC West matchup and it is still for the most part the Kansas City Chiefs that Denver swept last season. Their meeting last season resulted in a loss for the Broncos (Photo Credit: ESPN) Week 12 November 24 Broncos @ Patriots – W AKA the Peyton Manning – Tom Brady showdown. This will be the game to watch this season in the NFL but aside from the excellent passing that will take place Denver should have the better defense to win the game. Week 13 December 1 Broncos @ Chiefs – W Maybe the fact that this game will take place in Kansas City will make it have a different projected outcome than the week before last but it should still be another win for the Broncos. Week 14 December 8 Broncos vs Titans – W Last season the Titans went 6-11 and were in the bottom 10 of all categories. They've added some young talent this offseason but still aren't projected to do much better. Week 15 December 12 Broncos vs Chargers – W If the Broncos don't win in week 10 with the Chargers they should for sure win this round being that they are in Denver and have hopefully fixed any issues. Week 16 December 22 Broncos @ Texans – W Another matchup that will really be a entertaining game to watch. The Texans have some experienced players which could also be a bad thing considering their ages. If Arian Foster is healthy at this point in the season he could give the Broncos some trouble. If the Broncos are playing at the level that everyone has been talking about and especially if playoffs are on the line this should go to Denver. Week 17 December 29 Broncos @ Raiders – W See week 3 Broncos final record: 13-3
Original Story:
http://feedproxy.google.com/~r/isport...
THE BACKYARD
BEST OF MAXIM
RELATED ARTICLES
Broncos quarterback Peyton Manning sat down and spoke with Erik Kuselias of NBCSN's Pro Football Talk and talked about his future. "I really have no idea how much longer I'll play," Manning said, via ProFootballTalk.com. "In the 2011 season, I wasn't sure if I was going to be able to play again.  I had a very strange injury.  I had different doctors that just couldn't...
We reported on Tuesday that a Broncos fan is petitioning that the Broncos remove a banner of Joe Flacco for their season opener against the defending champions. While some Broncos fans aren't very fond of Flacco's picture, neither is their quarterback Peyton Manning. "It doesn't seem like it makes sense that the Denver Broncos have to have an opposing player on their stadium...
Broncos quarterback Peyton Manning made an appearance with Dave Logan on AM 850 KOA on Tuesday and asked Broncos fans to be more quiet when they're on offense this season. "When we're on the field on offense – I love our fans' excitement – but if we can just find that controlled noise level," said Manning, via Broncos.com. "I believe we are going to go for it on...
After 14 NFL seasons, 436 touchdowns, and one Super Bowl championship, Denver Broncos quarterback Peyton Manning has had to think about life after football at some point. With the violent nature of the game and the four different neck surgeries Manning has had to go under it would only be logical to think that even as great as he is, the future Hall of Famer's time in the league...
ATLANTA -- Phillip Fulmer doesn't hesitate. Long before Johnny Manziel had a hold on all things college football, there was Peyton Manning. Like the Texas A&M quarterback, Manning carried the burden of hype, commanded headlines and lived in the spotlight. But Fulmer says there's no comparing the two. "I'd take Peyton Manning every day," the Hall of Fame...
END OF THE ROAD?
Broncos quarterback Peyton Manning recently addressed how much postseason success will play into his decision on when he will retire.
According to the Denver Post, Peyton Manning said that Broncos rookie running back Montee Ball "is going to play a lot" this season.Fantasy Spin:Ball and Ronnie Hillman have both worked with the first-team offense this week but both have their issues -- Ball with pass protection and Hillman with fumbling. Knowshon Moreno is also in the mix as a third-down back. Ball likely...
Denver Broncos quarterback Peyton Manning joined Jim Rome on Wednesday on 'Rome' and the two talked about a variety of topics including how Manning feels physically and whether it's harder to learn a new offense or unlearn an old one. Manning also dropped an interesting nugget: he admitted that he'll probably never be as good as he was before he suffered his neck...
There is a future quarterback plan at the Broncos' Dove Valley headquarters although John Elway would never dare draw it on paper. Wouldn't want any visible evidence for Peyton Manning to see. But if the laws of mortality hold the day will come when Manning now 37 no longer is the Broncos' starting quarterback. If it can happen in Indianapolis it can happen here. That...
Tim Tebow had a relatively good showing in the Patriots' final preseason game, but he clearly didn't make such an impression that the analysts would remember his name. Tebow threw a 52-yard touchdown to receiver Quentin Sims in the fourth quarter Thursday night and promptly followed it up with an interception on the next drive. Analyst Mike Mayock said it was "a bad throw...
Mike Mayock is one of the best analysts in football, but his mind was clearly somewhere else for this play.  Patriots QB Tim Tebow throws an interception against the Giants while a sideline interview is taking place.  Mayock comes back and says, "that time a very bad throw there by Peyton Manning." What the???  This is the first time anyone has ever confused Tim...
After chasing Peyton Manning and the Indianapolis Colts for so long, Houston fans had to be thinking it was their turn to reign supreme over the AFC South for a few years when Manning missed the 2011 season due to his neck injury and subsequently moved on to Denver last year. And the Texans are a solidly run organization with the talent to be competitive for some time to come. But...
Broncos News

Delivered to your inbox

You'll also receive Yardbarker's daily Top 10, featuring the best sports stories from around the web. Customize your newsletter to get articles on your favorite sports and teams. And the best part? It's free!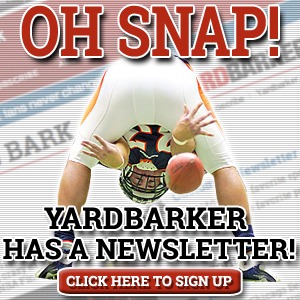 Latest Rumors
The Backyard

Today's Best Stuff

For Bloggers

Join the Yardbarker Network for more promotion, traffic, and money.

Company Info

Help

What is Yardbarker?

Yardbarker is the largest network of sports blogs and pro athlete blogs on the web. This site is the hub of the Yardbarker Network, where our editors and algorithms curate the best sports content from our network and beyond.