Found August 27, 2012 on Denver Sports Chat:
PLAYERS:
Von Miller
,
Elvis Dumervil
,
Champ Bailey
,
Ty Warren
,
Derek Wolfe
,
Tracy Porter
,
Rahim Moore
,
Mike Adams
,
Quinton Carter
,
Jim Leonhard
,
Kevin Vickerson
,
Nate Irving
,
Robert Ayers
,
Drayton Florence
TEAMS:
Denver Broncos
Denver, CO. Even though the Denver Broncos came out on the short end of the stick Sunday afternoon, anyone who knows the NFL well knows that it is foolish to worry about the final score in any game in August. For the Broncos, the fact that the first team offense looked so much better and much more precise was something that everyone was hoping for. The mistakes that had plagued them in the first two contests went away, as Peyton Manning looked very close to his old self in leading the team on two TD drives. This was truly the first time that we all saw the potential of how scary good this arsenal of offensive weapons could be. Whether it was Eric Decker and his accurate route running leading to two scores, or Demaryius Thomas and his impressive size and strength, or even the tight ends getting into the act with a few grabs here and there. It seemed as if everyone in that first quarter knew it was important to dial it up a few notches and come out strong. The defense had their moments as well, showing the speed and versatility from guys like Von Miller, Elvis Dumervil, and the guy that never seems to age, Champ Bailey. At halftime, the Denver Broncos had a nice lead, and what they had done through 30 minutes was everything that every Broncos fan had been hoping for. But then came the second half, and truly on all accounts it was a mess. From the officiating, to both teams erratic play, anyone could easily tell that the starters were nowhere to be found. One thing also became quite clear. The Denver Broncos defense had better be very lucky this year with keeping their health. If any key starters get hurt on this edition of the "Orange Crush", this team could very well be in deep trouble.




We have been hearing it for months. One of the greatest QB's of all time is here, and as long as he is healthy, the Denver Broncos will be a contender in the AFC. While I do believe that to be true, something else is also very true. #18 has a losing career playoff record. How could this be? Well, it just goes to show that even the best players still need plenty of help from other parts of the team. As good as Peyton has been since entering the league in 1998, he has a 9-10 playoff record, and just the one ring. Quite honestly, he and his offenses throughout the years have typically scored plenty of points to win plenty of games. But in Indy, there were times when that defense didn't come through and ended up being the reason the Colts didn't realize their potential in some seasons. So the bottom line is, as great as Manning has been and can still be, this defense here in Denver better plan on coming to the party in 2012. The attitude had better not be, "well, we got one of the greatest of all-time, so he'll bail us out." If that is the case, this team will be doomed to have a critical game along the way not go their way, and this team will end up like too many of his previous teams have….coming up short in January.
To be fair, the defensive starters on Sunday looked very good. The intensity was there, and the pass rush had the look of one that could cause havoc all season. The run stoppers are improved, as the health of Ty Warren will be vital this year. Derek Wolfe is still very raw, but his energy is fun to see develop as time goes on. Aside from Von Miller, the linebackers are solid, although unspectacular. The corners of Bailey and Tracy Porter will be one of the best in the league. Two things, however, should scare Denver Broncos fans heading into September. One, the safeties are frighteningly inconsistent. Whether it's Rahim Moore, Mike Adams, Quinton Carter, or anyone else, this has the makings of a disastrous situation. They did not look good vs San Francisco, and this glaring hole on the defense is potentially a huge mess for 2012. Veteran Jim Leonhard may eventually help out, but this could absolutely be what kills this side of the ball this year. The other problem that became obvious, is that the second and third stringers on defense are just simply not very good. In the second half, the 49ers ran all over the Broncos, as plenty of holes opened up for the Niners runners. Everyone from Kevin Vickerson to Nate Irving to Robert Ayers to Drayton Florence looked a step slow and very unmotivated. Are they all a step slow, or even worse, just not very good? Whatever the answer is, this defense has some serious depth issues. If a few guys on the first string get nicked up and miss games, this defense could completely collapse at some point.
Well, all indications are that we have seen the last of the starters until the regular season opener in two short weeks. The Broncos definitely cleaned up some areas and look to be ready to go for the most part. The offense found a nice rhythm that landed them in the end zone versus a very good 49ers defense. The mix of the run and the pass had a nice flow, and Peyton looked very good. The defense showed some spunk, and its obvious speed on that side of the ball won't be a problem. For most teams throughout the course of the year, health is a huge factor in how far they end up going. For this years Denver Broncos, that could prove to be the biggest factor of all.
Denver Sports by J Simp




The post Denver Broncos lack of defensive depth a glaring concern appeared first on Denver Sports Chat.
Original Story:
http://feedproxy.google.com/~r/Denver...
THE BACKYARD
BEST OF MAXIM
RELATED ARTICLES
The Denver Broncos just completed their third preseason affair in a 29-24 loss to the San Francisco 49ers. Despite the loss, and yet again, underwhelming performance by most of the backups, there were so many overwhelming positive signs to take from this game. With Peyton Manning and the starters in the game, the Broncos took a 17-0 lead, and dominated the NFC's runner-ups...
  Well, you know your team didn't cut any recognizable names when the main headline of every news story relating to the Broncos' roster cutdown on Monday starts off with "Long snapper Lonie Paxton released by the Broncos in roster trim." The Broncos cut 12 players, including placing starting LDE Jason Hunter on injured reserve. The players that the Broncos...
Two teams with unexpected playoff berths in 2011 — and high expectations in 2012 — collide today as the Denver Broncos and San Francisco 49ers square off in Week Three of the 2012 preseason! And (BT 2012 Preview spoiler alert), these two teams are my pick to go to the Super Bowl this year. Enjoy the preview folks. Where to Watch No need for live streams, legal or otherwise, today...
It's been an argument ever sinePeyton Manning was moved to Denver: which receiver will become his favorite? During the all important 3rd preseason game, it was clearly Eric Decker, as he hauled in two early scores against the elite San Francisco defense. The preseason statistics are nice, but they are only reinforcing what we thought when Manning signed in Denver. Demaryius Thomas...
Denver Broncos News The Denver Broncos are going to have to send a lot more players packing before opening day.  A quick look at the roster shows they still have six running backs on the roster, even after parting ways with Xavier Omon.  Other positions are similarly crowded, so it will be interesting to see how this plays out. [DenverBroncos.com] The depth on defense may be somewhat...
Wide receiver Eric Decker #87 of the Denver Broncos makes a catch for a touchdown as cornerback Tramaine Brock #26 of the San Francisco 49ers looks on during the first quarter of a pre-season game at Sports Authority Field Field at Mile High on August 26, 2012 in Denver, Colorado. (Justin Edmonds/Getty Images) A 17-0 head start, courtesy Peyton Manning, wasn't enough for the Denver...
Broncos wideout Eric Decker caught two touchdowns Sunday and now has eight catches for 101 yards in the preseason.Fantasy Spin:Decker could have a huge role this season as Peyton Manning's go to guy underneath. Consider him a No. 2 WR in PPR leagues and a No. 3 in standard formats
Undrafted rookie Aaron Brewer acknowledges he was surprised to beat out 12-year veteran and three-time Super Bowl champion Lonie Paxton for the Denver Broncos' long-snapping job. Brewer was perfect on 18 snaps in the preseason and displayed his athleticism that allowed him to record 15 special teams tackles at San Diego State, including a-half dozen as a senior last year. That...
Broncos RB Knowshon Moreno should be in the prime of his career racking up the yardage yet he's licking his proverbial wounds from previous injuries fighting for a roster spot. After the Broncos' 29-24 preseason loss to the 49ers, the conversation has exclusively been about how well QB Peyton Manning looked as he hooked up [...] [[ This is a content summary only. Visit my website...
Peyton Manning vs. Eli Manning.  The elite vs. the pro bowler.  The one time champion vs. the two-time champion.  Who fears who more? This has become our modern-day era, which came first the chicken or the egg?, age-long question.  Just like everyone assumes it was the egg, everyone assumed it was Eli that feared big brother Peyton. What if it was the chicken that cames first...
Highlights of the San Francisco 49ers' preseason win over the Denver Broncos.
Broncos News

Delivered to your inbox

You'll also receive Yardbarker's daily Top 10, featuring the best sports stories from around the web. Customize your newsletter to get articles on your favorite sports and teams. And the best part? It's free!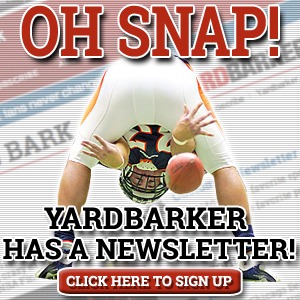 Latest Rumors
The Backyard

Today's Best Stuff

For Bloggers

Join the Yardbarker Network for more promotion, traffic, and money.

Company Info

Help

What is Yardbarker?

Yardbarker is the largest network of sports blogs and pro athlete blogs on the web. This site is the hub of the Yardbarker Network, where our editors and algorithms curate the best sports content from our network and beyond.