Found April 02, 2012 on The Sport Mentalist:

We know that front office types don't like to tip their hand as to what moves they are attempting to make, especially when it comes to personnel decisions. Flat out lying to your fan base is a whole different situation though.

That may be the case with John Elway who had been telling Denver Broncos fans that Tim Tebow had earned the right to be the team's starter going into camp all the while Elway was quietly shopping Tebow.
This was going on even during the NFL Scouting Combine,weeks before Peyton Manning would be released by the Indianapolis Colts.
But I believe that Elway was shopping Tebow's name around as far back as last season. I have never been convinced that Elway wanted Tebow there and it was just a matter of time before he played his cards.

And it's more than just a hatred for Tebow's game which everyone believes will get better because let's face it, it can't get any worse. No, Elway hates everything that Tebow stands for both as a person and player.
Okay maybe I'm going a little too far. It could be another cardinal sin that makes every thought of Tim Tebow bring Elway near the point of tossing his cookies; Elway's pride.
Elway doesn't want Tebow tied to the legacy he is trying to build in Denver and that is why he has been trying to remove Tebow from the moment he landed the vice president of football operations job there.
But as you live, you learn and we all know how powerful a thing like karma can be. Not that Tebow is anybody special but Elway's handling of this matter could have some really serious repercussions for this team.

Everything happened too perfectly. Manning came along at the right time, Elway made the right overture to get him to Denver, and of course it didn't take long to find a suitor to take Tebow off his hands.
All this leads me to believe that something will goseriously wrong in Denver this season. I don't know exactly what it will be and unlike Pat Robertson, I really hope it doesn't have anything to do with Manning's health.
It could be something as crazy as Tebow leading the New York Jets to a playoff victory over the Broncos, or finally leading the Jets to their first Super Bowl since Broadway Joe took them there.
Like I said, I really don't know what will happen but what I will tell you is to expect the unexpected this season because this matter is far from over. Fate will have the final say in this one.

Roosevelt Hall is an NFL Blogger for The Sport Mentalist and an NBA Blogger for The Sport Mentalist 2. He is also a Sports Reporter for Pro Sports Lives. He can be contacted at RHall_TPFB@Yahoo.com and be sure to follow him on Twitter @sportmentalist.
Also check out these stories:
Too much Philip Rivers is bad for Norv Turner's job stability
Sanchez will lose locker room to Tebow
Tim Tebow Will Never Measure Up

Original Story:
http://thesportmentalist.blogspot.com...
THE BACKYARD
BEST OF MAXIM
RELATED ARTICLES
KICKING THINGS OFF IN NYC
The Jets will no doubt try to get creative in finding ways to get their new QB onto the field in 2012, and the latest rumor is that they may even let him play on special teams.
The New York Jets select.. The 2012 NFL Draft is less than one month away and it's the biggest news surrounding the New York Jets besides Tim Tebow. And since I'm all Tebow'ed out (even though it's only going to get worse during as the season comes closer), I figured we should take some time to talk about the upcoming draft. The New York Jets control the 16th overall...
(Photo by Thearon W. Henderson/Getty Images) The Oakland Raiders may consider trying to trade for New York Jets quarterback Tim Tebow, RaidersTalk learned early Sunday morning. Gan Stermama, a Raiders fan who lives in the local Oakland area, called RaidersTalk editors this morning to break the news.  Stermama informed us that he has been trying to contact ESPN since January to...
1984 by George Orwell was a damn good book, but little did we know that the real theme of the book truly was. Forget about Winston Smith's rebellion against The Party, aka Big Brother. This book is all about how John Elway would come into the NFL and the Oakland Raiders would be barren of championships for almost 30 years now. January 4th, 1984. From the time of this post,...
As Tim Tebow was announced as the newest member of the New York Jets back on Monday, one of the most famous deli's in the city that never sleeps decided to honor him with a sandwich of epic proportions: The famous Carnegie Deli in Manhattan will introduce the Jetbow sandwich on Monday, in honor of new Jets backup quarterback, Tim Tebow. The meal will be about 3.5 pounds...
The New York Jets put themselves front and center in the media spotlight after acquiring QB Tim Tebow from the Denver Broncos. Now it appears that the Jets would like the media to turn the spotlight off or shine it someplace else. Seriously, what did the New York Jets think was going to happen when they added the most polarizing player in professional sports with a cult...
Reebok wants a judge to lift a ban on its sale of apparel with the name of New York Jets quarterback Tim Tebow.
Even before it was announced that the Denver Broncos were going to put Tim Tebow on the trading block, the Denver Broncos were "quietly shopping" Tebow around at the NFL Scouting Combine in Indianapolis, according to a report from the Florida Times-Union.This would indicate that after the Broncos lost to the New England Patriots in the 2012 NFL Playoffs, the team didn&...
Jets coach Rex Ryan believes Tim Tebow will excel in Wildcat - The Boston Globe: Great stuff...
As the calendar turns to April, this month's draft looms large in the minds of many. With the Jets deal for quarterback Tim Tebow peaking fans' interest, New York still has several positions to address via the draft and free agency.
As if the Jets have not gotten enough attention after trading for Tim Tebow, Jets owner Woody Johnson left the door open for the team to be featured on HBO's "Hard Knocks" this summer. There has been speculation that HBO is interested in having the Jets back on its behind-the-scenes show, especially with Tebow now on board. "I've heard that," Johnson...
Could the New York Jets be bringing Tebow-mania to HBO's "Hard Knocks" this summer?  If you heard team owner Woody Johnson correctly today— he didn't rule out the possibility. Johnson, appearing at the opening of the NFL's new mid-town Manhattan pop-up store, said he heard rumors that the network was interested in having the Jets back on the documentary...
NFL News

Delivered to your inbox

You'll also receive Yardbarker's daily Top 10, featuring the best sports stories from around the web. Customize your newsletter to get articles on your favorite sports and teams. And the best part? It's free!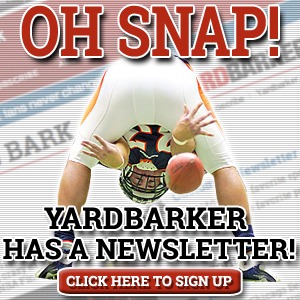 Latest Rumors
Best of Yardbarker

Today's Best Stuff

For Bloggers

Join the Yardbarker Network for more promotion, traffic, and money.

Company Info

Help

What is Yardbarker?

Yardbarker is the largest network of sports blogs and pro athlete blogs on the web. This site is the hub of the Yardbarker Network, where our editors and algorithms curate the best sports content from our network and beyond.