Found August 24, 2012 on Denver Sports Chat:
Denver, CO. The glimpses and flashes of potentially explosive plays with this Denver Broncos offense has given all who follow this team plenty of optimism as we inch closer to the season opener early next month. Peyton Manning has looked pretty good, running the show with the leadership he has mastered for over a decade now. The receivers have looked pretty good, catching most of what Manning has chucked in their direction. The defense has looked pretty good, showing potential improvement in stopping the run and pressuring the quarterback. But for this team to be considered an AFC power and a candidate to reach the Super Bowl, the Denver Broncos now need to take that next step beginning this weekend vs San Francisco. They need to refine everything and take their game to a level that we haven't seen quite yet. The mistakes need to vanish, the offense and defense need to be executed with precision, and the focus needs to be raised. The games begin to count in two short weeks, and the time is now for the Broncos to show everyone that they are ready to take on all comers when the regular season begins.




For everyone who says that Peyton Manning looks close to his former self, they are probably correct. The velocity on his passes seems to be very good, his accuracy is also pretty good, and his command of the offense looks to be there. But the stats don't lie. 0 TD's and 3 interceptions through two preseason games. It could be argued that one of those picks was not his fault, as Seattle's defensive lineman batted a ball which was more of a freak play than anything. However, the other two interceptions can be blamed on #18. One was a pass near the end zone that was a bit behind Brandon Stokley, and the other was a dead quail that was simply overthrown down the middle of the field. These are things that have to go away if the Denver Broncos want to be a viable contender for AFC supremacy this year. Peyton Manning cannot be just very good and show glimpses of what he used to be. He has to now find a way to strip off that final layer of rust and be outstanding, or this team will not compete deep into January. The receivers also have to be better, and dropped balls cannot happen very often. Fumbles by the running backs will be drive killers once the season begins, and ball security will be of utmost importance. Turnovers have been, and will always be, the biggest indicator of which teams throughout the league are successful and which teams are not. Typically if you look at the best teams from year to year, they are the ones who have the best turnover ratio. As good and as explosive as this new Denver Broncos offense looks, it won't matter at all if they are finishing off drives by making small mistakes. That is the kind of stuff that turns a 12-4 team into an 8-8 team, and one that doesn't even make the playoffs. The defense also needs to clean up their act, as gaping holes for runners to burst through need to get clogged up consistently beginning now. As improved as the defensive line appears to be, they need to show that they have eliminated the tendency to give up huge plays, which end up being back-breakers when the game is over. The bottom line is, for as long as the Denver Broncos starters are in the game versus San Francisco this Sunday, they need to treat it as a regular season contest. They need to clean everything up, and show the rest of the NFL that they will be a team to be dealt with all season long.
The 49ers will be a very nice test for Denver on Sunday. They have one of the best defenses around, and showed last year they can excel at stopping even the best offenses the league has to offer. If the Broncos can punch the ball in for a couple of TD's against San Francisco's first team defense, then that will obviously be a great sign as they head into the opener in two weeks. But, if they struggle, and more turnovers occur, then there should definitely be some concern. The Denver Broncos won't be flying under anyone's radar this year. They will undoubtedly be circled on just about every teams schedule in 2012. This team has very little room for error, and the time for them to show they are for real begins this weekend.
Denver Sports by J Simp

Official Online Team Store of the Denver Broncos

The post Denver Broncos must iron out the wrinkles in 3rd preseason game appeared first on Denver Sports Chat.
Original Story:
http://feedproxy.google.com/~r/Denver...
THE BACKYARD
BEST OF MAXIM
RELATED ARTICLES
After last night's debacle on offense, the Arizona Cardinal faithful have to be disgruntled for not landing Peyton Manning during the offseason.Through their four preseason games, the Cardinals have gone 1-3 and the offensive line has looked awful at times.  Kevin Kolb and John Skelton have combined for 5 INT's, 8 Sacks, and only 2 scores.  They've also combined for...
According to several reports, Broncos quarterback Peyton Manning is having a difficult time throwing to his right. ESPN's John Clayton and Scouts Inc. analyst Matt Williamson said while Manning was his usual self throwing to his left, he had issues throwing to the opposite side, according to ESPN AFC West blogger Bill Williamson.Fantasy Spin:It's difficult to believe Manning...
In the spirit of Madden 13 ratings and Super Bowl buzz, below is a look at the Denver Broncos celebrating a 27-23 SB XLVII victory over the New Orleans Saints in EA Sports' 2012 version of Madden. A few quick notes after the jump.  The team hosting the Super Bowl hasn't made the playoffs the year their city hosted the game since 2000, when the Tampa Bay Buccaneers went 10...
AP According to Bill Williamson of ESPN.com, Denver Broncos quarterback Peyton Manning has had problems throwing the ball to his right side. "It appears that one of the biggest challenges for Denver Broncos quarterback Peyton Manning as he comes back from a serious neck injury is throwing to his right. "ESPN guru John Clayton pointed it out to me this summer. While he thought...
Denver Broncos News Sorry for going AWOL yesterday, but I've got a limited amount of time each morning to bust these links out and I had to take a very important phone call that ate up all of that limited time and then some.  We'll start today's links with a piece from a few days ago that would have gone into yesterdays post.  Peyton Manning will transform the Denver Broncos...
We all know by now that Indianapolis Colts owner Jim Irsay is a man who will do anything to help his football team move forward. Heck we are talking about the guy who found it in his team's best interest to part ways with a legend in Peyton Manning to start a new regime with QB Andrew Luck.
In 1998 the debate about the best quarterback available in the draft centered around the word "upside." While most appreciated Peyton Manning's football acumen, pedigree and polish most agreed that Ryan Leaf had a better arm as well as the potential to grow more. The pundits felt Manning was too ready. In hindsight they look like the buffoons in Major League proclaiming...
Four Denver Broncos quarterbacks and their position coach were scouting the Seattle Seahawks' defense when Peyton Manning suddenly paused the video. Brock Osweiler was paying attention and taking notes. The rookie just didn't expect the storied veteran to put him on the spot. Manning asked Osweiler to identify the "Mike," which is the term used to describe the...
ENGLEWOOD, Colo. -- Four Denver Broncos quarterbacks and their position coach were scouting the Seattle Seahawks' defense when Peyton Manning suddenly paused the video. Brock Osweiler was paying attention and taking notes. The rookie from Arizona State just didnt expect the storied veteran to put him on the spot. Manning asked Osweiler to identify the Mike, which is the term...
Broncos News

Delivered to your inbox

You'll also receive Yardbarker's daily Top 10, featuring the best sports stories from around the web. Customize your newsletter to get articles on your favorite sports and teams. And the best part? It's free!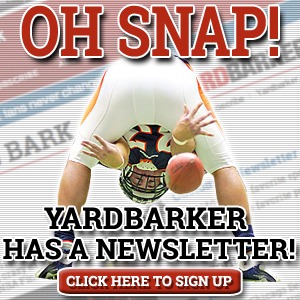 Latest Rumors
Best of Yardbarker

Today's Best Stuff

For Bloggers

Join the Yardbarker Network for more promotion, traffic, and money.

Company Info

Help

What is Yardbarker?

Yardbarker is the largest network of sports blogs and pro athlete blogs on the web. This site is the hub of the Yardbarker Network, where our editors and algorithms curate the best sports content from our network and beyond.