Found August 11, 2012 on 60 Max Power O:
Peyton Manning barking orders to the O-Line in the 2012 preseason victory over the Chicago Bears
The Broncos weren't kidding when they said they were only going to give Peyton Manning 10-12 snaps. But after 60 minutes of preseason football, 10-12 snaps of those going to Manning, the Broncos walked away from Soldier Field victors. After a bludgeoning 31-3 victory over the Chicago Bears, the Broncos coaching staff have a lot of film to watch. Plenty of players on the Denver roster gave reason to be kept around and be given potential jobs. Some of which have given John Fox one headache of a dilemma in terms of position battles. Which of course any coach would tell you – that's a good problem to have. So without further ado, a few musings, thoughts, and the occasional…"Hmmm" about the Broncos and the direction they are heading.
The Good:
During training camp, the word has been that the D-line has been dominating the run game. It's hard to accept that as a positive due to the fact that it is still our beloved team who is getting dominated. But last night said a couple things:
The D-line is indeed dominant. Before we can really get excited, we must first realize that the Denver D never truly faced any starters. Also, the Chicago O-Line is probably one of the worst in league, regardless of how well Matt Forte can run. But, since this is musings from last night's game…the D-Line is indeed dominant.
Our running game, although not as good as it was with Tebow, is still looking better than it did under Josh McDaniels. When McDaniels was running things, the running game was just a way to waste a down. Denver faithful had gone from yearly dual 1000 yard RBs to…. -2 yard per carry Lawrence Maroney. So it is certainly nice to see positive yards being obtained. On top of that, with Mr. Manning at the helm, the whole 8 men in the box thing would be suicidal for opposing defenses.
 There were a couple players who made a great showing last night. Derek Wolfe showed why the Broncos drafted him. He was involved in almost every play (when he was on the field of course) and was constantly pressuring and pursuing. He looks like he will be a force indeed. CB Tony Carter looked like a guy the Broncos should make every effort to keep on. Granted he got picked on, but when he was, he was there immediately to make tackles. He showed great cover skills and fantastic awareness. He was really only beaten by good throws which, believe or not, will beat Champ Bailey also. The Broncos' situation at DB (in terms of CB) looks much better than it did last year. Another shout out to Xavier Omon. From the small sampling he was able to offer, he has great vision.
Defense – Defense – Defense! Props need to be given to the Offense for putting points on the board, but the Defense in this game really showed up. The Bears were 0/11 in third downs and just never looked like anything that resembles comfortable. Jack Del Rio and John Fox have really done a fantastic job of adding the right players and getting depth in key spots. The next trick is to remain injury free.
The Bad
After a 31-3 smackdown, it's hard to imagine there's anything bad about this team thus far. Well, if you don't consider Caleb Hanie being the backup QB, you'd be correct. Unfortunately….he is. He looked awful. The announcers of the game repeatedly mentioned how good Caleb Hanie was in the preseason when he played for the Bears. Well…this isn't the Bears…and he did not play good. Caleb Hanie ran around scared and frizzled. His passes were poor and so was his decision making. True, he scored and didn't turn over the ball, but the way he plays…we'd been better off with the low scoring Tebow. Adam Weber on the other hand showed poise and confidence in the pocket. The natural argument, of course, is that Weber played against 3rd/4th stringers. But in this case, it doesn't matter. If Peyton Manning goes down…the Broncos are in serious trouble.
Did Demaryius Thomas even get targeted? That might not be so bad from a fan's perspective, but it's pretty bad if you're Demaryius Thomas. If he didn't like having to run around for Tebow hoping to get a ball…he definitely won't like running around for Manning watching the same three guys get targeted (Stokely, Decker, and Tamme). Manning will need to address this. Off the field praise of DT to the media is one thing, on the field passes is another.
It's easy to think that the penalties is the next bad thing, but penalties in the first pre season game is to be expected and so therefore, we will get over it. The probably more bad thing, and this will sound very strange, is the dominance of the D-line. Wait…wasn't that a good thing. Yes, very good. But…is it wise to show how dominant so early? On top of that, the Broncos are in the process of trying to train up the safeties yet the QBs can't throw the ball down the field due to the lack of time they have to try to do so. This may be a result of good coverage, but last nights' game looked more like D-Line dominance. The D-Line may want to dial back a bit and try to avoid some injuries.
Hmmmm….
 As good as the entire team appeared to be, we must remember that the Bears barely allowed any starters into the game. Also, the Chicago O-line has been awful in the past and not much has changed in terms of personnel to make it much better. Also, Peyton Manning, good to see you in Orange and Blue!
GO BRONCOS!
Be sure to check out other great articles at isportsweb.
Original Story:
http://www.60maxpowero.com/patriots/c...
THE BACKYARD
BEST OF MAXIM
RELATED ARTICLES
We're reading increased reports of big Orlando Franklin's possible shift from right tackle to a position in the interior of the offensive line, with right guard (somewhat surprisingly) being the most-discussed destination. The idea: move Franklin to right guard, then shift Chris Kuper over to left guard, replacing Zane Beadles. The move would put the Broncos' strongest offensive...
Here was Peyton Manning's final stat line by the end of the Broncos' first preseason game in Chicago: 4/7 for 44 yards, 1 interception and a 36.3 passer rating. If you read that stat line without watching the game last night, you'd think that Manning had an off game. In fact, you'd probably think he had a terrible game. From watching the tape, Manning did look...
Peyton Manning's first appearance with the Denver Broncos was a brief one. Manning played one possession in the preseason opener against the Chicago Bears on Thursday and got intercepted near the end zone. In his first appearance since the Pro Bowl following the 2010 season while with Indianapolis, Manning completed 4 of 7 passes for 44 yards. On the game's first play...
The Denver Broncos beat the Chicago Bears 31-3 on Thursday night as Peyton Manning made his preseason debut in a Broncos uniform.   After the game head coach John Fox, Peyton Manning, Jacob Tamme, Eric Decker, Brock Osweiler and Derek Wolfe spoke about their performances. From the Denver Broncos team site: John Fox On injuries during the game"Injuries from the game: Danny Trevathan...
Click on the photo for more Denver Broncos girls Football season is about to start so honestly we could pick just about any team on the planet to rave about.   But eyes will definitely be on Denver this year as Peyton takes the reigns at QB.  Oh and the cheerleaders aren't too bad either.   Let's [...]
The Denver Broncos defeated the Chicago Bears by a score of 31-3 on Thursday night.  The Broncos are now 1-0 in preseason play. Game recap here.  Game Balls here.  Video highlights below: The Broncos will return to action next week when the Seattle Seahawks come to Denver for Week 2 preseason action on Saturday, August 18.
I'm back Juan… Peyton Manning was back in action for the first time in a long time and he looked pretty decent as he knocked the rust off. He only showed off his arm on a 19 yard gain to Eric Decker (my favorite Broncos WR this season), but he was picked off in the redzone on a ball he threw behind Stokely. I will have to see more to give him a full endorsement, but this was...
Denver was a great host city for UFC 150 with athletes and stars alike out to watch the rematch of Henderson/Edgar.  Here former safety of the Eagles and Broncos Brian Dawkins hangs with Mr White.  Dawkins was always a hard hitting SOB that probably could of had a career in MMA if he would have trained. Smooth Visits Broncos Camp Dana Wears Fuel TV Shirt
Just as quickly as Peyton Manning took the field in his first game as the Broncos new hope, San Diego Chargers running back Ryan Matthews may have squashed that very same promise with one play on Thursday night.  After a long summer of optimism and expectations surrounding the Chargers, a team that is notorious for hiccuping early in the season, Matthews received his first meaningful...
Last night, two AFC teams took to the field in their first preseason contests of 2012. Both games were fairly high profile, as the Chargers took on the Packers in a game that featured two on the NFL's best quarterbacks, while the Broncos took on the Bears, highlighted by the return of Peyton Manning. Here [...]
Post-game quotes from last night's 31-3 loss to the Denver Broncos in Chicago's preseason opener.
Broncos News

Delivered to your inbox

You'll also receive Yardbarker's daily Top 10, featuring the best sports stories from around the web. Customize your newsletter to get articles on your favorite sports and teams. And the best part? It's free!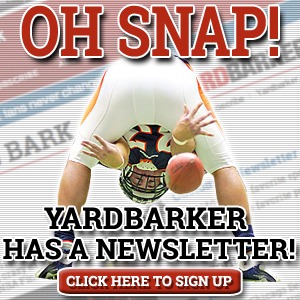 Latest Rumors
The Backyard

Today's Best Stuff

For Bloggers

Join the Yardbarker Network for more promotion, traffic, and money.

Company Info

Help

What is Yardbarker?

Yardbarker is the largest network of sports blogs and pro athlete blogs on the web. This site is the hub of the Yardbarker Network, where our editors and algorithms curate the best sports content from our network and beyond.