Found July 25, 2013 on Fox Sports North:
Desmond Bishop had a familiar feeling as he checked into the dorms at Minnesota State in Mankato, Minn. for Minnesota Vikings training camp on Thursday, learning he would be rooming with receiver Greg Jennings.The two had played together the past six seasons with the Green Bay Packers and signed with Minnesota in the offseason. Vikings coach Leslie Frazier made it clear there would be few familiar aspects for Bishop.Speaking on Minnesota's training camp report date, Frazier said Bishop will open practice on Friday as an outside linebacker in the Vikings' 4-3 defense. Bishop had played inside during his time in the Packers' 3-4 defense."We talked about starting him off maybe at outside linebacker knowing that we can move him back inside, we're going to finalize that as we talk today," Frazier said. "We feel like that would be the place we want to start him at, and let him continue to grow from there. As part of what we do at this time of the year, because he's coming in so late and what we're trying to get accomplished, is get him up to speed on how we do things from a defensive standpoint, because we line up a bit different than what he's done in the past. So, we got to kind of indoctrinate him with things from a defensive standpoint and we think the best way of getting that done is starting him off at outside."Bishop's signing likely filled the final starting linebacker spot in Minnesota's defense. But instead of keeping Bishop inside and giving him the chance to win the starting job at middle linebacker, the Vikings will keep Erin Henderson in the middle during practice. Henderson made a move in the offseason from the weakside linebacker to the middle, leaving the hole on the outside that Bishop was seemingly signed to fill.Frazier said the team had looked at tape on Bishop and determined he was better set on the outside. Bishop hasn't had a chance to practice with Minnesota because he signed after the minicamp in June."I think that one of the things I liked was the fact that he was a very good blitzer," Frazier said. "He has some good athletic ability and that's what we try to find in our outside backer guys and the ability to win one-on-one against halfbacks and fullbacks, but yet they're good in coverage as well and they can take on lead blockers, and he's shown that he can do that."Bishop and Henderson will likely compete to fill the other nickel linebacker spot as well, alongside Chad Greenway. Bishop, who was released by Green Bay after missing all of last season with a torn hamstring, reiterated he's fully healed and ready for practice, saying he has "no limitations."Bishop isn't worried about the transition outside or to Minnesota's 4-3 scheme either."At this point, just playing football is the best fit," Bishop said. "I'm just anxious to get out there and show what I can doI don't think there will be too much (transition). All defenses are different but my entire life I played in a 4-3. I just recently switched to a 3-4 and everyone's asking how I'm going to adjust to a 3-4. It was pretty simple and switching back to a 4-3 won't be too hard." As for having a familiar roommate?"I've never been his roommate before," Bishop said. "As long as he doesn't snore a lot or nothing weird we should get along real good." Jennings joked he hopes Bishop will give him his space as a roomate, but he is happy to see Bishop with the Vikings."We had a chance to ride up here together and I think it's now strange that we're together in our dorm room as well," Jennings said. "I was sharing some things with him that's kind of between him and I. But we're definitely going to get closer as just teammates and as young men. What he brings to the table is something we need. He's a guy who has experience. He knows how to do things. He knows how to go about winning. He's experienced winning. But at the same time, he's had to work to get everything that he's had. Nothing has been handed to him. He's had to work for everything he's accomplished. So he knows how to go out and get what he wants. And I think with a young team, you kind of have to kind of show them how to go get what we want in the right way, in doing it the right way."Childs likely only player headed for PUP list: Frazier said that receiver Greg Childs, still trying to recover from torn patellar tendons in both of his knees suffered during training camp last year, is probably the only player that will open camp on the physically unable to perform list. Frazier was cautious because the players still had to go through physicals. Center John Sullivan, who missed the offseason program while recovering from knee surgery, shouldn't have to start camp on the PUP list."We think that he's going to be ready to go," Frazier said. "We don't foresee any changes from what we talked about a few days ago. So, now we will have to monitor his reps, we won't just throw him in there and take every rep we're going to kind of bring him along until he gets that confidence he wants that he has to have in that knee but we don't see any reason why we won't be playing him in the preseason."Frazier did say the team won't overload MVP running back Adrian Peterson in camp. Peterson missed all of the preseason last year while he was returning from reconstructive knee surgery and had his best season."We probably won't see Adrian getting a whole lot of carries in the preseason," Frazier said. "We will have plenty of time to get him carries but he'll get some opportunities in the preseason, his work load will be when we kick off the season, but not in the preseason."Vikings avoided distractions: While the off-field distractions were plenty in the NFL in the month between minicamps and the start of training camps, Minnesota avoided having any issues. In the past, the Vikings unfortunately were known for issues. But Frazier was pleased to see his players stay out of trouble."I tell you, I don't take that part of it lightly," Frazier said. "I'm definitely going to mention that tonight, I thought about it through this offseason as I've seen the different headlines across our league with some of the things that have occurred. The fact that our players have really done a good job of staying out of the newspapers for negative things, I don't think you take that for granted, I don't."I'm going to talk with them about that and what we have to get done going forward, but I think it's important. I think that's a major part of having a chance to be successful in this league as you are changing the culture of a football team, and an organization to go through this offseason. I was teasing Les Pico, our player development director, when I saw him yesterday I said, 'Not one time did I see your name flash up on my phone when I picked up this summer.' And I said, 'That's a good thing.' It hasn't always been the case so I'm encouraged by that." Follow Brian Hall on Twitter
Original Story:
http://www.foxsportsnorth.com/nfl/min...
THE BACKYARD
BEST OF MAXIM
RELATED ARTICLES
"YEAH, IT'S BEING USED"
Vikings running back Adrian Peterson has no doubts that HGH is used by some NFL players, saying, "They're going to try to get that edge, get that advantage."
MANKATO, Minn. A welcome sight as the Minnesota Vikings began training camp practices Friday was the lack of players relegated to the sidelines, in particular starting center John Sullivan, who missed the team's offseason workouts because he was recovering from microfracture surgery on his left knee. Sullivan, who played through the injury at the end of last season and then...
SHUT YOUR STUPID MOUTH. Football is back. And all your arguments are invalid. Time with the family? Ha! Good luck, nerd. Gonna maybe catch a Twins game at the end of the season? Sure! If you want to be punched in your dumb, fat face. Maybe you'll go out on a boat and enjoy the last days of summer? Well ... Yeah, probably I guess. That's likely fine. BUT YOU BETTER GOD...
MANKATO, Minn. -- Adrian Peterson heard the skepticism from people last year, even opposing players, as he returned from reconstructive knee surgery to challenge the NFL's single-season rushing mark and win the MVP. He heard the whispers that his recovery was owed to more than just genetics and hard work. He knew there were rumblings that maybe he wasn't "clean.&quot...
Vikings Training Camp Cornerback Battle The Vikings cornerback position took on a small facelift since last year, but when all is said and done they could be better in 2013 than 2012. The top 3 corners for the Vikings will be veteran Chris Cook, rookie Xavier Rhodes and 2nd year corner Josh Robinson. After these three guys it is a crap shoot on which corners will make the final roster...
Below is the full list of Vikings that will be reporting to training camp. Only a matter of time before this list starts to dwindle. 3 Blair Walsh K 4 McLeod Bethel-Thompson QB 6 James Vandenberg QB 7 Christian Ponder QB 8 Erik Highsmith WR 11 Stephen Burton WR 12 Jeff Locke P 14 Joe Webb WR 15 Greg Jennings WR 16 Matt Cassel QB 17 Jarius Wright WR 18 Chris Summers WR 19 Adam Thielen...
GREEN BAY, Wis. -- Coach Mike McCarthy has heard the comments of former Green Bay Packers wide receiver Greg Jennings. With Jennings continually taking jabs at the team that he played seven years for, McCarthy had a comeback ready for the seemingly scorned 29-year-old who signed this offseason with the division-rival Minnesota Vikings. "When you put on that purple, something...
Greg Jennings has a new contract, lots of money, and a new place to call home. Jennings though hasn't forgotten where he came from, and has been delivering scathing commentary regarding his former team in Green Bay. Jennings once again reached out to the Star Tribune to give his opinion, and during his interview, he stated that he felt "it was difficult for Aaron Rodgers to hold...
Green Bay Packers coach Mike McCarthy isn't too concerned with the verbal jabs Greg Jennings has been taking at Aaron Rodgers. Jennings signed with the Minnesota Vikings in the offseason, the latest big-name Packer to join Green Bay's archrivals. McCarthy joked Thursday that, ''When you put on that purple, something happens to you.'' Brett Favre wound up...
Adrian Peterson Working Drills At Vikings Camp (Video) Nike Releases Adrian Peterson Free Trainer
Coach Mike McCarthy responds to Greg Jennings' latest criticism of his former quarterback, Aaron Rodgers.
This is how I roll Juan… Adrian Peterson Working Drills At Vikings Camp (Video) Nike Releases Adrian Peterson Free Trainer
NFL News

Delivered to your inbox

You'll also receive Yardbarker's daily Top 10, featuring the best sports stories from around the web. Customize your newsletter to get articles on your favorite sports and teams. And the best part? It's free!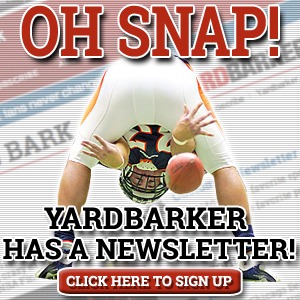 Latest Rumors
The Backyard

Today's Best Stuff

For Bloggers

Join the Yardbarker Network for more promotion, traffic, and money.

Company Info

Help

What is Yardbarker?

Yardbarker is the largest network of sports blogs and pro athlete blogs on the web. This site is the hub of the Yardbarker Network, where our editors and algorithms curate the best sports content from our network and beyond.