Found January 15, 2013 on Fox Sports Wisconsin:
GREEN BAY, Wis. -- The Packers seem like a team that could be making a habit out of trips to the Super Bowl. Armed with the NFL's reigning Most Valuable Player at quarterback, a talented group of wide receivers, an elite pass-rusher in Clay Matthews and a young core built through the draft, Green Bay's roster has most of the important pieces needed to attain that level of success. The Packers surprised the league with their unexpected run to the Super Bowl in 2010 as the NFC's No. 6 seed, winning three postseason road games before beating the Pittsburgh Steelers to win the Lombardi Trophy. In the two seasons since then, however, Green Bay hasn't even been among the final four teams remaining in the playoffs. "I think it's harder (to get back to the Super Bowl) because I think, once you get there, you understand how hard it is to win one," coach Mike McCarthy said Tuesday at his season-ending press conference. "I think anytime you climb the mountain for the first time, just the excitement, the youthfulness, the new experience part of it, that type of energy is something you can tap into. "Then, when you look back on it, you see everything that was involved with it, and now you understand how tough it really is, the responsibility of being a past champion. I think the biggest challenge in this business is handling success. Are the individuals on your football team, have they handled the success of winning a Super Bowl and a 15-1 season? Now, this year, is that factored into how your locker room operates? Does it factor into how your coaching staff operates? Does it factor into how your personnel department operates? "Success changes people, and you always want to make sure that it's for the best, and that's sometimes not always the truth." In the Packers' two consecutive divisional-round exits, their defense has been the biggest issue. Last season, it was giving up 37 points at home to the New York Giants. This season, it was allowing the San Francisco 49ers to score 45 points. Those shortcoming have led to defensive coordinator Dom Capers coming under heavy scrutiny. Capers joined Green Bay's staff in 2009 and orchestrated his 3-4 scheme to near perfection in his second season. But his group has been inconsistent in the past two years and had its worst performances in the postseason. "I'm not making any decisions, but I feel very confident that Dom Capers is going to be our defensive coordinator," McCarthy said. "But I think it's totally premature to make those types of decisions. That's what knee-jerk, reactive people do. You don't make crazy decisions like that, especially a man of Dom Capers' ability, his experience. I trust him. "I think it's ridiculous that I have to answer the question, frankly. I'm appalled by it. There's a process that goes on. I would not do my job, I would not fulfill my responsibility if I didn't look at the job Dom Capers has done, the job Mike McCarthy has done, what (offensive coordinator) Tom Clements has done, all the way down, and I can promise you that's what's going to happen. "I don't dig the drama stuff, and I get the concern. We have great fans, but there's no decision going to be made today, and we have never operated that way and never will." McCarthy and Capers are meeting all day Wednesday to discuss everything from this season that happened on the defensive side of the ball, including the 579 yards allowed to the 49ers. "I've heard all the opinions from the players the last two days (but) I've done this long enough now that I feel I have a pretty good filter to sort out what's real and what's emotion," McCarthy said. "That's really what this process is about. We don't ever try to stay the same. We're very open to doing things a better way. I have a lot of confidence in the way we go about our business. "We will improve." Capers believes he should get at least one more season to try to get the defense performing at a Super Bowl level again. "I know those are Mike's decisions," Capers said. "My plans are to be here. Again, I think we've got a young defense that's ascending. All the statistics point to that. I feel awful about the way we played because you want to play your best in that game and we didn't. And I accept responsibility for that. That's my job to make sure that we play better." Capers, 62, has no plans to retire any time soon. "My plans are to coach for a long time," he said. "Some of my friends are coaching and they're well into their 70s. That's my plan. Like I said, to me the challenge now is to go back to work, make sure we get this fixed so these type of teams we're playing against next year, the same thing doesn't happen." Green Bay's defense did improve in several areas this season. In 2011, the Packers gave up more passing yards than any team in NFL history. In 2012, Green Bay finished 11th in the league in passing yards allowed. The Packers also went from 29 sacks in 2011 to 47 sacks this season. However, Green Bay's interceptions total dropped from an NFL-best 31 down to 18. "I feel good about our guys," Capers said. "I've seen us make great strides this year. It didn't look that way the other night but I've seen us make great strides. And, I think with the number of young people we've got that we can move forward with this group. Obviously, you always want to add a few things here or there, but ,what I hope is that game (against San Francisco) is not a total evaluation of what this group has done this year, because I think there were some very good things that were done." Packers general manager Ted Thompson is in a difficult spot. With quarterback Aaron Rodgers 29 years old and one Super Bowl title already on his resume, Green Bay needs to be in win-now mode. The Packers are good enough to win the NFC North for years to come just by having Rodgers and a decent group around him, but expectations are higher than that inside the front offices of Lambeau Field. The past two seasons have shown that Green Bay is at a point of being good enough to make the playoffs with relative ease but not really all that close to being championship quality. Thompson has proven to be great in the draft in his eight years on the job, selecting nearly every impact player on the team's roster. But he's also tentative and cautious when it comes to signing high-priced free agents. For the Packers' defense to improve fast during Rodgers' prime, Thompson will have to consider altering his team-building strategy. Otherwise, Green Bay could wind up a perennial playoff team that lacks the overall talent to win it all. "The goal around here is not just to win 12 games, not just to win the division championship," McCarthy said. "Our goal will always be the same here. I do appreciate the support, concern and I understand the disappointment of the fans, but this is the best organization in all of professional sports. "We have the resources and we will make the right decisions as we move forward." Follow Paul Imig on Twitter
Original Story:
http://www.foxsportswisconsin.com/01/...
THE BACKYARD
BEST OF MAXIM
RELATED ARTICLES
With Charles Woodson turning 37 years-old soon and the fact that he will account for $10 million towards the Green Bay Packers' salary cap in 2013, it might make sense for them to release  him this offseason. Even though Woodson has been playing at a high level late in his career, it's simply not worth it for the Packers to have an aging veteran tie up so much money under their...
GREEN BAY, Wis. The Packers were apparently quite happy with their practice-squad players at the end of this season, signing all eight of them to new contracts. General manager Ted Thompson announced Monday afternoon that the team had signed quarterback B.J. Coleman and offensive tackle Andrew Datko, both of whom were seventh-round picks by Green Bay in the 2012 draft. The Packers...
According to an NFL scout that spoke with Milwaukee Journal-Sentinel, Packers WR Greg Jennings may have a "much smaller" market for his services than Vincent Jackson had last year. "I put Vincent Jackson last year up in the elite spectrum, a Pro Bowl-caliber player," the scout said. "He's also 6-5 and still can do a lot more things. Greg can't compete with Vincent...
After a disappointing playoff loss last Saturday to the 49ers, the Green Bay Packers need to evaluate the direction their defense is headed in under Dom Capers. The Packers defense gave up almost 600 yards to the 49ers offense, which is completely uncalled for. During his closing press conference, Packers head coach Mike McCarthy was asked about Capers' future. McCarthy said it...
This is the latest post in Kurt's continuing series to identify the NFL's Ultimate Franchise Player of All-Time. For an explanation of his methodology for choosing each franchise's ultimate franchise player, and then how you and he will choose the NFL's Ultimate Franchise Player from that list, click here. To see all the category page for this series, of which there will...
Hot News for QB Aaron Rodgers
Green Bay Packer quarterback Aaron Rodgers has decided to drop out of this year's Pro Bowl due to numerous nagging injuries. The New York Giants have announced that Eli Manning will replace Rodgers on the NFC roster. QB Eli Manning will be replacing Packers QB Aaron Rodgers in this years Pro Bowl — New York Giants (@Giants) January 15, 2013   Need NFL Tickets? var _CI =...
Guest wrote by K-Bear.  We look forward to your comments.  More to follow from this debacle… This is the picture I will remember. Roste Beefe, It pains me to write this but I think you are the only one I can connect with and we can deal with this pain together.   1)     The next man up (draft and develop) mentality vs. win now Granted, the Packers have been probably the...
NFL News

Delivered to your inbox

You'll also receive Yardbarker's daily Top 10, featuring the best sports stories from around the web. Customize your newsletter to get articles on your favorite sports and teams. And the best part? It's free!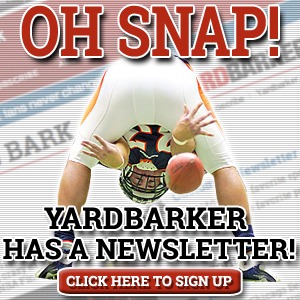 Latest Rumors
The Backyard

Today's Best Stuff

For Bloggers

Join the Yardbarker Network for more promotion, traffic, and money.

Company Info

Help

What is Yardbarker?

Yardbarker is the largest network of sports blogs and pro athlete blogs on the web. This site is the hub of the Yardbarker Network, where our editors and algorithms curate the best sports content from our network and beyond.