Found November 16, 2012 on Grits Blitz:
I've already told you how much I dislike NFL power rankings. They are worthless. Earlier this week I was checking up on my reader and came across this weeks power rankings from Bloguin's feature NFL site This Given Sunday. They ranked the Falcons second which doesn't excite or upset me but I was intrigued by the blurb that they associated with the ranking. Here is what they said: But I don't feel any better about these guys, who don't play with the kind of passion required of a Super Bowl winner. Or at least it doesn't appear that way. I'm not going to lie and say I watch every NFL football game every week and have an intricate knowledge of the NFL. I'm more of a college football guy (growing up in the South does that to you) and then I'm an Atlanta Falcons fan but not necessarily a huge NFL fan. One of the reasons for that is because I believe that college football in general is a much more exciting and passionate sport than the NFL. In general, the NFL is about money (which is a given as this is what the players do for their career) and it's about execution and out game planning your opponent. When I look around the NFL I honestly don't see any teams that seem any more "passionate" than others. Sure the teams that have losing records and are at the bottom or the rankings tend to be broken and don't play with passion but that's a given. Are there individual players? Sure but even those players aren't necessarily the peak of their profession. Ray Lewis is one that comes to mind and yes he is elite (or at least he was). After that I think about guys like Cam Newton and Steve Smith as two of the most passionate football players I know and it hasn't equaled wins for them on a consistent basis in the NFL. Does it require outward passion to win a Super Bowl? No, it doesn't. What it does require is inward passion. The type of passion that Peyton Manning and Tom Brady have and have shown in their career. They don't wear it on their sleeve, but they do put in the extra time and they care enough to make that extra effort. In terms of off the field effort, Matt Ryan is in that field of elite QBs in this point of his career. Ryan cares, he's passionate about the game and he puts in the time. If you want outward passion the Falcons have Asante Samuel, they have Sean Weatherspoon, William Moore and Roddy White. There aren't a lot of guys in the league more charasmatic and passionate then those guys. What about Tony Gonzalez? I was listening to 790 the zone in Atlanta this morning and Vonnie Holiday mentioned how much passion that he plays with on the field. At his age, to stay in the condition that he is in and to make the contributions that you do on the field then you have to have passion for what you do. Are the Falcons "passionate" enough to win the Super Bowl. Absolutely, they are just as passionate as any other team in the NFL. The bigger question is if they can execute in the big game or in the games to get to the big game. Can they gain that 4th and short? Can they stop the run when they have to? Can they come back if they get down big? Those are the questions that face the Falcons, not if they are passionate enough.
Original Story:
http://www.gritsblitz.com/2012-articl...
THE BACKYARD
BEST OF MAXIM
RELATED ARTICLES
The Falcons started 8-0 behind Matt Ryan and the Falcons offense.  Is Ryan a legitimate MVP candidate? We've entered the second half of the season and talk of league MVP will start heating up. Here is a look at my MVP candidates by position: Quarterback: Payton Manning - Manning not only switched teams but came back from neck surgery that caused him to miss all of...
Michael Turner says the Atlanta Falcons' rushing attack might not be as bad off as some people think. Coming off their first loss of the season, Turner and the Falcons were punchless in short yardage situations last week at New Orleans. The two-time Pro Bowl running back was held to his least productive day in five seasons with Atlanta, running 13 times for 15 yards. But Turner...
The Falcons lost a tough divisional game, I don't think anyone is surprised that they will not finish 16-0.   After a rough Week 10, I'm sitting at 92-54-1.  Who wants to keep track of a bye. Let's see if I can turn this around this week. Arizona at Atlanta - The Cards need to get some production from the QB position if they want any chance to make playoff...
For the first time in three weeks the Atlanta Falcons have not ruled out linebacker Sean Weatherspoon, who was their leading tackler when he injured his ankle on Oct. 28, for Sundays game, instead listing Weatherspoon as questionable. In addition, wide receiver Julio Jones, who has an ankle injury that he suffered last Sunday at New Orleans, also was listed as questionable. Neither...
Ray Edwards' loss is Kroy Biermann's gain for the Atlanta Falcons. Biermann took over as a starting defensive end earlier this week after the Falcons cut Edwards. Cliff Matthews and rookie Jonathan Massaquoi also are likely to earn more playing time when Atlanta (8-1) hosts Arizona (4-5) on Sunday. Biermann originally lost the left end job when the NFL lockout ended last...
Atlanta Falcons receiver Julio Jones missed practice for the second straight day with an ankle injury on Thursday and will be a game-time decision against Arizona. Jones was injured in last week's loss at New Orleans. Coach Mike Smith did not say which ankle is bothering Jones. Linebacker Sean Weatherspoon is rehabbing a sprained right ankle and hopes to avoid missing his...
Last week: 3 (+0) Record: 8-1 I've said it several times before. There's only so long you can play inferior teams close before one of them beats out and that's what happened in New Orleans last week. Fortunately, their remaining schedule isn't that hard (vs. Arizona, @ Tampa Bay, vs. New Orleans, @ Carolina, vs. NY Giants, @ Detroit, vs. Tampa Bay), so they should probably...
Will the injury bug be the factor that derails the Atlanta Falcons 2012-13 season? Going into Sunday's game against the Arizona Cardinals, the team is most likely going to be without the two out of the three stars that have anchored their past three draft classes. Please Click Here To Read This Story & Our Predictions for Falcons vs. vs. Cardinals.
Falcons receiver Julio Jones (ankle) missed Friday's practice and remains a game-time decision for Sunday. SOURCE: Atlanta Journal-ConstitutionFantasy Spin:Jones left Week 10's game against the Saints with an ankle injury but returned after missing 28 offensive snaps and made a 52-yard catch. The Falcons indicated Thursday that they'll wait as long as possible to make...
NFL News

Delivered to your inbox

You'll also receive Yardbarker's daily Top 10, featuring the best sports stories from around the web. Customize your newsletter to get articles on your favorite sports and teams. And the best part? It's free!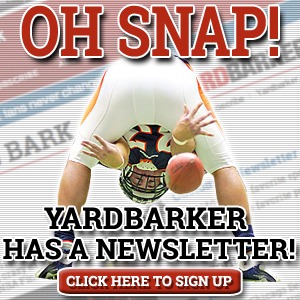 Latest Rumors
Best of Yardbarker

Today's Best Stuff

For Bloggers

Join the Yardbarker Network for more promotion, traffic, and money.

Company Info

Help

What is Yardbarker?

Yardbarker is the largest network of sports blogs and pro athlete blogs on the web. This site is the hub of the Yardbarker Network, where our editors and algorithms curate the best sports content from our network and beyond.