Found November 08, 2012 on Player Perspective:
PLAYERS:
Michael Robinson
,
Marshawn Lynch
,
Russell Wilson
,
Pete Carroll
,
Richard Sherman
,
Chris Maragos
,
Danny Amendola
,
Ed Reed
,
Roddy White
,
Darnell Dockett
TEAMS:
Seattle Seahawks
,
St. Louis Rams
,
Baltimore Ravens
,
Atlanta Falcons
,
Arizona Cardinals
We all know how skewed scouting reports can be based on race — and lots of players have pointed out that it's not just on-air experts who follow a pattern when talking about athletes but that it's actuallydone in team reports as well. I've always looked at it from the perspective that black players aren't given enough credit for being intelligent…that there's over-emphasis on their athletic ability and that there's a pattern when it comes to experts looking for words to describe those players without saying "intelligent" or "smart" (e.g. clever). I was watching The Real Rob Report," which I do each week FAITHFULLY, a series hosted by Michael Robinson of the Seattle Seahawks. In the series, he goes around taping his teammates, even those like super star Marshawn Lynch who hilariously struggles to be left alone every week, as he asks them various questions. Judging by the series, the Seahawks locker room looks like a really fun place to visit.  There are so many interesting personalties on the team.  If you watch the series you get to see rookie QB Russell Wilson do his Pete Carroll impression, top CB Richard Sherman argue the point that college players SHOULD be paid, OL Jon Moffitt do Jon Moffitty type things, and various other great moments like watching all the Ques on the team hop. Back to the real point of this post which is how hearing Safety Chris Maragos talk about how white players are described actually changed my perspective on this topic a little bit. Rob asks Maragos if saying a white player is a "hustle player" is like saying he's athletic. And Maragos says no, it means that he works hard which is the only way they can stay in the league (laughter ensues). Maragos then goes on to do an impression of a football analyst or fan talking about a white players vs. talking about the black player. When he gets to the impression regarding the black player his voice goes up in excitement. And you can tell he'd rather be described that way than the other way which is more boring and technical. It got me thinking about white basketball players or white receivers like Green Bay's Jordy Nelson or the Rams' Danny Amendola . It's clear that praise of white players errs toward the technical and mental side and less on the thrilling end. And that's a shame cause it goes without saying that white players can easily dominate highlight reels just like black players (see: Brent Celek's acrobatic leap over Ed Reed). It's also funny that folks tend to easily talk about white athletes in exciting terms in the sports whites dominate (cycling, tennis, swimming etc.) but it doesn't translate much into basketball and football. Anyway, I just thought it was worth mentioning. I haven't fully gathered my thoughts on it yet. You can see Maragos explain it all below, it starts at the 10:02 mark when Rob decides to "get a shot of the white people." LOL   Related Posts:Roddy White and Julio Jones Talk About Their "linebacker mentality"True Life: I Watched this interview and fell in love with MainoFill-in Refs So Bad Fans Are Begging for Ed Hochuli to Return and Annoy Them AgainRemember when Arizona Cardinal Darnell Dockett bought an alligator? There's video.Rewind: Kevin Durant Explains Why He Wears 35
Original Story:
http://feedproxy.google.com/~r/Player...
THE BACKYARD
BEST OF MAXIM
RELATED ARTICLES
DIRTY BIRD
Falcons wide receiver Roddy White said he has no love for the team's division rival and the city where it plays, but did compliment New Orleans on its cuisine.
Leading up to tomorrow's game against the Saints, Atlanta Falcons wide receiver Roddy White has once again made it clear that he doesn't like them. "I don't like nothing about the Saints," White said, per the Atlanta Journal-Constitution. "The colors. The city. Nothing. But they've got some good food, though. Other than the food, nothing." White says the Falcons know...
Atlanta Falcons Wide Receiver Roddy White told the Atlanta Journal-Constitution that he hates everything about the New Orleans Saints from their city to their colors (Credit: AP Photo) Earlier this week, Atlanta Falcons wide receiver Roddy White said he believes the team has the pedigree to go undefeated this year. Today, he is talking even more trash. This time, he is taking aim...
Atlanta Falcons wide receiver loves to run off at the mouth, sometimes without an apparent thought to what he's even saying. His twitter feed @RoddyWhiteTV is pure comedy, and most of the time White's not trying to be funny. White has started yapping again, and the masses in the Nola are not going to be [...] [[ This is a content summary only. Visit my website for full links...
Per ESPN SportsCenter's Twitter Feed, Atlanta Falcons wide receiver Roddy White has publicly stated he thinks the Falcons have what it takes to go 16-0: Bold comments considering there are only two teams in NFL history that have successfully negotiated an undefeated regular season, the 1972 Miami Dolphins and the 2007 New England Patriots. So much for taking each game one at...
Roddy White thinks the Falcons can go undefeated, but his reasoning behind that belief isn't so perfect. The Falcons wide receiver is pointing to the team's "pedigree" as a reason why they can go 16-0, along with the united nature of the team's locker room. It might not be the wisest thing to tempt the football gods before a big divisional matchup, but that's exactly...
Roddy White has no problem expressing his feelings. Whether he's tweeting a defense of Joe Paterno or dismissively laughing at Michael Irvin questioning if he and Julio Jones are a better duo that Mile Austin and Dez Bryant, White rarely holds anything back. So when the subject of the Atlanta Falcons possibly going 16-0 came up in a discussion with D. Orlando Ledbetter of the AJC...
On the strength of MVP candidate Matt Ryan and a defense that bends but rarely breaks, the Falcons currently stand as the league's only undefeated team. At 8-0, Atlanta will put their streak to the test against the division-rival and suddenly resurgent Saints on Sunday. If they do get their ninth victory, could the Falcons run the table all the way to 16-0? Roddy White...
Roddy White and Julio Jones are the best wide receiver combo in the league (yes I've heard of Victor Cruz and Hakeem Nicks).  Last week the (play) brothers stopped by the Atlanta Falcons D-block show, a web series hosted by the Falcons linebackers. If you haven't seen the series, make sure you put that on your list. It's the best sports web series hands down (with Michael...
QB | RB | WR | TE 1. Roddy White at NO 2. A.J. Green vs NYG 3. Calvin Johnson at MIN 4. Julio Jones at NO 5. Reggie Wayne at JAC 6. Brandon Marshall vs HOU 7. Mike Wallace vs KC 8. Victor Cruz at CIN 9. Eric Decker at CAR 10. Marques Colston vs ATL 11. Wes Welker vs BUF 12. Demaryius Thomas at CAR 13. Vincent Jackson vs SD 14. Miles Austin at PHI 15. Torrey Smith...
NFL News

Delivered to your inbox

You'll also receive Yardbarker's daily Top 10, featuring the best sports stories from around the web. Customize your newsletter to get articles on your favorite sports and teams. And the best part? It's free!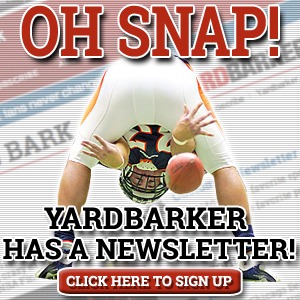 Latest Rumors
The Backyard

Today's Best Stuff

For Bloggers

Join the Yardbarker Network for more promotion, traffic, and money.

Company Info

Help

What is Yardbarker?

Yardbarker is the largest network of sports blogs and pro athlete blogs on the web. This site is the hub of the Yardbarker Network, where our editors and algorithms curate the best sports content from our network and beyond.