Found December 07, 2012 on Fox Sports:
PLAYERS:
Danny Amendola
,
Sam Bradford
,
Jonathan Stewart
,
DeAngelo Williams
,
Angelo Williams
,
Brandon LaFell
,
Jermaine Gresham
,
Donald Brown
,
Vick Ballard
,
Dustin Keller
,
Rex Ryan
,
Maurice Jones-Drew
,
Percy Harvin
,
Ben Roethlisberger
,
Mike Tomlin
,
LeSean McCoy
,
Bryce Brown
,
Mario Manningham
,
A.J. Jenkins
,
Hakeem Nicks
,
Sidney Rice
,
Jordy Nelson
,
Greg Jennings
,
Aaron Hernandez
,
Tom Brady
TEAMS:
Buffalo Bills
,
St. Louis Rams
,
Atlanta Falcons
,
Carolina Panthers
,
Minnesota Vikings
,
Dallas Cowboys
,
Cincinnati Bengals
,
Tennessee Titans
,
Indianapolis Colts
,
Jacksonville Jaguars
,
New York Jets
,
Chicago Bears
,
Pittsburgh Steelers
,
Philadelphia Eagles
,
Miami Dolphins
,
San Francisco 49ers
,
New York Giants
,
Arizona Cardinals
,
Seattle Seahawks
,
Detroit Lions
,
Green Bay Packers
,
Houston Texans
,
New England Patriots
,
San Diego Chargers
,
Tampa Bay Buccaneers
,
New Orleans Saints
Sunday St. Louis Rams at Buffalo Bills Rams WR Danny Amendola (foot) Jock to Doc take: Amendola has been limited in practice this week, the St. Louis Post-Dispatch reports. This is a good sign for fantasy owners, who have dealt with his absence since Nov. 18 due to a bruised heel/foot injury. If Amendola is active this week, it will certainly give Sam Bradford a boost in the passing attack. Health Rating: Danny Amendola @ 58% Atlanta Falcons at Carolina Panthers Panthers RB Jonathan Stewart (ankle) Jock to Doc take: Stewart was held out of practice for the second day in a row, the Panthers' website reports. DeAngelo Williams will start again for Carolina this week, but since he has done little to earn fantasy trust, I don't recommend him as a safe start against the Atlanta Falcons. Panthers WR Brandon LaFell (foot) Jock to Doc take: Brandon LaFell, who was noticeably limping on his turf toe Thursday, told the Charlotte Observer that he is also dealing with a chipped bone. Regardless of his chipped bone, the turf toe would have likely kept him sidelined anyway. Health Rating: Jonathan Stewart @ 50%, Brandon LaFell @ 40% Dallas Cowboys at Cincinnati Bengals Bengals TE Jermaine Gresham (hamstring) Jock to Doc take: While Gresham was limited Wednesday, he didn't participate in any of Thursday's practice, the Bengals' official website reports. Friday's practice should be indicative of his status for Sunday's game, but fantasy owners may want to look for another tight end in the event that he was injured in practice. Health Rating: Jermaine Gresham @ 65% Tennessee Titans at Indianapolis Colts Colts RB Donald Brown (ankle) Jock to Doc take: Brown has been ruled out due to an ailing ankle, the Colts' official website reports. Vick Ballard will start in his place and has an attractive matchup against a porous Tennessee defense. Health Rating: Donald Brown @ 43% New York Jets at Jacksonville Jaguars Jets TE Dustin Keller (ankle) Jock to Doc take: Coach Rex Ryan has yet to rule his tight end out for Sunday's game; however, Keller's status is iffy at best. The New York Daily News noted that although he seems to be improving, he was absent again from practice. If he is able to practice at all before Sunday's game, there is a solid chance that his status for Sunday will change. Jaguars RB Maurice Jones-Drew (foot) Jock to Doc take: According to the Jaguars' official website, Coach Mike Mularkey noted on Wednesday that Jones-Drew is still very questionable for Sunday's game. He was absent from Thursday's practice, so count on him being inactive this week. Health Rating: Dustin Keller @ 55%, Maurice Jones-Drew @ 50% Chicago Bears at Minnesota Vikings Vikings WR Percy Harvin (foot) Jock to Doc take: The Vikings have placed wide receiver Percy Harvin on IR due to torn ligaments in his ankle. His injury is unlikely to require surgery, which is irrelevant for Harvin owners who are competing in fantasy playoffs. Health Rating: Percy Harvin @ 0% San Diego Chargers at Pittsburgh Steelers Steelers QB Ben Roethlisberger (rib/shoulder) Jock to Doc take: Roethlisberger practiced both Wednesday and Thursday and appears to be on track to suit up for Sunday's game against the Chargers, the Steelers' official website reports. Coach Mike Tomlin noted Thursday that he is "extremely comfortable" with Roethlisberger's ability to work the field. Big Ben is one of the toughest quarterbacks in the league, and due to the magnitude of this game (Steelers sit at 7-5), I expect Roethlisberger to give it everything he has. Health Rating: Ben Roethlisberger @ 60% Philadelphia Eagles at Tampa Bay Buccaneers Eagles RB LeSean McCoy (concussion) Jock to Doc take: McCoy didn't practice Thursday, according to the Eagles' official website. Due to both his continued concussion symptoms and Bryce Brown's solid running the past couple games, it would take a miracle for LeSean McCoy to start this week. Health Rating: LeSean McCoy @ 52% Miami Dolphins at San Francisco 49ers 49ers WR Mario Manningham (shoulder) Jock to Doc take: According to San Francisco's official website, Manningham didn't practice Wednesday or Thursday; he appears unlikely to suit up or make an impact in Sunday's game. Rookie A.J. Jenkins could get some playing time this week if Manningham is inactive. Health Rating: Mario Manningham @ 55% New Orleans Saints at New York Giants Giants WR Hakeem Nicks (knee) Jock to Doc take: Nicks missed Thursday's practice due to a sore knee but was spotted on a stationary bike, the New York Daily News reports. While he has been struggling with his MCL this season, there has been nothing to suggest that his status is in any danger. He should at least be practicing on a limited basis by Friday. Health Rating: Hakeem Nicks @ 75% Arizona Cardinals at Seattle Seahawks Seahawks WR Sidney Rice (head) Jock to Doc take: Rice fully passed the NFL's concussion protocol, the Everett Herald reports, and while he has been cleared to practice, he has been participating in team drills on a limited basis. Friday's injury report should clear up his status going into Sunday's game, but it looks optimistic right now. Health Rating: Sidney Rice @ 70% Detroit Lions at Green Bay Packers Packers WR Jordy Nelson (hamstring) Jock to Doc take: According to the Milwaukee Journal Sentinel, Nelson was unable to practice for the second day in a row on Thursday, indicating that he will be unable to suit up Sunday against the Lions. Greg Jennings is back from his abdominal surgery, so Green Bay is more than likely resting Nelson so that he and the entire receiving corps is healthy for the playoffs. Health Rating: Jordy Nelson @ 65% Monday Houston Texans at New England Patriots Patriots TE Aaron Hernandez (ankle) Jock to Doc take: Hernandez was limited at practice Thursday, the Patriots' official site reports; this is not concerning seeing that Houston and New England have an extra day to rest before their prime time game. Considering the magnitude of the game and a first-round playoff bye at stake, Hernandez almost assuredly will be in Tom Brady's arsenal during Monday Night Football. Health Rating: Aaron Hernandez @ 70% Health Ratings: So what do the numbers mean? 100-85% = NFL players are tough and despite injuries still perform at a high level. Let's be honest, when is an NFL athlete really physically 100%...practically never. With a rating in this range expect players to perform at peak levels. 70-85% = In this range a players performance will be affected but they can still get the job done. 55-70% = Players with a rating this low will require assistance to do their jobs. The team might be better served by placing these warriors on the inactive list. Only some All-Pros can get the job done when rated this poorly. 40-55% = These players need some more time to heal. Unlikely to be active unless miraculous healing occurs or my rating was based on erroneous information. 25-40% = Players will not play but show signs of recovery opening the door for a return to the active roster the following week. < 25% = Players will not play and there is concern that additional games may be missed.
Original Story:
http://msn.foxsports.com/nfl/story/dr...
THE BACKYARD
BEST OF MAXIM
RELATED ARTICLES
Wide receiver Danny Amendola and running back Stephen Jackson both practiced Thursday for the St. Louis Rams, while center Scott Wells was among the players that were out for yesterday's session. Jackson and Amendola both missed practice Wednesday. Jackson was sidelined due to a foot injury, while Amendola has been hampered by a lingering heel injury. Jackson was a full...
St. Louis Rams coach Jeff Fisher has announced that wide receiver Danny Amendola is shaping up to be a game-time decision Sunday against the Buffalo Bills, while running back Stephen Jackson is probable to play. WR Danny Amendola (foot), LB Mario Haggan (elbow) are questionable. Coach Jeff Fisher said Amendola will be a game time decision. — St. Louis Rams (@STLouisRams) December...
Rams wideout Danny Amendola was a limited participant in Friday's practice. He's questionable for Sunday's game against Buffalo because of a heel injury. Fantasy Spin: Amendola will be a game-time decision and even if he plays, hell likely be on a snap count. If youre looking to use a St. Louis receiver this week, Chris Givens (16 catches, 207 yards in his last two games...
St. Louis receiver Danny Amendola is out for the Rams' game against the Buffalo Bills on Sunday. Amendola is nursing a foot injury, and missed his fifth game this season. He still leads the team in receptions (51) and yards (576). Bills' top receiver Stevie Johnson is active after being limited in practice on Thursday and Friday because of a hamstring injury. Receiver Donald...
The St. Louis Rams will play against the Buffalo Bills on Sunday at 1 p.m. EST. Both teams had expectations before the season began that they would be chasing after a wild card spot when Week 14 rolled around. Instead both teams find themselves riddled with questions. St. Louis has not addressed the issues at wide receiver and have been inconsistent throughout the year. The player...
By all reckoning, the Rams were fortunate to come away with a win against the 49ers. If not for eight points put on the board by an opportunistic defense - with help from the referees, the NFL's arcane challenge rules, and a bizarre and poorly executed option play - the Rams lose. And if that had happened, one play would have stood out above all others as the crux of the loss...
Lead writer Nick St. Denis and AFC East Daily contributors Dan Begnoche and Sean Donovan pick the Buffalo Bills' contest with the visiting NFC's St. Louis Rams. Nick's take: Only two quarterbacks have been sacked more times than Sam Bradford, so the Bills' Mario Williams-led front-seven, despite missing Chris Kelsay, should have plenty of opportunities to get into...
Russ Salvatore for Wall of Fame! Yes, the Bills making the playoffs are about as slim as me winning the NYS Powerball. They are 5-7 and have a great shot at being one game below .500 with a win. Hooray! This week, they take on the St. Louis Rams. As we do every week, we are joined by the opposing team's blogger. The fine folks over at Rams Herd answer all my questions about...
John Snyder: Bills 19-14 Low scoring game.  St. Louis is the better team but the weather will give the dome team some problem and the Bills will win an ugly game that is now SOLD OUT Ryan Talbot: Bills 27-19 The Bills win late with a field goal. If Danny Amendola plays, he has a field day on Buffalo, but the defense does enough to keep the Rams out of the end zone. Robert Quinn...
NFL News

Delivered to your inbox

You'll also receive Yardbarker's daily Top 10, featuring the best sports stories from around the web. Customize your newsletter to get articles on your favorite sports and teams. And the best part? It's free!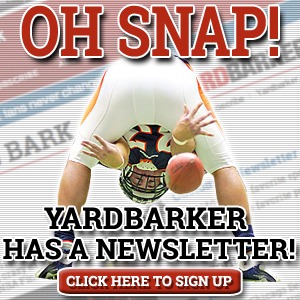 Latest Rumors
The Backyard

Today's Best Stuff

For Bloggers

Join the Yardbarker Network for more promotion, traffic, and money.

Company Info

Help

What is Yardbarker?

Yardbarker is the largest network of sports blogs and pro athlete blogs on the web. This site is the hub of the Yardbarker Network, where our editors and algorithms curate the best sports content from our network and beyond.