Found January 25, 2013 on Fox Sports Arizona:
Darnell Dockett's appearance on Phoenix radio station XTRA 910 on Thursday generated some headlines regarding his Twitter, um, shenanigans with Katherine Webb, better known as Miss Alabama and the girlfriend of Alabama quarterback A.J. McCarron. For those who missed it, the comments generating most of the buzz were as follows (listen to the full interview here): "Shes a very beautiful girl, but I just feel like somebody whos been modeling and going to Alabama and doing all that country stuff, I just want to take her out of her (element) and bring her to get some of these garlic wings and these barbecue wings and see a few strippers and things like that, so she can appreciate what shes doing. Im just giving back to the community in the long run. ... If I really wanted to get his girl, theres a bunch of different ways Id have went about it. And I would have got her if I really wanted her. But I dont think shes my type. Im not into the thinner girls and the modelling thing like that. I like hood chicks. I like girls with a couple stab wounds, bullet holes, been knocked up a few times. ... I like girls who you know have bad credit when theyre 21. Takeaways: He could've had Webb if he'd wanted her (McCarron might be willing to dispute that, as he did when Dockett originally started tweeting his now-famous lady) and he prefers "hood chicks." Interesting, but not to be taken seriously. This is Dockett being Dockett. More interesting (but lesser noticed since they were only about football) were his comments on new Cardinals coach Bruce Arians, an unusual introduction and the defense the Cards plan to install. Regarding Arians, Dockett voiced his support for the hire (his relationship with Ken Whisenhunt was noticeably strained at the end of Whiz's tenure) and then provided yet another Dockett-esque anecdote: I did my research on Bruce, man, and hes a great guy. I talked to a lot of players that played with him Robert Mathis, Dwight Freeney, even some guys in Pittsburgh everybody vouched for him. They all said hes a good guy. And a couple days ago I got a text message from somebody and I was like, Who is this? And they was like, Hey, hit me up. Its B.A. Give me a call. I want to talk to you ASAP. And Im looking at the text message like, I dont even know who this is; Im not calling them back. So the next day I get a text message and its like, This is your coach. Give me a call. I want to check in with you. And Im like, Oh, (expletive). New coach.' ... "I called him back and he was so energetic. We conversated for 30, 40 minutes, and it was a great, positive conversation. He said some things to me that kinda got me excited." As for the defense going forward, Dockett referenced in passing an apparent switch to 4-3 defensive tackle from the 3-4 defensive end position he had been playing under Ken Whisenhunt and Ray Horton. (Arians) told me hes gonna put me in my regular position that I had been playing over the years, and I was a dominant force in the middle (at defensive tackle). That got me fired up right away because Ive been just looking for another opportunity to do what I do best and go out and dominate games. ... "The 4-3 and the 4-3 under and things like that, it creates where guys have to block me one on one. Guys have to worry about where I'm going, whether I'm going left, right, upfield, over the top -- it doesn't matter. It lets me be an athlete, it lets me just be dominant, be in the backfield and be disruptive. ... I'm excited about the whole thing and just getting back on the map." -- Matt Swartz
Original Story:
http://www.foxsportsarizona.com/01/25...
THE BACKYARD
BEST OF MAXIM
RELATED ARTICLES
LADIES MAN
It seemed that Darnell Dockett shared with the world an infatuation with Katherine Webb, but the nose tackle says he prefers a very different, yet specific, type of gal.
If you remember correctly, Darnell Dockett hit up AJ McCarron's girlfriend Katherine Webb on twitter during the BCS National Championship game and asked her out on a date.  According to Dockett, he was just joking around, she's not his type.   If I really wanted to get his girl, there's a bunch of different ways I'd have went about it. I would have got her if I...
I guess people really took Darnell Dockett's tweets seriously when he hit up Miss Alabama Katherine Webb on Twitter. I thought it was just about kicks and giggles. Well, Darnell decided to clarify what type of women he likes while on Bickley and MJ on XTRA Sports 910, and it's not beauty queens, he prefers hood chicks apparently. Wait, not just any hood chick, one with bullet...
Arizona Cardinals safety Kerry Rhodes had an outstanding season in 2012, but due to the Cardinals being almost two million dollars over the cap limit for 2013. The Cardinals will likely release Kerry Rhodes during the 2013 offseason. The good news about the potential Rhodes and Cardinals divorce is that it would be mutually beneficial for both parties. On the one hand, the Cardinals...
Arizona Cardinals running back Beanie Wells admittingly says it was a difficult season, citing a frequent bumping of heads with then head coach Ken Whisenhunt. "We definitely had our fair share of disagreements this season, and I've never been in a situation like that before," Wells said, via Fox Sport Arizona.
Mike Jurecki of XTRA 910 Radio in Arizona is reporting Thursday on Twitter that he has heard that former Pittsburgh Steelers special teams coach Amos Jones will be the new special teams coach for the Arizona Cardinals. https://twitter.com/mikejurecki/status/294491636459790336 Former? This is the first time that we have heard that term used in relation to Jones, who took over for...
There is another report that has now surfaced late Thursday that is stating Pittsburgh Steelers special teams coach Amos Jones will be named the new special teams coach of the Arizona Cardinals. Tommy Deas of tidesports.com reports that Jones, a former University of Alabama football player, will indeed join the Cardinals coaching staff. Deas only states in his report that Jones...
NFL News

Delivered to your inbox

You'll also receive Yardbarker's daily Top 10, featuring the best sports stories from around the web. Customize your newsletter to get articles on your favorite sports and teams. And the best part? It's free!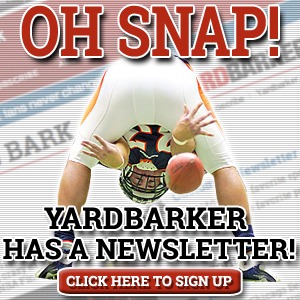 Latest Rumors
The Backyard

Today's Best Stuff

For Bloggers

Join the Yardbarker Network for more promotion, traffic, and money.

Company Info

Help

What is Yardbarker?

Yardbarker is the largest network of sports blogs and pro athlete blogs on the web. This site is the hub of the Yardbarker Network, where our editors and algorithms curate the best sports content from our network and beyond.