Found November 05, 2012 on Phin Nation:
The Miami Dolphins entered Sunday's game with a chance to move into a first place tie in the AFC East.  The Dolphins did a good job in the first half, their offense was moving the ball and scoring points.  The Dolphins defense was allowing rookie Andrew Luck to move the ball, but limited the Colts to just 13 points (thanks in part to 2 missed Adam Viniteri field goals).  However, in the second half, the Dolphins offense faded and managed to score just 3 points, while the defense allowed the Colts to put up 10 points en route to their 23-20 victory. Quite honestly, the Dolphins did not deserve to win this game. Their defense played very poorly and their offensive line was harassed by Robert Mathis and Dwight Freeney all day long.  The Dolphins did not turn the football over, but they did not have the balanced  offensive attack that had helped them win 3 straight games.  The Dolphins threw the ball 40 times and ran the ball just 18.  That is not the type of offensive balance you need when  you have a rookie quarterback, especially one that is injured. What I liked Ryan Tannehill – Tannehill's performance will go mostly unnoticed because the Dolphins lost and Andrew Luck had the highest rookie passing yardage total every (433 yards).  All Tannehill did was complete 22 of 38 passes for 290 yards, 1 TD for a 90.9 QB Rating.  That's not bad for a rookie quarterback who was running for his life most of the day a week after hyperextending his knee and having his thigh bruised.  At one point in the 4th quarter, as the defense continued to give up yards like they were Halloween Candy, I said that Tannehill would have to put this game on his back if the Dolphins were to win.  Unfortunately, the late drive in the 4th quarter came up short. Overall, you have to like the toughness Tannehill showed as he continued to get up after taking some vicious shots from the Colts defenders.  The kid is tough.  This season, as much as we want to see the Dolphins make the playoffs, is about Tannehill continuing to improve.  He's doing just that.  We're all mad that the Dolphins aren't 5-3, but remember that this is about building around a franchise QB that is only going to get better with experience. Reggie Bush's TD Run – Reggie Bush's 18 yard touchdown run brought back memories of Barry Sanders in his prime.  Initially, the play looked like a short gainer, but as Bush headed to the left, so did 3 Colts defenders…..Bush cut on a dime with a jump stop to the right and left the Colts defenders in his dust.  On his way to the end zone he juked another Colts defender before walking in standing up.  Great run by Reggie, we need to see more of that! Olivier Vernon, Special Team's Ace – I'm calling out Vernon on special teams here because the guy is a beat on the field goal/punt block units.  He blocked another field goal yesterday, jumping over the center and deflecting Adam Viniteri's second field goal attempt.  I can't just say that I like Vernon overall because he was invisible when rushing the passer yesterday.  If he wants to be a full time player in the NFL, he needs to work on his pass rushing. Brian Hartline – Hartline caught 8 balls for 107 yards in a losing effort.  It was nice to see Hartline get back into the gameplan for the Dolphins.  He needs to continue to be the security blanket for Ryan Tannehill.  Hartline made a great move and catch on the 35 yard hookup from Tannehill, early in the game.   (cont'd on page 2, click below) Pages: 1 2
Original Story:
http://www.phinnation.com/dolphins-de...
THE BACKYARD
BEST OF MAXIM
RELATED ARTICLES
FLASHBACK
Tweet Remember when Miami Dolphins running back Reggie Bush used to routinely make defenders look silly at USC? Well, Reggie has still got it, as he proved on this sick move to shake the Indianapolis Colts defense for a TD: That's as good a cut as you will ever see in football. I guess all that [...]
Reggie Bush jumped in a Deloreon and cranked it up to 55 miles per hour on Sunday. Bush has looked like a new player ever since he was traded to Miami, but against the Colts, he looked like his old self again when he stutter stepped his way to an 18-yard touchdown run. The only thing missing was his patented flip into the end zone. The Dolphins still couldn'...
Miami quarterback Ryan Tannehill (bruised knee) is active and will start Sunday against the Colts.Fantasy Spin:Employ Tannehill as you usually would. Injured wideout Brian Hartline (groin) is also available for the Dolphins. He had been a game-time decision.
During halftime of the early NFL games yesterday, Fox's Terry Bradshaw made the comment that Dolphins running back Reggie Bush was running like he was chasing a bucket of chicken. During the highlight, you can hear Bradshaw say "Look at this Jimmy, like he was chasing that bucket of chicken that the wind was blowing the other day." While the comment sounds extremely racist...
Terry Bradshaw expressed remorse for a joke he made on Sunday while reading a halftime highlight of Reggie Bush scoring a touchdown. Bradshaw was describing a highlight of the Dolphins running back scoring against the Colts when he said to co-host Jimmy Johnson, "look at this Jimmy, like he was chasing that bucket of chicken that the wind was blowing the other day." "Oh boy...
Tweet Every so often a sports television personality makes a comment or joke that doesn't go over quite as well as they initially planned. Fox NFL analyst Terry Bradshaw had one of these moments Sunday. When describing Reggie Bush's impressive cutback run for a touchdown, Bradshaw appears to say that Bush was running like he [...]
I am thinking that Terry Bradshaw is wanting this one back, even though Jimmy Johnson and him thought it was absolutely hysterical. Curt Menefee? Not so much. Here is Bradshaw calling the highlight run of Miami Dolphins running back, Reggie … Continue reading →
Andrew Luck was sensational. Ryan Tannehill was pretty darn good, too. All that really mattered to the Colts was that Chuck Pagano was there to see a great duel between the rookie quarterbacks. In a game that will be remembered for the quarterbacks' head-to-head matchup, Indianapolis gave Pagano an unforgettable memory in his first trip back to Lucas Oil Stadium since being...
Week 10 is not a week that will turn around your fantasy football season.You won't find many gems out there, yet there are a few safety valves that are worthy pickups if you need a bye-week substitute or want to take a flyer on a couple of gambles.
    The Dolphins went into Indy with a 3 game winning streak a 4-3 record and sky high with confidence, they left 4-4. First things first, The Sky isn't falling!  The season isn't over!  After a very tough loss against a potential playoff contender the Dolphins fan base came back to reality. After a tough loss like the Dolphins suffered its time to sit back and...
There have some terrible acts committed under the watch of the NCAA over the years, acts that make you question the integrity of college athletics. Reggie Bush's name comes to mind. So does Jim Tressel's and recent allegations of academic fraud at North Carolina. The NCAA has seen these acts, and it has likely been disgusted by them like we all have. It wanted to make sure such...
Dolphins News

Delivered to your inbox

You'll also receive Yardbarker's daily Top 10, featuring the best sports stories from around the web. Customize your newsletter to get articles on your favorite sports and teams. And the best part? It's free!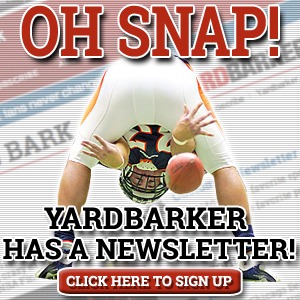 Latest Rumors
Best of Yardbarker

Today's Best Stuff

For Bloggers

Join the Yardbarker Network for more promotion, traffic, and money.

Company Info

Help

What is Yardbarker?

Yardbarker is the largest network of sports blogs and pro athlete blogs on the web. This site is the hub of the Yardbarker Network, where our editors and algorithms curate the best sports content from our network and beyond.