Found April 12, 2013 on Fox Sports Florida:
PLAYERS:
Reggie Wayne
,
Drew Brees
,
Jeff Ireland
,
Jake Long
,
Mike Pouncey
,
Ryan Tannehill
,
Dan Marino
,
Mike Wallace
,
Dustin Keller
,
Jared Odrick
,
Jason Taylor
,
Cameron Wake
,
Vontae Davis
,
Bill Parcells
,
Chad Pennington
,
Pat White
,
Patrick Turner
,
Brian Hartline
,
Reshad Jones
,
Ed Reed
,
Koa Misi
,
Daniel Thomas
,
Jonathan Martin
,
Lance Louis
,
Brent Grimes
,
Charles Clay
,
John Jerry
,
Nolan Carroll
,
Austin Spitler
TEAMS:
Indianapolis Colts
,
New Orleans Saints
,
Miami Dolphins
,
St. Louis Rams
,
Pittsburgh Steelers
,
Washington Redskins
,
Miami Marlins
,
Houston Texans
,
New York Jets
,
Penn State Nittany Lions
,
Boston College Eagles
,
Ohio State Buckeyes
Historically, the NFL Draft has been cringe-inducing for Dolphins fans. Remember when Miami hyped first-round selections Yatil Green, John Avery and Billy Milner? Overlooked future stars Reggie Wayne, Drew Brees and Aaron Rogers? Or didn't even care about hanging on to first and second-round picks? Being one of the NFL's more successful teams during a 25-year stretch in the 1980s and 1990s did not lend itself to Miami snagging top players with late first-round picks. That has changed during the five-year tenure of GM Jeff Ireland, who has been pretty successful in bringing in talent with his top picks. With three of his first-round selections falling in the top 15, Ireland selected one of the NFL's best offensive linemen in Jake Long and picked up center Mike Pouncey and quarterback Ryan Tannehill. The latter are still developing, but have upsides that could see them turn into above-average pros, if not elite ones. First-Round Grades 2012: Ryan Tannehill, QB B: It only took 17 quarterbacks since the retirement of Dan Marino to find a worthy heir for the role of franchise QB. Steady might be the most appropriate word to describe Tannehill's inaugural campaign. His completion percentage hovered just below 60 percent en route to franchise records for most passing yards, attempts and completions by a rookie and that was without elite targets. The Texan had the occasional meltdown as most rookies are expected to do, but there is more reason to be focused on his upside this season with the additions of Mike Wallace and Dustin Keller. 2011: Mike Pouncey, C B: Pouncey entered his draft as the top rated center despite having just one year of experience in the position Florida. The occasional snap issues which popped up in his rookie year appear to have been worked out. But there's still work for the 6-foot-5, 303-pound center to do, especially in run blocking as Miami averaged just 108.4 yards per game on the ground. Although he is not yet recognized as being on par with Pro Bowl center and brother Maurkice of the Pittsburgh Steelers, Pouncey has the athleticism and leadership to match his twin's reputation. 2010: Jared Odrick, DE C: The Dolphins drafted Odrick after lineman Jason Taylor's second stint with Miami. But if the Dolphins were looking for a suitable replacement, they found it in the other defensive end from Penn State, Cameron Wake. Odrick is not your traditional end, rushing the passer and picking up sacks. The Dolphins like his ability to create havoc on the inside, but that is not where they use him. Odrick, at worst, is a serviceable lineman. But given his quickness and versatility, one has to think Miami could be getting more from him. 2009: Vontae Davis, CB B-: Davis proved to be one of the more consistent players in Miami's secondary. In his three seasons with the Dolphins, Davis picked off nine passes and broke up 32 more. But questions about his professionalism came into play during last year's training camp, with new coach Joe Philbin unsure of the corner's "fit" with the team. Shipped out for a second-round pick and conditional sixth-round pick before the season began, Davis saw his numbers tick down with the Indianapolis Colts. 2008: Jake Long, LT, A: The Dolphins could have solved their quarterback issues this draft year by selecting Boston College's Matt Ryan, but executive vice president Bill Parcells and new GM Ireland wanted a sure thing. The 6-foot-7, 319-pound Long did not disappoint. He made an immediate impact on Miami's line, allowing just two-and-a-half sacks in his rookie campaign. Long never allowed more than seven sacks in a season during his Dolphins tenure, leading to first-team All-Pro honors in 2010 and four Pro Bowl invites. Injuries impacted his performance over the last couple seasons, which may have played a role in the Dolphins not making a bigger push to re-sign the free agent. He ultimately inked a four-year, 34-million deal with the St. Louis Rams. But during his stint in Miami, Long accomplished exactly what team brass expected him to do. Busts Chad Henne, QB (2008, 2nd round): When Henne went 7-for-12 in his NFL debut in 2008, there were thoughts the Dolphins maybe, just maybe finally found their future play caller. When Chad Pennington injured his shoulder the next season Henne took over full time. During his stint as the team's starter, though, Henne finished just eight out of 33 games without an interception. He wasn't one to air it out, either. The former Michigan Wolverine threw just 14 passes over 40 yards during his Dolphins career, although part of that could be pegged on former coach Tony Sparano's risk-averse offense. Henne lost his first three starts in 2011 before suffering a separated shoulder in Week 4. The Dolphins chose not to re-sign him that offseason. Philip Merling, DE (2008, 2nd round): Selected 32nd overall, Merling may be the most impactful bust in the last five years. The defensive end returned an interception for a touchdown in Miami's division-clinching, 24-17 victory against the New York Jets in 2008. After an average sophomore season, Merling tore his Achilles' tendon. He appeared in 15 games spanning the 2010 and 2011 seasons before being cut. Pat White, QB (2009, 2nd round): The quarterback racked up a combined 10,529 yards during his four years at West Virginia. Miami penciled him in as third on the depth chart and planned to use him in Sparano's wildcat offense. Opponents caught on to the wildcat gimmick quickly, rendering its use ineffective. The Dolphins waived White before the 2010 season. Also a baseball player, White inked a minor-league deal with the Miami Marlins in January, but will take another shot at the NFL after recently signing with the Washington Redskins. Patrick Turner, WR (2009, 3rd round): The wide receiver appeared in just two games with Miami during the 2009 season and failed to catch a pass. The Dolphins waived him before the 2010 season. Late-round success stories Brian Hartline, WR (2009, 4th round): The former Ohio State Buckeye never thrived during the Henne era, but emerged as one of Tannehill favorite targets in 2012. Of Tannehill's 40 passes of 20-plus yards, the wideout pulled in 14. Hartline finished the season as Miami's top receiver with 74 receptions and 1,083 yards -- a little less than double his average over his first three seasons. Hartline's numbers in the end zone remain low, but that could change this coming season as defenses will have to pay closer attention to new addition Wallace. Reshad Jones, (2010, 5th round): A breakout season in 2012 placed Jones among the NFL's best safeties, although the recognition has yet to come. The third-year pro finished with better all-around numbers than Pro Bowlers Ed Reed and Eric Berry, but failed to receive an invite to Hawaii. Jones emerged as a playmaker under defensive coordinator Kevin Coyle. The former Georgia Bulldog led Miami in interceptions with four, ranked second only to Wake in forced fumbles and placed third among teammates in combined tackles and assists with 94. Final analysis Of the 41 players Miami has drafted over the past five years, nine start for the Dolphins, seven serve as backups and three are depth players, while 17 others remain in the league with other teams. While Ireland has been fairly can't-miss with his initial selections, other first-day picks have not always panned out. Only linebacker Koa Misi stands out as one of Miami's better second-round picks. It remains to be seen whether running back Daniel Thomas can handle the starting workload and whether the struggles Jonathan Martin experienced in 2012 are the standard or the result of inexperience. As for later picks, it is unlikely many will break out this season, especially after the Dolphins went on a spending spree during free agency. With the signings of Dustin Keller, Lance Louis, Danell Ellerbee and Brent Grimes, players such as Charles Clay, John Jerry, Nolan Carroll and Austin Spitler are expected to fall on the depth chart. With 11 picks this year five in the first three rounds Ireland will have lots of opportunities to score where he's previously missed.
Original Story:
http://www.foxsportsflorida.com/nfl/m...
THE BACKYARD
BEST OF MAXIM
RELATED ARTICLES
According to the Miami Herald, the Dolphins haven't ruled out signing free agent defensive end John Abraham, who's interested in playing in Miami next season. Abraham would be a nice addition alongside Cameron Wake, but it will be interesting to see how much money he's looking for. It's been obvious this offseason that the Dolphins aren't afraid to spend money now.   Need...
Earlier today, Miami Dolphins GM, Jeff Ireland held his final pre-draft press conference.  As you would expect, Ireland did not come out and tell the world exactly who he's interested in the upcoming draft.  He did divulge that he may move up in the draft…. or could move down…or could stay right where he is and use all 11 picks.  He also said that he hasn't completely...
Yesterday, Jeff Ireland spoke about the Dolphins offensive line and said that Nate Garner was one of their 'core guys'.  The Dolphins aren't admitting that they have a glaring need at offensive tackle…..but everyone knows it.  The Dolphins will address either the left tackle or the right tackle position, early in the draft…they have to.  That is, of course, unless they...
With the 2013 NFL Draft less than two weeks ago, the Dolphins are pretty stacked and in good position, currently holding onto 11 picks and the no. 12 spot in the first round. They could however, look to trade up into the top 3 if the opportunity presents itself. "I've got enough ammunition to get to the first pick if I wanted to, but I don't see myself doing that, personally...
Earlier today, the Miami Dolphins released further details about their Draft Day party (4/25) and Fin Fest 2013 (4/27).  We wanted to share the details with you because this is shaping up to be a pretty awesome event.  Having attended in previous years, fans are up close and personal with current and former Dolphins.  It truly makes the draft day experience so much cooler when...
The Miami Dolphins have had a successful offseason. The additions of Mike Wallace, Dannell Ellerbe, and Brent Grimes just to name a few, have changed the entire dynamics of the team. While all of the additions were a positive, the major negative was losing Jake Long. What used to be the most important position in the NFL has now become one of the most overpaid positions. The...
1. Cornerback: Miami really only has two pressing needs coming into the draft, and the top one is at cornerback. Grimes will be a good signing if he can be healthy, but you just never know after having major surgery. They also need to find an upgrade across from him for when he is healthy. There is a good chance they address this situation in the first round. If not, they also...
DAVIE, Fla. Jeff Ireland agrees with fans and media types who insist this years draft is an important one for the Miami Dolphins. While most of the outside forces point to this being a make-or-break sixth draft under Ireland, the Dolphins general manager cites another reason for the drafts significance. We have 11 picks, thats why its important, Ireland said Thursday. To have the...
The Big Board This is the time of year for narrowing down your board.  Every team has a board and every one is different.  The biggest beef with most so-called draft experts is they do... Come here for the best Miami Dolphins blog on the web. We have all of the most up to date new and opinions on the Dolphins organization for its fans.
BY NICK ST. DENISThe tight end position has evolved mightily over the past few decades in the NFL, and we can thank the minor leagues for that.Pass-catching ability is at a premium as the game continues to favor air transit over ground travel -- a transition that has been in motion since the early '80s. (photo: Neon Tommy, Flickr)"You kind of mirror what the college game is...
Brian Hartline, WR, Miami Dolphins Player Profile Height/Weight: 6-2/199 Birthdate: 11/22/1986 School: Ohio State FANTASY FOOTBALL ANALYSIS Brian Hartline had a breakout performance in the fourth week of the season, totaling 253 yards on 12 catches and a touchdown, sparking nearly every league in the fantasy world to pick him up. In ppr leagues, he was fairly useful, but if in...
BY NICK ST. DENISThe more signings the Miami Dolphins make in free agency, the more directions they can go in the draft. And there are plenty of directions.Armando Salguero of the Miami Herald used a morning blog post to address and assess a handful of rumors regarding the Dolphins' draft intentions, all of which you've heard.The general takeaway is that we really don'...
NFL News

Delivered to your inbox

You'll also receive Yardbarker's daily Top 10, featuring the best sports stories from around the web. Customize your newsletter to get articles on your favorite sports and teams. And the best part? It's free!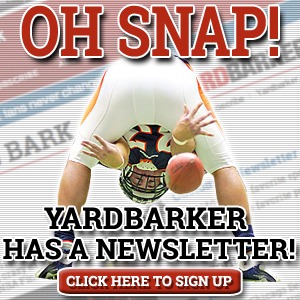 Latest Rumors
The Backyard

Today's Best Stuff

For Bloggers

Join the Yardbarker Network for more promotion, traffic, and money.

Company Info

Help

What is Yardbarker?

Yardbarker is the largest network of sports blogs and pro athlete blogs on the web. This site is the hub of the Yardbarker Network, where our editors and algorithms curate the best sports content from our network and beyond.