Found December 10, 2012 on Next Impulse Sports:
Donald Trump will most likely not hear the end of this one for quite sometime. At 2:16pm pst today Donald Trump took to Twitter to send his best wishes to a few members of the Patriots organization on their big MOnday Night Football match-up against the Houstan Texans. Unfortunately for the Donald, he forgot that the Patriots head coach is actually "Bill" Belichick, and not Bob Belichick. There is a possibility that maybe Bob is Trump's nickname for Bill, but we highly doubt that. I am sure none of Donald's nearly two million Twitter followers noticed. Article found on: Cosby Sweaters
Original Story:
http://cosbysweaters.com/2012/12/10/d...
THE BACKYARD
BEST OF MAXIM
RELATED ARTICLES
The New England Patriots have been the NFL's Betty Ford Clinic rehabbing talented players that many thought were lost and also losing a few battles along the way. After hits and misses with the likes of Randy Moss and Albert Haynesworth, the team's latest project has come in the form of former No.1 draft pick Aqib Talib.  Please Click Here To Read This Story
The Patriots' record might not suggest that they're the best team in the NFL right now, but their on-the-field product certainly suggests it. After dismantling the Texans on Monday night, New England might appear to be the No. 2 seed in the AFC at the moment, but you would be hard-pressed to find a team playing better than Tom Brady and the Pats. Everything seemed the be clicking...
Former New England Patriots wide receiver (really more of a Swiss Army knife) Troy Brown was on WEEI Tuesday and stated that Bill Belichick usually prefers not to be beaten by former Patriots and that Randy Moss would have a tough time finding success Sunday night."If there's somebody on that team that will beat the Patriots on Sunday, it will not be Randy Moss," Brown...
ST. LOUIS -- Goodbye, AFC East. Good riddance. Not nice knowing you. The St. Louis Rams complete their tour around Bill Belichick's sandbox Sunday with a trip to Ralph Wilson Stadium to face the Buffalo Bills. This goes without saying, but the journey has been less pleasant than trying to paddle from the edge of Niagara Falls. To recap: The Rams are 5-3-1 against the NFC...
Bill Belichick and Doc Rivers are part of a very unique Boston coaching fraternity, but the similarities go beyond the city that they represent. The similarities also go beyond championship jewelry, which both Belichick and Rivers have been fortunate enough to obtain during their time in New England. According to Celtics guard Jason Terry, Belichick and Rivers actually have very...
Donald Trump had the right idea in mind when he wished the New England Patriots good luck before the team's "Monday Night Football" game against the Houston Texans, but he made one mistake. He called Bill Belichick "Bob" for some reason: Good Luck to Bob Kraft, Tom Brady and Coach Bob Belichick tonight. — Donald J. Trump (@realDonaldTrump) December 10, 2012 I guess Trump...
ESPN NFL Insider pointed out a funny tweet from Donald Trump last night before the Monday Night Football game between the New England Patriots and the Houston Texans.  Old Donald decided to wish good luck to Patriots owner Bob Kraft, QB Tom Brady, and some coach named Bob Belichick.  Not sure who that is, but Bill Belichick sure had a good game plan last night beating the Texans...
Apparently Donald Trump is a New England Patriots fan, yet, he doesn't even know the head coach's first name. Trump attempted to tweet good luck to the Patriots' owner, head coach and quarterback on Monday night, but accidentally called Bill Belichick, "Bob." It seems that Trump got a case of the Meninos when he went to type his well wishes. Calling Bill 'Bob' may not...
What a riveting interview! It's great the relationship that the coaches of the Celtics and Patriots have. One thing I always bring up is how Belichick called Rivers for his opinion on Brandon Spikes before drafting him, since Spikes was dating Rivers' daughter.Needless to say, that worked out pretty well.Be sure to check out CelticsLife for the best coverage of the Celtics...
It's hard not to be excited at the moment. The New England Patriots are on a seven game win streak, after pummeling the previously 11-1 Houston Texans 42-14.  But the dust has settled. The Patriots are seen as powerful again. People are scared of the Patriots.But let me channel my inner Bill Belichick here. We did a lot of good things out there. But let's not get ahead...
Tom Brady may not have had much sleep on Sunday night — since he and wife Gisele Bundchen welcomed baby daughter Vivian Lake to the family on...
FOXBORO, Mass. — The Houston Texans may still own the AFC's best record, but you can no longer call them the conference's best team. That honor now belongs to the New England Patriots. What was billed as the "game of the season," heading into this week's Monday Night Football showdown, turned out to be anything but. Tom Brady drove football after football down the throat...
Patriots News

Delivered to your inbox

You'll also receive Yardbarker's daily Top 10, featuring the best sports stories from around the web. Customize your newsletter to get articles on your favorite sports and teams. And the best part? It's free!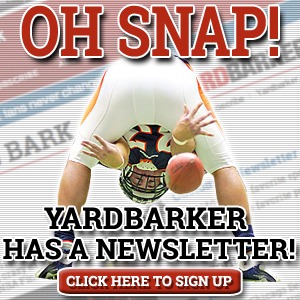 Latest Rumors
Best of Yardbarker

Today's Best Stuff

For Bloggers

Join the Yardbarker Network for more promotion, traffic, and money.

Company Info

Help

What is Yardbarker?

Yardbarker is the largest network of sports blogs and pro athlete blogs on the web. This site is the hub of the Yardbarker Network, where our editors and algorithms curate the best sports content from our network and beyond.