Found July 15, 2013 on Buddy Nixon:
So the deadline has come and gone, let me double check my sources [logs on to profootballtalk.com], and nope, the Buffalo Bills and Jairus Byrd failed to reach an agreement. There's been plenty of blame to go around, including the two principles, Bills contract negotiator Jim Overdorf, and Byrd agent Eugene Parker. That blame's been misplaced, because for the most part all parties are approaching the situation rationally. The market value of Jairus Byrd has been clearly set with the Goldson and Weddle contracts, despite the fact that Byrd is probably a better player than both. Further, Byrd's camp is rightfully not fond of the franchise tag, because while fully guaranteed, it offers nothing beyond the one year. Were the safety to tear an ACL, he would lose millions in guaranteed money. Revis learned that hard way this passed season. Goldson's contract pays him 18 million, about 11 more than Byrd would be guaranteed. And remember, guaranteed money is the number to focus on with player contracts. On the other side of the non existent negotiating table, the Bills aren't interested in paying a safety that much, or else they would have reached a long term deal already. While they have a little bit of cap space, implications of a potential deal would reach beyond this year. With Wood and Spiller deals on the horizon, and several large contracts already on the books, they need to thing long and hard before committing that type of money to a defensive back. With both sides coming from reasonable, self interested positions, why the ugly mess? The franchise tag. The franchise tag is a weird CBA mechanism unlike any other quirk in American sports business. It allows teams to gain artificial leverage over players by denying them the opportunity to get paid market value. Teams only franchise players as either a way to extend a negotiating period (like in Drew Brees's case), or if the tag value offers a significant discount over what the player costs. That is the situation in Buffalo. Byrd's tag price is substantially lower than the contracts of two players he's the superior of. Without the tag, the situation would be resolved. Instead, we're left with this awkward mexican standoff that hurts Byrd and hurts the Bills. The franchise tag creates more problems than it solves and needs to go. Follow Buddy Nixon on twitter, and we'll retweet you if you say something smart. The post Don't Blame Byrd or the Bills, Blame the Franchise Tag appeared first on Buddy Nixon.
Original Story:
http://www.buddynixon.com/news/dont-b...
THE BACKYARD
BEST OF MAXIM
RELATED ARTICLES
Now that the Buffalo Bills and safety Jairus Byrd were unable to work out a learn term extension prior to yesterday's deadline for franchised players, he'll be forced to play out this season under the tag. Byrd is expected to hold out and not report to training camp and they won't be able to fine him since he's not under contract. Former NFL defensive lineman Warren Sapp...
According to Adam Benigni of NBC Buffalo, Bills safety Jairus Byrd is demanding to be the highest paid safety in the NFL. Source: #Bills Byrd demanding to be highest paid safety in NFL. Told Bills were willing to offer top 4-5 money. #Impasse @wgrz — Adam Benigni (@AdamBenigni) July 15, 2013 Today is the deadline for both Byrd and the Bills to work out an extension and it doesn't...
If the Buffalo Bills are sincere in their assertion that they are dedicated to winning a championship, they need to get serious about Jairus Byrd. Bills management faces its first decision that pits finance against competitiveness and they are less than a week away from losing their chance to make things right and avoid distraction. If Jairus Byrd isn't signed to a long term deal...
The Buffalo Bills failed to reach a long-term deal with free-agent safety Jairus Byrd, and it's unclear whether he'll sign his one-year franchise tag offer from the team. Byrd was given the ''franchise'' label in March, and the two sides faced a Monday deadline to work out a long-term deal. He is the only remaining NFL player who has not signed his franchise...
The stiff deadline Buffalo Bills fans had been anticipating for quite some time now came and went Monday afternoon.When the Bills slapped safety Jairus Byrd with the franchise tag earlier this offseason, they had until 4 p.m. Monday to sign him to a long-term deal. An extension didn't happen, and now they won't be able to make an official agreement with Byrd until the end...
According to Adam Benigni of NBC Buffalo, Bills safety Jairus Byrd is demanding to be the highest paid safety in the NFL. Today was the deadline for both parties to reach an agreement on an extension, which didn't look like it would happen and hasn't. They will now have to wait until the end of the season before they can start to work on a new deal again, but chances of that...
Bills safety Jairus Byrd is just the most recent franchise tagged player to miss out on a long term deal. Byrd's complaints over his pay have NFL Network analyst Warren Sapp even more upset.   Please click here to read/watch this story The post Warren Sapp to Jairus Byrd "Go Back To Work and Earn It" appeared first on Players View.
I have some quick thoughts on the Jairus Byrd situation, and some of you may not agree with what I have to say. I think the Bills are handling this thing perfectly. They need to stick to a budget with Byrd. Let's call this for what it is; he's a very good player on a 6-10 team. Nothing more, nothing less. Look to San Fran and Donte Whitner for a recent lesson on safeties leaving...
Tim Graham of the Buffalo News wouldn't be surprised if Bills safety Jairus Byrd continues his hold out into the regular season. Jairus Byrd prediction: He signs before regular-season opener. But I'd be less surprised if he misses games than he signs before camp ends. — Tim Graham (@ByTimGraham) July 17, 2013 Now that Byrd knows he's not going to get an extension until...
Buffalo Bills safety Jairus Byrd wants to be paid like the top safety in the game.  The Buffalo Bills have a number, it's just not the same number Byrd has in mind. Byrd and the Bills failed to agree to a long term deal on Monday, and it could lead to contract squabble all season. Former Buccaneers great and soon to be Hall of Fame inductee Warren Sapp has a totally different...
Tim Graham of the Buffalo News expects to see Bills S Jairus Byrd hold out of the team's training camp and return before the start of the 2013 season. Graham adds that he would be "less surprised if he misses games than he signs before camp ends." The Bills were unable to reach an agreement with Byrd on a long-term contract before the deadline. In fact, the two sides were...
The Buffalo Bills should have been in deep talks with Pro Bowl safety Jairus Byrd Monday with the deadline fast approaching to sign franchise tagged players to long-term contracts. Instead, the negotiating table was empty. The two sides were far enough apart on a proposed 
NFL News

Delivered to your inbox

You'll also receive Yardbarker's daily Top 10, featuring the best sports stories from around the web. Customize your newsletter to get articles on your favorite sports and teams. And the best part? It's free!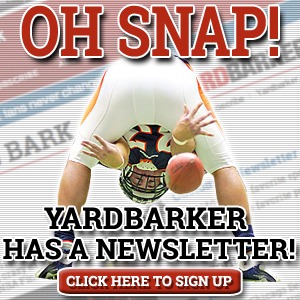 Latest Rumors
The Backyard

Today's Best Stuff

For Bloggers

Join the Yardbarker Network for more promotion, traffic, and money.

Company Info

Help

What is Yardbarker?

Yardbarker is the largest network of sports blogs and pro athlete blogs on the web. This site is the hub of the Yardbarker Network, where our editors and algorithms curate the best sports content from our network and beyond.