Found December 18, 2011 on Fox Sports Kansas City:
PLAYERS:
Todd Haley
,
Romeo Crennel
,
Kyle Orton
,
Chad Clifton
,
Bryan Bulaga
,
Derek Sherrod
,
Aaron Rodgers
,
Matt Cassel
,
Tyler Palko
,
Charles Woodson
,
Wade Phillips
,
Scott Pioli
,
Leonard Pope
,
Jackie Battle
,
Mike Pereira
TEAMS:
Kansas City Chiefs
,
Green Bay Packers
The Five-Point Blitz on the Chiefs has been a dreary business for most of this season, agreed? We want to assess what's going on with the team, and why but seven games in a row without more than one touchdown? That's a bit gruesome. Fortunately, there's some joy in the Chiefs Nation after this week's shock upset of the Packers. For once, there's a different message in the Blitz: "Don't get carried away!" Read on and you'll understand. KANSAS CITY 19, GREEN BAY 14 1. "The Perfect Storm" Way back in the 1950s, then-commissioner Bert Bell was drumming up interest in the NFL and coined the phrase "any given Sunday." The commish was insisting that on any particular week, the league's very best teams could victim to an upset. We saw the "any given Sunday" at Arrowhead and also what all has to happen for a 13-0 team to get knocked off by a club that's been stumbling along at 5-8. The Chiefs fired Todd Haley and installed the popular Romeo Crennel as interim coach. Kyle Orton returned from injury to give the team a huge lift at quarterback. Play-calling was changed dramatically to include a lot of looks, formations and plays that the Packers had not seen on tape (not often, anyway) and which left them totally at sea. As for the mighty Packers, they were already without one starting offensive tackle (Chad Clifton), then lost the other (Bryan Bulaga) and a third tackle (Derek Sherrod) during the game. QB Aaron Rodgers thus had a predictably awful afternoon against the Chiefs' pass rush, and on top of that, his receivers dropped four or five catchable balls. Another potential TD throw was caught by a gust of wind and, just to top off the whole Green Bay nightmare, coach Mike McCarthy decided not to fling what probably would have been a valid challenge flag on a play that ultimately won the game for the Chiefs. And there you have a "Perfect Storm" anatomy of an upset. It's important to understand these things before you make any judgments about the future. Trust me, it's really important. 2. Is Kyle Orton "The Answer"? No, no, no. Don't get all excited about Orton or his very good numbers against the Packers (23 of 31 for 299 yards). And don't even THINK about clamoring for the Chiefs to spend a boatload of money retaining Orton, who will be a free agent at the end of the year. Orton might just might be slightly better than injured starter Matt Cassel, but this isn't the type of upgrade for which you'd pay something close to, say, 30 million for three years. No way. Orton had a nice afternoon and played like a professional quarterback, which WAS an upgrade from skittery Tyler Palko but most of Orton's receivers were wide open because of the Chiefs' running game, or were gobbling up yards on screen passes. It's also worth noting that Orton was rarely pressured, and benefited from some terrific play calls. It would be wrong to say the Chiefs upset Green Bay because of Orton. Granted, it might not have happened with Palko at QB, but this game was decided by the Chiefs' ball control (36-plus minutes) and aggressive defense. Orton's highest marks came on his decision-making, but he botched a couple of those, too and couldn't manage get the ball into the end zone. It was a nice day to have a competent quarterback, but Orton is not your long-term guy. 3. Speaking of the play calls No doubt the Chiefs won't tell us exactly who set up the game plan, who made the actual play calls, whether any were changed (by Crennel or Orton), etc. But goodness gracious, this team could be 8-6 instead of 6-8 at least with the kind of schemes we saw against the Packers. Where were those screen passes and reverses earlier in the year? Play-action on first and second down? Whoever put this game plan together, and whoever was making the play calls whether it was the same person or a group effort kept the Packers off balance from start to finish. It seemed like every time the Packers blitzed, the Chiefs had a screen called that gained big yardage or some kind of run in the opposite direction. The calls particularly negated Green Bay defensive playmakers Clay Mathews and Charles Woodson. In short, it was brilliant stuff. The obvious question, though, is this: Where did these screens and assorted other clever plays originate? And then: How much of it if any came as a result of the switch from Haley to Crennel as the ultimate boss? Crennel suckered us all during the week by say the offense would be "plain vanilla." It was something else, and the Packers never adjusted. The only downside was all that trouble in the red zone which made all the tricks out in the middle of the field more obvious. When you're close to the goal line, it's tough to fool anyone because you're facing base defenses. If Orton had been really sharp, he'd have had a couple of TD passes in those red-zone excursions. Sounds crazy, but the Chiefs really could have won in the blowout. 4. What about Romeo? A lot of people joked this week that if the Chiefs somehow halted the Packers' 19-game winning streak, Crennel might have to be given the head coaching job by default. He's the toast of the town right now, no question. And sure, it would be easy to say that Crennel saw a number of things that Haley didn't, that he could communicate with players where Haley had lost that knack, yada, yada. Deep down, though, I keep thinking that when you've got a truly outstanding coordinator (Crennel has the Super Bowl rings to prove his worth with the defense), often it's a mistake to give him the top job. That error has been made so many times, you'd get dizzy counting. Does the name Wade Phillips mean anything? The head coaching position is a different animal involving administrative duties, arguing personnel with the GM, dealing with the media, etc. A lot of great coordinators experts at their jobs have gotten lost in the whirlwind of being a head coaches. To be fair, some coordinators and assistants have gone on to fantastic careers as head coaches, as well including McCarthy, who was an assistant in Kansas City. It's just hard to know which assistants have the mentality for the No. 1 job. The worst part for the Chiefs is that if they give Crennel a shot he was 23-40 as head coach in Cleveland from 2005-08 and he can't make noticeable progress in next couple of years, they'd lose a great defensive coordinator if they decided to make another change. What we do know is that Crennel certainly didn't hurt his chances at keeping the reins. Clearly, the players love him and now he's the only coach this season who has beaten Green Bay. Those are a nice couple items for the resume. Crennel gave a terrific answer when the coaching job came up after Sunday's victory. "Let's see what the next two weeks bring," he said. Yes, let's do that. GM Scott Pioli will be watching, and perhaps wondering if he has any real choice if Crennel can keep winning. 5. Where was the red flag? Perhaps the craziest thing about Sunday's upset is that McCarthy might have prevented it if only he'd thrown that little red challenge flag at the right time. The Chiefs essentially wrapped up the win late in the game, after a catch and run by tight end Leonard Pope put the ball on the Packers' 4-yard line. Three plays later, Jackie Battle banged in from a yard away and the Chiefs were up 19-7. Rodgers led the Packers back and scored himself on a scramble to cut the deficit to 19-14, but that's how it finished. Which bring us back to that play involving Pope. Replays showed quite clearly that Pope, who was stretching out to reach the end zone, fumbled the ball while he was still inbounds and that the ball never reached the goal line while in his possession. "The ball was live, and then it went out of bounds in the end zone," said Mike Pereira, a FOX-TV analyst and former NFL head of officiating. "If the play had been challenged, I believe it would have been ruled a touchback and Green Bay would have gotten possession on the 20-yard line." McCarthy clearly thought about a challenge, or heard something from his assistants, because he reached in his pocket for the challenge flag. But then he stopped. Nothing happened, and the Chiefs went on to score. It would interesting to see McCarthy's reaction when he sees that play again on tape. Pope's, too. And if the Packers manage to run the table the rest of the way? They might be one tiny red flag from history.
Original Story:
http://www.foxsportskansascity.com/12...
THE BACKYARD
BEST OF MAXIM
RELATED ARTICLES
As expected, quarterback Kyle Orton will lead Kansas City into battle vs. Green Bay. Fantasy Spin: Orton has been a pretty good gunslinger over his career, and merits consideration as a flier for quarterback-needy fantasy owners in a good match-up vs. the Packers 31st ranked pass defense. Ortons presence bodes well for star receiver Dwayne Bowe as well.
Bears' season ended when they were unable to claim Orton on waiversPompei: The Bears' season didn't end Sunday. The season of this quarterback-cursed franchise ended on Wednesday, Nov. 23, at 3 p.m. That's when Kyle Orton was awarded to the Chiefs.
Romeo Crennel hadn't been a head coach since 2008. Lord knows when the last time he received a Gatorade bath. All that changed Sunday when Crennel's Chiefs took down the undefeated defending Super Bowl champion Green Bay Packers 19-14. In just one afternoon, the Chiefs put their names back in the playoff race, found a quarterback, thrust Crennel's name into the head coach...
So I'm looking at the Week 17 schedule, the final week of the season, and I'm thinking: NBC has to be eyeballing the Tim Tebow-Kyle Orton matchup for its flex game to primetime on Sunday night, Jan. 1. OK, so you've heard this story before. And once again, much has to fall into place. But it's possible the Broncos' final game, which is currently scheduled to kick off at...
Kansas City's win over the Packers may just transform the direction of the franchise for the next few years. Interim coach Romeo Crennel has a chance to earn the job outright. And Kyle Orton could find a home in Kansas City, if he keeps winning. "If we win these next two games with [Orton], and…
We're doing a season-long NFL roundtable with our friends at Slate. Check back here each week as a rotating cast of football watchers discusses the weekend's key plays, coaching decisions, and traumatic brain injuries. More »
  KANSAS CITY, Mo. (AP) — The Green Bay Packers' perfect season came to a crashing halt on Sunday against the beleaguered Kansas City Chiefs, who rallied behind interim coach Romeo Crennel and new quarterback Kyle Orton to a shocking 19-14 victory. Orton finished 23 of 31 for 299 yards in his first start for the Chiefs (6-8), who fired coach Todd Haley last Monday with the...
The Green Bay Packers' perfect season came to a crashing halt on Sunday against the beleaguered Kansas City Chiefs, who rallied behind interim coach Romeo Crennel and new quarterback Kyle Orton to a shocking 19-14 victory.
The Chiefs stunned the Packers with a 19-14 win on their home turf of Arrowhead Stadium. Kansas City improves to 6-8 while Green's Bay bid for perfection is now over as they take their first loss of the season. Fantasy Spin: Quarterback Kyle Orton got the job done in his first start with the Chiefs as he completed 23 of 31 passes for 299 yards, with no touchdowns or interceptions...
The Green Bay Packers' perfect season came to a crashing halt against the struggling Kansas City Chiefs, who had just fired their coach and were starting a new quarterback. Proof again that nothing can be taken for granted in the NFL. Kyle Orton threw for 299 yards to outduel Aaron Rodgers, and the Chiefs rallied behind interim coach Romeo Crennel for a shocking 19-14 victory on Sunday that...
What was so different Sunday? There was a change in attitude, belief and performance against the Green Bay Packers, and there are probably several reasons for that. One was that interim head coach Romeo Crennel reinvigorated a stagnant team. Another was the play of a legitimate NFL quarterback, Kyle Orton. That appeared to shake the Packers, and the Chiefs took advantage.
Romeo Crennel stood dripping wet on the sideline, a water cooler having been dumped over his head. Kyle Orton's jersey was covered in grass stains as he took one last snap from center.
NFL News

Delivered to your inbox

You'll also receive Yardbarker's daily Top 10, featuring the best sports stories from around the web. Customize your newsletter to get articles on your favorite sports and teams. And the best part? It's free!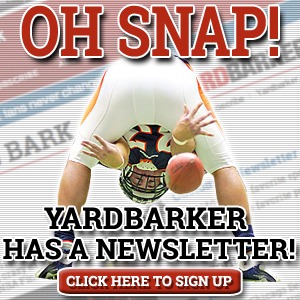 Latest Rumors
The Backyard

Today's Best Stuff

For Bloggers

Join the Yardbarker Network for more promotion, traffic, and money.

Company Info

Help

What is Yardbarker?

Yardbarker is the largest network of sports blogs and pro athlete blogs on the web. This site is the hub of the Yardbarker Network, where our editors and algorithms curate the best sports content from our network and beyond.