Found November 21, 2012 on SteelBlitz Steelers Blog:
The Steelers have had more than their fair share of injuries in 2012 and following a tough 13-10 loss to the Ravens people may be sleeping on them. For anyone who is ready to write them off I've got just one thing to say: don't. Pittsburgh has had some very good performances so far during the 2012 season, but they have been consistently inconsistent. With injuries plaguing the team on thing is for sure: this team could still get much better. The Steelers are hoping to get Ben Roethlisberger and Troy Polamalu back soon. Imagine the defense we saw Sunday night against the Ravens adding another All-Pro and arguably their best player Polamalu, a former defensive player of the year. Not to mention they have Ziggy Hood now battling a back injury and James Harrison, another former defensive player of the year, is still working with a bum knee. Go to the offensive side of the ball and things are much worse for Pittsburgh. They are unsure when starting quarterback Ben Roethlisberger will be able to return. Antonio Brown, the 2011 team MVP, is working through a high ankle sprain as is tackle Marcus Gilbert. Not to mention all of their running backs have suffered an injury this year and are still getting their rotations figured out. Jonathan Dwyer, Issac Redman, and Rashard Mendenhall have all had good performances during the 2012 season and Todd Haley is still trying to figure out how to use them as a unit. So far their best performances have been when they have gone with one back for an entire game so they may have to pick a guy and stick with him. The only problem is that injuries have forced them to continue to change who that guy is. Right now the hot hand would have to be Jonathan Dwyer, but Mendenhall is likely to get the start in Cleveland. Now that doesn't sound like a team that anyone should be too scared to play given their injury issues, right? Well maybe, but what about when Roethlisberger and Polamalu are back? What about when Antonio Brown reruns and Marcus Gilbert is back on the line? What if they start running the ball like they did against the Giants? And then add in a new red zone threat in Plaxico Burress along with a fully healthy roster and a consistent run game; all of a sudden the 2012 Steelers become a team nobody wants to play. The only problem is that they haven't shown that they can stay healthy this season. Things will have to fall into place just right for this team to make a run at a championship, but we have seen that before. This team hasn't had a single break this season especially when it comes to injuries. However, if they can somehow bring it together and get healthy in the next couple of weeks they don't only have a shot to make noise in the playoffs they could still win the AFC North outright. The only problem is that they haven't shown that they can stay healthy this season. Things will have to fall into place just right for this team to make a run at a championship, but we have seen that before. Four of the last seven Super Bowl winners have been teams that were battling injuries, made the playoffs as a wild card and were all, but ruled out before the playoffs started. The Giants have done it twice, the Packers upset the Steelers as a wild card and the 2005 Steelers started the trend. The 2012 Steelers have a good mix of experience and youth and have players that have made improbable runs in the past. There are a lot of "ifs" and "whens" surrounding this team, but if everything falls into place at the right time this team could be very dangerous in the 2012 playoffs. If the playoffs started today the Steelers would head to New England to face the Patriots and I don't think they would be too confident about that match-up unless of course Ben Roethlisberger was still out. Quick Note: As things stand the Steelers are lined up to be a wild card team and they would go to play one of the division winners. In the AFC West the Denver Broncos are a near lock to make the playoffs and win their division which could mean yet another game for the Steelers in Denver. Although that would be exciting for me (as a Steeler fan in Denver) it would mean the Steelers would once again be without Ryan Clark. Clark has shown how important he is to this defense throughout the 2012 season. Add in the fact that Polamalu is not yet healthy and it could mean playing the Broncos with two back-up safeties in the game and that's something no Steelers fan wants to see. The post Don't Sleep on the Steelers, They Could Still get Better appeared first on SteelBlitz.
Original Story:
http://steelblitz.com/dont-sleep-on-t...
THE BACKYARD
BEST OF MAXIM
RELATED ARTICLES
Ben Roethlisberger will be a father the next time he steps onto the field for the Pittsburgh Steelers. His wife Ashley gave birth to their first child, Benjamin Jr., last night. There was a lot of analysis surrounding the arrival of Ben's first child with his due date set to come some time during the regular season. Luckily for the Steelers the birth was during the week and did...
According to Ed Bouchette of the Pittsburgh Post-Gazette, the Steelers have signed wide receiver Plaxico Burress. Plaxico Burress signs with #steelers — Ed Bouchette (@EdBouchette) November 20, 2012 With injuries to both Antonio Brown and Jericho Cotchery, the Steelers needed to add depth at receiver. This is somewhat of a homecoming for Burress who was drafted by the Steelers...
Pittsburgh Steelers head coach Mike Tomlin told the media that he was very impressed with Plaxico Burress' work out and says he's in good shape. "He's in really good physical condition based on the workout I just saw," said Tomlin, per Steelers.com. "He's got very good body control for a big man. He can drop his weight at break points. Obviously, he's no stranger...
(Eds: Updates throughout) By CHRIS ADAMSKI Associated Press Mike Wallace is in his fourth season with the Pittsburgh Steelers, so the wide receiver is familiar with all this talk about Charlie Batch. Asked if it was at all concerning that the man throwing the ball to him on Sunday will soon be 38 years old, Wallace shrugged. ''He's been old,'' he said of Batch...
Charlie Batch is basically an assistant coach.  He help Mike Tomlin on the sidelines anytime he needs it.  He motivates players.  But he's also a back-up quarterback still.  As a third-string QB, it's difficult to foresee a situation where he would start, but the Steelers are in that exact situation this week.  And Batch says he's ready. According to Paul Zeise...
Click the link to see a flowchart of who the Steelers should call now that Big Ben and Leftwich are injured.
Plaxico Burress is ready to get back to work. The veteran wide receiver says he still thinks there's plenty of football in him and he sees no reason why he can't play for the Pittsburgh Steelers on Sunday against Cleveland. The Steelers (6-4) signed the 35-year-old Burress on Tuesday to shore up an injury-depleted receiving corps. Burress spent the first five seasons of...
According to Jason La Canfora of CBS Sports, Pittsburgh Steelers quarterback Ben Roethlisberger is making good progress as he continues to recover from rib and shoulder injuries and is still considered to be week-to-week at this point. With the Steelers so depleted at the quarterback position, Roethlisberger might serve as the emergency quarterback on Sunday. var _CI = _CI || ...
While Pittsburgh Steelers quarterback Ben Roethlisberger recovers from a shoulder injury, he and his wife welcomed a son. Roethlisberger announced the news on his website Thursday. His wife Ashley gave birth to Benjamin Jr., the couple's first child, at 10:06 p.m. Wednesday evening. He weighed 7 lbs. and 1 oz. "We want to thank everyone for their thoughts and prayers...
According to Adam Schefter the Steelers have signed quarterback Brian Hoyer and wide receiver Plaxico Burress. Hoyer is expected to back-up Charlie Batch on Sunday against the Cleveland Browns. Byron Leftwich will miss that game with fractured ribs. Hoyer backed-up Tom Brady in New England from 2009-2011. He has only attempted 43 passes in his career and will only see playing time...
The result of Sunday's game isn't the only thing that has Steelers linebacker LaMarr Woodley a little ticked off. He apparently isn't taking too kindly to Ray Rice's postgame antics either. Woodley used Twitter to school everyone on proper Terrible Towel etiquette on Monday night. According to the Pro Bowler, use of the famous Pittsburgh rally towel is reserved strictly for...
Below is the week 11 offensive line breakdown for the Pittsburgh Steelers loss to the Baltimore Ravens Sunday night. I think it was pretty obvious to anyone that watched the game that this was not a great performance over all by the Steelers offensive line. There were several demerits handed out in both the pass and run blocking departments with pass protection being the worst...
Steelers News

Delivered to your inbox

You'll also receive Yardbarker's daily Top 10, featuring the best sports stories from around the web. Customize your newsletter to get articles on your favorite sports and teams. And the best part? It's free!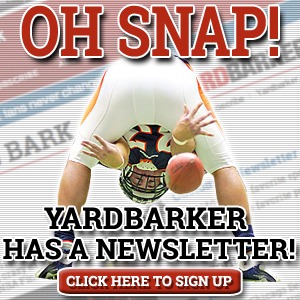 Latest Rumors
The Backyard

Today's Best Stuff

For Bloggers

Join the Yardbarker Network for more promotion, traffic, and money.

Company Info

Help

What is Yardbarker?

Yardbarker is the largest network of sports blogs and pro athlete blogs on the web. This site is the hub of the Yardbarker Network, where our editors and algorithms curate the best sports content from our network and beyond.