Found April 29, 2012 on isportsweb.com:
Everybody knew that the Packers were going to go heavy on defensive picks in this upcoming draft, and they did not disappoint.  The Packers drafted only two offensive player in this years draft and have made it clear they want to fix the issues they had on defense last year.  What follows is a short bio on each player drafted in the two days.
Pick #51 – Jerel Worthy – Defensive End, Michigan State
I watched this guy play his final years at Michigan State when watching Big 10 football and I think the Packers made a great pick by drafting this guy.  He is a big strong defender who is also very quick for a guy his size.  He will be great at bringing pressure on the quarterback but will also be able to help stop the run, he is a great dual threat defender.  He could make a big impact right away for the Packers.
Pick #62 – Casey Hayward – Cornerback, Vanderbilt
I don't know much about Hayward but after reading up on him he sounds like a great pick.  Being from Vanderbilt you know he's got to be a smart guy and the Packers brass thought as much.  They really liked his intelligence on the field and his ability to read routes and come up and make tackles.  He credits his success to watching lots of film and if he keeps that up he should do just fine in the NFL.
Pick #132 – Mike Daniels – Defensive Tackle, Iowa
Another Big 10 guy and another defensive player.  He is a little undersized for his postion but that has not stopped him from succeeding so far in his life.  He posted great numbers for his senior year at Iowa, (9 sacks, 13.5 tackles for loss) and the Packers were impressed with his hustle, he never gives up.  This is exactly what you need with a guy who is undersized, you need a guy who just won't give up.  He did have an injured shoulder, which he played with in his bowl game, but said he was medically cleared two weeks ago, so it shouldn't be a problem.  He sounds like he will be another great addition to the team.
Pick #133 – Jerron McMillian – Safety, Maine
The Packers really like this guys ability to tackle and it is a much needed tool that the Packers defense could use.  The Packers liked his aggressiveness on film and were impressed with his draft combine workout.  The Packers brass believe that his aggressiveness and ability to finish tackles will make him a very valuable tool for the Packers defense.
Pick #163 – Terrell Manning – Linebacker, North Carolina State
Manning will be valuable in the Packers pass rush in the 3-4 defense.  Manning said in a press release after being drafted that he believed he was better than some of the other linebackers drafted in front of him and that he is looking to prove that he is better than those other players.  He should fit right in and will be battling for a spot in the Packers linebacking core but the Packers staff feel confident he will fit well with that group.  He sounds like a young confident guy and confidence goes a long way in this league.  He may not play right away but he will push the other linebackers to play their best because he will be waiting for his turn to show people what he's got.
Pick #241 – Andrew Datko – Tackle, Florida State
A string of shoulder injuries has plagued Andrew Datko through his college career but he didn't let that stop him from throwing his name in for draft day and he was rewarded when taken by the Packers.  While he may be buried in the depth chart behind the Packers other tackles the Packers clearly see something in this young man to make him the first offensive player they took in the draft.  The Packers staff believe he would have been taken earlier had it not been for his injuries but the Packers don't see that as a big limit to his potential.  They believe he can do some good for the team.
Pick #243 – B.J. Coleman – Quarterback, Tennessee-Chattanooga
The Packers final draft pick oddly enough was a quarterback but Coleman could push himself up the depth chart pretty quick.  The Packers quarterback core is a little up for grabs behind Rodgers since Flynn went to Seattle.  Coleman knows McCarthy's ability to work with young quarterbacks and he even spent some time with Brett Favre working on some things (they share the same agent.)  While nothing big will be expected of him early on that didn't stop Coleman from being overly excited for the opportunity.  It will be interesting to see what happens to this young man.
Overall it was a great draft for the Packers.  They knew what they needed and went after it.  Most of these picks were traded up for by Ted Thompson because he believed these players were special and knew he had to have them.  While they won't all make an impact right away it seems the Packers have acquired some good young players who are ready to make an impact for this team.  It will be exciting to see how these players pan out.  The Packers weren't messing around this draft and hopefully that mentality carries over into the season.
Original Story:
http://isportsweb.com/2012/04/29/draf...
THE BACKYARD
BEST OF MAXIM
RELATED ARTICLES
SOME OTHER TIME PERHAPS
The Packers QB revealed he has been invited to host Saturday Night Live, but has declined for now, saying it would require too big of a commitment this offseason.
As far as regular season records are concerned, nobody did it better than the Packers last season. Unfortunately, that ended up translating into the title of "most prestigious loser."  The Packers' secondary got torched early and often throughout the season and the Giants made them pay the ultimate seasonal price for not addressing it. They also had a running game...
GREEN BAY, Wis. -- Trading up in the NFL draft is something Packers general manager Ted Thompson rarely does. It goes against everything in his nature, his upbringing and his beliefs in how to run an organization. So when Thompson moved up not once, not twice but three times in this year's draft, he wasn't quite feeling like himself afterward. "It's horrible,&quot...
OH THE IRONY
Tennessee-Chattanooga quarterback B.J. Coleman, who was drafted by the Packers, got some assistance from Brett Favre in preparing for the draft.
Here's a quick-hitting review of the Green Bay Packers' eight-man draft class, starting with outside linebacker Nick Perry and concluding with quarterback B.J. Coleman.
New Packers cornerback Casey Hayward, a do-it-all defender from Vanderbilt, relives his second-round selection in this fresh interview with Packer Report. What did it feel like to be drafted, what is he looking forward to and what is his one and only disappointment about landing in Green Bay?
Aaron Rodgers wouldn't dare play a game without preparing, and it appears he has the same work ethic when it comes to comedy. Rodgers told 1090 AM San Diego this week that he has been asked to host Saturday Night Live, but he said no because he didn't think he'd have time to do it well. "I have been invited," he said. "I want to do it right, and the commitment...
1. Aaron Rodgers, QB, Packers He might struggle with a new Offensive Coordinator, but you're still looking at forty touchdowns.   2. Tom Brady, QB, Patriots A new Offensive Coordinator, but a familiar one. McDaniels has more weapons to work with this time around, too.   3. Matthew Stafford, QB, Lions The Lions will once [...]
There is very little reason to doubt Packers general manager Ted Thompson when it comes to the NFL draft. After all, during Thompson's seven years running the draft in Green Bay, he was the one responsible for drafting Aaron Rodgers, Clay Matthews, Greg Jennings, Jordy Nelson, B.J. Raji and Nick Collins, to name a few. So, after Thompson's newest class of draftees included...
Packers News

Delivered to your inbox

You'll also receive Yardbarker's daily Top 10, featuring the best sports stories from around the web. Customize your newsletter to get articles on your favorite sports and teams. And the best part? It's free!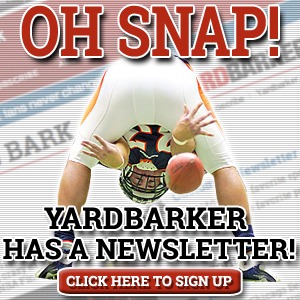 Latest Rumors
The Backyard

Today's Best Stuff

For Bloggers

Join the Yardbarker Network for more promotion, traffic, and money.

Company Info

Help

What is Yardbarker?

Yardbarker is the largest network of sports blogs and pro athlete blogs on the web. This site is the hub of the Yardbarker Network, where our editors and algorithms curate the best sports content from our network and beyond.