Found April 11, 2013 on Fox Sports Southwest:
The following is the 3rd in a series of draft profiles for the 1st round pick for the Dallas Cowboys. These profiles are put together with the specific needs of the Cowboys in mind, and is an attempt to examine their resumes and game tape to get an idea of who might fit in best with Dallas come draft day. Surely, circumstances will dictate what actually happens on that day, but we will profile the 8-10 most likely candidates and try to kick the tires on each and every scenario an how it relates to the Cowboys in 2013 and beyond. Sharrif Floyd Florida Defensive Tackle 6'2, 297 40 time: 4.90 Bench Press: Did Not Bench at Combine May 28, 1992 (20) A gigantic part of being a proper NFL personnel man - especially a General Manager - who pulls the trigger and gambles on the career of a college football player is being able to project how good of a player he can become in time with growth and development. When you are taking a player who is just 20 years old, you have to be able to imagine what he can reasonably become by the time he is fully developed. This is especially true with a player like Sharrif Floyd who shows flashes of being a fantastic defensive tackle. He can destroy plays and with his athleticism can spend considerable time in the defensive backfield. But, he will work his way up the draft board based quite a bit on what he could be one day, rather than what he was at the University of Florida. Don't get me wrong, he had some dynamite performances at times and his tape below will show you that he is a worthy candidate for consideration. But, at the end of the proverbial day, he played 37 games in a Gator uniform and amassed 4.5 sacks total. That seems like a production issue in the SEC that we will need to either explain or account for because if you can't get to the QB at the college level, are you the type of Warren SappTommie Harris defensive tackle that the Cowboys need? Pat Kirwan's great book, "Take Your Eyes Off The Ball" discusses the two things he looks for that has helped him decide on which defensive linemenlinebackers that he deems worthy out of college and those he doesn't. The first is "explosion number" based on their combine performances where he adds bench press vertical leap broad jump and looks for a number over 70. But, without a proper bench press number to go with his 30" vertical and his 8'6" broad jump, we are merely guessing again on Floyd. The second though is "production ratio" which takes his college statistics and takes sacks tackles for loss and divides them by games played. The number is supposed to exceed 1.0 and that tells you he is making enough plays to consider over the course of his career. If you take Floyd's three seasons at Florida, you find that he played in 37 games with 4.5 sacks and 26 tackles for loss. This puts him at 0.82 plays per game, but can we look at his full body of work? He was in a deep rotation at Florida where he didn't play a lot as an 18-year old freshman and even as a 20-year old junior was still in a rotation where he spent plenty of time on the sideline. However, if we eliminate that freshman year, his numbers change to 4.5 sacks 19.5 TFLs divided by 24 games for a ration of the ideal 1.0 that Kirwan speaks of. There is no question he is an exceptional talent who likely goes very high in this draft. But, if you pop in some of his video you are a bit confused. At times, he looks unstoppable. He gets plenty of "wins" by just his initial burst of the snap which looks like his 1 asset at this juncture of his career. But, why do you still wonder about how good he will be on a consistency basis? Why just 4.5 sacks when he appears that he can do that in a month based on his highlight film? And what are his weaknesses? Well, besides consistency, I would suggest that he falls into the same trap that many defensive tackles do now days who are converted defensive ends. Remember, all around the sport, the defensive players are being converted to bigger positions to make each spot more athletic. When we make linebackers into defensive ends, we are then taking the old defensive ends and trying to put their quickness on display inside. What happens, though, when a big strong guard attempts to push him back on a run play inside? How about on double teams? We quickly see that his anchor is not what you want there, and he is sometimes a loser in those battles where he does look a bit under-sized against the run. But, that is the trend with many players, including Sheldon Richardson from Missouri who we will look at next. Do you want explosion players inside? Well, then the big boys who would hold their lines are not going to give you that. This is what causes teams to rotate their defensive tackles for pass rush situations and run situations. If you could designate which personnel you want in there, then this trend doesn't bother you. But, if you take a guy in the 1st Round, you want him to be ideal in all situations. I think Floyd is good in all spots, but against the run, he either beats his man at the snap or he has questionable anchor. Again, though, he is just 20 years old. Here are some youtube cut-ups for your own personal eye-ball test. Find the DT who wears 73 and watch: Vs Georgia Vs Texas AM Vs Florida State The Case For Dallas Taking Sharrif Floyd at 18: I think that besides offensive line, the one spot on the field that begs the attention of the Cowboys to take an elite player would be the defensive tackle position. When switching from the 3-4 to the 4-3, we suddenly see how understaffed the Cowboys are on the entire DL, but specifically inside. They have Jay Ratliff who appears to be nearing the end of his run as a special player and Sean Lissemore who is a rotation guy. Beyond that, they don't seem like they have many options, especially with Josh Brent likely to be out of the mix for at least a year. Jason Hatcher is a possibility (pending free agent next winter), but they really need a young stud to add to this group and maybe more than one. Floyd is in the group of players who you would love to have, and his highlight film makes you drool about his 3-Technique upside. And again, he is only 20. The Case Against Dallas Taking Sharrif Floyd at 18: The unknowns always make me nervous when trying to project how we will feel about Sharrif Floyd in 6 years. You will find that defensive tackle has as high a "boom or bust" history as just about any position on the field. There are so many promising DTs that never turn into anything at the next level. Is Floyd a risk? He appears to be a lower risk than many, but with this many potential Top 50 players who can all play inside on a 4-3, I think I would not gamble on him being the best of the bunch. I like other DTs a bit more, perhaps based on their college production looks more complete. But, maybe that isn't the way to think this one through. Maybe a savvy GM can see 3 years from now that Floyd has the highest ceiling. I just am not capable of that, obviously. There are deceiving reports about where he could go. He has been associated with the Top 5 for a while, but there have recently been at least a few scenarios where he could get to 18. At that point, he might still be the highest player on their board and therefore you take your guy because like we said, he is solid and at a position that really needs to be addressed. But, ideally, I would prefer several other players before him. So far, of our 3 profiles, I would list them in this order: 1. Chance Warmack- Report Here 2. Jonathan Cooper - Report Here 3. Sharrif Floyd
Original Story:
http://www.foxsportssouthwest.com/nfl...
THE BACKYARD
BEST OF MAXIM
RELATED ARTICLES
Even though I try to stay impartial when it comes to NFL teams I always seem to gravitate towards my beloved Dallas Cowboys.   I cannot help it.  It's like watching a train wreck and a burning building at the same time.  Every time I get ready to drop them like a bad habit I have that little voice in my head saying "don't lose heart,  Romo will come through...
The 2013 NFL draft could not come fast enough for Dallas Cowboys fans, but that does not mean we cannot make some predictions about what will go down on draft day. In 2012, the Cowboys traded up to select cornerback Morris Claiborne. While that turned out to be a smart move, I do not see the Cowboys trading up in this draft. Staying put and getting the best player available is the...
IRVING, Texas If you're thinking the Dallas Cowboys might draft a quarterback this year and are focusing on the guys you've heard of Geno Smith and Matt Barkley -- you might be thinking too high. How about the next level, with players like Ryan Nassib, E.J. Manuel, Tyler Wilson, Tyler Bray, Zac Dysert, Mike Glennon, Mike Scott and Landry Jones among the names? I say there...
Dallas Cowboys wide receiver Dez Bryant is upset with the nation media because he claims that they've been twisting his words. Bryant is upset about people calling him selfish after telling the media that he wants to be the first receiver to have a 2,000 yard season.  He also feels like his words were taken out of context when he told ESPN Radio 600 in El Paso that the haters...
Claiming that they twist his words, Dallas Cowboys receiver Dez Bryant has had it up to here with the media. Well, just the ones outside of Dallas. Bryant has garnered ample attention in the past few weeks for his words, whether taken outside of context or not. When asked if he could envision 2,000 yards receiving in 2013, he said 'ya, sure' and that became big news. On...
I remember when Sam Hurd was in line to become Terrell Owens' relief in Dallas as an alternate receiving threat that took some of the heat of T.O. My how things have changed. Please click here to read this story. The post Ex-Dallas Cowboy Sam Hurd pleads guilty to drug charges appeared first on Players View.
IRVING, Texas There are two problems with the reports that have the Dallas Cowboys simultaneously negotiating a pay-cut contract for incumbent right tackle Doug Free while also negotiating a free-agent contract for prospective right tackle Eric Winston: Problem 1: That simultaneous orchestration doesn't make sense. Problem 2: That simultaneous orchestration isn't happening...
We like going deep Juan… Check out this photo gallery of the Dallas Cowboys Cheerleaders as they went scuba diving in Cozumel between photo shoots this week. The DCC is in Cozumel for their 2014 calendar shoot in Mexico. Year in and year out, they are by far the most consistent part of the Cowboys organization. Tony Romo Shoots First North Korean Missile If NFL Logo's Were British: Cowboys
We reported the other day that , former NFL wide receiver Sam Hurd was likely going to strike a plea deal after being charged with  trying to buy cocaine and marijuana as well as set up a network to distribute drugs. According to Black Sports Online, today Hurd apologized and plead guilty to the charges. The 27-year-old Hurd faces a minimum 10-year sentence for conspiracy to...
DALLAS (AP) -- Former NFL wide receiver Sam Hurd pleaded guilty Thursday to trying to buy cocaine and marijuana to set up a drug-distribution network, leaving a once-promising career in tatters as he faces a prison sentence of at least 10 years. Hurd, 27, pleaded guilty in federal court in Dallas to one count of possession of cocaine and marijuana with intent to distribute. He pleaded...
- The Miz took a shot at Dallas Cowboys quarterback Tony Romo during an interview with 4th & Pain. "Tony Romo will definitely get you some (fantasy) points. Granted, he's not going to win you games for the Dallas Cowboys," Miz said. Miz also talked a lot about the fantasy football league WWE wrestlers are in and all of his botched waiver-wire moves that doomed...
The NFL Draft begins April 25 with defensive tackle Sharrif Floyd seeming like a lock to go in the top-half of the first round while safety Matt Elam could go in the second half of the first round. Mel Kiper, Jr. spoke about those and other players on the Florida roster.
NFL News

Delivered to your inbox

You'll also receive Yardbarker's daily Top 10, featuring the best sports stories from around the web. Customize your newsletter to get articles on your favorite sports and teams. And the best part? It's free!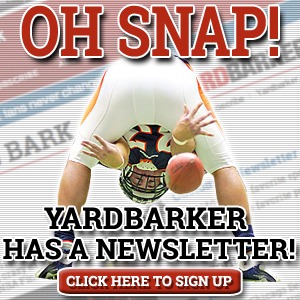 Latest Rumors
The Backyard

Today's Best Stuff

For Bloggers

Join the Yardbarker Network for more promotion, traffic, and money.

Company Info

Help

What is Yardbarker?

Yardbarker is the largest network of sports blogs and pro athlete blogs on the web. This site is the hub of the Yardbarker Network, where our editors and algorithms curate the best sports content from our network and beyond.