Found November 18, 2012 on Fox Sports:
PLAYERS:
Nick Foles
,
Andy Reid
,
Michael Vick
,
Brent Celek
,
DeAngelo Hall
,
DeSean Jackson
,
Brandon Meriweather
,
Evan Mathis
,
LeSean McCoy
,
Aldrick Robinson
,
Nnamdi Asomugha
,
Madieu Williams
,
Robert Griffin III
TEAMS:
Philadelphia Eagles
,
Washington Redskins
,
Detroit Lions
Quarterback Nick Foles has become the latest failure for Philadelphia Eagles coach Andy Reid and his embattled team management. Harsh? Sure. But the same can be said for the entire 2012 Eagles season. Foles is a rookie whose first NFL start came in Sunday's 31-6 loss to the Washington Redskins only because turnover-prone Michael Vick was sidelined with a concussion. But Foles and his wobbly performance as Vick's understudy symbolized much more: The disappointing starting debut of the former University of Arizona standout has become another blemish on an Eagles' regime that has been in charge for 13 years. It's an administration quickly approaching lame duck status after the Eagles dropped their fourth consecutive game, each loss by 13 or more points, for the first time since 1976. "I take full responsibly for that," Reid said after his first defeat at FedEx Field since 2008 and his sixth loss in a row overall. "It's my fault that's the way things are going." Foles, who was drafted in the third round, didn't help bolster his boss' job security much. He threw interceptions on his first two drives as a starter. He tried to force a ball to tight end Brent Celek, a pass that deflected directly toward Redskins cornerback DeAngelo Hall. Hall returned the ball 22 yards to the Eagles' 9-yard line, which set up the first of four passing touchdowns for the Redskins' more impressive rookie quarterback, Robert Griffin III. The second Foles' interception wasn't as excusable. There was no tip. Foles threw toward a well-covered DeSean Jackson. The result was an easy pick for safety Brandon Meriweather, who saw his first action of the season after a knee injury. "I've played bad games before. This was one of them," Foles said. Foles completed 21 of 46 passes for 204 yards and the two interceptions, along with three fumbles (all recovered by the Eagles). He was also sacked four times, although Foles' offensive line arguably performed better than what Vick had played behind recently. The most troubling number for the Eagles -- who entered the season with high expectations as a possible NFC East favorite -- is their record. Philly stands at 3-7, and no team in NFL history has recovered from that mark to make the playoffs. The Eagles can only lose once more to have a shot at the mediocre .500 record they posted a season ago, a repeat performance that owner Jeffrey Lurie has said would be "unacceptable." Afterward, Reid was pounded by questions about whether he has a future in Philadelphia. "We need to get ready for the Monday night game (against Carolina)," Reid said when asked if he'd be around by season's end. Celek said he'd understand if ownership is as frustrated as the no-nonsense fans in Philly. "I wouldn't be happy if I was them," Celek said. "I'm sure they're not. This is a talented team and us (as) players, we're not making plays. I don't get it." Have Reid and his coaching staff lost this locker room? Eagles offensive lineman Evan Mathis said the team's failings can't be attributed to them. "I'm hearing everything they say," Mathis said. "I can't speak for everyone. I'm taking the coaching to heart. I know most guys on this team care. I say `most' because I can't speak for everybody. If I see somebody who is a problem, I'd confront him. I still think this team has heart." Jackson did just that -- confront some teammates -- after LeSean McCoy fumbled late in the first half, the Eagles' third turnover of the game. The Redskins converted a field goal to go up 17-3 at the break. "It was very frustrating," Jackson said. "Once again, we're continuing to make the same mistakes and committing turnovers. After a while, you get tired of it. I let them know it's not OK to continue to make mistakes." The offense is hardly the Eagles' only phase that's been lacking. Griffin gashed Philly's secondary repeatedly downfield, the most stunning example being a 61-yard strike to Aldrick Robinson in the second quarter. Robinson blew past Eagles corner back Nnamdi Asomugha and had the whole end zone (and then some) to himself. Griffin was spectacular, completing 14 of 15 passes for 200 yards, and he added 84 more yards on the ground. The Eagles secondary has now given up 14 touchdowns since forcing its last interception, a second-quarter pick during the team's Week 6 loss to the Detroit Lions. Clearly, firing defensive coordinator Juan Castillo during the bye week following that Detroit game hasn't solved much. "It seems like it has been sloppy play for like the last three or four weeks," Asomugha said. "I feel like we just haven't played at the level we have been playing at (before)." One coaching decision by Reid that could have implications beyond Sunday was the decision to leave McCoy in the game with a legitimate chance to win well out of hand. McCoy was laid out by Redskins safety Madieu Williams, leaving the Eagles tailback motionless for several minutes with 1:45 remaining. McCoy sat up on his own but was carted to the locker room for evaluation. Reid announced McCoy had sustained a concussion. "We were trying to catch up and win the game," Reid said when asked why the All-Pro running back and playmaker remained in the contest Trailing by 25 points; under two minutes remaining in regulation. McCoy's presence wasn't going to change that. Reid's math clearly isn't very good. Add that to the list of reasons why the only coach the Eagles have known since 1999 may be counting down his final days running the show in Philadelphia.
Original Story:
http://msn.foxsports.com/nfl/story/ph...
THE BACKYARD
BEST OF MAXIM
RELATED ARTICLES
The remainder of the 2012 Philadelphia Eagles season should be all about whether or not Nick Foles is the future of this franchise.  Assuming he plays for the rest of the season, there are some things we can look for in order to determine if he is, in fact, the future. If there is to be anymore excitement generated by the Eagles, it will be due to the play of Foles and how it energizes...
THE BELL TOLLS FOR THEE
Three veteran Eagles players told a Philadelphia newspaper that they believe it's only a matter of time before the team cuts loose coach Andy Reid.
All eyes will be on Nick Foles come Sunday at FedEx Field. Photo via New York Daily News. We all know that football is a team sport and that to get a win, all phases of the game must come together to propel a group to victory. But come Sunday, it's going to be all about the quarterbacks. When the Philadelphia Eagles face the Washington Redskins at FedEx field on Sunday afternoon...
Will Nick Foles be able to perform with the weight of the Eagles franchise on his back? Michael Vick is still feeling the effects of a substantial concussion, and will not be ready for Sunday, and may not be ready to play for quite some time. That leaves the Philadelphia Eagles at 3-6 with their rookie QB Nick Foles set to take over the reins. I'm sure Foles will try to say something...
Philadelphia Eagles rookie quarterback Nick Foles was very unimpressive during today's loss to the Redskins.  The good news is that Michael Vick might be back next week. According to Mike Florio of Pro Football Talk, the Eagles overstated Vick's condition in order to give themselves an excuse to start Foles for the remainder of the season if he played well. The problem is that...
Marcus Vick may be criticizing the Philadelphia Eagles again on Twitter, only this time he made more of an effort to mask his insult. Philadelphia's record fell to 3-7 on Sunday at the hands of the Washington Redskins with Michael Vick sitting on the sidelines. As a result, Andy Reid's seat is hotter than ever. Reid has had to answer questions about whether or not he feels he...
With the Eagles playing at their worst in a long time, fans really need something to make them laugh…and when I say laugh I mean at how stupid this Andy Reid Parody is.  A group that goes by: FROMSTART2FILM, decided to make a parody of Andy Reid, called "We will never win with Andy". That's…
After the Eagles got spanked by the New Orleans Saints on "Monday Night Football" last month, Marcus Vick tweeted "Please trade my brother. We requesting out of Philly!!!! Please please please……" Shortly after, Michael said he had a "serious heart-to-heart conversation" with Marcus in which he told his brother to stop being a twit on…
Apparently Andy Reid was telling the truth when he said that Michael Vick's concussion was significant. The Eagles' quarterback is experiencing some pretty shocking side effects from his latest concussion. Vick "still can't drive a car due to balance issues, sleeps all day, can't sleep at night" and he is "lethargic, nauseous, can't sit in meetings and sensitive...
Hello, Donovan, It's Me As we wind down the 14-year cavalcade of whimsy that has been the Andy Reid Era (and I'm sorry, National Media Geishas, but having one of the five worst teams in the league and not winning a playoff game in five years is, in fact, cause for extreme guaranteed dismissal), I was struck, especially in today's train wreck, by one thought.Have we underestimated...
NFL News

Delivered to your inbox

You'll also receive Yardbarker's daily Top 10, featuring the best sports stories from around the web. Customize your newsletter to get articles on your favorite sports and teams. And the best part? It's free!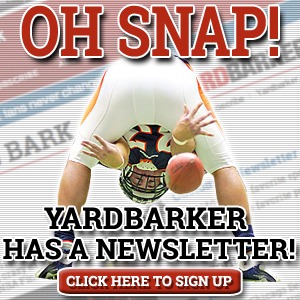 Latest Rumors
The Backyard

Today's Best Stuff

For Bloggers

Join the Yardbarker Network for more promotion, traffic, and money.

Company Info

Help

What is Yardbarker?

Yardbarker is the largest network of sports blogs and pro athlete blogs on the web. This site is the hub of the Yardbarker Network, where our editors and algorithms curate the best sports content from our network and beyond.