In the first practice at Lincoln Financial Field and in front of a couple thousand fans, the Eagles quarterbacks didn't relish in the opportunity to take control of a competition that likely will linger for some time.
With Nick Foles aiming to beat out Michael Vick, rookie Matt Barkley getting serious reps in the now three way battle, and the option-reads and footwork being new to four of the five on-roster quarterbacks, it was expected to be a fun battle to watch. But after day one for myself, the quarterback battle may be less of a competition and more of a "pick your poison". After watching Nick Foles's career at Arizona and seeing him up close at the 2012 Senior Bowl, I didn't give glowing reviews on his scouting report. Among other issues, his upper and lower half of his body never seemed in sync, and unless he was utilizing a timing based offense, he struggled to progress at an NFL level.
Today, however, I noticed a more smooth, athletic looking drop back from Foles, even transitioning fields well with his lower half. However, he still showed concerns of being too delayed in his reads, getting "sacked" (not a live practice) at least three plays, and maybe more depending on how things would have played out in game situations. He seemed to have the crispest passes of the quarterbacks, a good sign for his chances. But him being late on reads, making the wrong decision on safety/linebacker reads, and not having ideal foot speed, and it's clear Foles didn't seize any opportunity of gaining a leg up on the starting job.
As for Vick, he simply didn't do much of anything of note. His throws were hit or miss placement-wise, but seemed to get the most velocity of the three downfield and on out-routes. He missed a handful of throws when he was forced to roll out, and didn't seem comfortable enough in working outside-in on his reads, as the offense seemed to be focused vertically  on a majority of the "X" receivers routes.
Finally, Barkley looked the least confident in his progressions of the three quarterbacks getting 1st team reps, and certainly has the least arm strength of the trio. However, he looks surprisingly comfortable in the footwork required for the read option, looks far more athletic in his drop back and as he moves than Foles, and didn't make any glaring mistakes today, despite not being overly aggressive downfield.
Dennis Dixon got some 1st team work today, and did have one very nice vertical throw to DeSean Jackson for a touchdown. He also looked the most comfortable in read-option work, expected since he played in that offense (with Chip Kelly) at Oregon.
Based off of last season and this practice, my guess would be that the Eagles are hoping Foles seizes the quarterback job and they can move on from Mike Vick. Foles has made strides as a quarterback evidently, and despite him not having the athleticism to run everything Chip Kelly likely wants to do, he may best utilize the weapons in this Eagles offense.
If Foles beats out Vick, look for Vick to be forced to look elsewhere for work, Barkley is the number two, and Dennis Dixon makes the roster as  Chip Kelly's option runner. If Vick is still needed to be the feature quarterback, he and Foles will likely be battling all year long, a situation Kelly doesn't need in year one. The final question is where Matt Barkley fits. Based on the team likely taking this very slow with Barkley, I wouldn't be shocked if he ends the season as the team's passer, and could do very well in this offense.
I'll be following this quarterback battle throughout camp, and it may take all of August to determine who the Eagles will vote as the winner in this battle. But after a Sunday practice where no quarterback was a winner, it may not be the sexist battle to follow.
Other Notes:
-Of the cornerbacks today, none of which were overly consistent, I felt Trevard Lindley made an impact on multiple occasions. Playing outside, he was physical with his hands in the short area, and stayed tight with active hands down the field. He got beat vertically once, but other than that, he had a solid overall day.
-Of the receivers, rookie Russell Shepard showed he belonged. He showed the initial burst and elusiveness to win out of the slot, he extended away from his frame to catch passes, and showed the natural body control to adjust in traffic. Along with his special teams ability, he looks like he'll make the roster.
-Also at receiver, it was fun to watch Jason Avant and his route running. Always a strength since his Michigan days, Avant was more impressive than I expected, consistently getting free from defensive backs, utilizing active feet and staying in athletic position to accelerate after his route breaks well.
Original Story:
http://www.optimumscouting.com/draft/...
MORE FROM YARDBARKER
NFL News

Delivered to your inbox

You'll also receive Yardbarker's daily Top 10, featuring the best sports stories from around the web. Customize your newsletter to get articles on your favorite sports and teams. And the best part? It's free!
RECENTLY ON OPTIMUM SCOUTING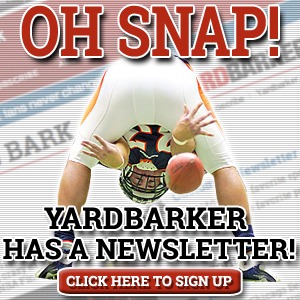 Latest Rumors
Best of Yardbarker

Today's Best Stuff

For Bloggers

Join the Yardbarker Network for more promotion, traffic, and money.

Company Info

Help

What is Yardbarker?

Yardbarker is the largest network of sports blogs and pro athlete blogs on the web. This site is the hub of the Yardbarker Network, where our editors and algorithms curate the best sports content from our network and beyond.