Found November 21, 2012 on Sports Blog Net:
When I found out Baltimore Ravens safety Ed Reed received a 1-game suspension for the "repeat offender" rule with illegal hits, I almost fell out of my chair. I couldn't believe the hit Reed put on Pittsburgh Steelers wide receiver Emmanuel Sanders last Sunday night warranted a flag, let alone a fine or suspension. I did feel a little bit better when I found out Reed won his appeal and got the suspension reduced to a $50,000 fine, but I still believe the fine is too harsh. I agreed with Reed when he said it's a shame it had to come to the point where he would have to appeal a suspension. The truth is the NFL is walking a fine line between trying to protect the players and turning this sport into glorified flag-football. I understand what the NFL is trying to do in terms of trying to make the safety of the players the top priority. The research conducted for concussions and getting the best equipment possible to protect the players is second to none. My main issue is how the league wants to govern the physicality of a sport that's known for that exact feature. You can do everything in the world to try and eliminate injuries and promote safety, but you will never be able to fully take away the physical nature of football. This is a violent sport in which players are bigger, better, faster, and stronger than ever before, and injuries are going to happen no matter what rules the league tries to put in place. The thing with this particular case involving Reed is the hit wasn't even that severe, definitely not worthy of a fine or suspension. One thing I believe is lacking from the NFL's judgement of big hits and player safety is something that should be second nature, common sense. People who have been around the game, particularly the ones who have played, should understand the violent nature of the game. They should know the natural reactions of players when they play, such as how an offensive player will protect himself when he sees a defender coming at him like a missile. That reaction will force the player with the ball to curl up and brace himself for the hit, which will cause the head and neck to go lower. This, combined with the defender already being at full speed, will cause a helmet-to-helmet hit, and anything helmet-to-helmet seems to draw a flag these days. This is simply not fair to a defender, who is expected to adjust almost in mid-flight in order to avoid contact to the head. I believe the league, especially the referees who work the games, have to use better judgement and not penalize the players for what seem to be good solid plays. I can understand if the player is flagged for intentionally head-hunting, but Reed wasn't doing that in this play and has never been the guy to head-hunt in my eyes. I just think a fine, and a suspension before that, is way too harsh and isn't warranted for this case. Again, I'm glad to see the NFL review the hit and lift the suspension, but it shouldn't have to come down to that. Football has never been harder to play for a defender than it is right now. The only way things can be made easier is if the league helps them out. Otherwise, it may be time to get the flags out before too long. By Charles Taylor
Original Story:
http://bestkeptsecret.sportsblognet.c...
THE BACKYARD
BEST OF MAXIM
RELATED ARTICLES
Baltimore Ravens safety Ed Reed will not be suspended for one game after all. The future Hall-of-Fame veteran faced the penalty after being flagged for unnecessary roughness during Sunday's game against the Steelers resulted in what looked like a third-and-final strike against him.  Please Click Here To Read This Story
The NFL initially suspended Baltimore Ravens safety Ed Reed for one game for his helmet-to-helmet hit during this past Sunday night's game against the Steelers. After appealing his suspension, the NFL has decided to reduce Reed's suspension to a $50,000 fine instead of his entire game check of over $400,000. On Monday afternoon, the NFL suspended him for one game for his third...
Left to walk after nine years by the Baltimore Ravens last offseason, San Diego Chargers linebacker Jarrett Jones has reason to stick it to his former club when the two teams meet on Sunday. Yet even he felt the since-overturned one-game suspension against Ravens safety Ed Reed was extreme. "I thought it was totally BS that they were going to suspend him without pay,&quot...
Baltimore Ravens FS Ed Reed will play against the San Diego Chargers on Sunday after his one-game suspension was reduced to a fine by the NFL. Reed was suspended for violating the league's policy of hits on defenseless players. "I do not believe that your actions were so egregious as to subject you to a one-game suspension without pay," Ted Cottrell of the NFL's appeal board...
Veteran Baltimore Ravens safety Ed Reed has been suspended by the NFL for one game after be flagged for an unnecessary roughness penalty in Sunday's row with the Pittsburgh Steelers. Reed's helmet-to-helmet collision with Steelers' receiver Emmanuel Sanders was not the first time Reed has gotten in trouble for similar Hits. According to the NFL, [...] [[ This is a content...
Judge: Please explain to the court what you saw. Witness: Well, it was a pass play. Definitely a pass play. The quarterback threw it. The receiver caught it. He got hit and went down. Then a flag was thrown. Judge: And the receiver was struck in the head by the defender? Witness: That is correct. Judge: And the defender led with his helmet and initiated contact with his helmet? Witness...
Baltimore safety Ed Reed won his appeal and will not be suspended for Sunday's game against San Diego.Fantasy Spin:His fine was also reduced to $50,000. The league disciplined Reed earlier in the week for an illegal hit he made against Steelers receiver Emmanuel Sanders Sunday in Pittsburgh.
The NFL has quite a conundrum going on with its attempts to make the game more safer, protect its shield, and still try to sell the general public on it being a great violent sports. Baltimore Ravens safety Ed Reed won the appeal of his 1 game suspension and fine, but still has a bone [...] [[ This is a content summary only. Visit my website for full links, other content, and more! ]]
The NFL suspended safety Ed Reed one game for his third offense of bad hits on defenseless receivers. Reed, like any player, exercised his right to appeal his suspension. Well Reed won his appeal, according to reports. In his hearing with Ted Cottrell, a former assistant coach, Reed stated his case and it was determined that Reed's actions didn't warrant a suspension. Instead...
With his one-game suspension for repeated illegal hits overturned, Baltimore Ravens free safety Ed Reed expressed gratitude for arbitrator Ted Cottrell granting his appeal and to his organization and teammates for throwing their support behind him. Reed wasn't nearly as warm, though, about the fact that he was punished for what the league described as a pattern of helmet-to...
Baltimore Ravens safety Ed Reed has avoided a one-game suspension for late hits after an appeal. He instead will be fined $50,000.
There's no question that the Baltimore Ravens are the better - and hotter - team in Sunday's road matchup with the San Diego Chargers. Still, overconfidence shouldn't be a problem after what transpired last season. With revenge in the back of their minds and star safety Ed Reed available, the Ravens seek a fourth straight win against a Chargers team teetering on the...
NFL News

Delivered to your inbox

You'll also receive Yardbarker's daily Top 10, featuring the best sports stories from around the web. Customize your newsletter to get articles on your favorite sports and teams. And the best part? It's free!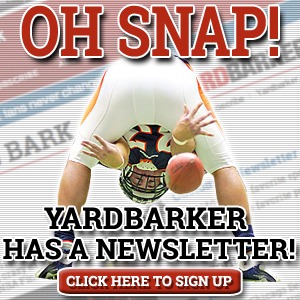 Latest Rumors
The Backyard

Today's Best Stuff

For Bloggers

Join the Yardbarker Network for more promotion, traffic, and money.

Company Info

Help

What is Yardbarker?

Yardbarker is the largest network of sports blogs and pro athlete blogs on the web. This site is the hub of the Yardbarker Network, where our editors and algorithms curate the best sports content from our network and beyond.