Found March 04, 2013 on BlackSportsOnline:
With all the talk in Baltimore being focused on Joe Cool and his 120.6 million dollar contract, you have to suspect there will be a few Ravens who just don't feel the love. The Ravens have a list of players set to become free agents. Now that Flacco's contract seems to be a concrete deal, the Ravens can now start to tie up loss ends elsewhere. However certain players have already came forth and spoke out on not being a priority or just not receiving that phone call just yet. Former NFL Defensive Player of the Year safety Ed Reed is one of the most sought after players who will become a free agent if things aren't worked out with the Ravens. After completing a 6-year contract worth $44.5 million, Reed spoke out about not being contacted yet. "I haven't spoken to anyone," Reed told NFL Network in a television interview. "Hopefully, that call comes soon." "I'm a Raven, I plan on being a Raven," Reed said. "I couldn't see me anywhere else right now. If it happens, I'm a football player. I can adapt to any situation." Reed also commented on Joe Flacco and his contract situation. "Joe deserves it, man," Reed said. "He's been consistent every year he's been in the league. He's been growing and has a lot more to learn and wins to get. Joe definitely deserves it." Some would say Reed isn't the same player. The Ravens can decide if they are willing to allow Reed the opportunity to flirt with competing teams, pay him, or franchise him. Reed has never been one to shy away from asserting his fair market value.  Reed also acts as his own manager, meaning the Ravens will have to negotiate directly with the 34 year old veteran to work out a candid deal. Cornerback Cary Williams has also spoken out about not being contacted by the Ravens. In a recent interview with Carroll County Times, Williams stated the Ravens made it clear he was not a priority. "The team reached out to me and told me what the top priorities were and those obviously were the quarterback position [Flacco] and the middle linebacker position Darnell Ellerbe. Everything outside of that would have to be a bonus I guess, so it is what it is," Williams said. "We have a lot of depth at corner and a lot of depth in the defensive backfield, so I just think I'm not necessarily a priority right now." The Ravens are expecting Lardius Webb back, after recovering from a season ending injury. Corey Graham will also be back after being inserted into the lineup and displaying a breakout season. Not to mention, the Ravens still have Chykie Brown, Asa Jackosn, and first round draft pick Jimmy Smith, who made the controversial play to help the Ravens win the Super Bowl. "I know I'm worth more than what the deal was worth before," said Williams, who reiterated that staying in Baltimore would be ideal. "I'm not going to throw out a number and say what the range I'm looking for is, but I feel like a team, whoever that is, whether it's the Baltimore Ravens, will pay me for what I'm worth. And I think that three-year, $15 million [offer] is something that I outplayed and that I'm worth more than that." Now that Joe Cool is all locked, sealed, and ready to go it will be interesting to see what the Ravens can do this off season. Ozzie Newton is an exceptional general manager who has the reputation of being considerable and fair when it comes to paying athletes. Although I sense he wouldn't try to low ball any player, this is a business and there is only so much money to play with. I expect him to retain some Ravens, but there will be some that have to part ways. Hopefully it just won't be the ones the Ravens consider most valuable, so you won't have a Ray Allen moving to the Heat ordeal.
Original Story:
http://blacksportsonline.com/home/201...
THE BACKYARD
BEST OF MAXIM
RELATED ARTICLES
Joe Flacco is a very, very rich man. But instead of spending that money on the priciest and most exotic foods money can buy (or whatever else filthy, filthy rich folks eat), the Baltimore Ravens quarterback is all about the Golden Arches. According to ESPN.com, Flacco made a trip to McDonald's to fill up on some fast food just a few hours after signing his new contract. That new...
SENSELESS TRAGEDY
Ravens running back Ray Rice spoke out against bullying on Sunday in response to a 12-year-old boy who tragically died as a result of a bullying incident at school.
Once the news broke last Friday that Joe Flacco and Baltimore Ravens had agreed on a new contract that will pay him $120 million over six years, I immediately was interested in finding out how much of his contract is guaranteed. According to NFL.com, Flacco will earn $52 million in guaranteed money, which is less than the $60 million guaranteed that Drew Brees got from the Saints...
Hours after signing a six-year, $120.6 million contract to continue quarterbacking the Baltimore Ravens, Super Bowl MVP Joe Flacco headed straight to the McDonald's drive-thru to celebrate. The Ravens handed Flacco a $29 million signing bonus and $52 million guaranteed over the life of the deal and all the four-year vet wanted was some McNuggets. He would have gone unnoticed had...
Baltimore Ravens quarterback Joe Flacco signed a new six-year, $120.6 million contract Sunday that makes him the highest paid player by average 
Baltimore Ravens quarterback Joe Flacco has signed a new contract worth $120.6 million over six years, making him the highest paid player in NFL history. The Super Bowl MVP finalized the deal Monday. Flacco will receive a $29 million signing bonus and $52 million in guaranteed money. Flacco says, ''It's not really about the money, it's about that respect.'&...
Hey Ed Reed: Stop teasing us Patriots fans. You know everyone wants you to come here and shore up our porous secondary. But quit with the back and fourth. First prior to the Super Bowl you said you basically wanted to have babies with Bill Belichick, statements you have since backpedaled on, stating that you intend to remain a Raven. If that didn't sting enough, you had to...
WEEI On "NFL AM" Monday morning on the NFL Network, Ravens cornerback Ed Reed — who is set to hit free agency later this month — was asked about his feelings for Bill Belichick and the Patriots. "They win [Super Bowls]. At the Super Bowl, I was asked if I would play for Coach Belichick and my answer was: 'What player wouldn't play for Coach Belichick?' He is a good...
As we reported Friday, the Baltimore Ravens and Joe Flacco have agreed to new deal that will make him the highest paid player in NFL history. Terms of that deal are now starting to leak out as Flacco is set to sign the contract Monday at 2 p.m.  Ian Rapoport of NFL.com is reporting that the numbers are six years, $120.6 million with $52 million guaranteed. Flacco's salary cap...
A look at some of the top story lines in the AFC North as the NFL free agency period looms on the horizon:Baltimore - The Ravens made quarterback Joe Flacco the highest-paid quarterback in NFL history, signing him to a six-year, $120 million contract. The move was seen by many as not only the right thing to do, but also necessary.The problem for the Ravens is that they still have...
Break Out The Clevelands 10) Now that he's the NFL's highest-paid player, he totally has to get drafted in your fantasy league9) Baltimore totally had to pay this much, otherwise he would have gone to Arizona and never have been heard from again8) In other news, Flacco is buying Anquan Boldin a car and Rahim Moore a house7) Now that he got paid, maybe he can finally afford...
NFL News

Delivered to your inbox

You'll also receive Yardbarker's daily Top 10, featuring the best sports stories from around the web. Customize your newsletter to get articles on your favorite sports and teams. And the best part? It's free!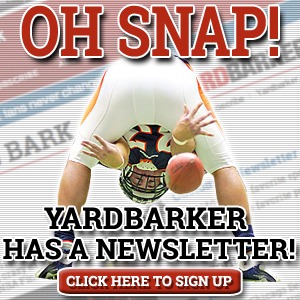 Latest Rumors
Best of Yardbarker

Today's Best Stuff

For Bloggers

Join the Yardbarker Network for more promotion, traffic, and money.

Company Info

Help

What is Yardbarker?

Yardbarker is the largest network of sports blogs and pro athlete blogs on the web. This site is the hub of the Yardbarker Network, where our editors and algorithms curate the best sports content from our network and beyond.