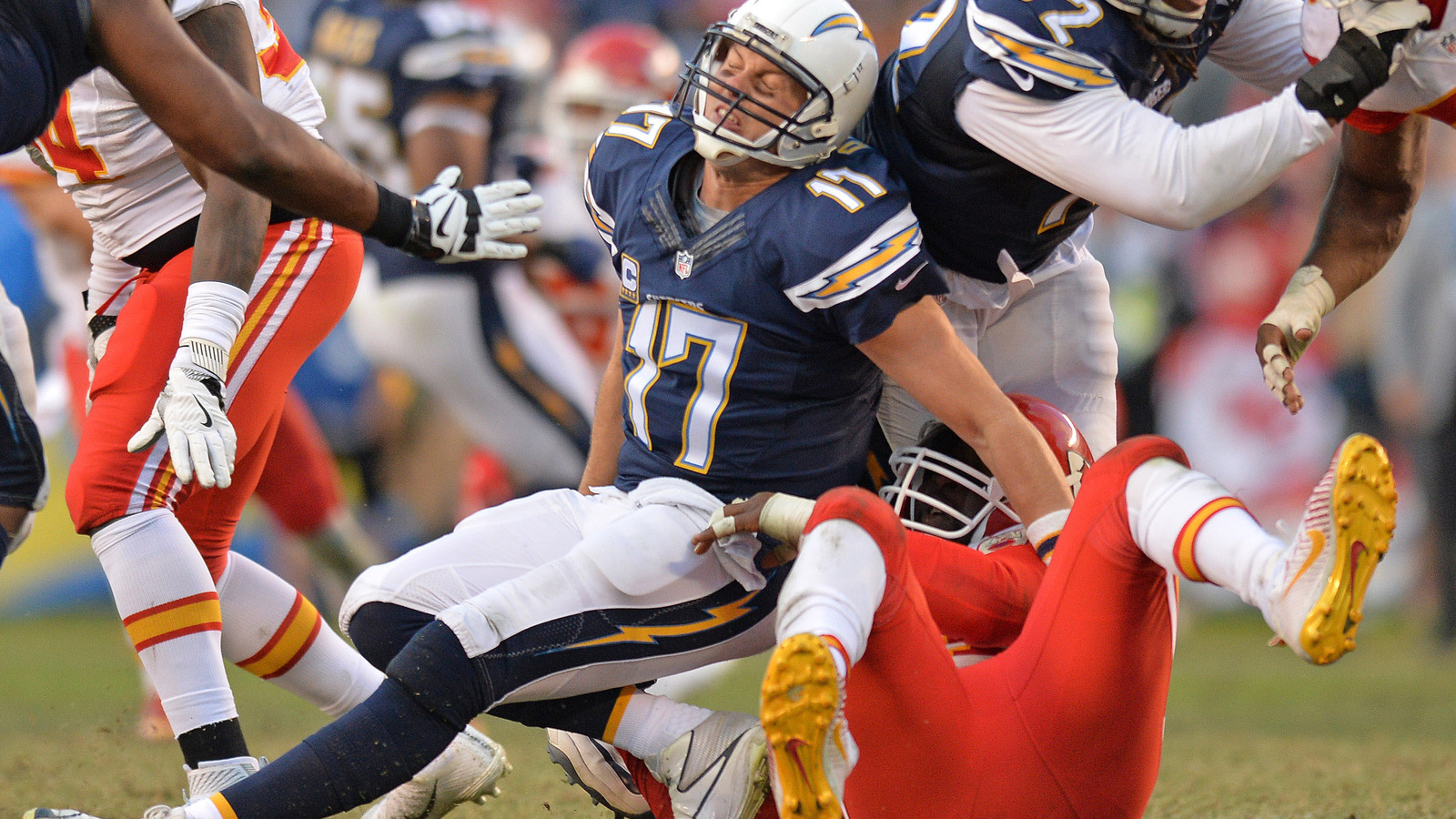 Can Philip Rivers rebound from a rough 2016 campaign to lead the Chargers to the playoffs?
Jake Roth-USA TODAY Sports
The NFL is a jungle of uncertainty, though there are some bastions of security embedded into the madness. For instance, there are a few NFL teams set up to succeed, such as the New England Patriots. There are other teams we can count on to fail in 2017, like the New York Jets.
But many NFL teams on the precipice of success could just as easily tumble down the standings.
Those are the teams we're going to discuss here. Teams like the Los Angeles Chargers and Philadelphia Eagles have some very intriguing pieces in place that could propel them to glory. On the other hand, nobody would be all that surprised if they ended up finishing in last place among their division rivals like they did in 2016.
These are the biggest boom or bust teams in 2017.
Los Angeles Chargers
The Chargers won just five games last year and just one against their AFC West rivals. But some good things were happening, especially on the defensive side.
Particularly, the front seven started shaping up as one of the more dominant units around the league. Joey Bosa and Melvin Ingram terrorized off the edge, while Denzel Perryman and Jatavis Brown mopped up anything in between the tackles. As a result, opposing teams averaged just 3.8 yards per carry against the Chargers.
Now, the secondary was somewhat of a problem, and it was one that was not addressed in the draft, either.
But the real issue was that the Chargers had a big problem with turnovers. Philip Rivers was awful in this regard, throwing 21 interceptions, and the offense coughed up 14 fumbles.
General manager Tom Telesco did some solid work in the draft to address this issue. One of the big winners of the draft, the Chargers shored up their offensive line, adding guards Forrest Lamp and Dan Feeney. He also gave Rivers a new offensive weapon in former Clemson star, Mike Williams.
These moves certainly could pay dividends immediately. The offensive line should do a better job protecting Rivers, which could certainly help him with turnovers, which could propel Los Angeles up the standings and into the playoffs.
Then again, if Rivers is simply starting to fade and continues to throw games away, then nobody would be surprised if the Chargers ended up in the AFC West's basement again in 2017. There's also the fact that the Chargers are ill-equipped for the inevitable scenario in which Rivers gets injured and misses time.
Things could go downhill in a hurry.
Philadelphia Eagles
Carson Wentz had quite an up and down first year as a pro quarterback, which is totally expected. His Eagles got off to a hot start with three wins in a row, cooled off dramatically and then finished strong, winning their final two games.
They have a strong defensive front and added a couple of potentially game-changing weapons for Wentz in the passing game — Torrey Smith and Alshon Jeffery. But by no means are these two receivers guaranteed to make a big difference. Jeffery landed a one-year deal because he's been unable to stay healthy and because he's coming off a 2016 season that saw him miss four games due to a PED suspension. Smith landed a pretty lowly contract after having two miserable seasons with the San Francisco 49ers and because he is somewhat of a one-trick pony.
The team's top defensive draft pick, Derek Barnett, is going to have to fight hard to make it into the starting lineup. Second-round cornerback Sidney Jones might end up missing most, if not all, of the 2017 season after suffering an Achilles injury at his pro day.
The team's running back situation is just as tenuous as it was last year, meaning there could be a ton of pressure on Wentz to make the offense run smoothly. He showed himself to be a capable pro quarterback as a rookie, but he's also a guy who could hit a sophomore slump.
Then there's the NFC East to worry about. The Dallas Cowboys and New York Giants are both very strong, and the Washington Redskins improved their stock with an impressive draft. The Eagles could soar in 2017, especially if Wentz does. Then again, they could be relegated to last place, and nobody would be all that surprised.
Cincinnati Bengals
It's hard for this scribe to get too excited about the Bengals as we look ahead to 2017. But the possibility does exist for Cincinnati to have a bounce-back campaign after suffering through a 6-9-1 season in 2017.
The team's first-round pick in 2017, John Ross, is pretty much a microcosm of how the Bengals are a boom or bust team. He's got the potential to become the next DeSean Jackson of this league, but his injury history could see him go the way of Kevin White just as easily. No doubt, Cincinnati reached for him at No. 9 overall. But if he can stay healthy that gamble will pay off in a big way.
The same can be said for Joe Mixon, who represents another big gamble for this risk-loving franchise. Team owner Mike Brown acknowledged the team "took a risk" drafting a guy who has a history of abusing at least one woman in the second round.
If both players can stay on the field, then Cincinnati's offense has a chance to be special. Andy Dalton isn't as good as the best quarterbacks in the league, but he's capable of engineering a winning offense.
The Bengals have a strong defensive unit that allowed less than 20 points per game last year. If Cincinnati's draft-day gambles pay off, then this team could make it back to the playoffs in 2017. On the other side of the same coin, the Bengals will fall apart if the house wins.
Minnesota Vikings
The 2016 Vikings went 8-8, which is the exact opposite of boom or bust. They were decidedly mediocre, but that doesn't mean we'll see the same team this upcoming season.
First off, Sam Bradford might not be able to replicate his record-breaking season of a year ago.
Secondly, the team's "fixes" on the offensive line have yet to prove they'll actually be fixes. This means rookie running back Dalvin Cook and free agent acquisition Latavius Murray might not have much success. In this scenario, the offense will stagnate badly, especially if Bradford regresses back to the mean.
And for all the virtues Minnesota's defense possesses, it was a liability at times last year. Most notably, when Minnesota still had a fighting chance to somehow make it into the playoffs in the final weeks, the Vikings allowed 35 points to the Indianapolis Colts in Week 15 and 38 to their NFC rival Green Bay Packers in Week 16. It was a sad display of falling apart at the worst possible time.
It's very hard to know which Vikings team will show up in 2017. Will it be the team that won its first its first five games last year or the one that collapsed under the weight of missed opportunities during the final 11 games?
Jacksonville Jaguars
This is one of the rare times when we can point to one player and say it all boils down to him. In the case of the Jags, it's all about Blake Bortles.
Defensively, Jacksonville is pretty loaded, especially now that Calais Campbell, Tashaun Gipson and Barry Church have joined Malik Jackson as high-prized free agent acquisitions. If Myles Jack develops into a dominant inside backer, then the Jaguars could soon be among the league's elite on this side of the ball.
Offensively, the additions of Leonard Fournette and Cam Robinson have the potential to turn Jacksonville's offense into a juggernaut.
Adding a dominant running game to an offense that scored 35 passing touchdowns just two years ago (with Bortles as the trigger man) has the potential to vault this team into the upper echelon of the AFC.
But the word "potential" lingers like a noxious fume.
If Bortles continues to throw interceptions like he's Santa Claus tossing gifts down the chimney chute, then Jacksonville will continue to be anchored in the AFC South's cellar. If he can cut down on those turnovers and learns to play big-boy football, then the Jaguars can legitimately make the playoffs.
New Orleans Saints
How many more big hits can Drew Brees take before he breaks in half, Joe Montana style?
Will the players added via the draft and free agency finally help New Orleans feature a defense that won't be a league laughingstock?
New Orleans added Adrian Peterson to the mix, and its defense could be much improved. Rookie Marshon Lattimore will be an instant starter, and the linebacking corps added some serious depth in free agency.
If the Saints can keep Brees upright and the defense is even halfway respectable, then there's little reason to think this team cannot take over as the team to beat in the NFC South.
Tampa Bay is an up-and-coming squad that has loads of potential, Atlanta just went to the Super Bowl and Carolina is a season removed from the same fate. But no team is clearly dominant at this time, especially after Atlanta lost a significant amount of coaching talent.
This division is wide open, and the Saints could claim it once again after three years of being absent from postseason play. But what happens if Brees finally breaks? Even if he stays healthy, if the defense remains pathetic, the Saints will be fated to another season of misery.
Buffalo Bills
Rex Ryan is out. Sean McDermott is in, and there is a whole new culture being established in Buffalo.
The Bills also retained quarterback Tyrod Taylor and didn't use a high pick on a passer, instead going with a guy in Nathan Peterman in Round 5 who doesn't immediately threaten Taylor's starting job.
Instead, they essentially drafted Stephon Gilmore's replacement in Tre'Davious White with their first-round pick and did a nice job adding players throughout the draft who have a chance to immediately contribute.
So, there's a lot to like about what Buffalo has done, including a total front-office overhaul. Something had to give after the franchise missed the playoffs for yet another season last year. What we don't yet know is whether any of these chances will lead to a successful campaign in 2017.
Will Taylor stay healthy? And if he does, will he be able to build upon the success he had last year with Anthony Lynn, who is now the head coach of the Los Angeles Chargers?
Will the defense finally live up to the talent that has been assembled and emerge as a top-10 unit in 2017? Or will it continue to be an underachieving hodgepodge?
One thing that isn't working in Buffalo's favor is that the AFC East is currently dominated by the New England Patriots and Miami Dolphins, who appear to be headed towards even bigger things than a playoff berth in 2016.
Talent-wise, the Bills have what it takes to sneak into the playoffs, especially if LeSean McCoy is the focal point of the offense. But there are many unknowns for this franchise, which could just as easily be looking at another high draft pick next spring.
Arizona Cardinals
Cardinals general manager Steve Keim has done an amazing job stocking his roster with top-level talent at most positions. The Cardinals were a sexy pick as the NFC favorite to make it to Super Bowl LI last season because of this fact. As we know, Arizona was about as impressive as a wet noodle in 2016, despite featuring a dynamic defense and the best all-around offensive weapon in football, David Johnson.
Languishing to a 7-8-1 record, despite scoring 56 points more than their opponents on the season, the Cardinals underachieved their way out of the playoffs.
Fast forward a year, and things are pretty much status quo. Arizona still has a defense that should continue to rank among the best in the NFL, especially with the additions of Haason Reddick and Budda Baker. It also features an offense that, on paper, should be hard for all but the top defenses in the league to keep in check.
But Carson Palmer — a guy who fell off quite a bit last year, who at least thought about retiring after the season and is now 37 years of age — still has no viable backup. Drew Stanton is a career 53-percent passer who has thrown five more interceptions than touchdowns in the 33 career games he's participated in as a pro. And we know Blaine Gabbert isn't the answer.
Even scarier for Cardinals fans is the fact that the team didn't really do much to upgrade its offensive line, which struggled mightily to protect quarterbacks (41 sacks allowed) last year.
If Palmer can return to the form that saw him lead the Cardinals to a 13-3 record in 2015, then Arizona might live up to its 2016 preseason expectations this year. If he continues to regress or is injured, then the Cardinals will be lucky to match their win totals from last year.
MORE FROM YARDBARKER
NFL News

Delivered to your inbox

You'll also receive Yardbarker's daily Top 10, featuring the best sports stories from around the web. Customize your newsletter to get articles on your favorite sports and teams. And the best part? It's free!