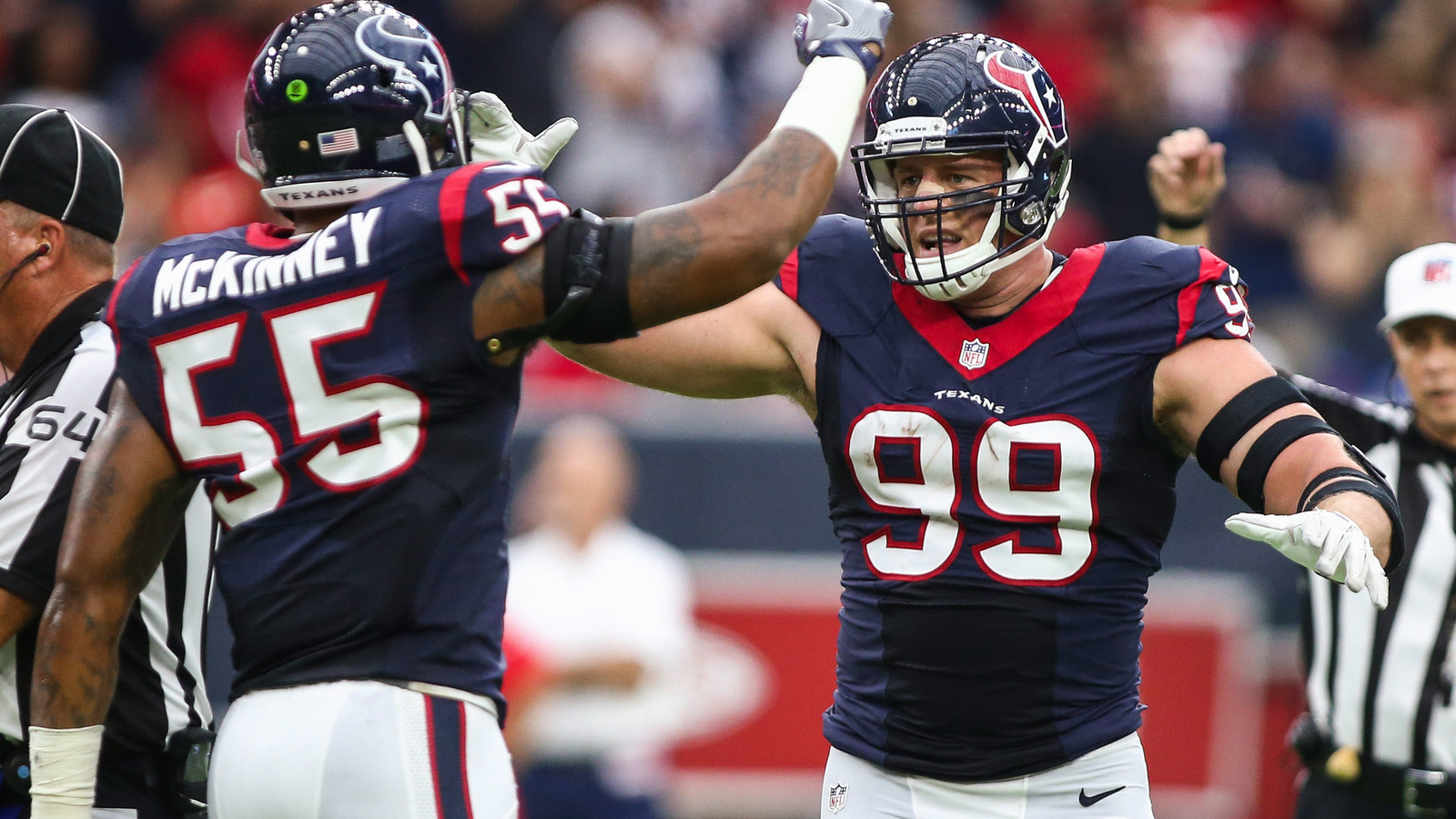 J.J. Watt and Benardrick McKinney highlight the Texans' dominant defense.
Troy Taormina-USA TODAY Sports
The draft is a thing of the past. A combination of some free agency moves and star players returning from injury leads us to discuss the more ferocious NFL defenses entering the 2017 NFL season.
Just imagine what a return of Houston Texans defensive end J.J. Watt will mean for that team in 2017?  In other situations, some of last year's red-hot defenses only look to gain momentum having not lost any significant players in free agency.
The NFL schedule comes into play as well when analyzing the following eight terrifying defenses opposing teams should fear this upcoming season.
Houston Texans
The Texans boasted the No. 1 defense in 2016, minus four-time All-Pro defensive end J.J. Watt for 13 games.
Entering 2017, Watt should be back after taking the necessary time off the field to rehab from his injuries. While Watt was away, linebacker Whitney Mercilus and defensive end Jadeveon Clowney combined for 13.5 sacks. Add Watt to the mix and things should get gnarly. After all, Watt has led the league in sacks twice throughout his career.
Houston as a unit last season held opposing teams to only 20.5 points per game. It is also returning after ceding a league-low 301.3 yards per tilt. In addition to adding Watt to the mix, the Texans welcome rookie linebacker Zach Cunningham, who is a perfect player in their scheme (more on that here).
If Texans can get their offense on the same page with a fresh new quarterback in place, the defense just needs to keep its end of the bargain. We don't envision this crew falling short.
Seattle Seahawks
Despite murmurings of a potential trade of cornerback Richard Sherman, it seems highly likely that he will remain in Seattle. So Sherman is still a member of the Legion of Boom.
The Seahawks ranked No. 5 in total defense last year. Linebacker Bobby Wagner led the league with 167 combined tackles. Meanwhile, Sherman tallied four interceptions, defended 13 passes and combined for 58 tackles.
Joining Wagner and Sherman, the Seahawks' roster houses defensive end Michael Bennett and safety Kam Chancellor. On the mend are defensive end Cliff Avril, who had abdominal surgery in the offseason, and safety Earl Thomas, who is nicely recuperating from a broken leg.
To help prepare for the unexpected, the Seahawks also added four defensive players throughout Rounds 2-3 in this year's draft, including promising defensive tackle Malik McDowell.
Overall, this mighty force should continue to dominate after limiting opposing teams to just 18.3 points per contest in 2016.
Arizona Cardinals
The Cardinals missed the playoffs after visiting the postseason both in 2014 and 2015. But, the team's defense still finished at No. 2 last year, holding its opposition to a mere 305.2 yards per game.
Outside linebackers Markus Golden and Chandler Jones combined for 23.5 sacks. Jones was an excellent trade acquisition from New England in 2016, and Golden flourished in his second season. Both should continue to thrive this year.
In the secondary, six-time Pro Bowler Patrick Peterson is joined by uber-talented defensive back Tyrann Mathieu.
BA said S Tyrann Mathieu surgically repaired knee is 96%, and his shoulder is back to 100%.

— Mike Jurecki (@mikejurecki) January 31, 2017
The Cards also welcome first-round linebacker Haason Reddick out of Temple and Washington safety Budda Baker, who was one of the biggest surprises in Day 2 as the Cardinals traded up to select him in Round 2.
Loaded with talent on all fronts, Arizona's defense remains one to fear looking ahead.
Kansas City Chiefs
Kansas City's defense was exciting to watch in action last season. In particular, the Chiefs' ability to generate takeaways was quite spectacular. They achieved 18 interceptions and 15 fumble recoveries, representing league-highs in both stats.
Between defensive backs Marcus Peters and Eric Berry, the pair nabbed 10 of those interceptions. Berry also scored two touchdowns along the way. Watch him in action here making Atlanta Falcons quarterback Matt Ryan look quite silly. It's no wonder Kansas City recently made Berry the highest-paid safety in the NFL.
This duo should continue to prove quite troublesome in 2017. Additionally, the Chiefs gave up just 19.4 points per matchup, partly as a result of forcing all those turnovers.
Meanwhile, the hope would be for four-time Pro Bowl linebacker Justin Houston to return to peak physical form. If so, that would boost Kansas City's defense easily into the top 10.
Denver Broncos
The Broncos defense has been one not to mess with, boasting a ranking at least in the top 4 the past three seasons.
Super Bowl 50 MVP Von Miller recorded 13.5 sacks and a career-high 62 solo tackles last season. The linebacker is in his prime and should continue to help lead a front seven that Pro Football Focus ranked No. 1 before the start of 2016.
Linebacker Shane Ray has evolved nicely and has inherited the role vacated by the retired DeMarcus Ware. He, Miller and Brandon Marshall should continue creating havoc.
In the secondary, Chris Harris, Aqib Talib, T.J. Ward and Darian Stewart make for a mean group of defensive backs. As a whole, the Broncos forced 27 total turnovers, tying for fifth-best in this stat.
The team invested its second-round pick on Florida State pass rusher DeMarcus Walker. Walker earned 2016 ACC Defensive Player of the Year Honors, tallying 16 sacks along the way.
If the offense could only keep up, Denver would stand a better chance at reclaiming the AFC West in 2017.
New York Giants
The Giants made some tremendous adjustments to their defensive roster in the 2016 offseason. And boy did they pay off quite nicely. There is not much to suggest that this production will suddenly degrade in 2017.
New York's defense boasted two cornerbacks, Dominique Rodgers-Cromartie and Janoris Jenkins, who both graded in the Top 10 by Pro Football Focus. On the safety side, Landon Collins led the team in tackles and tallied five interceptions, the most by any member on the team.
Meanwhile, edge defenders Jason Pierre-Paul and Olivier Vernon combined for 15.5 sacks and 117 total tackles.
Joining these defensive forces, fresh from the draft, is 312 pound defensive tackle Dalvin Tomlinson out of Alabama.
As a whole last year, the Giants defense allowed just 3.6 yards per carry on the ground and just 17.8 points on average per game.
Look for these guys to keep thriving this fall.
New England Patriots
The Patriots defense gave up very little wiggle room in allowing its opposition to score in 2016. It ceded a mere 15.6 points on average per game.
Now that the NFL has released the 2017 schedule, look for more of the same to come. It is reported by ESPN's Football Outsiders that the Patriots have the easiest schedule on tap come September. Sometimes life is just not fair.
This easily gives the Pats an advantage right out of the gate to potentially dominate their competition.
New England has also been steamrolling in free agency, landing coveted cornerback Stephon Gilmore, re-signing linebacker Dont'a Hightower and acquiring defensive end Kony Ealy. And for now, cornerback Malcolm Butler is still very much a Patriot.
All this, and New England was fortunate enough to land multi-faceted linebacker Derek Rivers out of Youngstown State in the draft. Our team actually had Rivers mocked to be selected in Round 1.
Talk about holiday gifts coming early.
Los Angeles Rams
Lastly, we will conclude with a team that has not had nearly the success and/or luck as New England. It's time to discuss the Rams.
Some role shifts should see the Rams strengthen last season's ninth-ranked defense in 2017. For starters, veteran Robert Quinn will be moving to a linebacker role on particular plays.
"On 3-4 sets, Quinn is still expected to spend a significant portion of his time getting around the edge to rush the quarterback. On nickel packages, which take place a majority of the time because of how often teams throw the ball, he'll be a down lineman," head coach Sean McVay said, as reported by Alden Gonzalez of ESPN.
Additionally, it is a likelihood that Lamarcus Joyner will move to a full safety position on certain 3-4 sets. The loss of strong safety T.J. McDonald paves the path for Joyner.
Los Angeles also signed defensive end Connor Barwin. Barwin will be working with Wade Philips, who coached him between 2011-12 on the Houston Texans. The nine-year pass rusher produced a total of 14.5 sacks during that stretch.
Now, if only second-year quarterback Jared Goff and the offense can live up to their end of the bargain.
MORE FROM YARDBARKER
NFL News

Delivered to your inbox

You'll also receive Yardbarker's daily Top 10, featuring the best sports stories from around the web. Customize your newsletter to get articles on your favorite sports and teams. And the best part? It's free!