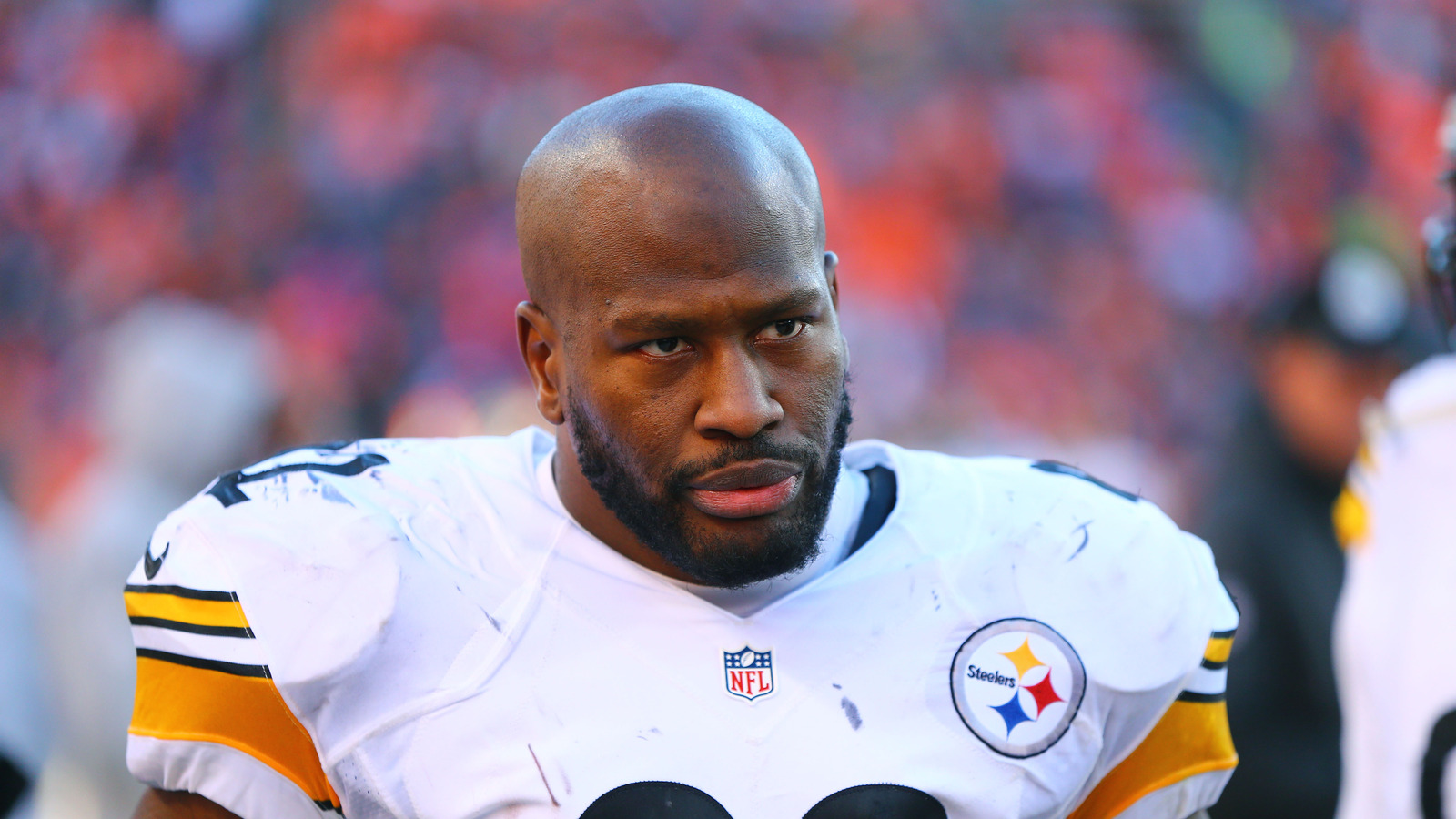 There's no reason to expect James Harrison's productivity to go down in 2017..
Mark J. Rebilas-USA TODAY Sports
Recently, we covered several NFL free agents who should throw in the towel and retire. Some of the older guys on that list have played well past their career years and are tumbling downhill at breakneck speed.
On the other side of the spectrum, some rare long-time veterans don't seem to be phased at all by the aging process.
For example, the league's oldest running back achieved his ninth 1,000-plus rushing yard season just last year. Meanwhile, a certain veteran linebacker recently inked a deal that locks him up with his team through his 40th birthday.
On that note, here are eight greybeards who will continue to dazzle throughout the 2017 NFL season.
Julius Peppers, defensive end, Carolina Panthers
Peppers is still grinding (no pun intended) at the ripe age of 37 years old. The nine-time Pro Bowler was recently reunited with the Carolina Panthers — the team that originally chose him at No. 2 overall in 2002.
This is the perfect scenario for the future Hall of Fame pass rusher who should eventually retire as a Panther. Peppers currently ranks No. 5 in all-time NFL sacks with 143.5. He is also the oldest active player within the top 10 in this stat.
In Carolina alone, Peppers tallied 81 of those sacks during his eight years playing between 2002-09. He then played four seasons with the Chicago Bears from 2010-2013, starting in all 16 games during that stretch.
Lastly, Peppers spent three seasons in Green Bay, averaging 8.5 sacks per season. He is about as durable defenders come. Throughout his 15 years spent playing in the league, Peppers has missed only four games.
It will be exciting to see him help improve a Carolina defense that took several steps back in 2016.
Darren Sproles, running back, Philadelphia Eagles
Sproles will be 34 once the 2017 season kicks off. He also said that he plans to play one more year, either with the Eagles or another team.
Throughout the course of his 11 years on the field, Sproles has tallied 1,196 total touches when lining up on offense. Interestingly enough, the versatile running back actually has tabulated more receiving yards (4,583) and receiving touchdowns (30) than rushing yards and scores on the ground.
In addition to his contribution on offense, the pint-sized, 5-foot-6 speedster is one of the best and resilient returners in the business. He has a grand total of 2,782 punt return yards and seven touchdowns. On kick returns, Sproles has averaged a magnificent 759 yards per season. The veteran currently ranks No. 8 in all-time kick return yards recorded.
If the Eagles decide to keep Sproles on board in 2017, it will be his fourth year in Philly. Prior to Philadelphia, Sproles spent three seasons with the New Orleans Saints and five with the San Diego Chargers, who drafted him in 2005.
James Harrison, linebacker, Pittsburgh Steelers
Harrison can still push weights around the gym and contribute on the field like nobody's business at the age of 38.
Harrison was signed by the Steelers as an undrafted rookie in 2002. And, boy has he turned out to be quite the gem of a linebacker. To date, Harrison has tallied 79.5 sacks, 757 combined tackles, seven interceptions and 33 forced fumbles in his 13 seasons as a Steeler.
Because of those exploits, Harrison is a five-time Pro Bowl and two-time All Pro, not to mention a two-time Super Bowl champion.
Harrison spent a brief one-year stint playing with the Cincinnati Bengals in 2013 before returning to his original team.
A strong 2016 postseason finish, as well as Harrison's dedication to staying as physically fit as possible, earned him a two-year extension with Pittsburgh. He'll enter 2017 as the oldest active linebacker in the NFL.
Jason Witten, tight end, Dallas Cowboys
Witten has been a staple on offense and fan favorite since the Cowboys selected him in the third round of the 2003 NFL Draft.
Other than his rookie season with the the Cowboys, Witten has played in all 16 games from 2004-present. He is one of the most utilized tight ends in the league and ranks at No. 7 with 1,089 all-time receptions on the books.
Since 2004, Witten has averaged 113.8 targets per season which have resulted in 11,888 yards and 63 touchdowns.
The quarterback change from Tony Romo to Dak Prescott saw Witten's yardage drop 40 yards from his prior season. But the 10-time Pro Bowler caught an impressive 72.6 percent of his targets from his rookie passer.
Witten turns 35 in May and father time has yet to catch up. This likely means another strong year of production is on tap in 2017.
Terence Newman, cornerback, Minnesota Vikings
Newman debuted in the league in the same 2003 class as Witten and was drafted by the Dallas Cowboys fifth overall.
During his nine seasons with Dallas, two-time Pro Bowler recorded 32 interceptions, three touchdowns, 442 combined tackles and defended 122 passes. Newman then spent three seasons playing for the Cincinnati Bengals before signing with the Minnesota Vikings in 2015.
He is still performing at a high enough level after recording four interceptions, 20 defended passes and 100 combined tackles with Minnesota last year. As a result, the Vikings re-signed him to a one-year deal for 2017.
Like a fine wine, Newman seems to be aging quite well. In fact the veteran corner attributes red wine to his excellent health status.
"Red wine is the key," Newman said in 2015. "Get it in your veins, baby. Keeps you strong."
Go figure. Newman turns 39 on Sept. 4 and should compete for the left corner spot with third-year defensive back, Trae Waynes.
Frank Gore, running back, Indianapolis Colts
The Colts made a wise choice when they signed Gore to a three-year contract in 2015. So far, he has held up his end of the bargain tremendously.
During his two years in playing in Indianapolis, Gore has recorded 1,992 rushing yards, 544 receiving yards and 15 total touchdowns. These numbers are quite stellar considering Gore will turn 34 years old in May.
The five-time Pro Bowl running back has one season remaining on his contract with the Colts. There is not much evidence to suggest that Gore's production is suddenly going to cliff dive in 2017, provided he stays healthy.
Prior to Gore joining the Colts, the running back produced a grand total of 11,073 rushing yards and 64 rushing touchdowns over 10 years with the San Francisco 49ers. Gore currently ranks at No. 8 in league history with 13,065 rushing yards under his belt.
Cameron Wake, defensive end, Miami Dolphins
Wake has been making like miserable for opposing quarterbacks for the past eight seasons as one of the team's leading pass rushers. To date, Wake has tallied 81.5 sacks and 286 combined tackles.
Proof that Wake is in no way on a decline, he just registered 11.5 sacks in 2016. This tied him for fourth-best in that stat. That's not too shabby considering Wake just celebrated his 35th birthday in January, and that he was coming off an Achilles injury in 2015.
The five-time Pro Bowler also recorded his first ever interception in 2016. It was quite a milestone and one Wake spoke about after picking off New York Jets quarterback Bryce Petty in December.
"Funny enough, I work on catching more than, probably, most defensive ends," Wake said, laughing, when describing his interception, per Kevin Nogle of thephinsider.com. "You never know when that opportunity is going to be there. That was kind of one of the mantras of this week, 'You don't which play it's going to be – just make it when it comes."
Wake is more than adequately carrying his weight on Miami's defense. As a result of his hard working efforts, Wake was just re-signed by the Dolphins for another two years to a robust $16.125 million deal.
Another productive season should be in store for Wake's Dolphins, who made the playoffs for the first time since 2008.
Anquan Boldin, wide receiver, free agent
Boldin has been all over the United States catching passes after being drafted by the Arizona Cardinals in the second round in 2003. He is one of the few remaining active NFL players from that season's draft class.
For his efforts, Boldin has tallied 1,076 catches, which ranks him at No. 9 all time in receptions. The one-time Super Bowl champ migrated to the Baltimore Ravens where he spent 2010-12. He then spent three seasons with the San Francisco 49ers before landing a one-year deal with the Detroit Lions in 2016.
His receptions have tapered down some the past couple of years. But in his brief stint with Detroit he started in all 16 games, caught 70.5 percent of his passes and scored eight times. Boldin had not seen that much end zone production since his final year with the Cardinals in 2008.
The tough as nails receiver turned 36 last October. He just recently said he would love to play in the NFL for a 15th season but is not in a hurry to join a team until training camp begins.
Will there be any takers? We would like to think so considering Boldin's gas tank is far from empty.
MORE FROM YARDBARKER
NFL News

Delivered to your inbox

You'll also receive Yardbarker's daily Top 10, featuring the best sports stories from around the web. Customize your newsletter to get articles on your favorite sports and teams. And the best part? It's free!