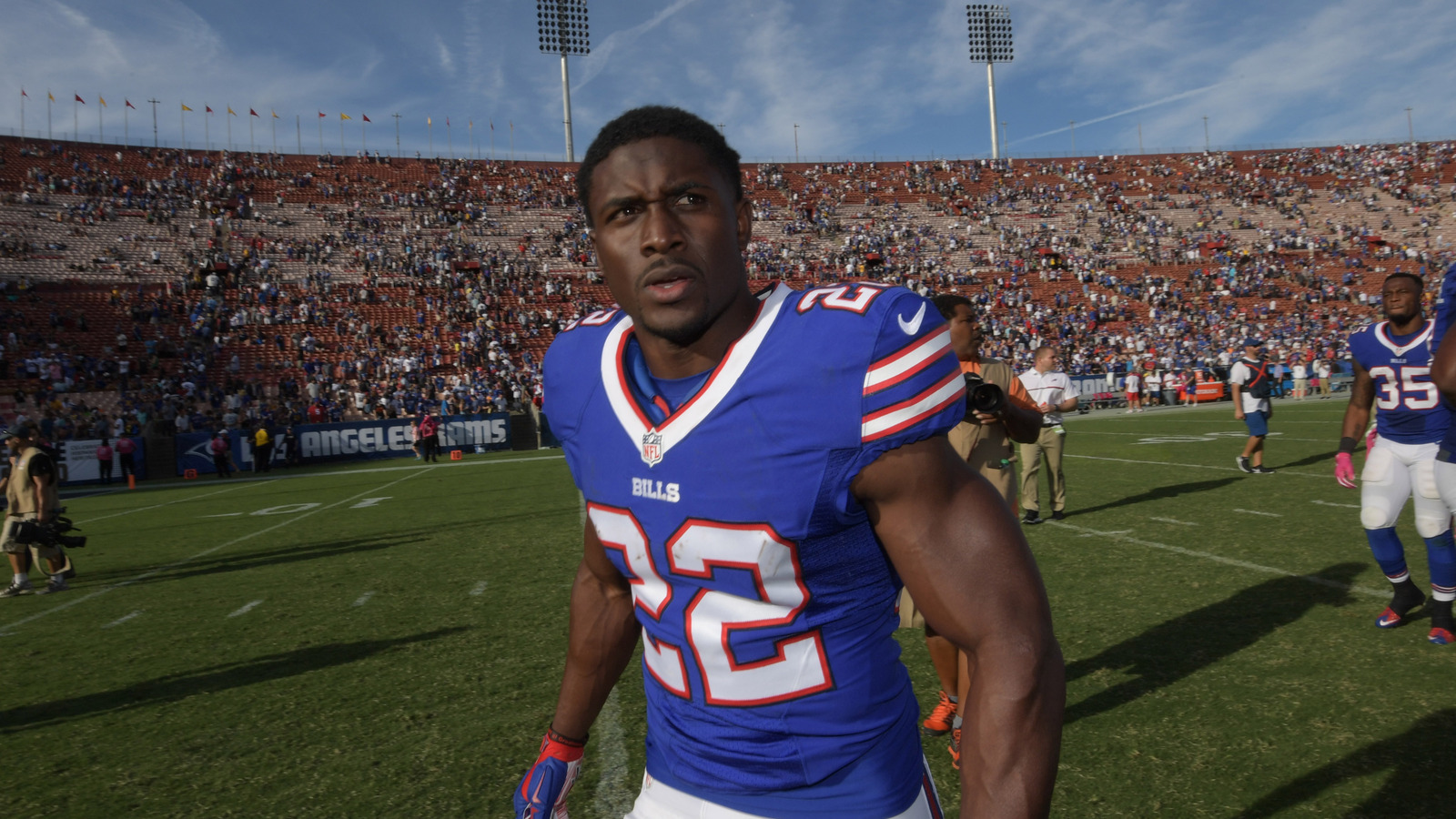 Perhaps it's time for Reggie Bush to walk away from football.
Kirby Lee-USA TODAY Sports
Free agency is in full swing. Over the past week, many top NFL free agents have re-upped with old teams or have signed with new teams that wanted their services.
As the weeks play out heading into the draft and offseason workouts, even more free agency signings will occur. But soon, lines will be drawn in the sand highlighting certain free agents who are not attracting one bit of interest.
In some cases, it is simply a matter of age creeping up, which makes older free agents less appealing. On a slightly sadder note, some younger veterans dealing with health issues or just too much negative baggage are getting ignored.
On that note, a couple of quarterbacks under the age of 30 headline this list of NFL free agents who should seriously consider retiring in 2017.
Reggie Bush, running back
Bush hit an all-time low in 2016 that definitely calls for retirement. The 32-year-old washed-up running back finished last season with a horrific minus-three rushing yards on four attempts with the Buffalo Bills.
Making this negative stat all the more preposterous is former head coach Rex Ryan's ideal plan for Bush prior to the start of last season.
"First off, with Reggie Bush, he's such a talent but we want him to be almost like that Ferrari that we unleash and let people be like "Oh man, he's out there!"
Unfortunately that Ferrari died in the garage on Day 1. The aftermath should see Bush joining Ryan among the unemployed of the NFL.
In addition to that poor season with Buffalo, Bush was nearly non-existent the prior year playing for the San Francisco 49ers. He played in a total of five games and managed just 28 rushing yards and eight carries. Bush's season was cut short in Week 5 after he sustained a knee injury.
It is hard to believe that Bush was the No. 2 overall pick by the New Orleans Saints in 2006. What is even more difficult to imagine is Bush suiting up anywhere in 2017.
Darrelle Revis, cornerback
Nobody was afraid to visit the veteran cornerback's territory, aka "Revis Island" in 2016.
Revis was unable to fend off opposing receivers, showing a severe decline in physical abilities. Even he admitted during the season that his body is breaking down as he ages (he's still just 31). As such, the seven-time Pro Bowler managed only one interception and defended just five passes in 15 games. Pro Football Focus rated Revis at No. 66 among qualified corners.
Even worse is this comment by one of the league's general managers, which really takes the cake.
"Have you seen his tape?" one general manager told the Daily News. "I wouldn't let him play for me for free."
Wow. That's a stinger. Revis used to be one of the most feared corners in the league.
On top of his physical decline is the fact that Revis is being charged with multiple felonies connected to an alleged attack in Pittsburgh.
If the embattled cornerback actually decides to retire, he will do so after recording a career 29 interceptions, three touchdowns, 12 fumble recoveries and 486 combined tackles. He is also a one-time Super Bowl champion thanks to his one-year tenure with the New England Patriots in 2014.
Vincent Jackson, wide receiver
Jackson is the second-oldest active free agent receiver in the league. But the three-time Pro Bowler doesn't seem to have any plans of retiring.
Jackson's targets decreased dramatically the last two seasons he played opposite Mike Evans, who recently became the new star in town. During 2015-16 Jackson played in only 15 games and caught a total of 48 balls for a 716 yards and three touchdowns.
Jackson's 2016 campaign was his worst by far. He managed to catch only 34.6 percent of his targets prior to landing on IR after tearing his ACL in Week 5.
Jackson signed on with the Tampa Bay Buccaneers in 2012 on a lucrative five-year, $55.5 million contract. Unfortunately, two terribly down seasons could lead to a very meager one-year deal if Jackson decides to pursue employment in 2017.
Vince Wilfork, defensive lineman
Wilfork has a lot of mileage under his belt. He was originally selected by the New England Patriots in the first round of the 2004 NFL Draft.
Now at 35 years of age, the defensive tackle appears to be in no rush to make a decision regarding life beyond the pigskin.
Vince Wilfork at Academy Sports on if he's made his decision on retirement 'Not at all. I'm in no rush'

— Aaron Wilson (@AaronWilson_NFL) March 9, 2017
Wilfork's production has tapered down in recent years, and he has not recorded a quarterback sack since 2012. His combined tackles since signing on with the Houston Texans in 2015 are a mere 43.
When Wilfork finally decides to call it quits, he will do so as a five-time Pro Bowler and two-time Super Bowl Champion. That's not too shabby. What would be cool is if the Patriots offered Wilford a one-day contract so he can officially retire with the team he spent 11 seasons with.
Colin Kaepernick, quarterback
We are going to rattle a few cages here by suggesting that Kaepernick throw in the towel on his NFL career in 2017.
First of all, Kap is attracting very little, if no interest at all, as one of the more viable free agent quarterbacks. When quarterback-needy teams are signing inexperienced guys like Mike Glennon, a message is being sent.
Kaepernick opted out of his final season with the 49ers to pursue the open market. The Cleveland Browns, who are forever in search of a better signal-caller, already said they are not interested.
Several other teams also indicated they wouldn't sign him if he continued his protest. It appears that Kaepernick's choice to stand for the National Anthem in 2017 might have come a bit too late.
In further doom and gloom news, a recent report from the 2017 scouting combine revealed that a particular NFL executive said Kaepernick is an "embarrassment to football."
It is not rocket science to figure out needy teams don't want the baggage that comes along with the 29 year-old controversial quarterback.
Kap has talent, and playing under the right conditions could see him thrive once again. But he could find that his efforts are best spent working as an advocate for causes he believes deeply in.
If Kap's phone line remains quiet as the days tick by in free agency, retirement might become a realistic option.
Cecil Shorts, wide receiver
Overall, Shorts' career in the NFL has been quite unfortunate. Throughout six seasons, the 29-year-old wideout has never played in all 16 games in any given year.
The Jacksonville Jaguars selected Shorts in the fourth round of the 2011 draft. His most productive season to date came back to 2012 when he tallied 979 yards and seven touchdowns as a Jag.
His next stop after playing in Jacksonville  from 2011-14 was the Houston Texans. There he was featured in 11 games and caught 56 percent of his targets for an uninspiring total of 484 yards and two touchdowns.
Lastly, Shorts spent time with the Tampa Bay Buccaneers in 2016. He started in five games, playing in nine total. During this stretch Shorts caught 11-of-27 targets for 152 yards and zero touchdowns.
His time with Tampa Bay ended abruptly after Shorts suffered a ghastly knee injury.
Cecil Shorts tore his ACL, MCL, PCL, and dislocated his knee. Said he still plans on coming back when he recovers from the injuries. #Bucs

— Britt McHenry (@BrittMcHenry) December 5, 2016
Despite the injury, Shorts wants to return to the game. The seven-year wideout was not that productive when healthy, so a comeback after such a dreadful injury could be a recipe for disaster.
Roman Harper, safety
Harper was signed in 2016 to a one-year deal with the New Orleans Saints. Prior to that, Harper spent two seasons with the NFC South rival Carolina Panthers.
In his return to The Big Easy, Harper played in all 16 games and started in four. Unfortunately, he managed zero takeaways, defended zero passes and tallied a mere 25 combined tackles. For that, fans are actually calling for him to hang up his jersey.
Roman Harper please retire after today.

Sincerely,

Frustrated Saints fans

— Don Takano (@DonTakano) January 1, 2017
Harper was originally drafted by the Saints in the second round in 2006. He spent eight seasons there before heading to Carolina in 2014.
The veteran safety returned to New Orleans last summer, and head coach Sean Payton said he had "too much respect" for Harper only to sign then cut him before the end of training camp.
Unfortunately as a unit, the Saints defense failed miserably, allowing 28.4 points on average to their opposition.
Considering Harper's waning contribution, it would be surprising to see the one-time Super Bowl champion sporting any team's uniform come next fall.
Robert Griffin III, quarterback
Unlike some veteran free agents on this list, RGIII's age is not a factor here. The former Heisman winning quarterback is here because of his lack of physical durability.
Try as he might, Griffin, who is only 27 years old, just cannot stay healthy.
His best campaign to date was his 2012 rookie year. He led the Washington Redskins to the playoffs after helping win nine games. That year Griffin passed for 3,200 yards, 20 touchdown and threw only five interceptions. He also added 815 rushing yards and seven touchdowns.
After that star year, Griffin battled one injury after another and was actually benched by Washington the entire 2015 season.
Most recently, the Cleveland Browns released Griffin after a miserable one-year stint. Griffin injured his shoulder in Week 1 in Cleveland and wound up playing in a total of just five games. Only four scores were recorded in that stretch.
Should any team actually reach out to RG3 in free agency, it would have to be out of pure desperation.
MORE FROM YARDBARKER
NFL News

Delivered to your inbox

You'll also receive Yardbarker's daily Top 10, featuring the best sports stories from around the web. Customize your newsletter to get articles on your favorite sports and teams. And the best part? It's free!