Found August 26, 2012 on CJ Sports NASCAR Talk:
PLAYERS:
Eli Manning
,
Peyton Manning
,
Philip Rivers
,
Nate Kaeding
,
Randy Moss
,
Mario Manningham
,
Vernon Davis
,
Ted Ginn Jr
,
Michael Crabtree
TEAMS:
New York Giants
,
San Diego Chargers
,
Indianapolis Colts
,
San Francisco 49ers
,
Denver Broncos
,
Mississippi Rebels
,
Tennessee Volunteers
Peyton Manning vs. Eli Manning.  The elite vs. the pro bowler.  The one time champion vs. the two-time champion.  Who fears who more? This has become our modern-day era, which came first the chicken or the egg?, age-long question.  Just like everyone assumes it was the egg, everyone assumed it was Eli that feared big brother Peyton.
What if it was the chicken that cames first?  What if Peyton Manning fears Eli Manning?
When Eli Manning hit the scene in the draft of 2004, there was a lot of speculation on Eli Manning fearing Peyton Manning.  The San Diego Chargers originally held the rights to the overall first pick in the 2004 NFL Draft due to their 4-12 record in 2003. With Manning being the most coveted player in the draft, it appeared that the Chargers' intentions were to draft him first overall. However, Manning stated publicly that he would refuse to play for the Chargers if drafted by them. The Chargers selected him with the first pick overall nonetheless as the team had a deal in place with the New York Giants, whereby the Giants would draft and then trade Philip Rivers and draft picks (used to select Shawne Merriman and Nate Kaeding) to the Chargers for Manning.  Which showed us out the gate that Eli Manning was fearing to play in the same conference as his brother.  Peyton Manning was in the AFC, Peyton was establishing himself as one of the best quarterbacks in the league and had made real contenders out of the Indianapolis Colts.  If that doesn't smell like Eli was in fear, then I don't know what would.
College Careers:
Eli Manning
Passing Rushing Season Team GP Rating
Att
Comp Pct Yds
TD
Int Att Yds TD 2000
Ole Miss Rebels
6 117.4 53 28 52.8 337 3 2 7 4 0 2001 Ole Miss Rebels 11 144.8 408 259 63.5 2,948 31 9 31 9 0 2002 Ole Miss Rebels 13 125.6 481 279 58.0 3,401 21 15 39 -120 2 2003 Ole Miss Rebels 13 148.1 441 275 62.4 3,600 29 10 48 -28 3
Career
Ole Miss Rebels
43
138.1
1383
841
60.8
10,286
84
36
125
-135
5
Peyton Manning
Tennessee Volunteers
Season Passing Rushing Comp Att Yards Pct. TD Int
QB Rating
Att Yards Avg TD
1994
89 144 1141 61.8 11 6 145.2 21 -28 -1.3 0
1995
244 380 2,954 64.2 22 4 146.5 41 6 0.1 0
1996
243 380 3,287 63.9 20 12 147.7 42 -131 -3.1 0
1997
287 477 3,819 60.2 36 11 147.7 49 30 -0.6 0
NCAA
Career Totals
863 1,381 11,201 62.5 89 33 147.1 153 -183 -0.6 0
Not only was Eli Manning's college career second-rate at best, to Peyton Manning, but when you add in what Peyton Manning had already done by the time Eli Manning was drafted, I can't blame Eli for being scared and refusing to play in the AFC.
Peyton Manning's NFL stats:
Year Team Games Starts Wins Passing Rushing Rating Comp Att Pct Yds YPA TD Int Att Yds Avg TD 1998 IND 16 16 3 326 575
†
56.7 3,739 6.5 26 28
†
15 62 4.1 0 71.2 1999 IND 16 16 13 331 533 62.1 4,135 7.8 26 15 35 73 2.1 2 90.7 2000 IND 16 16 10 357
†
571 62.5 4,413
†
7.7 33
†
15 37 116 3.1 1 94.7 2001 IND 16 16 6 343 547 62.7 4,131 7.6 26 23 35 157 4.5 4 84.1 2002 IND 16 16 10 392 591 66.3 4,200 7.1 27 19 38 148 3.9 2 88.8 2003 IND 16 16 12 379
†
566 67.0
†
4,267
†
7.5 29 10 28 26 0.9 0 99.0 2004 IND 16 16 12 336 497 67.7 4,557 9.2
†
49
†
10 25 38 1.5 0 121.1
†
2005 IND 16 16 14 305 453 67.3 3,747 8.3 28 10 33 45 1.4 0 104.1
†
2006 IND 16 16 12 362 557 65.0 4,397 7.9 31
†
9 23 36 1.6 4 101.0
†
2007 IND 16 16 13 337 515 65.4 4,040 7.8 31 14 20 −5 −0.3 3 98.0 2008 IND 16 16 12 371 555 66.8 4,002 7.2 27 12 20 21 1.1 1 95.0 2009 IND 16 16 14 393 571 68.8 4,500 7.9 33 16 19 −13 −0.7 0 99.9 2010 IND 16 16 10 450
†
679
†
66.3 4,700 7.0 33 17 18 18 1.0 0 91.9
Career
208 208 141 4,682 7,210 64.9 54,828 7.6 399 198 346 722 2.1 17 94.9
With Peyton Manning averaging over 4,000 yards, 30 TDs/15 INTs, and a QB rating of over 90 every season he was in the league leading up to Eli Manning joining the NFL, I can't blame Eli Manning for going to the NFC.
Then everything changed during the 2012 free agency frenzy.  Peyton Manning had almost every team licking at their chops in hopes to get a shot at who was referred to as the biggest NFL free agent of all time.  A handful of teams were very open about it, worked him out and were willing to give up almost everything for the opportunity to get his services.
One of the front-runners were the San Fransisco 49ers.  A team that had one of the best defenses the prior season.  A team with a couple really good backs.  A team that has Randy Moss, Mario Manningham, Vernon Davis, Ted Ginn Jr. and Michael Crabtree and was looking for a real quarterback.  The catch on him selecting the 49ers, the San Fransisco 49ers are in the NFC.
Instead of going to the 49ers, which would have been instantly favored to not only make the playoffs, but favored to be the 2012-2013 Super Bowl Champions, Peyton showed signs of fearing Eli Manning.  Instead of reviving the San Fransisco 49ers – New York Giants rivalry, Peyton Manning showed us he was yellow and choose to go to a mediocre AFC team.
With one brother refusing to play in the AFC to play his brother on a regular basis, while the other brother refusing to play in the NFC to play his brother on a regular basis, you start to wonder if they really think people only want them to play against each other in the Super Bowl or how much do they fear each other.  I don't buy the they only want to play each other in the Super Bowl ( Peyton Manning is not on a team that is Super Bowl ready and Eli Manning is not that good), but I bank it on they are scared of each other.
Now that both bother have shown us they fear each other, the only question that is left is, who fears who more? Eli Manning or Peyton Manning?
Related articles
Original Story:
http://110sportztalk.com/eli-manning-...
THE BACKYARD
BEST OF MAXIM
RELATED ARTICLES
Is Peyton Manning worth the risk? Rizzla: No. I love Peyton Manning and think he is one of the best quarterbacks of our time but he presents too much risk for his current ADP. If he can stay healthy he can be the dominant fantasy QB we have all come to love. One wrong landing from a hit and Manning's career could be in serious peril. I will let another owner take the gamble this...
New York Giants quarterback Eli Manning looked ready for opening night after going 17-of-21 for 148 yards and a touchdowns against the Bears' first-string.Fantasy Spin:Manning threw for 4,933 yards last season with 29 TDs and just 16 INTs. As long as Hakeem Nicks and Victor Cruz are ready to go, the Giants passing game should be in excellent shape and Manning should slide in...
In the spirit of Madden 13 ratings and Super Bowl buzz, below is a look at the Denver Broncos celebrating a 27-23 SB XLVII victory over the New Orleans Saints in EA Sports' 2012 version of Madden. A few quick notes after the jump.  The team hosting the Super Bowl hasn't made the playoffs the year their city hosted the game since 2000, when the Tampa Bay Buccaneers went 10...
There's been a lot of talk this offseason about the rookie quarterbacks of this Draft.Andrew Luck looks like Peyton Manning already, and RGIII is bringing excitement back to the nation's capitol.We've even heard buzz around Brandon Weeden in Cleveland, mainly because he is older than Aaron Rodgers and hasn't played a meaningful down in the NFL yet. But on the West...
It's been an argument ever sinePeyton Manning was moved to Denver: which receiver will become his favorite? During the all important 3rd preseason game, it was clearly Eric Decker, as he hauled in two early scores against the elite San Francisco defense. The preseason statistics are nice, but they are only reinforcing what we thought when Manning signed in Denver. Demaryius Thomas...
Only two games on the card Sunday night but they both involved interesting storylines.Peyton Manning looked sharp in his 3rd preseason game with the Broncos.Also just as interesting, but perhaps for different reasons, Mark Sanchez and Tim Tebow continued to struggle in their 3rd preseason outing with the Jets.  Peyton and his Horses look ready for Week 1, while Mark and Timmy have...
Looking at the NFC East right now, you could probably make a convincing argument that the weakest unit on all four teams in that division is the offensive line.  In New York, Eli Manning's blind side is in trouble with Will Beatty hurt and Mark Sanchez's front side is in jeopardy as the Jets look for a right tackle solution not named Wayne Hunter.  Have...
Denver Broncos News Sorry for going AWOL yesterday, but I've got a limited amount of time each morning to bust these links out and I had to take a very important phone call that ate up all of that limited time and then some.  We'll start today's links with a piece from a few days ago that would have gone into yesterdays post.  Peyton Manning will transform the Denver Broncos...
Wide receiver Eric Decker #87 of the Denver Broncos makes a catch for a touchdown as cornerback Tramaine Brock #26 of the San Francisco 49ers looks on during the first quarter of a pre-season game at Sports Authority Field Field at Mile High on August 26, 2012 in Denver, Colorado. (Justin Edmonds/Getty Images) A 17-0 head start, courtesy Peyton Manning, wasn't enough for the Denver...
10) Russell Wilson earned the job in Seattle, forever ending the prejudice against short QB prospects9) The New York Jets offense and ticket office would like you to believe that preseason doesn't matter at all, no sir, not any8) After watching Nick Foles take apart Cleveland, the fan bases of Miami and Arizona are on high alert for Mike Kafka7) Dallas has set strict conduct...
DENVER -- David Akers kicked four of his five field goals in the second half and the San Francisco 49ers withstood Peyton Manning's first two touchdown passes since joining the Denver Broncos for a 29-24 exhibition victory on Sunday. Alex Smith played most of the first half for the 49ers and had a touchdown pass to his fleet tight end Vernon Davis in a solid effort. Smith...
The Giants lost for the second time this preseason when the Chicago Bears came back from a 10 point halftime deficit to defeat the defending Super Bowl champions 20-17 on Friday night. Despite the loss, the Giants had plenty to be happy about. Quarterback Eli Manning was 17-21 with a 148 yards and a touchdown. The defense was also stout holding Chicago quarterback Jay Cutler to 9...
NFL News

Delivered to your inbox

You'll also receive Yardbarker's daily Top 10, featuring the best sports stories from around the web. Customize your newsletter to get articles on your favorite sports and teams. And the best part? It's free!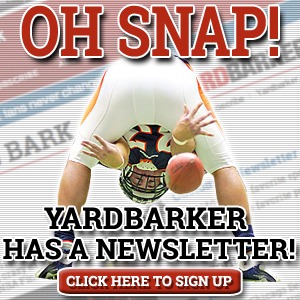 Latest Rumors
The Backyard

Today's Best Stuff

For Bloggers

Join the Yardbarker Network for more promotion, traffic, and money.

Company Info

Help

What is Yardbarker?

Yardbarker is the largest network of sports blogs and pro athlete blogs on the web. This site is the hub of the Yardbarker Network, where our editors and algorithms curate the best sports content from our network and beyond.