Found August 22, 2012 on Fox Sports:
PLAYERS:
Peyton Manning
,
Brock Osweiler
,
John Elway
,
John Fox
,
Tim Tebow
,
Jacob Tamme
,
Joel Dreessen
,
Brandon Stokley
,
Caleb Hanie
,
Adam Weber
TEAMS:
Denver Broncos
,
Seattle Seahawks
,
New York Jets
,
Indianapolis Colts
Four Denver Broncos quarterbacks and their position coach were scouting the Seattle Seahawks' defense when Peyton Manning suddenly paused the video. Brock Osweiler was paying attention and taking notes. The rookie just didn't expect the storied veteran to put him on the spot. Manning asked Osweiler to identify the "Mike," which is the term used to describe the Seahawks player who serves as middle linebacker on the play. The decision helps the quarterback set pass protection by designating blockers to cover Seattle defenders. Osweiler made his choice -- and then received a valuable lesson. "Peyton goes, 'Well, if you do that, you're covering yourself with about three defenders. If you make the 'Mike' point right here, you're covering yourself with six or seven defenders,' " Osweiler said before last Saturday night's Broncos-Seahawks game. "He explained why. It's going to better me in the future so next time I go to the line I can make the right 'Mike' point and maybe cover myself from taking a shot in the back of the head. "That was something he didn't have to do but did." Welcome to the club, kid. NFL quarterbacks don't need secret handshakes or gang signs to identify themselves as brethren. Manning says the nature of the job and inherent responsibilities make them part of a "pretty unique fraternity." "You speak the same language," Manning told FOXSports.com last week after a training camp practice at Broncos headquarters. "Quarterbacks are very protective, supportive and almost defensive of one another. "That's important. Quarterbacks have got to stick together." This is especially true in Denver if the past, present and future are to successfully mesh. The past is John Elway, the Super Bowl-winning Hall of Famer who remains the standard by which all Broncos passers are judged. Since becoming the club's top football executive in January 2011, Elway's top personnel priority was finding someone who could carry the "franchise quarterback" mantle. "The Broncos have been trying to replace him since he retired (in 1999)," Broncos head coach John Fox said. "He understands that. It's not an ego thing. It's a reality. "You look at the teams in the league that have been consistently good, and they've got that guy. It's important to find that guy. Hopefully, we've made some strides." Ergo the trade of 2011 starter Tim Tebow to the New York Jets after Manning was signed in free agency. Unlike the Indianapolis Colts, Elway was willing to gamble that Manning could recover from the four neck surgeries that led to him missing all of last season. Whether Manning is "100 percent" back physically to being the same talent who won an unprecedented four NFL Most Valuable Player awards in 14 seasons with the Colts was a question that Fox didn't definitively answer. Fox, though, did say the words that every Broncos fan wants to hear. "I don't think there's any question he's healthy enough to play quarterback," Fox said. Whenever the 36-year-old Manning is done playing, the Broncos are planning on Osweiler becoming his successor. Elway said the chance for Osweiler to receive an apprenticeship under Manning is a major reason he was drafted in the second round. Elway praised Osweiler's athletic ability, specifically a strong arm, good mobility and nimble footwork stemming from his days as a 6-foot-8 high school basketball standout. Elway also said Osweiler has improved his throwing release "tremendously where it's consistent and he's on top of it," which was one of the knocks on Tebow during his Broncos tenure. Elway is so smitten that his long-term expectations for Osweiler are Rocky Mountain high. "There's not a better situation for Brock to be in and us to be able to set up the organization for 10 to 15 years, hopefully, to have somebody at that position you believe has the ability to win a Super Bowl," Elway said. For now, Denver's focus is on winning a Lombardi Trophy with Manning at the helm. As training camp practices concluded last week, Manning admitted not being as far along in preseason preparation as he would be under normal circumstances in Indianapolis. This was expected and reflected in uneven offensive performances during Denver's first two exhibition contests. Manning is trying to become comfortable learning Broncos offensive coordinator Mike McCoy's system. McCoy is tweaking the scheme to take advantage of Manning's strengths and some offseason personnel acquisitions. Among them: the signing of two veteran tight ends (Jacob Tamme and Joel Dreessen) with pass-catching prowess and the return of slot receiver Brandon Stokley, a favorite target of Manning's while both were in Indianapolis. "It would be hard to say you're as prepared just because there are constantly new things," said Manning, whose unit's latest test will come at 4 p.m. ET Sunday against the San Francisco 49ers on FOX. "We're running plays against our defense, but we haven't run those plays against a different type of defense. Every play is going to look a little different against different defenses. There's an adjustment with a route here or a protection. "When you're in your 13th year of the same offense, you've seen all those things and most of the receivers have, too. It's a process. You're going to have to go through some games and face a blitz, a two-minute drill, a third-and-6 in the red zone. You get as many of those in practice as you can, but you can't see them all." Practice, too, has changed for the Broncos and Manning since his arrival. At his request, Denver has assigned a member of its video crew to film from a ladder with a platform positioned behind the quarterback. Manning later reviews the footage to ensure he doesn't develop any bad habits with his footwork, ball-handling or pre-throw technique. Broncos quarterbacks coach Adam Gase also is using a different type of bag drill, designed to keep Manning's drop-back skills sharp. "He's got Adam giving him certain code words or things he's got to respond to quickly," McCoy said of Manning. "He's dropping back, and Adam is putting numbers up where he's got to read the numbers so he's keeping his eyes downfield." Elway told FOXSports.com last December that he planned to work hands-on with Tebow during the 2012 offseason. Not only did that never transpire because of the Tebow trade, but Elway doesn't attend position meetings or meddle with the offensive coaches. He instead watches practices and players on video, including Broncos backup quarterbacks Caleb Hanie and Adam Weber, as part of his managerial responsibilities for the entire team. Plus, Elway knows he's in good hands with Manning under center. "We haven't gotten into Xs and Os," Elway said of his preseason conversations with Manning. "In camp, it's hard with meetings all time. It's more of an update on how he's feeling and watching him during practice. I kind of just stand back and listen. I watch Peyton and Brock to see what he's doing because Brock is the young, impressionable one." Elway -- or "Mr. Elway" as the 21-year-old Osweiler still calls him -- did offer some on-field advice before Denver's preseason opener at Chicago. "He grabbed me and said, 'Hey, good luck out there tonight. Remember -- it's just a game,'" Osweiler said. "A lot of rookies, it's pretty easy to get worked up in your first couple of games. For a guy like that to come in and say that, it's pretty cool." So is being a member of Denver's quarterbacks club.
Original Story:
http://msn.foxsports.com/nfl/story/Pe...
THE BACKYARD
BEST OF MAXIM
RELATED ARTICLES
Direct TV's fairy commercials to support their NFL Sunday Ticket are a bit ironic. Football..fairies…players…tights…anyway, this reel signals the return of Peyton Manning. As we will soon be reminded when he's in motion, his brand shows up more than just on the field.
If quarterbacks were judged by MVP awards and commercial appearances, Denver's Peyton Manning would undisputedly be the greatest of all time. From wiping the windshield, to giving wet willies, to getting a massage, to 'cut that meat', to 'orange barrel, reroute!', to telling on Eli for locking him in a closet, Peyton has pretty much done it all. Below are outtakes...
After last night's debacle on offense, the Arizona Cardinal faithful have to be disgruntled for not landing Peyton Manning during the offseason.Through their four preseason games, the Cardinals have gone 1-3 and the offensive line has looked awful at times.  Kevin Kolb and John Skelton have combined for 5 INT's, 8 Sacks, and only 2 scores.  They've also combined for...
Russell Wilson stands at a mere 5-foot-11 and 206 pounds, on a good day. But at that diminutive stature, many big-time NFL pundits would say Wilson has no place playing quarterback in the league. Right? Well, in college, the talented quarterback only threw for 3,000 yards in three consecutive seasons. He also tossed just 109 touchdowns to 30 interceptions over his four-year career...
Against popular belief, just because you self-proclaim yourself to be elite, doesn't mean your elite.  If that was the case, Joe Flacco and Jamarcus Russell would already be in elite status.  Against New York Giants fans and ESPN's so-called "experts" belief, winning a Super Bowl doesn't make you elite either, which keeps Brad Johnson and Trent Dilfer out of this class...
Denver, CO. The glimpses and flashes of potentially explosive plays with this Denver Broncos offense has given all who follow this team plenty of optimism as we inch closer to the season opener early next month. Peyton Manning has looked pretty good, running the show with the leadership he has mastered for over a decade now. The receivers have looked pretty good, catching most...
AP According to Bill Williamson of ESPN.com, Denver Broncos quarterback Peyton Manning has had problems throwing the ball to his right side. "It appears that one of the biggest challenges for Denver Broncos quarterback Peyton Manning as he comes back from a serious neck injury is throwing to his right. "ESPN guru John Clayton pointed it out to me this summer. While he thought...
ENGLEWOOD, Colo. -- Four Denver Broncos quarterbacks and their position coach were scouting the Seattle Seahawks' defense when Peyton Manning suddenly paused the video. Brock Osweiler was paying attention and taking notes. The rookie from Arizona State just didnt expect the storied veteran to put him on the spot. Manning asked Osweiler to identify the Mike, which is the term...
In 1998 the debate about the best quarterback available in the draft centered around the word "upside." While most appreciated Peyton Manning's football acumen, pedigree and polish most agreed that Ryan Leaf had a better arm as well as the potential to grow more. The pundits felt Manning was too ready. In hindsight they look like the buffoons in Major League proclaiming...
Denver Broncos News The Denver Broncos are feeling a bit chippy about their performance against the run, so its a good thing another strong rushing attack is on the docket this weekend. [DenverBroncos.com] When was the last time the Broncos were in the top 6 from odds makers to win the Super Bowl? I'm betting it was somewhere around 2006… [First & Orange] Derek Wolfe and...
NFL News

Delivered to your inbox

You'll also receive Yardbarker's daily Top 10, featuring the best sports stories from around the web. Customize your newsletter to get articles on your favorite sports and teams. And the best part? It's free!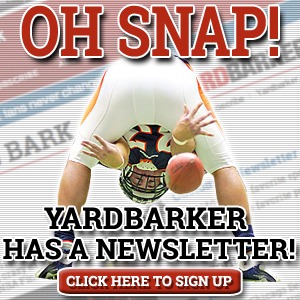 Latest Rumors
The Backyard

Today's Best Stuff

For Bloggers

Join the Yardbarker Network for more promotion, traffic, and money.

Company Info

Help

What is Yardbarker?

Yardbarker is the largest network of sports blogs and pro athlete blogs on the web. This site is the hub of the Yardbarker Network, where our editors and algorithms curate the best sports content from our network and beyond.