Found May 01, 2012 on Fox Sports Houston:
Last training camp I grabbed Jacoby Jones as he walked off the practice field. I wanted to talk to him about his new contract. The Texans had just signed him for 10.5 million over three years, and there seemed to be some meaning in that. Kind of a "Just so we're clear on this, we're expecting a 10 million receiver out of you" sort of message. I asked him if he felt that pressure. "It's only pressure," he said, "if you let it be pressure." That was the first time I heard him say it, but it wouldn't be the last. When Andre Johnson got hurt, there Jones was again, in the locker room, saying that pressure could only exist if you believe in it, like the monster under the bed. To Jacoby Jones, pressure is a bad thing. It is to be avoided. And not only should it be avoided, it can be willed out of existence. Jones never felt the pressure, and that was the problem. Unable to get anything for him in the trade market, the Texans outright released Jones Tuesday, 10 months into that three-year contract. Someone will sign him, and I'll be happy about that. Jones is an immature knucklehead, but I think he's basically a stand-up guy. As a player, he was such a lump of coal. He had the size and speed and every now and then he would do something spectacular, usually on a punt return. I had this feeling that he was always just a couple plays away, a couple games away. That if he could just feel it happen for himself a few times in a row, the lump of coal might crystalize into a diamond. It seems clear the Texans felt that way, too, which is why they kept giving him a chance, why they gave him that contract, even after so many in Houston had decided he was no good. But diamonds are formed under pressure, you know. It probably said enough that Jones kept failing to beat out Kevin Walter for the spot opposite Andre Johnson. Coach Gary Kubiak said Walter and Jones were 2A and 2B, but everybody knew the truth. Walter was better, which is why he was usually on the field and Jones was usually on the bench. This is not meant as an insult to Walter, who is a fine player. But Jones is on another level athletically. If he could have known what he was doing, and used his considerable gifts to get open, and caught the ball when it came to him, he'd have left Walter in the dust long ago. But he could not. In the pressure of competition with Walter, he lost. When Johnson went down and the pressure went up, he caught 31 passes. And in the pressure of a playoff game at Baltimore, with the Texans up 3-0, he muffed a punt that handed the Ravens a lead they'd never give up. It is important, I think, to point out that this is a third-round pick from a Division II college we're talking about. He was a project all the way, and the Texans knew that. Kubiak and company spent a fair bit of energy talking up Jones to the public, too, and so the public saw a 6-3 receiver with great speed and a laudatory coaching staff and assumed that somewhere in the rough was a diamond. It's probably fair to say Jones has not come close to reaching his potential as a player, but it's also fair to say he's not the one who created all these expectations. The Texans tried with Jacoby Jones, and Jacoby Jones tried with the Texans. I believe that. And it just didn't work out. Because sometimes there's pressure, whether you believe it or not.
Original Story:
http://www.foxsportshouston.com/05/01...
THE BACKYARD
BEST OF MAXIM
RELATED ARTICLES
HOUSTON—The current peril of WR/KR specialist Jacoby Jones is proof that there is a difference between making mistakes in regular season games and making mistakes in playoff games. Jones was released today by the Texans after making numerous blunders in their second round playoff loss to the Baltimore Ravens. To read this story and watch a touching Jacoby Jones video, please...
HOUSTON - The Houston Texans have reportedly released wide receiver Jacoby Jones. Jones' last game as a Texan was a loss in the playoffs to the Baltimore Ravens, a game in which he fumbled a punt which led to a Ravens touchdown. In five years with the Texans Jones never developed into a reliable number two receiver opposite Andre Johnson. Jones has 11 career receiving touchdowns...
On this very special edition of Luy Ya Steel Blue the fellas Mike, Aaron and Pat bring in TXCleaver to discuss the Houston Texans NFL Draft. The guys are excited about what the Texans did on draft day. The topics include the draft, the undrafted free agents and the release of Jacoby Jones. With just good news floating around in Texans land, the organization might be headed into...
The Houston Texans have waived receiver Jacoby Jones after five seasons. The 6-foot-2, 212-pound Jones caught only 31 passes for 512 yards last season, while star receiver Andre Johnson spent much of the year recovering from injuries. The Texans drafted Ohio State receiver DeVier Posey in the third round and Michigan State's Keshawn Martin in the fourth, making Jones expendable...
The Houston Texans released wide receiver Jacoby Jones on Tuesday, according to John McClain of the Houston Chronicle. Reports surfaced over the weekend that the Texans were trying to trade Jones for a draft pick, but nothing came to fruition. Selected in the third round (73rd overall) in the 2007 NFL Draft, Jones has made 21 starts and appeared in 75 games in Houston. Photo Credit...
  Now that the Houston Texans have taken the next step and made the playoffs for the first time we as fans and NFL analysts expect the Texans to be a consistent contender for years to come. This is new territory for a team that hasn't been in this position before. Have the Texans truly arrived? Are they on the precipice of greatness, or are they just a one year wonder? For the...
The Houston Texans earned the first playoff berth in franchise history in 2011, as they went 10-6 and won the AFC South, and also added a playoff win in the Wild Card round against the Cincinnati Bengals. Having quarterback Matt Schaub and wide receiver Andre Johnson back healthy after both missed significant time last season makes even further improvement possible in 2012, and...
26. RLB Whitney Mercilus AI actually had Whitney Mercilus as my 6th rated prospect. I think he's the best pass rusher in this draft class. He's got a great motor and worked himself up the draft chart to have 22.5 tackles for loss, 16 sacks, and 9 forced fumbles last season. He's a refined pass rusher and a great athlete. He could have an Aldon Smith type impact right away....
Quarterback Matt Leinart signed with the Raiders. A seventh-year veteran, Leinart spent the past two seasons with the Houston Texans before being released in March. In Oakland, he's expected to be Carson Palmer's primary backup - a role he is familiar with. Palmer and Leinart both won the Heisman Trophy at Southern California, with Leinart one of Palmer's backups in...
ALAMEDA, Calif. (AP) -- Matt Leinart is back in a familiar role as Carson Palmer's backup at quarterback. The Oakland Raiders signed Leinart to a one-year contract on Tuesday, giving them two former Heisman Trophy winners from Southern California at quarterback. Leinart reached the deal after working out for the Raiders to show that he has fully recovered from a broken left...
The Browns will still be $9 million dollars under the cap after signing their draftees. Today, a couple of wide receivers hit the market when the Washington Redskins cut Jabar Gaffney, and the Houston Texans parted ways with Jacoby Jones. John McClain reports that the Texans were unable to find a trade partner for Jones (27), who caught 31 passes for 512 yards and two scores last...
Texans News

Delivered to your inbox

You'll also receive Yardbarker's daily Top 10, featuring the best sports stories from around the web. Customize your newsletter to get articles on your favorite sports and teams. And the best part? It's free!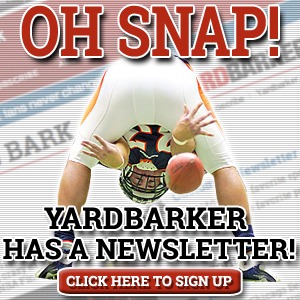 Latest Rumors
The Backyard

Today's Best Stuff

For Bloggers

Join the Yardbarker Network for more promotion, traffic, and money.

Company Info

Help

What is Yardbarker?

Yardbarker is the largest network of sports blogs and pro athlete blogs on the web. This site is the hub of the Yardbarker Network, where our editors and algorithms curate the best sports content from our network and beyond.