Found May 01, 2012 on Pro Football Zone:
After hearing Baltimore Ravens head coach John Harbaugh claim that the New England Patriots Super Bowls are tainted, former New England Patriots offensive coordinator Eric Mangini claimed on NFL Live (via ProFootballTalk.com) that he regrets the decision to turn Bill Belichick and the Patriots in when he was the head coach of the Jets. He said that he would take it back if he could. "If there is a decision I could take back it's easily that decision," Mangini said. "Never in a million years would I have wanted it to go this way. It's disappointing whenever it comes up." "It's regret, it's disappointment, it's all of those things," Mangini said of the way he views Spygate now. "Because I know what it took to win those Super Bowls and I have so much respect for the people who were involved there. I'm disappointed that this is what it's translated into." I'm not sure exactly how Mangini thought things would play out, but he never thought it would be like this. "Never in a million years did I expect it to play out like this," Mangini said. "This is one of those situations where I didn't want them to do the things they were doing. I didn't think it was any kind of significant advantage, but I wasn't going to give them the convenience of doing it in our stadium, and I wanted to shut it down. But there was no intent to get the league involved. There was no intent to have the landslide that it has become." Mangini feels bad for guys like Tedy Bruschi, as well as the Kraft family, since he's taken something away from them. "To have guys like Tedy have to defend the championships that we earned in New England, and to have anything taken away from the Kraft family, from coach Belichick, and the players and coaches that have meant so much to me, never in a million years did I think it was going to translate into what it was going to translate into," Mangini said. "And it doesn't tarnish what we achieved there. It doesn't tarnish what they achieved after the fact. I think when you look at the history of success that they had after that incident, it's pretty obvious that it didn't play any type of significant role in the victories we had or the success that we had." "That's what's so disappointing to me," Mangini said. "The fact that Tedy has to sit here and talk about that because of a decision that I made, it's disappointing."
Original Story:
http://profootballzone.com/nfl/eric-m...
THE BACKYARD
BEST OF MAXIM
RELATED ARTICLES
When Eric Mangini exposed the Patriots for videotaping opponents' signals at the start of the 2007 season, he changed the culture of the NFL. Stealing signals — whether by use of camera or other means — is something that is believed to have been done by almost all teams at one point. Now, teams have to be extremely careful. By bringing the Spygate scandal to light, Mangini...
Yesterday turned out to be a busy day for Spygate: an incident (five years old now) where the New England Patriots were busted videotaping the New York Jets defense. The investigation uncovered the fact that Coach Belichick and the Patriots had actually been videotaping opponents as far back as 2000, a time period which included three Super Bowls and multiple AFC Championships. To...
Ravens coach John Harbaugh has no problem taking shots at the New England Patriots. Much like defensive stars Ray Lewis and Terrell Suggs he can and will say anything that he can to let it be known that the Patriots are not their friends. John appeared on a local Baltimore radio station and was asked about the New Orleans Saints scandal. Somehow that ended up being turned around...
Baltimore Ravens coach John Harbaugh has backtracked on radio comments he made earlier Tuesday. Harbaugh told a local station that New England's championships ''got asterisks now; it's been stained'' while referring to the Spygate scandal of 2007. The Ravens soon after sent out a statement from Harbaugh to clarify what he said, claiming there was '&...
Baltimore Ravens head coach John Harbaugh made an appearance on 97.9FM in Baltimore via ProFootballZone.com and was asked about the Saints bounty scandal. But he ended ripping the Patriots. "In the end, everything is brought before the light of day," Harbaugh said. "Even the thing in New England, no matter whether those things had any impact on whether they won their championships...
From a light-hearted conversation to a misunderstood point of view, Baltimore Ravens head coach John Harbaugh was asked a simple question about a sensitive topic regarding NFL rules and his answer was distorted, according to the coach. Tuesday morning on Baltimore's 98 Rock, Harbaugh was being interviewed about charity work for former Ravens linebacker, now Ravens' senior advisor...
That was a quick change of heart from John Harbaugh. The Baltimore Ravens coach has already issued a statement to help clarify his remarks from just a few hours ago from a radio interview at 97.9 FM in Baltimore. Just a refresher, Harbaugh said that the Patriots (and basically the Saints) had tainted Super Bowl [...]
Ravens head coach John Harbaugh did his best verbal backpedal Tuesday afternoon, releasing a statement through the team in an attempt to clarify comments he made earlier in the day in which he referred to "stained" championships in New England. The reference, of course, was to the Super Bowl wins under the Bill Belichick regime which was caught in 2007 videotaping the...
FOXBORO, Mass. -- Bill Belichick can't be overly happy with one of his good friends. Ravens head coach John Harbaugh brought up Spygate on Tuesday morning, causing several hours of rabid criticism. Even though the intention of Harbaugh's comments were initially misconstrued, the mere mention of the Patriots' scandal continues to keep it in the news. That's not the...
Nothing like a a coach running his mouth in the offseason, especially after his team failed to beat the organization in the AFC Title game. John Harbaugh, head coach of the Baltimore Ravens, was asked to during a radio interview in Baltimore what his thoughts were on Bounty-Gate. He chose to reference a different scandal [...]
On Tuesday morning, Ravens coach John Harbaugh spoke about the cheating culture of the NFL during a radio appearance. With the Saints having recently been roasted for running a bounty program, the topic is still fresh on everyone's minds. Naturally, you can't talk about cheating in football without bringing up Spygate. Despite the fact that Harbaugh and Bill Belichick are relatively...
NFL News

Delivered to your inbox

You'll also receive Yardbarker's daily Top 10, featuring the best sports stories from around the web. Customize your newsletter to get articles on your favorite sports and teams. And the best part? It's free!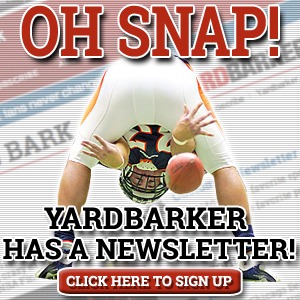 Latest Rumors
Best of Yardbarker

Today's Best Stuff

For Bloggers

Join the Yardbarker Network for more promotion, traffic, and money.

Company Info

Help

What is Yardbarker?

Yardbarker is the largest network of sports blogs and pro athlete blogs on the web. This site is the hub of the Yardbarker Network, where our editors and algorithms curate the best sports content from our network and beyond.