Found August 25, 2012 on BroncoTalk: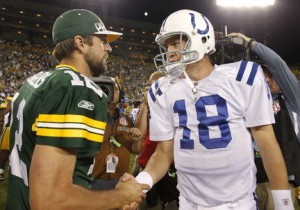 ESPN The Magazine thinks these two MVP QBs will face off in New Orleans next February. (AP Photo)
The September issue of ESPN The Magazine is now available on newsstands and online.  An NFL Preview edition, the mag features playoff picks and predictions by ESPN contributors—and they apparently think highly of the 2012 Denver Broncos.
Preseason Power Rankings had Denver ranked 14th (with San Diego, Kansas City and Oakland ranked 16th, 17th and 25th respectively).  The mag's playoff picks had Denver going all the way to the Super Bowl.
In ESPN's playoff bracket, the Broncos defeat Houston in the Wild Card round before going on to defeat Baltimore in the Divisional round and topping New England in the AFC Championship.  Denver does have one bump in the road, as ESPN projects them losing Super Bowl XLVII to Green Bay in New Orleans.
The mag projects a 12-4 regular season record for Denver and cites a 41.4% chance of winning the division and 60.2% chance of making the playoffs.  Per ESPN, the Broncos' Vegas odds of winning the Super Bowl are 14-1.
The four losses foretasted come in Week 5 @ New England, Week 8 vs. New Orleans, Week 11 vs. San Diego and Week 15 @ Baltimore.  In each game Denver's margin of loss is one point or less (e.g. a 26.1-to-25.4 projected loss to the Ravens).
The 'Insider's View' calls Denver's linebackers their best unit and their defensive line the worst unit, citing the LB's rushing abilities and the DL's inability to stop the run in recent seasons.  Signing quarterback Peyton Manning was dubbed the team's 'Key Move' of the offseason.  We can confirm this.
ESPN's KC Joyner (who is a joke in my book) tried to debunk the 'perception' that cornerback Champ Bailey is still one of the NFL's best corners.  Joyner backs up his claims by pointing out that Champ has only recorded 11 interceptions since the 2007 season.  And yes, he was serious.
Joyner conveniently forgot that Nnamdi Asomugha recorded just 11 interceptions from 2003-10 and was still regarded as the best cornerback in the game during that time period.  That is because interceptions are an overrated stat when it comes to cornerbacks; defensive backs that are thrown at a lot have a higher chance of recording interceptions.
But guys like Nnamdi and Champ (not so much Nnamdi anymore, who seems to have fallen off a performance cliff) are not often targeted by (smart) quarterbacks and as a result, they do not get a lot of opportunities to record interceptions.  When Bailey is targeted, he often—but not always—breaks up the pass or hauls it in himself.
It's not surprising to see Joyner raining on the parade.  He probably doesn't like the Broncos.  After all, he's hated Peyton Manning for years.
Meanwhile, Mel Kiper Jr. had some nice things to say about rookie cornerback Omar Bolden, who was dubbed the team's 'Rookie Sleeper' by the magazine.
"The tape shows that Bolden has the talent of a first-round pick," wrote Kiper. "But the three-year starter at Arizona State dropped to the fourth round after missing his senior year with a torn ACL.  If he stays healthy, there's no reason Bolden can't be a starter and perhaps part of the reason Bailey is ultimately moved to safety."
Oh boy.  He just had to throw that last line in there.
Apparently ESPN doesn't think as highly of Bailey as we do, or Champ does himself.  The eleven-time Pro Bowler has constantly stated he feels great and has no desire to move to safety.  The coaching staff has never hinted at changing Bailey's position, even when speaking of the future.  But for whatever reason, the media can't seem to comprehend Bailey finishing his career as a cornerback.
"I still feel like a corner," Bailey told the Denver Post in May.  He still has the speed of a cornerback and can still cover like a cornerback, so why the rush to move him?
"[Before I move to safety] it [would have] to make sense to me. I'm not looking to play safety," Bailey said.  "So it would have to make sense, if it doesn't make sense I'm not doing it.  I'm not going to do it just to do it, to save money on the cap or something."
Bailey went on to note that his legs feel great and until they no longer get the job done, he'll have no desire to change his position.  Champ did admit however that if he does start to lose a step, he'll know when it's time to change positions (if it does come to that).
"I'm a realist, though, if I see myself on tape and I think it's time to make a move, I'll know it's time to make a move, I'll be the first to see it, I'll be the first to know it," Bailey said, smiling.  "In my mind, though, I might not say it right away, I might wait for somebody to ask."
As of now, Bailey is still performing well as a cornerback.  So you can buzz off, Joyner and Kiper.
What do you make of ESPN predicting Denver to make the Super Bowl?  Would you rather have the team fly under the radar and surprise everyone?  Or are you embracing finally being recognized as a contender for the first time in over six years?  Dish out your thoughts in the comments below!
Original Story:
http://broncotalk.net/2012/08/40522/b...
THE BACKYARD
BEST OF MAXIM
RELATED ARTICLES
EA Sports is ready to roll out Madden NFL 13 next week (Aug. 28) for PlayStation 3, PlayStation Vita, Wii and Xbox 360.  On Friday,they released complete player ratings for the video game. The Denver Broncos were given an 85 overall team rating (first in AFC West and sixth overall in the AFC) with cornerback Champ Bailey ranked as the highest Bronco in the game (95).  Behind...
Two teams with unexpected playoff berths in 2011 — and high expectations in 2012 — collide today as the Denver Broncos and San Francisco 49ers square off in Week Three of the 2012 preseason! And (BT 2012 Preview spoiler alert), these two teams are my pick to go to the Super Bowl this year. Enjoy the preview folks. Where to Watch No need for live streams, legal or otherwise, today...
Denver Broncos News Sorry for going AWOL yesterday, but I've got a limited amount of time each morning to bust these links out and I had to take a very important phone call that ate up all of that limited time and then some.  We'll start today's links with a piece from a few days ago that would have gone into yesterdays post.  Peyton Manning will transform the Denver Broncos...
Wide receiver Eric Decker #87 of the Denver Broncos makes a catch for a touchdown as cornerback Tramaine Brock #26 of the San Francisco 49ers looks on during the first quarter of a pre-season game at Sports Authority Field Field at Mile High on August 26, 2012 in Denver, Colorado. (Justin Edmonds/Getty Images) A 17-0 head start, courtesy Peyton Manning, wasn't enough for the Denver...
Broncos wideout Eric Decker caught two touchdowns Sunday and now has eight catches for 101 yards in the preseason.Fantasy Spin:Decker could have a huge role this season as Peyton Manning's go to guy underneath. Consider him a No. 2 WR in PPR leagues and a No. 3 in standard formats
In the spirit of Madden 13 ratings and Super Bowl buzz, below is a look at the Denver Broncos celebrating a 27-23 SB XLVII victory over the New Orleans Saints in EA Sports' 2012 version of Madden. A few quick notes after the jump.  The team hosting the Super Bowl hasn't made the playoffs the year their city hosted the game since 2000, when the Tampa Bay Buccaneers went 10...
Denver, CO. The glimpses and flashes of potentially explosive plays with this Denver Broncos offense has given all who follow this team plenty of optimism as we inch closer to the season opener early next month. Peyton Manning has looked pretty good, running the show with the leadership he has mastered for over a decade now. The receivers have looked pretty good, catching most...
Peyton Manning was magnificent in his final regular-season tuneup Sunday, throwing his first two touchdown passes for the Denver Broncos in a 29-24 loss to the San Francisco 49ers. Manning completed 10 of 12 passes for 122 yards, including TD tosses of 10 and 5 yards to Eric Decker, and was nearly perfect. The two misses were a dropped pass by Joel Dreessen and an errant pass to...
The Broncos' DJ Williams has been suspended for the first 6 games of the season for failing 2 drug tests and attempting to fabricate the results for a 3rd one. However, he faces the possibility of an additional suspension after being found guilty of driving while ability-impaired (lesser than a DUI) and driving without headlights. At the very earliest, Williams won't be back...
Peyton Manning vs. Eli Manning.  The elite vs. the pro bowler.  The one time champion vs. the two-time champion.  Who fears who more? This has become our modern-day era, which came first the chicken or the egg?, age-long question.  Just like everyone assumes it was the egg, everyone assumed it was Eli that feared big brother Peyton. What if it was the chicken that cames first...
Highlights of the San Francisco 49ers' preseason win over the Denver Broncos.
DENVER -- David Akers kicked four of his five field goals in the second half and the San Francisco 49ers withstood Peyton Manning's first two touchdown passes since joining the Denver Broncos for a 29-24 exhibition victory on Sunday. Alex Smith played most of the first half for the 49ers and had a touchdown pass to his fleet tight end Vernon Davis in a solid effort. Smith...
NFL News

Delivered to your inbox

You'll also receive Yardbarker's daily Top 10, featuring the best sports stories from around the web. Customize your newsletter to get articles on your favorite sports and teams. And the best part? It's free!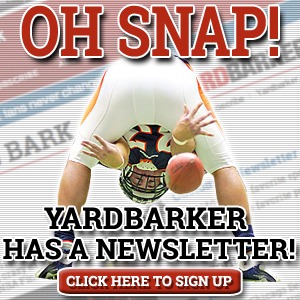 Latest Rumors
The Backyard

Today's Best Stuff

For Bloggers

Join the Yardbarker Network for more promotion, traffic, and money.

Company Info

Help

What is Yardbarker?

Yardbarker is the largest network of sports blogs and pro athlete blogs on the web. This site is the hub of the Yardbarker Network, where our editors and algorithms curate the best sports content from our network and beyond.