Found December 21, 2012 on Queen City Sports:
PLAYERS:
Marv Levy
,
Doug Flutie
,
Thurman Thomas
,
Andre Reed
,
Michael Vick
,
Andy Levitre
,
Jairus Byrd
,
Stephon Gilmore
,
Aaron Williams
,
Cecil Shorts
,
Mario Williams
,
C.J. Spiller
,
Marshall Faulk
,
Chan Gailey
,
Ryan Fitzpatrick
TEAMS:
Buffalo Bills
,
Philadelphia Eagles
,
Jacksonville Jaguars
First and foremost, I'd like to thank Kevin Connors for joining me as I dust off 12 Questions with the 12th Man. Most will recognize Kevin from his job as anchor of SportsCenter, but I've gotten to know him on Twitter as a diehard Buffalo Bills fan. Connors has very insightful opinions on the Bills, both current and past, and I know that all Bills fans will enjoy this interview! 1. You grew up in Rockville Centre, NY. How did you become a Bills fan? Kevin Connors: I have my Dad to thank. Or blame. Either way, he grew up in central New York (Ilion, NY) and imparted his love of the Bills onto me. As a native Long Islander, I lived in enemy territory –between Jets fans and Giants fans. I can remember writing book reports in elementary school about O.J. Simpson – and guaranteeing victory in Super Bowl XXV to all my high school friends. Needless to say, my life as a Bills fan has not always been easy. 2. Who are your top five, all-time favorite Buffalo Bills? Connors: 5. Marv Levy – I know he's a coach – but good Lord, could we ever use another Marv! 4. Doug Flutie – Has any Bill ever overachieved like Flutie? Why we didn't ride that wave longer, I don't know? An unopened box of Flutie Flakes sits on a shelf, over my desk, to this day. I have issues. 3. Thurman Thomas – should have been MVP of Super Bowl XXV, despite the loss. Man do I miss watching #34. 2. Jim Kelly – I still own a Kelly jersey. Still wear it. People often remark "sweet throwback!" I answer, "I've actually had this since his playing days." I'm getting old. 1. Bruce Smith – the best pass rusher I've ever seen. Top 5 defensive players of all-time. Consistently dominating. Can't ask for any more than that.  3. Staying on the topic of former Buffalo Bills, will Andre Reed make the 2013 Pro Football Hall of Fame? Connors: I doubt it. And I don't understand why? How many ballots did it take before Art Monk made the Hall of Fame – and when he retired, he was the all-time receptions leader!! Reed was the best possession receiver of his generation. 7 Pro Bowls, the 8th best yards-per-reception percentage in NFL history and he played on one of the truly revolutionary, dominant offenses of his era. What more do voters want? 4. Steve Tasker always gets to the same point in the Hall of Fame balloting. Is he another Ray Guy, in that voters don't truly appreciate all that he did for special teams? Connors: I loved Tasker as a player and don't know if any special teamer before or after has ever done it better. But I can't get as passionate about his cause as I can with Andre Reed. It's just much tougher to quantify what Tasker did. In a way, it's like arguing if a set-up man should make the Baseball Hall of Fame? I'm sure we could make a case – but there are probably a lot more position players who's cases should be heard first. 5. Looking at the needs on the Bills roster, who is one free agent the Bills should attempt to sign? Connors: Can I only choose one? I think we have to address quarterback. The problem is, I'm not certain there's a surefire answer out there. If Alex Smith is an option, I'd rather us make a push for him than, say, Michael Vick. I also need someone to explain to me how we hire a new Defensive Coordinator – to work with a totally revamped defense – and we get worse? 6. Speaking of free agency, the Bills have Andy Levitre and Jairus Byrd as impending FA's. If you could only re-sign one of these players, who would you select and why? Connors: Byrd. We need playmakers. I know Levitre is an anchor on that line, but Byrd is an impact player. Those guys don't grow on trees in the NFL. If we want young players like Stephon Gilmore and Aaron Williams to get better, we have to keep guys like Byrd. How many more good young DB's can we draft – then lose? (Whitner, Clements, Winfield etc.)   7. In your opinion, is Stevie Johnson a true number one receiver? Connors: If we're comparing him to Calvin Johnson – no. If we're comparing him to Cecil Shorts – sure! I think it's still a little hard to evaluate Stevie, but he's produced. Three straight 1,000 yard seasons (assuming he gets there over the next two games) and, theoretically, he's still coming into his own as a young WR. I think we needed to lock him up. 8. Mario Williams currently sits at 10.5 sacks on the season. How many sacks does he end with? Connors: 12? We'll need another year to evaluate his true impact on the team, but signing him last off-season was crucial. Might be nice if he recruited some players this off-season! 9. C.J. Spiller has been greatly misused by the Bills coaching staff in terms of carries, but he is clearly a dynamic RB. What former NFL RB do you think Spiller compares to most? Connors: Tough one. Maybe a young Marshall Faulk? A multi-threat RB with just incredible explosiveness. He's an offensive player the Bills have not had in a long, long time.     10. Howard Simon of WGR550 recently asked fans who they'd rather bring back for 2013, Chan Gailey or Ryan Fitzpatrick. Who would you choose in this scenario? Connors: Here's how I always answer questions like that: who are we bringing in as their replacements? Firing coaches or dumping players just for the sake of doing it rarely solves problems if you're not upgrading at their positions. Do I think Fitzpatrick is the answer at QB? He sure hasn't shown it yet. Do I think Gailey is the answer as head coach? He sure hasn't shown it yet. But turning over coaching staffs every 3-4 years is not the answer either. 11. If Michael Vick becomes a FA should the Buffalo Bills be interested in bringing him in? Connors: No. No thanks. 12. Last, make a very early prediction… With the Buffalo Bills first pick of the 2013 NFL Draft, the team selects ______________. Connors: Manti Te'o. We've committed to making that defense better, why stop now. Plus this team needs players who know how to win!! Once again, thank you to Kevin Connors for taking the time out of his busy schedule to talk Buffalo Bills football! You can follow Kevin on Twitter @kevconnorsespn.   The post ESPN's Kevin Connors Answers 12 Questions for the 12th Man! appeared first on Queen City Sports.
Original Story:
http://queencitysports.net/12-questio...
THE BACKYARD
BEST OF MAXIM
RELATED ARTICLES
The Bills have agreed to a long term lease extension with Erie County Details: This is a 10 year extension The team CAN'T leave before 7 years AFTER 7 years, the team can't move without a 400 million dollar penalty Coincides with the NEW CBA: Team pays 900 million to relocate per NFL 130 million coming to the team for stadium renovations to start the 2013 season 35 million...
ESPN's James Walker writes that the Buffalo Bills could get out from under QB Ryan Fitzpatrick's a $59 million and cut $4.45 million off of their cap next season, as well as an addition $7.45 million in actual cash. Walker adds that Fitzpatrick has $3 million roster bonus that will be due at the beginning of March. If he's still on their roster by then, his cap number...
Bills cornerback and return specialist Leodis McKelvin has been placed on injured reserve because of a groin injury. Buffalo signed linebacker Kirk Morrison back to the team after releasing him on Dec. 3 after he was inactive for 12 games. 30-year-old made 7 tackles for the Bills in 2011 after spending six years with Oakland and Jacksonville. McKelvin is a former first-round pick...
The Buffalo Bills have reached an agreement with Erie County and the state of New York on a new lease deal for Ralph Wilson Stadium. The 10-year deal will keep the Bills in western new york, according to sources. The deal was brokered by New York state Governor Andrew Cuomo and avoided the expiration of the current lease on Buffalo's stadium, which would have expired on July 1st...
Stevie Johnson's season has gone much like the one-handed catch the Buffalo Bills receiver made last weekend. It looked marvelous: Johnson leaping over the middle to snag the ball with one hand, bring it in and control it before he landed on the turf for a 25-yard gain. Trouble is, the drive stalled and Buffalo lost the game. ''It's a pretty cool catch,''...
The Buffalo Bills continue to make their annual pilgrimage to the Great White North to play at least one official home game in Toronto, Canada per NFL season, but that does not mean that all of the players are on board. In fact, at least one Bills player is getting sick of this tradition. Buffalo offensive lineman Eric Wood would like to play all eight home games in Ralph Wilson...
Download for your Facebook – Via @BuddyNixon   Cover Photo – Home
((ht: buffalonews.com)) Scratch one more team from the potential "Move to L.A" theory in the NFL. State lawmakers and the Buffalo Bills announced Friday morning they've come to an agreement that will keep the football team playing in Buffalo, for more than likely at least the next 10-years. The deal all but locks the team in, by stipulating any relocation would...
Leodis McKelvin's spectacular campaign at punt return will come to an end a little early, as the 27-year-old utility player was placed on Injured Reserve Thursday. McKelvin has lead the league all season in punt return average, and he currently sits 10th on the all-time single-season list behind Lemar Parrish, who was the last to put up more than 18.7 yards per return back in 1974...
Last week: 23 (+0) Record: 5-9 Net points per drive: -0.58 (28th) DVOA: -10.0% (22nd) Weighted DVOA: -7.8% (22nd) The Bills have two divisional games left with equal caliber teams. They beat the Dolphins in Buffalo and now travel to Miami. They lost to the Jets in New York and now host them. Common logic says they should split those two games, which would put them at 6-10. I don't...
This Sunday, the Buffalo Bills (5-9) take on the Miami Dolphins (6-8) in Miami at Sun Life Stadium. The Bills were blown out in an embarrassing 50-17 loss to the Seattle Seahawks in the annual Toronto Series, while the Dolphins are coming off of a 24-3 victory over the Jacksonville Jaguars. The Bills have nothing but pride to play for at this point in the season, but they still have...
NFL News

Delivered to your inbox

You'll also receive Yardbarker's daily Top 10, featuring the best sports stories from around the web. Customize your newsletter to get articles on your favorite sports and teams. And the best part? It's free!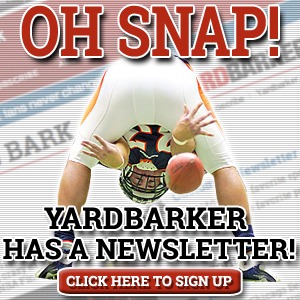 Latest Rumors
Best of Yardbarker

Today's Best Stuff

For Bloggers

Join the Yardbarker Network for more promotion, traffic, and money.

Company Info

Help

What is Yardbarker?

Yardbarker is the largest network of sports blogs and pro athlete blogs on the web. This site is the hub of the Yardbarker Network, where our editors and algorithms curate the best sports content from our network and beyond.