Denver, CO. The gauntlet of the early season schedule continued on Sunday, as it was another game where the Denver Broncos and their fans could gauge where this team is at and where they may be headed. Facing the Patriots on the road is no picnic for any team, but it was another test for a Denver squad who has already had their fair share of tests in the first month of the season. Everyone knew this start to the 2012 campaign would be a brutal stretch to begin the year, and it has proven to play out exactly as any realistic fan should have seen it. Quite honestly, any victories over Atlanta, Houston, or New England should have been considered bonus wins. Losing to all three of those teams should involve no shame, as most of the rest of the NFL would have done the same. So now at 2-3, and in second place in the AFC West, the Denver Broncos are right where they should be. Although the losses obviously outweigh the wins at this point, this team is in a great position. With five games of the regular season now under their belts, this team is primed to go on quite a roll.
What exactly have the Denver Broncos done in their first five games? The wins and losses are really not what anyone should focus on. The key though, has been that this team has won the two games they should have won, and in decisive fashion. The other three games have all ended in losses, but in this situation, it really is okay. With Peyton Manning continuing to look closer and closer to his old self as the weeks pass, this Broncos team is showing that they can play with the big boys. The offense is showing progression every week, and is gradually appearing to be a little more refined as well. A 2-3 mark after five games is what anyone should have expected. Anything better than this would have been a surprise considering the schedule and the circumstances around a team that is still learning to play together. The key to this season though, comes this week. Although Denver losing three games is not the end of the world, it's now time to get serious and understand that the season and their schedule is about to transition into something different. There is absolutely no reason why the Broncos should not win each of their next eight games.
Sometimes during the course of any regular season, there is a game or two you can look back on say that is where the season changed directions. For this Broncos team, one of those key games, and moments in 2012, could very well be this coming week at San Diego. The Chargers are 3-2, and just one game up on Denver after losing on the road at New Orleans. It's a two team race the rest of the way, as the Chiefs and Raiders have proven to both be a hot mess, and neither team should pose any sort of challenge in the AFC West. The Broncos need to view this game this week as a must win. They also need to view the previous five games on the 2012 slate as a primer for what really matters this year. Those five games did a couple of things for Denver, which should ultimately help them as the season moves along. First, it proved that they are not too far from being a legitimate contender in the AFC. They have lost three games by a grand total of 22 points, and as we all know, these three losses have come to three of the best teams in the entire NFL. The Broncos have had to fight back from severe deficits in each of these contests, but that is exactly what they have done. They have come up short, but have shown to have a good amount of fight within them that could very well help them later this season. Second, they have now been battle-tested. Having faced Atlanta, Houston, and New England already, this should only benefit the Broncos down the road. The schedule now begins to ease up a bit, so these early season experiences should send this team on a winning streak very soon. September and early October has always been about just surviving, and winning the couple of games that Denver was supposed to. Now the task changes…..Beginning this week, wins have to begin to mount, starting with a critical one at San Diego on Monday Night Football.
For any Denver Broncos fans who are worried and maybe thinking this team is in some trouble, this is anything but the case. This team is in a great position, and in a few weeks they may very well have control of the AFC West. With a win over the Chargers in week 6, Denver would be in first place at 3-3 as they head into their bye week. San Diego will be tough at home, and will also understand the situation at hand. If they win this game, they will have a two game lead on Denver, and a mid-season stranglehold on the division. The bottom line is that Denver is just a better team than the Chargers are, and should look at this game this Monday as the beginning of a part of their schedule where they should now start to do some damage. With games coming up against New Orleans, Cincinnati, Carolina, Kansas City, Tampa Bay, and Oakland, the Broncos have to realize that they are now about to take off and put together a streak of victories. There is simply no reason why Denver should not still win the AFC West and win 10+ games. It has to start this week though, as defeating the Chargers is a gigantic part of the 2012 plan.
Denver Sports by J Simp
The post Even at 2-3, Denver Broncos doing just fine appeared first on Denver Sports Chat.
Original Story:
http://feedproxy.google.com/~r/Denver...
MORE FROM YARDBARKER
Broncos News

Delivered to your inbox

You'll also receive Yardbarker's daily Top 10, featuring the best sports stories from around the web. Customize your newsletter to get articles on your favorite sports and teams. And the best part? It's free!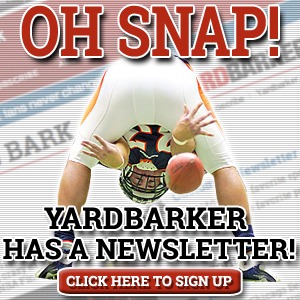 Latest Rumors
Best of Yardbarker

Today's Best Stuff

For Bloggers

Join the Yardbarker Network for more promotion, traffic, and money.

Company Info

Help

What is Yardbarker?

Yardbarker is the largest network of sports blogs and pro athlete blogs on the web. This site is the hub of the Yardbarker Network, where our editors and algorithms curate the best sports content from our network and beyond.