Found April 25, 2012 on JOCKpost:
I'm about to make a very bold statement.
I may regret saying this given the nature of the team's past but the Cleveland Browns CANNOT screw up this draft.  Their first three picks are virtually fool-proof, regardless of the direction that they decide to go.  Don't believe me?  Read on…
Pick four is an ideal spot for the Browns.  They missed out on Andrew Luck and Robert Griffin, but there are four players that the Cleveland brass can select here that instantly makes them noticeably better.  Those players are, in the order of which I would like them to be targeted..
A- Trent Richardson.
B- Justin Blackmon.
C- Matt Kalil
D- Mo Claiborne.
Kalil will likely go off the board to Minnesota at #3, leaving Cleveland three pro-bowl caliber players that even they couldn't miss on. 
I put Richardson ahead of the other two because of the gap in perceived talent between he and the next best running back.  Richardson is head and shoulders better than the next best runner, while Michael Floyd has the size and the skill set to be mentioned in the same breath as Blackmon.
While I do have the Browns selecting Claiborne in my final mock draft (Coming Soon!), offense should be the pick here.  Reports have surfaced that Cleveland Browns legend Jim Brown will be announcing the fourth overall pick, and what a treat it would be to watch the last great Cleveland runner pass the torch to the next great one.
Pick twenty two comes next… or so you may think.  If I am Tom Heckert and Mike Holmgren, I am burning up the phones to everyone in the range of pick 9-15 to package pick #22 and some late round ammo that was acquired in the Julio Jones trade to move up and take Michael Floyd.  Pipe dream?  Perhaps.  But worth a shot.
Should Cleveland stay at twenty two, this pick is a virtual can't-miss as well.  With so many holes to fill, the Browns will have their choice of a hand full of very solid offensive linemen or a duo of high up-side wide outs… two positions that are BEGGING for an upgrade in Cleveland.  Assuming Trent Richardson is the pick at 4, here are the players that I would like the Browns to target:
A- Offensive tackle Riley Reiff or Jonathan Martin
B- Offensive guard Cordy Glenn
C- Wide receiver Stephen Hill or Kendall Wright
Cleveland front office personnel has been quoted as saying that they will not select offensive players with their first three picks.  Unless they draft Mo Claiborne 4th overall, I call bulls**t.
This offense was as pathetic as any I've seen in all my years watching football.  Pick 37 addresses whatever offensive need (RB, WR, or OL) that has been missed thus far.  Look for the Browns to target these players to round our their need-trio…
A- Running back David Wilson or Doug Martin
B- Wide receiver Alshon Jeffery or Ruben Randall
C- Offensive tackle Bobby Massie
Three glaring needs.  Three picks in the top 37.  Three new starters.  It almost seems too easy.
If the Cleveland Browns walk away from the 2012 NFL draft unsatisfied, Mike Holmgren has nobody to blame but himself.  This blueprint provides the franchise impact players in three positions of need. 
It would take an absolute fool to screw up this draft.
Either that, or Ryan Tannehill.
Follow me on Twitter @JockPostDT to discuss Cleveland football, the draft, or getting me a job in the Browns front office.
Original Story:
http://jockpost.com/browns-screw-draf...
THE BACKYARD
BEST OF MAXIM
RELATED ARTICLES
RUN OF THE MILL
It seems that everyone feels that Trent Richardson is a can't-miss talent, except for the greatest Brown of them all, who doesn't think the 'Bama product is anything special.
According to Tony Pauline of DraftInsider.net, it looks like the Cleveland Browns will take Alabama running back Trent Richardson with the 4th overall pick in this week's draft. They're then expected to use the 22nd pick to take the best available wide receiver. My guess is that the Browns could end up landing Baylor receiver Kendall Wright with the 22nd overall pick. He didn't...
According to a tweet by Adam Schefter, the Saints and any team that has players involved in the New Orleans bounty program, might not know what discipline is to be handed down until after the draft. Text of the tweet- "An announcement on player discipline in Saints bounty scandal is "unlikely" for today. Again. have to wonder now if next week more likely" The Browns have...
With the fourth overall selection the Cleveland Browns select —RB  Trent Richardson . The Browns bring in a multidimensional bulldozer out of Trent Richardson the backfield. Photo via NFLGridironGab.com Trent Richardson possesses a rare combination of drive, size, speed and strength.  With over 680 carries in college, T-Rich fumbled only once.  That's a rare breed, indeed...
With the third selection in the 2012 NFL Draft, the Vilinkgs have decided to trade down with the Cleveland Browns. The Browns move up one spot in exchange for their Fourth, fifth and seventh round picks. The  Browns use that pick on Labamarunning back Trent Richardson. For what it is worth, order Brown Jim Bown isunimpressed calling Richardson " ordinary". Personally, I think...
Matt Peterson tracks the offseason needs of every team in the league. Today's franchise, the Cleveland Browns [full archive here]. Season Recap: Poor Browns. Nothing has seemed to go right for this team. They missed out on the Robert Griffin sweepstakes and are now left with the question of what to do with Colt McCoy. I say you give the kid another year. Hell, if it doesn't work...
Former Cleveland Browns great Jim Brown made an appearance on ESPN radio, per ProFootballTalk.com today and said that he doesn't believe Alabama running back Trent Richardson will make a big impact for the Browns if they end taking him with the 4th overall pick. "I'm not overwhelmed with it," said Brown with regards to the idea of taking Richardson. "The problem is that...
In fear of potentially being jumped, the Cleveland Browns have traded up to the third-overall pick in order to acquire Alabama running back Trent Richardson.  Reported first by ESPN's Adam Schefter, this move solidifies the Browns' first first-round selection, allowing Tom Heckert's scenario board to unfold knowing that the backfield has been addressed. A three-down back,...
Another one of our top 5 quarterbacks in the 2012 draft, Oklahoma State's Brandon Weeden, 6'4 218 lbs. Positives: The leader of Oklahoma State's explosive offense, he'll need to transition from a spread offense to a pro-style offense. The transition is the same Blaine Gabbert had/has to make, but with probably better results. Weeden can make all the throws; he...
Michigan State's Kirk Cousins... Positives: Whether it is his excellent quarterbacking skills or good arm strength, there's a lot to like about Cousins as a quarterback prospect. His ability to deliver the football quickly with above average arm strength is an attractive option for NFL teams. Short and intermediate routes are his strength; he displays good accuracy...
Browns News

Delivered to your inbox

You'll also receive Yardbarker's daily Top 10, featuring the best sports stories from around the web. Customize your newsletter to get articles on your favorite sports and teams. And the best part? It's free!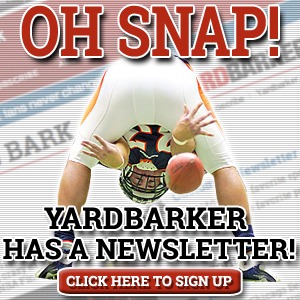 Latest Rumors
The Backyard

Today's Best Stuff

For Bloggers

Join the Yardbarker Network for more promotion, traffic, and money.

Company Info

Help

What is Yardbarker?

Yardbarker is the largest network of sports blogs and pro athlete blogs on the web. This site is the hub of the Yardbarker Network, where our editors and algorithms curate the best sports content from our network and beyond.